#shameful
Now buy this "You Lie!" commemorative AR-15 gun part! It's the perfect thing to celebrate…the State of the Union…or…your son shooting his first congresswoman!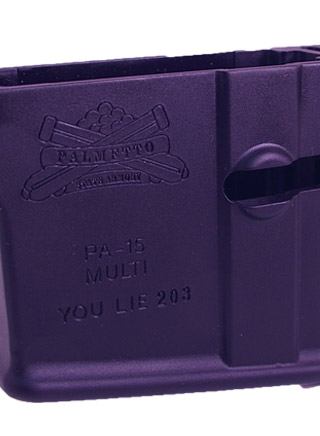 Free Times sez:
A South Carolina gun and accessories company is selling semi-automatic rifle components inscribed with "You lie" – a tribute to the infamous words of 2nd District Republican Congressman Joe Wilson when he shouted at President Barack Obama during a congressional speech about national health care reform in the fall of 2009.

"Palmetto State Armory would like to honor our esteemed congressman Joe Wilson with the release of our new 'You Lie' AR-15 lower receiver," reads a portion of the company's website.

The product "is neither endorsed nor affiliated with Joe Wilson or his campaign," according to a line of text at the bottom of the page. A picture of Wilson holding a rifle and standing in the company's gun shop appears on the same page. The company offers the components, marked "MULTI to accommodate most builds," for $99.95 apiece.

"Only 999 of these will be produced, get yours before they are gone!" the website reads.
FYI, the page on the website is now mysteriously missing…
Here is Joe Wilson himself in the Palmetto State Armory store!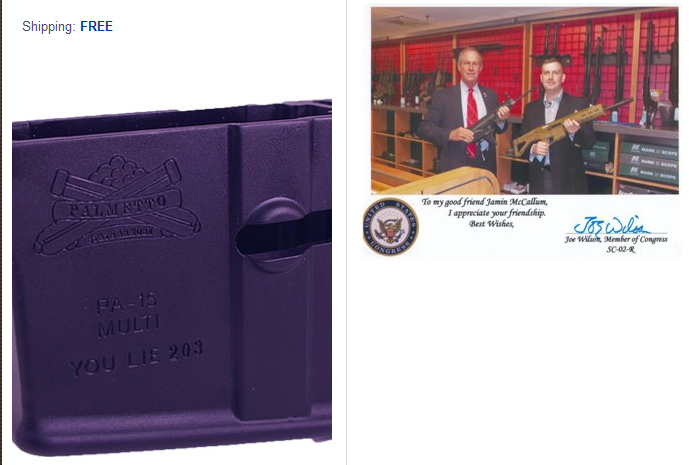 But remember, liberals are just as violent as conservatives! Also the sky is green.
Vacation time is over, and though I wasn't going to start up new updates until Monday, it looks like we're going to have to talk about the shooting of Congresswoman Gabrielle Giffords of Arizona. At the time of this writing, there is 6 dead, including a 9-year-old girl born on 9-11 and U.S. District Judge John Roll, and 12 others wounded.
Remember that Rep Giffords was one of the congress people "targeted" by Sarah Palin, literally, with crosshairs over her district.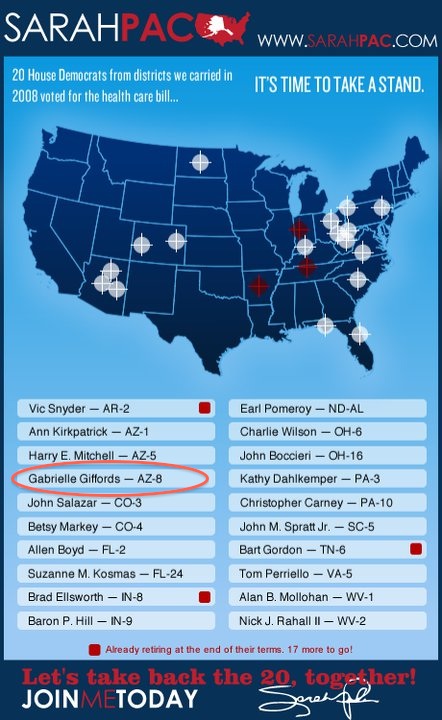 She discusses the issue here:

The shooter has been identified as Jared Lee Loughner, who has left an internet trail of crazy. Sheriff Clarence Dupnik is also looking for another person of interest, so there may be more things developing soon. But I hope all you teabaggers are happy. You are getting what you want. Violence, murder, death. I am sure all our friends who keep calling for violent government overthrow are polishing their guns extra hard tonight. But they'll be the first to try to shift the blame onto everyone else. Just watch.
Who can forget everyone's favorite birther Army man who refused to deploy for the service he signed up for because he was convinced President Obama was some illegitimate undocumented Kenyan-born Muslim Taliban Antichrist? Yes it was only a handful of months ago that Republicans and the Tea Partiers alike, led by Birther Queen Orly Taitz, went on a blind witch hunt to prove that our nation's first African American president was in fact a scary black man who had used his voodoo magic to usurp the presidency (possibly because the devil made him do it). Clearly this was the most legitimate way to get President Obama impeached.
But who were these brave patriots coming out of the woodworks to condemn our Socialist Marxist president? Most of them were anonymous internet cowards who belonged to communities like Resistnet.com (an organization that's now running away with its tail between its legs) and questioned the authenticity of the President's birth certificate from the comfort of their retirement community's library computer. But still there were others who led the birther charge through the lamestream media, wasting valuable minutes of Anderson Cooper's time with their indefensibly crazy notion that the president was an actually Indonesian Communist born to a single mother and bred for the American presidency from birth, supported by a 40 year long conspiracy that has now lifted him from poor African street beggar to president of the most powerful country in the world.
Lt. Col. Terrence Lakin was one such coward, an army doctor who had signed up for military duty and trained for his deployment yet refused to participate in his military service because he so strongly believed that President Obama was not American's legitimate Commander in Chief. Here he is on YouTube espousing his deeply-held yet sudden beliefs:
Who can forget classic television interviews like this one?
Despite losing appeal after appeal, both Orly Taitz and Lt. Col. Lakin were committed to exposing the truth that is President Obama's illegitimate ruse, no matter that they were making themselves look more and more laughable by the day. Undeterred by official birth certificates or the truth both opponents of the president soldiered on to prove their point and hopefully take down one of the shaddowiest cabals of power out there.
Well, actually, like the sane among us expected, Orly Taitz was laughed out of court (on repeated occasions) and eventually went back to her dental/hairdressing business. And today we find that Lt. Col. Lakin is now pleading in court (or well, a court marshal more specifically) that he was a fool to believe that President Obama is not a natural born citizen. It was wrong of him to be a lying liar so he could avoid deployment, it was cowardly of him to call his COMMANDER IN CHIEF a Kenyan usurper, and it was incalculably retarded for him to have continued to push this issue in the media and in the courts for so long!
Now we hear Lt. Col. Lakin pleading with the Army to dismiss the case against him. He wants to serve his country again he protests! Forgive the fact that he disobeyed his orders for months and months. Forget the fact that for even longer Lt. Col. Lakin made television appearance after television appearance, a man trained by the United State Military now coming on the public airwaves DEFAMING the leader of the very country he signed up to serve and protect. Now after so long and so much losing in court Lakin just wants the military and the president to forget about him and what he did?
No Lt. Col. Lakin you fucking assdouche, that isn't how this kind of shit works. Are you any sort of a brave responsible human being? You are fucking scum, and your cowardly fucking scum ways gave heed to a very small but vocal minority of people who, because of the fuss you were causing, believed in the batshit retarded rhetoric you and Birther Queen Taitz were spewing on FOX News and Rush Limbaugh. Your actions disgraced the president in the eyes of the country, you disgraced your own boss, and that's not cool especially when that boss is the PRESIDENT. You took an oath when you became a soldier, hell you even served as a soldier long before Obama was elected, but now that there's a black man in office you feel some kind of responsibility to stand up and tell him to go fuck himself?
History has already been written Lt. Col. Lakin, and the minstrel part you played on television made you and the Army look like traitors and fools. And now you just want the courts to forgive you. You had a year long lapse in judgement and for some reason you no longer felt it was necessary to honor your military oath. Yeah, like the country should just gloss over how much of a bigot and a coward you made yourself out to be. You face up to 3 1/2 years in military prison for the wretched treason you tried to enact against the president. Hell that is peanuts compared to the kind of time Lt. Bradly Manning is going to be serving for leaking classified documents.
Lt. Col. Lakin if you have even one ounce of fucking self-esteem in your body you will take your slap on the wrist punishment from the Army with your head up. I doubt this is the case given how you've sheepishly performed on television the past year, but you don't ever chose to sign up for something as sterling and patriotic as active military duty only to sully the name and rank of the United States Army by railing against the newly elected president, no matter what his skin color. You're going to get what's coming to you and no amount of appeals will save you. Let it live as a lesson to anyone else who wants to act like a moron in the name of "truth". Merry Christmas traitor.
"I think there is an element of truth in the view that the superstition that the budget must be balanced at all times [is necessary]. Once it is debunked [that] takes away one of the bulwarks that every society must have against expenditure out of control. There must be discipline in the allocation of resources or you will have anarchistic chaos and inefficiency. And one of the functions of old fashioned religion was to scare people by sometimes what might be regarded as myths into behaving in a way that the long-run civilized life requires. We have taken away a belief in the intrinsic necessity of balancing the budget if not in every year, [then] in every short period of time. If Prime Minister Gladstone came back to life he would say 'uh, oh what you have done' and James Buchanan argues in those terms. I have to say that I see merit in that view." -Paul Samuelson in Blaug, 1995 (Quoted here)
Another report has been released that's also terrible and completely not worth reading.  Before I go over the first page of it though, recall that the "draft version" of the first report was released after the elections, but before the date it was due (Dec. 1st).
The second report is wrapped in the flag in the very first sentence:
America is the strongest, most prosperous, and most resilient nation in history.
Followed up with invoking the Yellow Peril:
With current policies in place, even when we recover from the recession, the debt will grow far larger than the economy itself, forcing the nation to borrow enormous and unprecedented sums of money, increasing our dependence on China and other foreign lenders, diminishing our living standards, raising risks of an economic crisis, and reducing America to a second-rate power.
Despite these kinds of claims, the report doesn't include useful charts like these: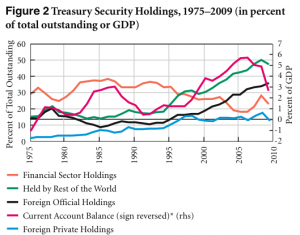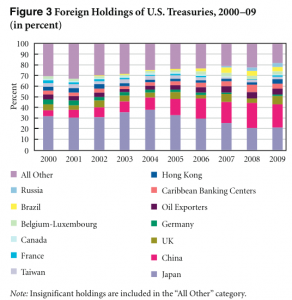 The Caribbean Banking Centers, Belgium-Luxembourg, and probably probably a lot of "other" are tax havens (for more on tax havens, see this, this, this and this).  Rather than addressing this, the latest deficit hysteria report recommends reducing corporate taxes so they can be more "competitive" by evading smaller amounts I guess.  Even if the deficit was reduced for some reason, it seems more likely that blatant criminals like these would only be further encouraged.
The bright side to this is that despite all of the scare mongering, people just aren't buying it.  Failure tends to be disappointing, so I guess it's not surprising that people who put so much work into this appear to be very upset:
We have published three books, the first in 2004 before most Americans could spell "deficit," and many essays and editorials….So widely reported has this [Bowles-Simpson] plan been that it would be difficult to live anywhere in America and fail to hear, see, or read about the plan and the disastrous budget situation it is intended to address. Perhaps Americans are just beginning to get a deeper understanding of a very deep hole.
Here's the big question now: After a host of unelected experts and former government officials have been sounding the alarm and issuing specific proposals for many years to close the deficit gap, are politicians ready to act? So far at the federal level, elected officials have done no more than claim that they are ready to do something, mostly by shouting that the jokers in the other party are the cause of the problem….But there is nothing that even pretends to be the "Republican Plan" or the "Democratic Plan," or the "President's Plan." Why is it that scores if not hundreds of scholars, budget experts, and former officials have been diagnosing the deficit problem and proposing solutions while the political system has remained all but inert?
This failure of our political system and of individual politicians can have only one explanation: they are afraid of voters. In the end, it is the American people who are the true cause of the problem. They want their government to serve them in every imaginable way. Worse, they don't want to pay for it. Nope. They are happy to let their children and grandchildren pick up the tab. With lame politicians and a greedy public watching the deficit grow completely out of control without taking action, a devastating insight emerges: only when the nation has suffered a major crisis that will impose a decade or more of misery on millions of Americans will the public actually support serious action. By then incalculable damage will have been done to our economy, our political system, and future generations of Americans. The Titanic is approaching the iceberg and despite all the yelling, no one has even started to turn the rudder.
This is why I mentioned the report being released after the election.   The contempt for ordinary Americans (who aren't doing so well these days) is stunning. They also seem to have forgotten that their funding is also tax deductible.
Link (pdf).  This thing is 50 pages long so I'm going to do it in several parts. It's absolutely terrible and full of lies.  Its guiding principle was explained by Marx in Vol. I of Capital:
The system of public credit, i.e., of national debts, whose origin we discover in Genoa and Venice as early as the Middle Ages, took possession of Europe generally during the manufacturing period. The colonial system with its maritime trade and commercial wars served as a forcing-house for it. Thus it first took root in Holland. National debts, i.e., the alienation of the state – whether despotic, constitutional or republican – marked with its stamp the capitalistic era. The only part of the so-called national wealth that actually enters into the collective possessions of modern peoples is their national debt.  Hence, as a necessary consequence, the modern doctrine that a nation becomes the richer the more deeply it is in debt. Public credit becomes the credo of capital. And with the rise of national debt-making, want of faith in the national debt takes the place of the blasphemy against the Holy Ghost, which may not be forgiven.

The public debt becomes one of the most powerful levers of primitive accumulation. As with the stroke of an enchanter's wand, it endows barren money with the power of breeding and thus turns it into capital, without the necessity of its exposing itself to the troubles and risks inseparable from its employment in industry or even in usury. The state creditors actually give nothing away, for the sum lent is transformed into public bonds, easily negotiable, which go on functioning in their hands just as so much hard cash would. But further, apart from the class of lazy annuitants thus created, and from the improvised wealth of the financiers, middlemen between the government and the nation – as also apart from the tax-farmers, merchants, private manufacturers, to whom a good part of every national loan renders the service of a capital fallen from heaven – the national debt has given rise to joint-stock companies, to dealings in negotiable effects of all kinds, and to agiotage, in a word to stock-exchange gambling and the modern bankocracy.
Keep that in mind the next time somebody tells you he had no idea what he was talking about.  As for the present, here is some good background on why a number of these things are lies:
1st Fiscal Sustainability Teach-In and Counter-Conference
Deficit spending 101 (part 2, part 3)
Fiscal sustainability 101 (part 2, part 3)
Ok, on to the report:
P. 4: "We must stabilize then reduce the national debt, or we  could spend $1 trillion a year in interest alone by 2020."
To who? Who is this interest being paid to? No, it's not China, nobody in China saves in or spends American dollars because they have their own currency.  This is "owed" to somebody who does save/spend in American dollars which is  (in theory) the American public and there's no need to track money we owe to ourselves so we can be done with this, right?  No, we need shore up the balance sheets of insolvent banks (who were just given another $600 billion the other day by the Federal Reserve) with spending that otherwise would have been on other things.  Some of them are undoubtedly unnecessary, but many are not.
P. 5: "Invest in education, infrastructure, and high-value R&D."
In other words: for-profit education, the FIRE sector, and the tech sector.
P. 6: "Bring spending down to 22% and eventually 21% of GDP."
This is really bizarre.  Where did they come up with this number?  Why does it matter what percent of the GDP is federal spending?  It sounds like somebody is making it up as they go along.
P. 8: What are "illustrative" savings?
"Pass tax reform that dramatically reduces rates, simplifies the code, broadens the base, and reduces the deficit."
Sounds like the Ryan plan.
P. 9: "Reduces tax rates, abolishes the AMT…"
The AMT is the Alternative Minimum Tax, not a particularly pressing problem.  A good indicator of the commission's ideological extremism.
The charts and tables are extremely silly.  I'll probably divide this up into three more posts with discretionary spending in part 2, tax reform in part 3, and the rest in part 4.
Yes, you read that right! The Missouri Tea Party groups, Joe the Plumber, and a whole host of conservative douche-gobblers have all come out against a law that would stop puppy mills in Missouri. The War on Puppies stance from the Teabagger groups is gobsmackingly dumb, but not as dumb as some of the quotes from the various nutjobs. Be warned that this article will eventually have quotes about abused dogs at some of the puppy mills run by some of the people orchestrating the War on Puppies.
Proposition B (or the "Puppy Mill Cruelty Prevention Act") in on the Missouri Ballot this November and is intended to stomp out 3000 puppy mills in Missouri, which is 30% of puppy mills nationwide. It is supported by Humane Society of the United States (HSUS) and practically every animal rights organization in the country.

Evil bastards Alliance For Truth (we are fair and balanced here!) take exception to the law
, claiming the HSUS has a "radical agenda"
and is "misleading the public with its intentions on Prop B. The society seeks only to raise the cost of breeding dogs, making it ever-more difficult for middle-class American families to be dog-owners." This is the kind of arguments usually used against PeTA and Cass Sunstein, but as HSUS isn't a bunch of wackos, it doesn't play well here.
Anita Andrews from Alliance For Truth told TPM that it's a "deceptive, lying bill" that is "trying to purposefully get rid of the breeders." The state of Missouri, she said, has been given a bad rap as "the puppy mill capitol" of the U.S. but "in truth we have the best ribbon breeders in the country." And, Andrews said, the state already has anti-cruelty laws on the books.

"They don't like animals," she said of the Humane Society of the United States.
Yes, "They don't like animals" – This is real life, folks, not The Onion. Someone actually said this.
Read more…
Rick Scott should be a familiar enough name to anyone whose lived through the Healthcare Reform battle of last year. As the founder and former CEO of healthcare giant Columbia/HCA Rick Scott held a commanding post over the lucrative cashcow that is the Healtcare industry. Corrupt wouldn't even begin to describe the way in which Rick Scott operated his mega-corporation, a company who as the largest healthcare provider in the country was tasked with providing quality medical care and resources for the sick and injured. A company that Rick Scott publicly stated he wanted to run with the penny pinching bottom-line efficiency of a Wal-Mart, hoping one day Columbia/HCA could be "the McDonalds of the Healthcare industry".
Under Rick Scott's guiding hand Columbia/HCA began to bilk the federal government out of hundreds of millions of Medicare dollars, falsifying documents, scamming their own sick customers just so Rick could make a few extra million dollars for himself. When the 1994 Healthcare debate began Rick Scott and his company heralded the single most successful campaign to defeat then President Clinton's efforts to provide coverage and care for the neediest patients in the country. You'd think a Healthcare company would be a little more compassionate about helping their own customers. Scott's swindling scam continued until 1997 when the government began to get wise to the rampant corruption and abuse of the Medicare system and took action against Columbia/HCA to the tune of $1.7 BILLION dollars. The Columbia/HCA settlement still stands as the single biggest fraud settlement in the history of the United States. It also cost Rick Scott his job as CEO (a narrow margin of 1 vote from HCA's board decided Scott's fate).
As a disgraced fraudster who some how avoided jail time for his misdeeds (scamming the government out of money for the sick and elderly) Rick Scott soon found himself working in venture capital (again in the healthcare industry). With his new found funds and the country's renewed interest in reforming the Healthcare system, this time with a campaign led by President Obama, Rick Scott again began to mobilize his wealth in order to fight "socialized medicine" and "Obamacare". With his own millions, Rick Scott created the astroturf organization "Conservatives for Patient's Rights" which was, again, one of the if not the most vocal money-fueled opponent of the Obama Healthcare Reform plan (Dick Armey's Tea Party was a close second).
After all, if Healthcare Reform did pass this time Rick Scott would stand to lose money in his own awful business interests, like Solantic LLC, a walk-in clinic that charges patients like a fast-food chain would (pricing options fall under  "small, medium, or large" scale) or the failed TV venture he went in on with a former Columbia/HCA executive called America's Health Network that broadcasts medical and wellness programming. It shuttered in 2001, but not before Columbia/HCA made a bid to buy the network from their former CEO. Then it turns out Columbia/HCA couldn't afford the deal and declined the investment, and then they laid off 80% of their work force because they were so horrible and out of cash (due to the $1.7 BILLION DOLLARS they were paying back to the federal government).
Oh and he also invested in the Texas Rangers baseball team with George W. Bush back in the 1990s. I'll let that speak for itself.
And now, Rick Scott is taking his money bags (from Stamford, Conn) to higher ambitions. Rick Scott is officially running for governor of every Healthcare mogul's favorite place to do business, Florida. It's no wonder Rick Scott chose to run in Florida actually. As we all know, Florida houses one of the biggest populations of the elderly and aging in the country, a demographic that truly is in need of the latest in healthcare advances. Florida is also known for its lucrative and shady pain clinics, a system set up much like California's medical marijuana dispensaries except that instead of selling a harmless plant they deal in expensive and highly-potent narcotics (that earn more for the Pharmaceutical companies than any MMJ clinic could ever dream of). Florida would be the perfect place for a multi-millionaire healthcare executive to shack up as governor for a few years, possibly "reforming" their medical system so much that it would allow Rick Scott's own healthcare business interests to suck up even more money from the poor and disadvantaged.
Richard L. Scott Investments LLC is based out of Florida after all. Like our own millionaire gubernatorial candidate Meg Whitman, Rick Scott has spent about $60 million dollars of his own money to fund his campaign. It would seem as though Rick Scott has an incredibly vested interest in running the same state where his healthcare companies are based. A state that sees some of the biggest expenditures on healthcare costs in the country. The only state in the nation where you can find Rick Scott's Solantic McClinics, the only for-profit clinic in the United States that carries pharmaceuticals from Pharmaca Integrative Pharmacy, Inc., another Rick Scott investment that pushes generic drugs to customers sold at prices well below that of the competition. A strategic business relationship and money making scheme, not unlike the rampant corruption found at Columbia/HCA during Scott's days, that has former doctors alleging that Solantic pushed them to prescribe unnecessary medications through the Pharmaca brand and required them to run unnecessary tests and procedures on patients who enter Solantic clinics with nothing more than common colds.
And this man, Rick Scott, will quite possibly win the gubernatorial election in Florida. A man whose is banking his campaign and his campaign's advertising blitz on Scott's reputation and record as a sterling business man. As a candidate and former corporate scammer who says he wants to "run Flordia like a business" it remains to be seen just how far into the ditch Rick Scott can drive things before getting voted out by the board of directors and walking away with a $310 million dollar severance package.
Earlier this year, Yves Smith wrote:
A good Washington DC contact told me that a public relations/media push to demonize those who decide to walk away from mortgages they can still afford to pay (aka "strategic defaulters") is underway. Expect to see a good bit of moral fervor as those who choose to cut their losses are attacked as immoral, irresponsible, and abusive.

There is a wee problem with the "blame the ruthless borrower" narrative. Banks who acted in a ruthless manner have trained their customers to behave the same way. This shift in prevailing attitudes is the logical and inevitable result of financial firms taking an increasingly predatory posture toward their customers. Borrowers are responding in kind, by taking a cold-blooded and legalistic look at their agreements with lenders.
In retrospect, that was a huge understatement.  Oh yeah, there was the line about "the recovery" too:
Here's a provocative thought: what if 'extend and pretend' within our nation's troubled mortgage markets is actually providing a lift to consumer spending? It's not as far-fetched as the idea might initially sound, and it might help explain some interesting data we've seen as of late — and it also might explain why the statistical recovery we're seeing now doesn't really feel like a recovery to most Americans.

And, if I'm right, it also explains why we may very well slip right back into the throes of recession all over again as we head into 2011.
So the story went that people were leaving their houses to go on a shopping spree or something.  I never said it was reasonable, just that it was out there.  The peak was a column titled: "Honey, I Lost the House.  Let's Party"
"What a relief, Marge, not to have that huge mortgage payment hanging over our head anymore."

"You can say that again, Harry. Let's celebrate. Maybe take a nice vacation. Or buy a new car."

"What if the bank forecloses on our house? We could be living on the street next year."

"Exactly. Which is why we need a new car. Maybe something roomy like a Chevy Suburban."

By now you've probably seen the analysis, if you can call it that, on how mortgage defaults are driving consumer spending.

Yes, you read that correctly. Those deadbeat homeowners, facing possible eviction and in some cases unemployed, are throwing caution to the wind — and money at retailers.
Yeah, the problem was that it wasn't something that could be defined, let alone actually requiring scrutiny.  The Federal Reserve even did a study that concluded:
After distinguishing between defaults induced by job losses and other income shocks from those induced purely by negative equity, we find that the median borrower does not strategically default until equity falls to -62 percent of their home's value. This result suggests that borrowers face high default and transaction costs. Our estimates show that about 80 percent of defaults in our sample are the result of income shocks combined with negative equity. However, when equity falls below -50 percent, half of the defaults are driven purely by negative equity. Therefore, our findings lend support to both the "double-trigger" theory of default and the view that mortgage borrowers exercise the implicit put option when it is in their interest.
"Negative equity" meaning underwater, paying more than the home was even worth and "income shock" meaning unemployment.  In other words, mostly people losing their jobs and homes at the same time.  There was another study that was going to be used to come up with a technical definition to punish people, but concluded that only 20 percent of the defaults were attributable to people not putting all their income into their mortgage payments and whatever else was apparently to be budgeted for them by the financial sector.  Then, the New York Times commissioned another study, discovering that people with the most income above their capacity to pay their mortgages probably just had higher incomes.  The whole thing was really disgraceful, especially considering the fact that there were a lot of cases where they didn't even know who owned which properties because they were pumping up the housing bubble so fast they had to contract other companies to try to track all of the little tiny mortgage bits scattered across the four corners of the earth and seize them back for the Bank Collective.
All that may have died, but it's pretty strange to reflect on now that they've been caught just saying they owned the property anyways.  A contract is a contract and all of that.
Virtually everyone has had the experience of being forced to pay a late fee or a bank penalty because of some fine-print provision that we overlooked. Sometimes, begging by good customers can win forbearance, but usually we are held to the written terms of the contract, no matter how buried or convoluted the clause in question may be.

That is the way it works for the rest of us, but apparently this is not the way the banks do business, at least when those at the other end of the contract are ordinary homeowners. As a number of news reports have shown in recent weeks, banks have been carrying through foreclosures at a breakneck pace and freely ignoring the legal niceties required under the law, such as demonstrating clear ownership to the property being foreclosed.
It gets even better:
GMAC, the former financing arm of General Motors and now called Ally Financial, has become the poster-child for these sorts of practices. Jeffrey Stephan, a leader of one of its foreclosure units, acknowledged that he had signed thousands of affidavits claiming that he had reviewed documents he had never seen.

In addition to being a major sub-prime lender during the heyday of the housing bubble, Ally Financial also has the notoriety of being primarily owned by the federal government following its collapse last year. This fact may ensure greater accountability at Ally, but there is no reason to believe that its practices are qualitatively different than those of other servicers carrying through foreclosures.
And Fanny Mae, the GSE the financial sector occasionally uses to either blame or attempt to punish poor people depending on the circumstances, is at their service on this one as well:
"We are disturbed by the increasing reports of predatory 'foreclosure mills' in Florida working for Fannie Mae servicers," Frank, D-Mass, wrote in a letter also signed by Grayson and Brown. "Why is Fannie Mae using lawyers that are accused of regularly engaging in fraud to kick people out of their homes?"
And lastly, here's a video of some jackass pining for the days of debtors' prisons for you.
Audio not safe for work because he has a nasty mouth!

KABUL, Afghanistan — Gen. David Petraeus on Wednesday ratcheted up his condemnation of plans by a small Florida church to mark the anniversary of the Sept. 11 terrorist attacks by burning copies of the Quran, likening the popular outrage that would follow in Afghanistan to the reaction in Iraq to photographs of detainee abuses.

"I think the images of such an action would be as indelible and inflammatory as have been the images of Abu Ghraib," he said. "This will put our troopers and civilians in greater danger, and it's somewhat inexplicable to me that fellow citizens would do that."

….

Just outside ISAF headquarters at the office of the World Philosophical Mathematics Research Center, scholars usually concerned with the pursuit of arcane formulas that attempt to explain and predict world events had turned their attention to more immediate affairs, erecting a banner saying the U.S. government would be blamed for the Quran-burning.

"If this happens, there will not be any protests," said Ghulam Farouk Hamkar, a researcher at the center. "There will be fire. The U.S. Embassy will be burned. People will attack American soldiers wherever they see them. Everyone will do this, not just insurgents."
Lets compare the reaction here to the WikiLeaks release:
Q Good afternoon.  Robert, there's a church in Gainesville, Florida, that says it's going to go ahead and burn copies of the Koran to mark the 9/11 anniversary.  Is the White House — is there anything the White House is doing to discourage that or prevent them from going ahead with that?

MR. GIBBS:  Well, look, I think the best place to look for the views of this administration would be to look at the — look at what General Petraeus said over the weekend.  We know that that type of activity — we know that that type of activity is being transmitted back to places like Afghanistan, when General Petraeus obviously is our lead commander.  As he said, it puts our troops in harm's way.  And obviously that — any type of activity like that would be — that

…..

Q And just quickly on the Koran story, have you heard the President comment on that?

MR. GIBBS:  I have not.  I have not.
I'd say that's pretty mild.  Now lets look back at WikiLeaks:
Q Thanks, Robert.  Two questions, a few on WikiLeaks.  What was the President's reaction once he heard about the leaking —

MR. GIBBS:  Well, I remember talking to the President sometime last week after discussions with news organizations that these stories were coming.  Look, I think our reaction to this type of material, a breach of federal law, is always the same, and that is whenever you have the potential for names and for operations and for programs to be out there in the public domain, that it — besides being against the law — has a potential to be very harmful to those that are in our military, those that are cooperating with our military, and those that are working to keep us safe.

Q Well, I mean, was he personally angered by this?  Did he demand answers or an investigation?

MR. GIBBS:  Well, there is an ongoing investigation that predated the end of last week into leaks of highly classified secret documents.

….
Q Robert back on WikiLeaks.  A couple of times now, you've said in the last couple of moments that a lot of this information is not really new, that named U.S. government officials have said some of this same information publicly.

MR. GIBBS:  Well, I'm not saying it's — yes, I said there weren't any new revelations in the material.

Q So how does it harm national security if we've known this already?

MR. GIBBS:  Well, because you've got — it's not the content as much as it is their names, their operations, there's logistics, there are sources — all of that information out in a public way has the potential, Ed, to do harm.  If somebody is cooperating with the federal government and their name is listed in an action report, I don't think it's a stretch to believe that that could potentially put a group or an individual at great personal risk.