Newly elected Republican Governor Scott Walker decided he was going to go all Freddy Krueger on the Wisconsin state unions, and even threatened to call in the National Guard to take on demonstrations to his plan.
But the demonstrations came anyway, and have continued to grow and grow. Schools closed as teachers threatened to walk off work and went to the protests. Police, football players, students, union workers, state workers, young, old, the numbers kept coming and growing.
Tuesday brought out 12-15,000 protesters,
The crowd has swollen to over 30,000 on Wednesday,
I have never been prouder of our movement than I am at this moment," shouted Wisconsin AFL-CIO President Phil Neuenfeldt, as he surveyed the crowds of union members and their supporters that surged around the state Capitol and into the streets of Madison Wednesday, literally closing the downtown as tens of thousands of Wisconsinites protested their Republican governor's attempt to strip public employee unions of their collective bargaining rights.
Meanwhile, Senate Dems have left the state to prevent quorum in the Wisconsin senate! Republicans control the senate 19-14, but you need 20 members to have a quorum. This reminds us old people (on the internet, anyone older than 21 is "old people") of when the Texas Democrats did this to stop a redistricting plan.
Over 4000 protesters are inside the Wisconsin Capitol building. This is what a real protest looks like, Teabaggers!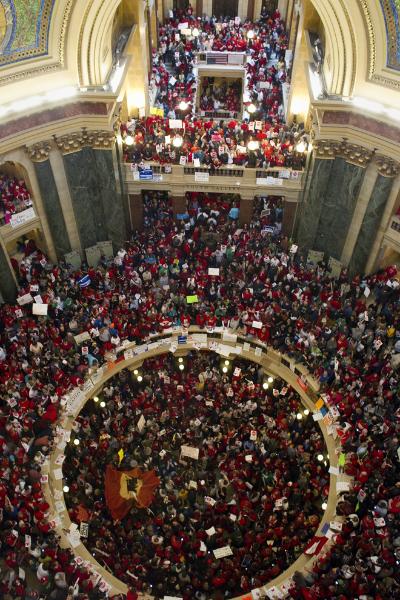 And the media is…ignoring all this pretty much. I guess because they aren't several dozen senior citizens with goofy signs on medicare screaming about socialized medicine, they get no coverage.
Are we finally getting the pushback against the teabagger revolution we need? One hopes so.