Oh yeah! When Muzzies get you down, just lube up your gun with Silver Bullet Gun Oil (from here) and live out your rightwing eliminationist fantasies!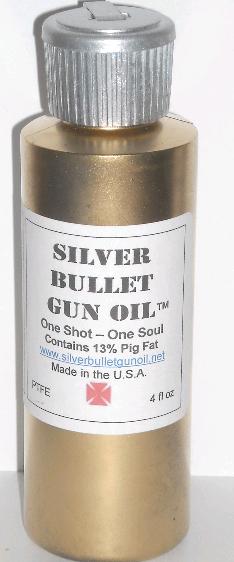 But don't take my word for it, let's let the website speak for itself!
SILVER BULLET GUN OIL, is a HIGHLY EFFECTIVE Counter-Islamic terrorist force multiplier.
SILVER BULLET GUN OIL was designed specifically to put Demoralizing FEAR and TERROR into
SUPPOSEDLY "Fearless" Islamo-Fascist terrorists. It was created with the "TRUE BELIEVER" in mind.
According to the Koran, Allah states, "Any of my followers contaminated by swine at the time of his
death will be denied entry to my paradise forever, I HATE THE STENCH OF SWINE."

HOW does SILVER BULLET GUN OIL work? SILVER BULLET GUN OIL CONTAINS 13% USDA LIQUEFIED PIG
FAT. The PIG FAT is mixed with our blended, hi-grade WEAPONS OIL designed for use in ALL FIREARMS.
The oil is applied to the inside of the barrel of any firearm or weapons system. When fired, BULLETS are
coated with SILVER BULLET GUN OIL containing the PIG FAT. The PIG FAT is transferred to anything the
BULLETS STRIKE. The coating of OIL CONTAINING PIG FAT effectively DENIES entry to Allah's Paradise to
any Islamo-Fascist terrorist KIA with a bullet coming from a firearm using SILVER BULLET GUN OIL in the
barrel. SILVER BULLET GUN OIL uses the belief system of Allah's Islamo-Fascist terrorists to put fear of
death into them, a fear they haven't had until NOW.

SILVER BULLET GUN OIL can be used in or on ALL weapons and weapons systems. Put a drop
on the remains of "suicide bombers" for the same effect-No Paradise! FOR MAXIMUM IMPACT
DOWNRANGE; USE "SILVER BULLET" AND MAKE SURE THE ISLAMO-FASCIST COWARDS KNOW IT!
Don't worry, it's all okay to use it, because of this disclaimer!
THIS PRODUCT IS FOR USE ON ARMED MUSLIM TERRORISTS ONLY.
WE DO NOT PROMOTE DISCRIMINATION AGAINST ANY RACE OR RELIGION, ONLY TERRORISTS.
Here is the impressive production line: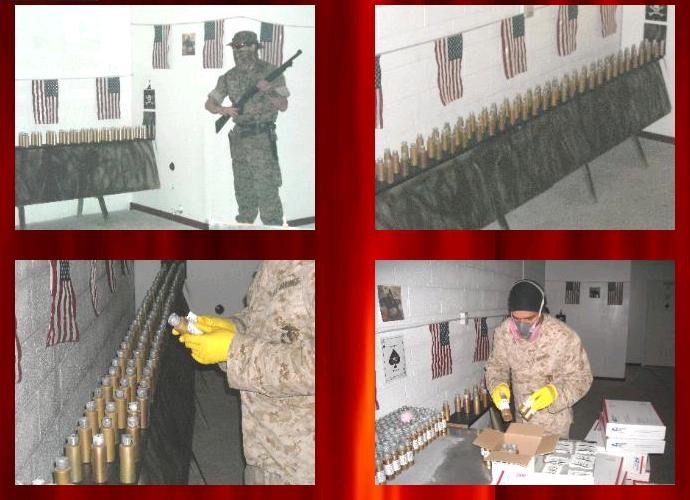 Which was accompanied by this manifesto from "THE MIDNITE RIDER"
The pictures above are of the Silver Bullet Gun Oil production line. Due to much increased demand
in the USA, SBGO has been forced to also add on a SECOND SHIFT at their production facilities.
Approximately 300 Bottles per hr are being produced currently at main production facility.
The Bottles of SBGO seen packed went to MARINE units Stationed in Helmand province in
Afghanistan in early November. there were also 3 other shipments to Marines in Afghanistan
recently totalling over 4000 bottles sent there in the last two months.
First Responders throughout the USA have increased the use of SBGO in their weapons. Police
Patrol officers now use SBGO in their service weapons.
Since the FT Hood incident MANY civilian militias throughout the USA have bought numerous cases
of SBGO and one unit recently bought a PALLET full of SBGO.
U.S.Military weapons are PRE-LUBED with SBGO BEFORE being sent to the Middle East in a process
that bonds SBGO to ALL WEAPONS PARTS immersed in it AT THE MOLECULAR LEVEL during
pre-deployment weapons preparation
SWAT teams in the Tri-state area have gotten large quanities of SBGO in preparation for the
upcoming Terrorist trials in NY in case there are any HOSTAGE INCIDENTS. Any
Islamoterrormerchant attempting to enter paradise through jihad by hostage will in all likelihood die
from a first responders weapon using SBGO in it.
"We the PEOPLE" are sick of playing with a bunch of COWARDLY Voodoo Heathen cave dwelling
baby murderers. Believe what you want for your so-called "Religion of PEACE" but DON'T try to make
AMERICANS believe the ravings of MOHAMMED the pedophile murderer,or his sycophant followers
who advocate the wholesale slaughter of women and children and non-believers in the Muslim
Sharia type of NAZISM.

True "Believers" in the Al-qaeda way are invited to come to the USA so that "WE THE PEOPLE" CAN
SEND YOU PERSONALLY TO ALLAH'S HELL, STINKING OF SWINE.
ALLAH AWAITS AND SO DO "WE THE PEOPLE",and "We the PEOPLE" are HEAVILY ARMED,and MANY
use SBGO in their weapons.
Do not delude yourselves that ALL Americans are SHEEP to be sheared.
Do not delude yourselves that the American People have lost their will to be DESTROY YOU.
DO NOT DELUDE YOURSELVES THAT THE AMERICAN PEOPLE ARE ONLY REACTIONARY.
Do not delude yourselves that you will be victorious,you will DIE and Be consigned to HELL for your
troubles.
"We THE PEOPLE" have taken STEPS, HERE,to make your endeavors to defeat US come up ONLY as
a LOSS for YOU, IN EVERY WAY
YOUR DEFEAT AND DEMISE IS PREDICTED AND WILL HAPPEN,UNLESS YOU STOP ALL AGGRESSION
AGAINST THE USA AND IT'S ALLIES,NOW.
Ask your so -called "martyred" dead who reside in allahs HELL from being KIA with a weapon using
SBGO.
YOUR REWARD FOR YOUR TROUBLE IF YOU DON'T LAY DOWN YOUR ARMS WILL BE PHYSICAL
DEATH AND THEN ALLAH'S HELL. FOR ETERNITY.
IS IT WORTH IT ?
IS RISKING YOUR ETERNAL SOUL WITH NO LONGER A GUARANTEE OF PARADISE WORTH THE RISK
TO POSSIBLY KILL A COUPLE MORE AMERICANS ??
IF YOU FEEL IT IS,THEN BRING IT ON,BECAUSE THE AMERICAN PEOPLE THAT COUNT ARE READY
WILLING AND ABLE TO DEFEAT AND DESTROY YOUR BODY AND YOUR BLACK,EVIL MURDEROUS
EXCUSES FOR SOULS.
LAY DOWN YOUR WEAPONS AND GO BACK TO YOUR HOMES OR HOVELS OR whatever SHITPIT you
come from or SUFFER THE CONSEQUENCE OF DEATH AND THE UNENDING PAIN OF ETERNAL HELL.
Do not be deceived because the American Media does not broadcast SBGO to the world that it does
not exist. THEY DO AS THEY ARE TOLD TO DO. They have been ORDERED to not broadcast anything
about SBGO.
When you are boiling in Allah's piss you will KNOW who truly deceived you,
YOUR RABID so-called leaders WHO HAD NO AUTHORITY TO DECLARE JIHAD IN THE FIRST PLACE
HAVE DECEIVED YOU.
YOUR power hungry,unclean of hands and minds priests of your lying "Religion of Peace" have
sent you to be condemned for all eternity for their own petty lusts HAVE DECEIVED YOU.
THOSE WHO DECLARED A JIHAD AGAINST THE USA AND HAD NO AUTHORITY TO DO SO HAVE
DECEIVED YOU.
BIN LADEN IS A SPOILED RICH BITCH,HE HIDES LIKE THE COWARDLY EFFETE JACKAL HE IS,HE SENDS
YOU TO DIE WHILE HE SITS BACK AND REAPS THE BENEFITS.
BLIND STUPID FOOLS.
Many of your so-called "Martyrs" await your presence in Allah's HELL due to SBGO,they await your
arrival as misery truly loves company.
THE MIDNITE RIDER
Remember, they don't believe in your god, but they're gonna send you to your hell. Somehow!