Posts tagged "Islam"


Oh yeah! When Muzzies get you down, just lube up your gun with Silver Bullet Gun Oil (from here) and live out your rightwing eliminationist fantasies!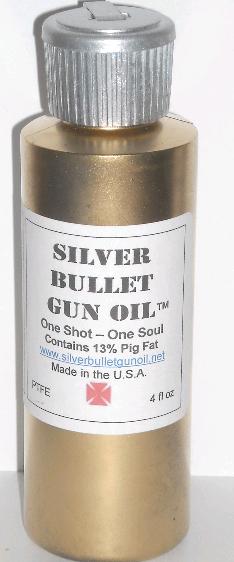 But don't take my word for it, let's let the website speak for itself!
SILVER BULLET GUN OIL, is a HIGHLY EFFECTIVE Counter-Islamic terrorist force multiplier.
SILVER BULLET GUN OIL was designed specifically to put Demoralizing FEAR and TERROR into
SUPPOSEDLY "Fearless" Islamo-Fascist terrorists. It was created with the "TRUE BELIEVER" in mind.
According to the Koran, Allah states, "Any of my followers contaminated by swine at the time of his
death will be denied entry to my paradise forever, I HATE THE STENCH OF SWINE."

HOW does SILVER BULLET GUN OIL work? SILVER BULLET GUN OIL CONTAINS 13% USDA LIQUEFIED PIG
FAT. The PIG FAT is mixed with our blended, hi-grade WEAPONS OIL designed for use in ALL FIREARMS.
The oil is applied to the inside of the barrel of any firearm or weapons system. When fired, BULLETS are
coated with SILVER BULLET GUN OIL containing the PIG FAT. The PIG FAT is transferred to anything the
BULLETS STRIKE. The coating of OIL CONTAINING PIG FAT effectively DENIES entry to Allah's Paradise to
any Islamo-Fascist terrorist KIA with a bullet coming from a firearm using SILVER BULLET GUN OIL in the
barrel. SILVER BULLET GUN OIL uses the belief system of Allah's Islamo-Fascist terrorists to put fear of
death into them, a fear they haven't had until NOW.

SILVER BULLET GUN OIL can be used in or on ALL weapons and weapons systems. Put a drop
on the remains of "suicide bombers" for the same effect-No Paradise! FOR MAXIMUM IMPACT
DOWNRANGE; USE "SILVER BULLET" AND MAKE SURE THE ISLAMO-FASCIST COWARDS KNOW IT!
Don't worry, it's all okay to use it, because of this disclaimer!
THIS PRODUCT IS FOR USE ON ARMED MUSLIM TERRORISTS ONLY.
WE DO NOT PROMOTE DISCRIMINATION AGAINST ANY RACE OR RELIGION, ONLY TERRORISTS.
Here is the impressive production line: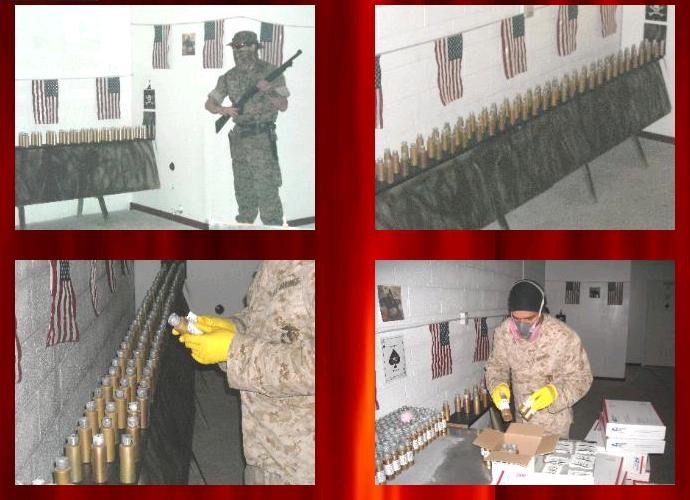 Which was accompanied by this manifesto from "THE MIDNITE RIDER"
The pictures above are of the Silver Bullet Gun Oil production line. Due to much increased demand
in the USA, SBGO has been forced to also add on a SECOND SHIFT at their production facilities.
Approximately 300 Bottles per hr are being produced currently at main production facility.
The Bottles of SBGO seen packed went to MARINE units Stationed in Helmand province in
Afghanistan in early November. there were also 3 other shipments to Marines in Afghanistan
recently totalling over 4000 bottles sent there in the last two months.
First Responders throughout the USA have increased the use of SBGO in their weapons. Police
Patrol officers now use SBGO in their service weapons.
Since the FT Hood incident MANY civilian militias throughout the USA have bought numerous cases
of SBGO and one unit recently bought a PALLET full of SBGO.
U.S.Military weapons are PRE-LUBED with SBGO BEFORE being sent to the Middle East in a process
that bonds SBGO to ALL WEAPONS PARTS immersed in it AT THE MOLECULAR LEVEL during
pre-deployment weapons preparation
SWAT teams in the Tri-state area have gotten large quanities of SBGO in preparation for the
upcoming Terrorist trials in NY in case there are any HOSTAGE INCIDENTS. Any
Islamoterrormerchant attempting to enter paradise through jihad by hostage will in all likelihood die
from a first responders weapon using SBGO in it.
"We the PEOPLE" are sick of playing with a bunch of COWARDLY Voodoo Heathen cave dwelling
baby murderers. Believe what you want for your so-called "Religion of PEACE" but DON'T try to make
AMERICANS believe the ravings of MOHAMMED the pedophile murderer,or his sycophant followers
who advocate the wholesale slaughter of women and children and non-believers in the Muslim
Sharia type of NAZISM.

True "Believers" in the Al-qaeda way are invited to come to the USA so that "WE THE PEOPLE" CAN
SEND YOU PERSONALLY TO ALLAH'S HELL, STINKING OF SWINE.
ALLAH AWAITS AND SO DO "WE THE PEOPLE",and "We the PEOPLE" are HEAVILY ARMED,and MANY
use SBGO in their weapons.
Do not delude yourselves that ALL Americans are SHEEP to be sheared.
Do not delude yourselves that the American People have lost their will to be DESTROY YOU.
DO NOT DELUDE YOURSELVES THAT THE AMERICAN PEOPLE ARE ONLY REACTIONARY.
Do not delude yourselves that you will be victorious,you will DIE and Be consigned to HELL for your
troubles.
"We THE PEOPLE" have taken STEPS, HERE,to make your endeavors to defeat US come up ONLY as
a LOSS for YOU, IN EVERY WAY
YOUR DEFEAT AND DEMISE IS PREDICTED AND WILL HAPPEN,UNLESS YOU STOP ALL AGGRESSION
AGAINST THE USA AND IT'S ALLIES,NOW.
Ask your so -called "martyred" dead who reside in allahs HELL from being KIA with a weapon using
SBGO.
YOUR REWARD FOR YOUR TROUBLE IF YOU DON'T LAY DOWN YOUR ARMS WILL BE PHYSICAL
DEATH AND THEN ALLAH'S HELL. FOR ETERNITY.
IS IT WORTH IT ?
IS RISKING YOUR ETERNAL SOUL WITH NO LONGER A GUARANTEE OF PARADISE WORTH THE RISK
TO POSSIBLY KILL A COUPLE MORE AMERICANS ??
IF YOU FEEL IT IS,THEN BRING IT ON,BECAUSE THE AMERICAN PEOPLE THAT COUNT ARE READY
WILLING AND ABLE TO DEFEAT AND DESTROY YOUR BODY AND YOUR BLACK,EVIL MURDEROUS
EXCUSES FOR SOULS.
LAY DOWN YOUR WEAPONS AND GO BACK TO YOUR HOMES OR HOVELS OR whatever SHITPIT you
come from or SUFFER THE CONSEQUENCE OF DEATH AND THE UNENDING PAIN OF ETERNAL HELL.
Do not be deceived because the American Media does not broadcast SBGO to the world that it does
not exist. THEY DO AS THEY ARE TOLD TO DO. They have been ORDERED to not broadcast anything
about SBGO.
When you are boiling in Allah's piss you will KNOW who truly deceived you,
YOUR RABID so-called leaders WHO HAD NO AUTHORITY TO DECLARE JIHAD IN THE FIRST PLACE
HAVE DECEIVED YOU.
YOUR power hungry,unclean of hands and minds priests of your lying "Religion of Peace" have
sent you to be condemned for all eternity for their own petty lusts HAVE DECEIVED YOU.
THOSE WHO DECLARED A JIHAD AGAINST THE USA AND HAD NO AUTHORITY TO DO SO HAVE
DECEIVED YOU.
BIN LADEN IS A SPOILED RICH BITCH,HE HIDES LIKE THE COWARDLY EFFETE JACKAL HE IS,HE SENDS
YOU TO DIE WHILE HE SITS BACK AND REAPS THE BENEFITS.
BLIND STUPID FOOLS.
Many of your so-called "Martyrs" await your presence in Allah's HELL due to SBGO,they await your
arrival as misery truly loves company.
THE MIDNITE RIDER
Remember, they don't believe in your god, but they're gonna send you to your hell. Somehow!
Subject: Wedding Ring Is In For Repairs…
Like the Bible says, "There is none so blind as those
who refuse to see."
Wedding ring is in for repairs – Another piece falls into place.
In a press conference last week Obama was not wearing his wedding
ring nor was he wearing his watch when noticed, his staff said his
ring was out for repairs.
No reason was given for the missing watch. So it's just a coincidence that Muslims are forbidden from wearing jewelry during the month of Ramadan (ninth month of the Islamic calendar, lasting from 29 to 30 days).
Can't possibly be that, because although he hasn't gone to a
Christian church service since entering the White House, we know he's a committed Christian "cause he said so during he campaign!"
………..And I've got a bridge to nowhere to sell you also.
This is the same president that spent the Christmas holidays in
Hawaii to avoid religious obligations as PRESIDENT at the White
House. His children do not receive Christmas presents.
Let's just face the facts and quit trying to tell the truth, we have
a muslim for president in the White House, and he has no
knowledge of American history.
Mission: Freepossible! Good morning, Mr. Phelps. You mission, should you choose to accept it, is to read this thread with posts by Dengar01, who goes nuts upon seeing his Muslim neighbor have cars in his driveway, so he calls the cops, the FBI, takes covert photographs of license plates, and then dresses in all black with black facepaint to go on a commando/photographing raid that results in his neighbors spotting him and Dengar01 running away. Although Dengar01 is calling the cops, one things we should call the cops on Dengar01 before he goes all John Ringo on an unsuspecting family that had guests over for dinner.
Dengar01 gets suspicious as his neighbor has people over. Did I mention his neighbor is Muslim??? And, in an area with a lot of Muslim people, another Muslim family had people over. Coincidence…or bin Laden Revenge????

Dengar01 begins to get worried…


Then he and his sister take photographs of cars and his neighbor's house. Which might be a reason why he doesn't have contact with this neighbor, because he's always accusing him of Jihad.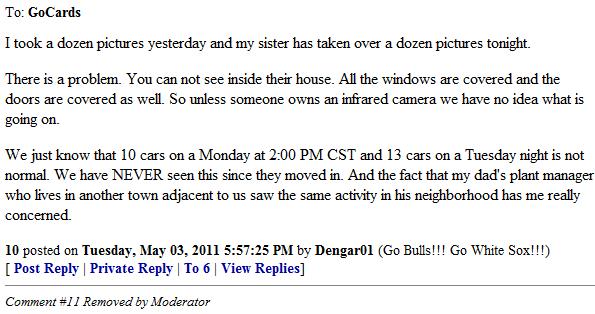 Dengar01 then flips out on people who dare question him. Also Dengar01 reveals…..something when he mentions how few people came to his mother's funeral.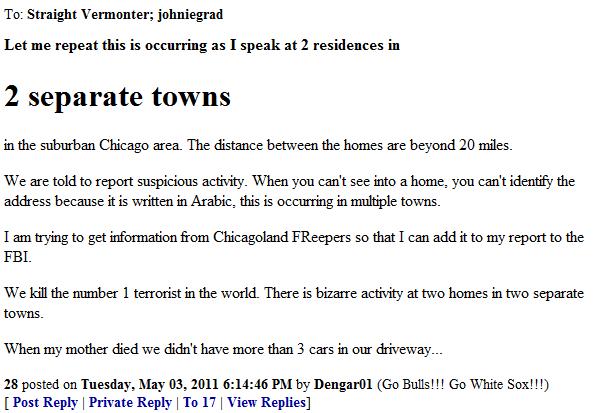 Read more…
A while ago I came across a website called Citizen Warrior who is a person out to educate the world about the evils of Islam. Unlike many of his (lets just make this person a man) compatriots in the war on Islam, Citizen Warrior promotes a more calm and rational hatred of Islam. That is why he started up the website http://talkaboutislamamongnonmuslims.blogspot.com/. The website has a worthy goal of "Here non-Muslims discuss the challenges of talking to our fellow non-Muslims about the unsettling nature of Islamic doctrine". The whole content of the website (besides the articles he links back to his main site which include How to Stay Calm When Talking About Islam and When People Think You're Nuts) is just a single blog post where people are supposed to post in the comments section about the trouble they have when talking to non-Muslims about Islam.
So lets see what advice people have to offer us:
sheepdog said…
There seems to be two basic categories of Jihad; war-like terrorism and taqiyya. Unfortunately, the terrorism is the most easily countered because people (with a brain) see it for what it is. All of the non-violent forms make it easy to deceive the slumbering, gullible public and I'm afraid there are too few of us that recognize the threat of jihad. Until the general public comes to understand that Islam is a government hiding behind a religious front that is totally incompatible with our constitutional form of government we are losing the war. Unfortunately our government controlled media, or is it media controlled government, continues to feed misinformation and politically correct crap.
Taqiyya is the practice of hiding one's faith when under the threat of persecution, somehow that got twisted around in some peoples' heads to mean that Muslims are going to hide their faith and infiltrate us (see Obama, Barack Hussain).
Salmon wants to let us know that you should read some books about Islam before spouting off about it. It is sad that needs to be said.
Salmon said…
First and most obvious, since Jihad has killed millions and threatens to kill us, we should take time to bone up on Islam–its history, doctrines and practices. Take the time to read some basic books. Then we will all be thoughtful strategists and not just shooting the breeze.
Our man Citizen Warrior chimes in to let people know to watch out to make sure you don't get the same reputation as a Dutch politician who wants to ban the Qur'an, tax women wearing headscarfs, end immigration from Muslim countries and was banned from entering the UK for 9 months.
Citizen Warrior said…
Finally Figured Out Islam: The same thing is happening to Geert Wilders. It's crazy! He only showed Muslims speaking and acting, and showed quotes from the Quran about those actions, but HE is being charged with hate speech. If we can make this point clear and make it obvious how crazy it is, it would go a long way to ending getting over this first hurdle.
Today another Muslim was arrested for something or other. I can't be bothered to provide details or anything but it totally happened. When are people going to learn that nebulous stories like that can't happen?
Today another Muslim, in Chicago, was arrested for trying to blow up buildings, poison the water supply or cause other havoc. I cannot understand how any Muslim sympathizer fails to connect the dots – you don't hear of any other group doing this type of stuff all over the world – because the Muslims are the only ones whose religious and politics takes them in that direction.
You see back in the day the Pope lied to people to kill people but Imams taught people to be nice to everyone. Then some stuff happened and somehow Christianity became very nice and nothing bad ever happened because of people interpreting the bible in a way that would incite violence, hate or discrimination. At the same time every Muslim started reading the Qur'an and they all realized simultaneously it was about killing every non-Muslim ever. Therefor Christianity is better than Islam.
The rebuttal about the crusades is common. Here is how I tackle it.

The Pope told Christians that their sins would be forgiven if they fought in the crusades, but war against infidels is not commanded by Christianity, nor are one's sins forgiven this way. Noone had bibles in those days so they couldn't check if the Pope's declarations were based on the original scriptures. When Martin Luther finally got hold of one of the oldest Greek manuscripts, he translated it and found that salvation was 'free', not earnt, paid for, or granted by popes or priests. This started the reformation.

The opposite has occurred in Islam. Like Christians before the Reformation, muslims depended on the Imam to tell them what Islam was about. Mostly the imam would teach only the nice parts, except when war broke out would he instruct the soldiers about jihad. But lately, with increased literacy and availablity of Qurans, anyone can now read it for themselves in his or her language. So, when you scrape back Christianity to its raw state, you do not get the "crusades" anywhere in it. But when you do the same with Islam ie scrape it back to its pure form, the Quran, you get this …..
Commonsense13's tactic in talking to non-Muslims about Islam is to be completely bat shit crazy.
commonsense13 said…
This is an exchange between me and another member at another site. We "argue" all the time about Muslims and he defends their right to be protected under our Constitution without limit. On this site we are formed of military, LE, veterans and civilians who take the oath to uphold the constitution and protect the country against enemies both foreign and domestic. Part of our mission statement is to Reach, Teach and Inspire, also that under martial law we will not disarm civilians…
ME: So, let me see…we should only talk about what the Active Duty people want to talk about…would that be maybe the killing of their fellow soldiers at Ft. Hood by a Muslim and now wonder whenever they have to serve next to one where that persons allegiences really are? But ya see, they can't say that out loud on a regular military forum can they? They could talk about it here under an assumed name and info can be shared. Or we can only talk about what is important to LE? Well that would probably be about the illegal Mexicans crossing over our southern borders by the thousands and terrorizing our cities, bringing in drugs, killing, taking resources such as health care, welfare and educational benefits that should be going to American citizens and legal immigrants.
Or should we be talking about what is important to DOJ personnel or all the new czars appointed by this administration who is jamming socialism down our throats? Will IRS agents be included in this group when they are required to garnish your wages because you didn't buy the governmental healthcare which clearly goes against the Commerce Clause? Are we actively recruiting IRS agents? They can seize our property. Also against the Constitution.
So who decides what topics are valid for who to talk about? Are we to assume that all of these "special" members are going to blindly follow OK's mission and go against their sworn duty just because of this membership when they do not have the facts of what is really going on at any given moment? Do they read every piece of news out there to keep up to date? Probably not. Who is to say that in something like Katrina there isn't an area that there is a bunch of gangbangers shooting at the police and military and they are given orders to go in and disarm them…do you think that because of the OK oath they are going to say NO? If they did, what use are they? If there is a muslim training center and LE is told to go in and disarm them, are they going to say NO because no one wants to believe that there are bad muslims here and don't want to hurt their feelings? Shouldn't we as a group discuss what is out there, how to handle things, share info, figure out how to bring this country back as close to the Constitution and honest politics in order to support our military and LE to make their jobs easier and keep all of us safer and at the same time prepared if TSHTF? Im sure our LE and military could give us good information on what to do, what we should be doing…for a natural disaster or a political one. Those of you who don't want to hear it or join in, just don't…go to another thread but stop calling people names like bigots, racists and ignorant.
This was posted by an anonymous person, I gonna guess it was Glenn Beck.
9-11, EVERYTHING YOU NEED TO KNOW ABOUT ISLAM
So I saw a poll the other day and saw that 30% of people were just uneducated about Islam and I thought "There is 30% I can willfully mislead and lie to about Islam".
Citizen Warrior said…
I rather appreciated your meandering, Traeh. I have felt the same way about wanting to learn more. There always seems to be more to learn before I really feel like an expert. And yet, most people don't even know the most rudimentary things about Islam. Someone asked me the other day, "Where is Islam?" as if it was a country or region (although that depth of ignorance is rare).

But even still, most people don't know much about Islam. I just read a poll of Americans that said 24 percent thought Islam was a peaceful religion and 30 percent were unsure. When I read that, I thought, "That means 30 percent only need a little more information to tip them to our side."
And now we get a look into the mind of Citizen Warrior. I don't know which I like more: how he casts himself in a fake epic struggle in a larger war of Good and Evil or how he talks about the "Joys of war".
Citizen Warrior said…
Traeh, your last big paragraph really resonated with me. It is indeed strange being involved in a sort of secret underground war against an ideology. And it IS negative. Find a loving and positive spin? That's a tough one, but maybe not as tough as it seems. I usually refer to my work as "saving the free world" when I'm talking to my friends. They ask me what I did over the weekend. I often answer something like, "Same old thing, trying to save the free world." It is somewhat self-mocking, but it is also true and they know it's true, and many of them admire me for it.

When I am getting off work, someone might ask me, "What are you up to tonight?" I sometimes answer, "I'll be fighting to save the free world, what about you?"

I think of the role as extremely positive myself, although the content of the task is admittedly sometimes negative.

In my own assessment, I cast our work in an heroic light. All throughout history, the fight has continued, good against evil, in its many forms. And most of my favorite movies depict some sort of battle between good and evil. Movies are a kind of symbolic value-system reinforcement.

What makes movies like Lord of the Rings epic is, I think, its universal message: That the forces of darkness are always gathering and that people of good heart and good intentions are always fighting to keep the good side winning.

As far as I can tell, it will never stop, so we might as well hunker down and enjoy the fight. And I really do think there is something to ENJOY about this fight. I love the feeling of meaningfulness and purposefulness this work bestows upon its warriors.

Someone at work was talking about 2012 and "the end of the world" the other day and many people joined in the discussion. My feeling was that they all lacked a sense of meaning, and many of them had a secret wish that something world-shaking WOULD happen in 2012 because they have nothing historically meaningful in their lives, nothing that gives them a sense of significance. I think people NEED that to really feel fully alive. And I didn't feel I was missing that element in the slightest and I didn't share their secret wish.

I feel I am engaged in a life-or-death battle for the fate of the planet, and I have met some magnificient people in this battle, good people who have become my friends and fellow warriors.

This is not a sure thing. It is not certain how things will turn out. There are many people AGAINST what we're doing. There are secret forces fighting to subvert the freedoms we our predecessors fought so hard to win. This is really and truly a BATTLE, a fight for the playing field, a war of historical significance. And we must win.

The mainstream media focuses on the horror of war, and the psychological scars of war, but there is also the "joy of war," if you could call it that — the feeling during a war that what is happening is more real and more significant and more urgent and more important than anything that happens in "normal" life. I've talked to WW2 vets who have told me that during the war they were more alive than any time since then, and that the bonds they formed under those circumstances withstood the test of time better than any other bonds.

Now I'M meandering. What I meant to say, though, is that although this sometimes feels like a "negative" thing we're doing, in some ways that's what makes the fight so important, so significant, and so ultimately satisfying. And that's positive.
If the Muslim religion is tied to Islam and Sharia, then we definately need to change the "definition" of Religion in the US constitution. If the Muslim religion is tied to Islam and Sharia, then we definately need to change the "definition" of Religion in the US constitution. If the Muslim religion is tied to Islam and Sharia, then we definately need to change the "definition" of Religion in the US constitution
If the Muslim religion is tied to Islam and Sharia, then we definately need to change the "definition" of Religion in the US constitution. To say that Religion is a faith that teaches love and forgivenes and is not a threat to other religions. Once that is stablished. Then we can review the koran (And any other religions), and enforce US Muslims in Mosques to edit verses in the Koran(the teachings) that tie the Muslim faith (koran)with a Law (sharia) that teaches intolerance and killing of anyone who does not believe in the Muslim faith. Only until the Koran is revised (or abrogated as they say), it cannot coexist with different religions. Keep in mind Sharia are "hadiths", laws that were written not by the prophet Muhammad, but by followers.
Once we change the constitution to make Islam not a religion we can force them to edit their holy book.
So please, next time you are talking to a non-Muslim about Islam keep the previous posts in mind and work their ideas and lessons into your conversation as needed.
Categories: #breitbart, #drainclogs, #freedomworks Tags: #freedomworks, DiversiTea, Islam, Joe Arpaio, Marcellus Shale, New Black Panthers, Newt Gingrich, Oil, Pennsylvania, Repent Amarillo, Teabaggers
Audio not safe for work because he has a nasty mouth!

http://www.freerepublic.com/focus/f-news/2587408/posts?q=1&;page=201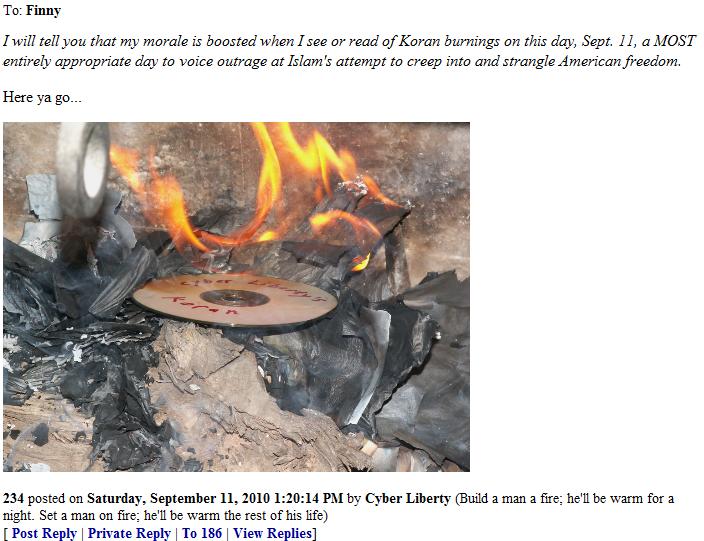 Cyber Liberty, member since 1998! At least no dogs were hurt in this incident (unless a dog breathed in the fumes…)
Also some moron burned a Koran at Ground Zero, I don't know if he's a Freeper yet or not:
http://www.youtube.com/watch?v=oRcUdruhgyw&skipcontrinter=1
A republishing of this: http://www.freerepublic.com/focus/f-chat/2586971/posts
BREAKING: Dog Attacks Koran
Posted on Friday, September 10, 2010 4:39:01 PM by Joe 6-pack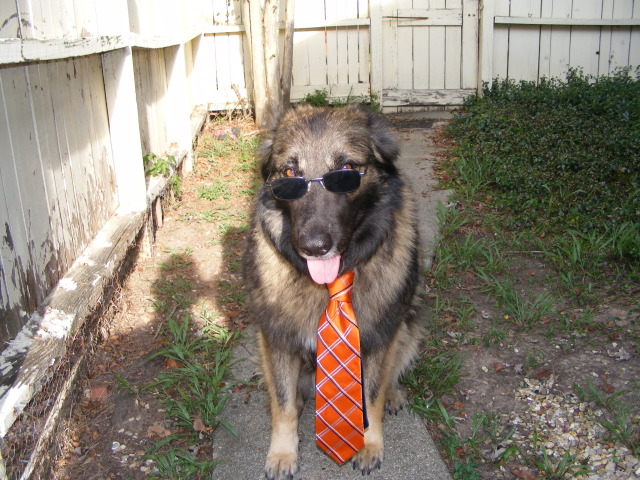 Roverand Terry Bones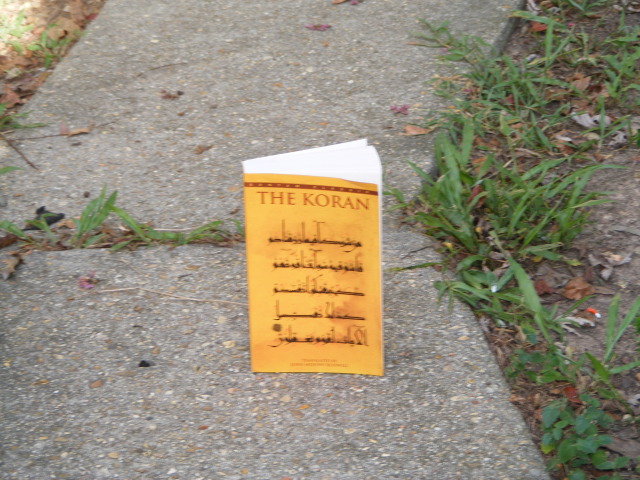 The Koran in more peaceful times…
Read more…
Friend of the site D.C. Douglas has made a new video to help Dick Armey and Matt Kibbe sell their book Give Us Liberty: A Tea Party Manifesto:

Also how awesome is it that DC Douglas is in Titanic II? Pretty awesome.
Alan Simpson says dumb stuff, somehow isn't fired from awful committee that shouldn't exist. Also Digby is almost always right.
Some Muslim/American news:
Glenn Beck's 8-28 Rally is this weekend, where Beck will try to co-opt the Civil Rights Movement in order to sell books..I mean, be patriotic and take back America. It has nothing to do with selling books. But his books will be available for purchase! Real Patriotic Americans will be at the 9-12 Rally instead! Which one will have the larger made up number of attendees? You'll have to wait and see!
So there were a few fights at the Iowa State Fair and rumors swirled it was Beat Whitey Night and that gangs of black youths were systematically beating down poor white people. Despite the police now denying there was a Beat Whitey Night, the right wing noise machine went into full force, and soon FreeRepublic's whining and blanket race war threats had gotten the attention of the Aryan Nation!

Aryan Nations Headed to Des Moines, Iowa

Paul Mullet is the director of the Aryan Nations Church of Jesus Christ Christian. When he heard Rep. Ako Abdul-Samad, Democrat from Des Moines say that there wasn't enough information about the beatings and attacks to call them racially motivated, he said they (Aryan Nations) were going to Des Moines. When asked how many were coming or when they were coming, Mullet said he wasn't going to let anyone know ahead of time. He (Mullet) said he wasn't stupid.

That's right, the white supremacist guy's name is Mullet.

Luckily FreeRepublic is sensible and they all deny the Nazis..oh, wait..

To: stillafreemind

Funny…don't much about Iowa Aryan Nations sorts but maybe the black fellows should study Greensboro NC before they go off half cocked

just some helpful advice

24 posted on Thursday, August 26, 2010 8:52:46 AM by wardaddy (effed up times..)

wardaddy is making a reference to the Greensboro Massacre, the 1979 Klan-Nazi Shootings of 14 blacks at a workers march, 5 were killed.
Categories: #drainclogs, #freedomworks, #freerepublic Tags: #freedomworks, Alan Simpson, D.C. Douglas, FreeRepublic.com, Glenn Beck, Iowa, Islam, RAHOWA, Teabaggers
The Bush Administration may have medically experimented on detainees. Sorry, no joke about this, because fuck them if this is true.
The "Ground Zero mosque" protest (of the mosque that will not be on Ground Zero, but whatever, stupid people are stupid) ended as it began, as a bunch of totally not-racist garbage. The most hilarious racism was when the protestors attacked two Coptic Christians who had come to protest the mosque as well.
At one point, a portion of the crowd menacingly surrounded two Egyptian men who were speaking Arabic and were thought to be Muslims.

"Go home," several shouted from the crowd.

"Get out," others shouted.

In fact, the two men – Joseph Nassralla and Karam El Masry — were not Muslims at all. They turned out to be Egyptian Coptic Christians who work for a California-based Christian satellite TV station called "The Way." Both said they had come to protest the mosque.

"I'm a Christian," Nassralla shouted to the crowd, his eyes bulging and beads of sweat rolling down his face.

But it was no use. The protesters had become so angry at what they thought were Muslims that New York City police officers had to rush in and pull Nassralla and El Masry to safety.

"I flew nine hours in an airplane to come here," a frustrated Nassralla said afterward.
Just imagine what would have happened had they been racist!
Rep Bart Stupak (D-MI) sucks, but not so much that fathers and sons should be making joint death threats against him!
The letter of threatening threats
Russell Hesch, 73, and David Hesch, 50, were charged with conspiracy to threaten to assault, kidnap or murder a U.S. official. They face up to five years in prison and a $250,000 fine.

In the most explicit threat from the letter, the author threatens to "paint the Mackinaw [sic] Bridge with the blood of you and your family members. … Maybe you will be the main character of a story that parents tell their children as they cross the bridge decades from know [sic]. The red paint of Bart Stupak!"
Afghanistan is now the longest US military combat action in history. WOOOOooOOOOO!!!
Are you smarter than this WSJ Op-Ed? (Enlightened Answer: Yes)
Who is better informed about the policy choices facing the country—liberals, conservatives or libertarians? According to a Zogby International survey that I write about in the May issue of Econ Journal Watch, the answer is unequivocal: The left flunks Econ 101.
Let's see the questions:
The other questions were: 1) Mandatory licensing of professional services increases the prices of those services (unenlightened answer: disagree). 2) Overall, the standard of living is higher today than it was 30 years ago (unenlightened answer: disagree). 3) Rent control leads to housing shortages (unenlightened answer: disagree). 4) A company with the largest market share is a monopoly (unenlightened answer: agree). 5) Third World workers working for American companies overseas are being exploited (unenlightened answer: agree). 6) Free trade leads to unemployment (unenlightened answer: agree). 7) Minimum wage laws raise unemployment (unenlightened answer: disagree).
I guess to be Enlightened means to be a Libertarian douchebag that is against regulation of industries to have standards, spiraling rent costs, worker exploitation, against regulations of markets that cause things like the Great Recession, and against anyone having a living wage. Daniel Klein is the King of Enlightenment.
Buy Blackwater/Xe crap! Hate shopping online? Just go to their retail stores!
There are lots of elections going on today, vote and stuff if you can.
Cartoon of the Day: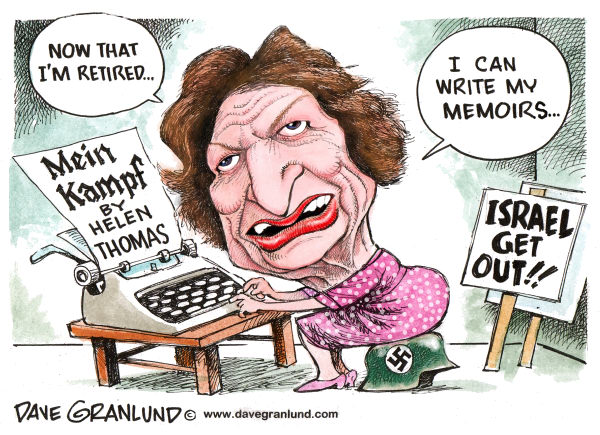 Categories: #drainclogs Tags: #blackwater, Afghanistan, Bart Stupak, Coptic Christians, Dan Granlund, Daniel Klein, George W Bush, Islam, racism, Wall Street Journal, Xe