Facebook Users BEWARE!
Obama Supporters Launch Misleading Facebook Application
Which Steals Your Personal Information
Now the end begins, CLICK HERE
By Geoffrey Grider • October 24, 2010
——————————————————————————
Commit fraud. Obama's lust for power has lead his team to create a Facebook app which data mines your page and steals as much sensitive information
as it can. As you can see from the photo below, it attempts to convince
you to give up everything about you, which is then fed into the Team
Obama database, and WILL be used against you at some future point.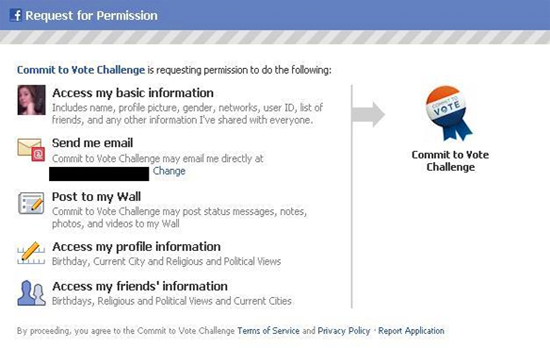 This app wants to know everything about you, including your religious and political beliefs. If you see this app on your page, we highly recommend
you to not only delete the post, but also block the app and then block
the person who posted it to your page. This is war, people, make no
mistake about that. Because Obama's Team has no intention of taking
prisoners – source – Kashmir Hill/Forbes
**PRIVACY TIP** We urge EVERYONE to go to PRIVACY… then bottom left… Applications and Websites… edit settings….
"Info accessible through your friends",
Control what information is available to applications and websites when your friends use them.
Edit Settings… UNCHECK… EVERYTHING!
Thanks to Regulator for posting this info!!!