The big news over the week was Obama going on a bus tour, with a new, armored bus bought by the Secret Service. this instantly turned the Right Wing Noise Machine into the pack of howler monkeys they are and they all fell over each other to make jokes about "pimpin' the ride" and "black bus!" and other unimaginative racist crap. Karl Rove even declared that his American Crossroads will use the bus as an attack target. We are sure that Karl Rove will be fair and point out that the Secret Service bought an identical bus for the eventual Republican candidate to use in 2012.
So let's see what PatriotActionNetwork has to say about this! It will be very patriotic and actiony, I tell you what…
Let's start out with name-calling and racism!


I am not sure if this guy is in the "Obama is 7/8ths Arab" camp or the "Obama is secretly hawaiian" camp. Or a newer, dumber camp.

This is my favorite quote of the day, because it is pure win:


Howie Subnick also has a way with words. Or experience with turds in punch bowls.


Obama has a bus….that means MARTIAL LAW!!!


Patricia Cole is obsessed with powerful black images.


How will Patricia A. Brittell pay for the troops to storm the White House if she's suspended all paychecks?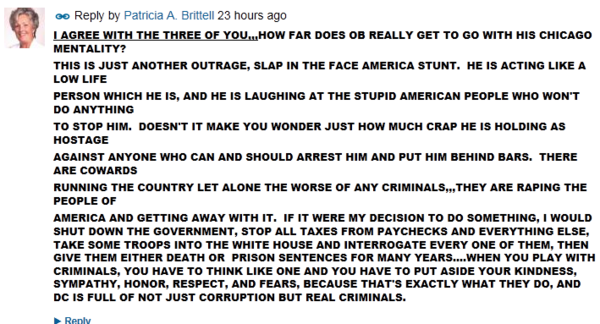 Jokes! Of the unfunny kind!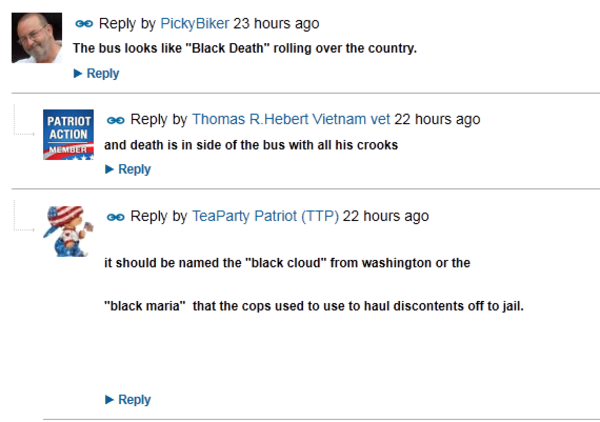 Anyone? Help?


And some cracks in the line at PatriotActionNetwork.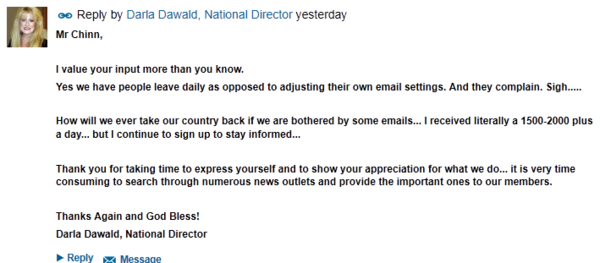 More in a bit, as more is always coming. Always. Until then, let's all get purple ears!