Posts tagged "American Crossroads"
The big news over the week was Obama going on a bus tour, with a new, armored bus bought by the Secret Service. this instantly turned the Right Wing Noise Machine into the pack of howler monkeys they are and they all fell over each other to make jokes about "pimpin' the ride" and "black bus!" and other unimaginative racist crap. Karl Rove even declared that his American Crossroads will use the bus as an attack target. We are sure that Karl Rove will be fair and point out that the Secret Service bought an identical bus for the eventual Republican candidate to use in 2012.
So let's see what PatriotActionNetwork has to say about this! It will be very patriotic and actiony, I tell you what…
Let's start out with name-calling and racism!


I am not sure if this guy is in the "Obama is 7/8ths Arab" camp or the "Obama is secretly hawaiian" camp. Or a newer, dumber camp.

This is my favorite quote of the day, because it is pure win:


Howie Subnick also has a way with words. Or experience with turds in punch bowls.


Obama has a bus….that means MARTIAL LAW!!!


Patricia Cole is obsessed with powerful black images.


How will Patricia A. Brittell pay for the troops to storm the White House if she's suspended all paychecks?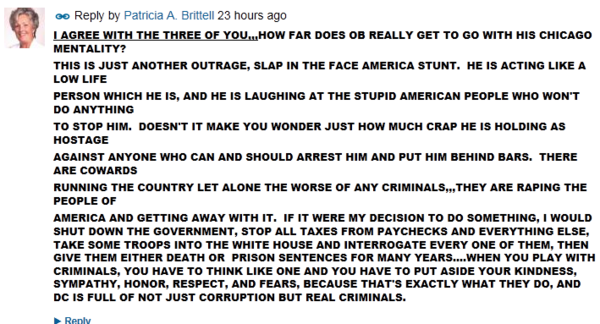 Jokes! Of the unfunny kind!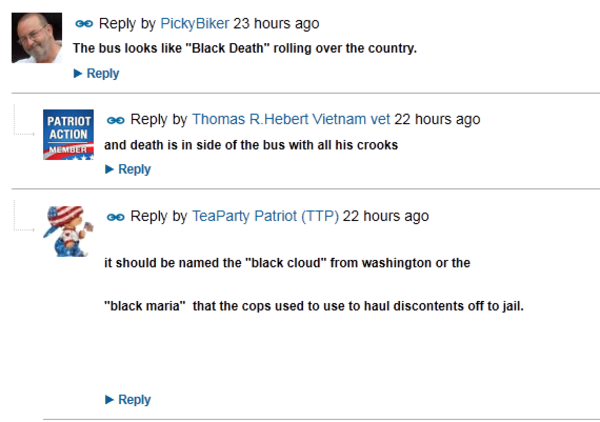 Anyone? Help?


And some cracks in the line at PatriotActionNetwork.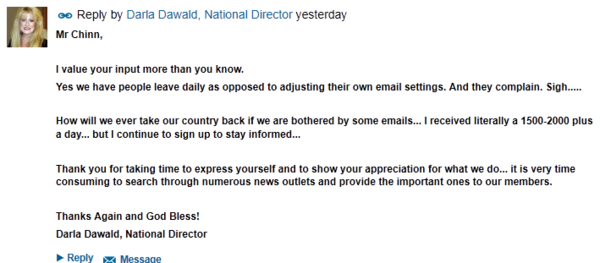 More in a bit, as more is always coming. Always. Until then, let's all get purple ears!
Yahoo News has a guide to the latest Right Wing astroturf groups that they are dubbing the "Shadow GOP". We're gonna reproduce a relevant part in case this Yahoo News story disappears like others have in the past (not a conspiracy, their content just expires sometimes)


American Crossroads: Founded in March by Rove and Gillespie to counter ad spending from liberal outfits like MoveOn.org and labor unions, this 527 group says it plans to raise and spend upwards of $50 million before November. So far, the group is focusing on 11 key Senate races, including Nevada, where the group has run two ads attacking Senate Majority Leader Harry Reid. But Collegio says American Crossroads will begin targeting House races closer to Election Day. According to Internal Revenue Service records, the group has raised roughly $8.5 million so far — including $1 million from Dallas energy executive Trevor Rees-Jones.

Crossroads GPS: A spinoff of American Crossroads, this 501-c4 group can keep its donor list private — a major selling point for individuals and corporations who want to anonymously influence elections. While it won't run ads, the group is picking up some of the pricey administrative tasks that the RNC has usually taken on, including building a database that allows them to microtarget voters in certain congressional districts with outreach specific to their interests.

American Action Network: Modeled in part after the liberal Center for American Progress, this 501-c4 group is headed up by former Minnesota Sen. Norm Coleman and managed day-to-day by Rob Collins, a former top aide to House Minority Whip Eric Cantor. Together with its sister group, the American Action Forum (see below), the outfit plans to be something of a GOP think tank, helping to craft the Republican message. But this side of the operation will focus more on advocating candidates than on policy development. A GOP source tells The Upshot the group is looking to spend as much as $25 million to influence the midterms. Already, the group has launched an ad against Charlie Crist, who quit the GOP to run as an independent in Florida's Senate race. The group has just launched a $450,000 campaign trashing Democrat Paul Hodes in New Hampshire's Senate race.

American Action Forum: An offshoot of the American Action Network, this group will focus more on formulating policy and helping GOP candidates deliver their message than on running ads attacking specific candidates. Fronted by Doug Holtz-Eakin, a former economic adviser to John McCain's presidential campaign, AAF lists Coleman and former governors Jeb Bush and Tom Ridge as board members.

Resurgent Republic: Founded by Gillespie and several GOP pollsters last fall, this group aims to be the Republican equivalent of Democracy Corps, a polling and research group founded by Democratic pollster Stan Greenberg and former Clinton operative James Carville. The nonprofit group will try to improve GOP messaging through polling and research groups and will work directly with other Republican groups in the network.

Republican State Leadership Committee: This 527 group plans to spend at least $40 million to influence state elections, including local House and Senate races, ahead of next year's planned redistricting debate. While Gillespie is the chairman, other advisers on board include former Rep. Tom Reynolds, who used to chair the House GOP campaign committee, and former RNC chair Mike Duncan (who is also working for American Crossroads).

Keep in mind the Center for American Progress was modeled after the Heritage Foundation. There are like a million conservative front groups so it is hard to keep track of them.

This is the most awesome expose of a Right Wing internet crank I have seen in a long time. Recent BigGovernment (Breitbart's website) hire Kevin Pezzi spent his debut trashing Shirley Sherrod as a racist. Then Media Matters googled him. What they found is an amazing trail of internet crazy, wild claims, brutal racism, ginormous ego, sock puppets galore, sexual bragging obsession, and just plain insanity. Read the big report here and a side report detailing all the sock puppets and fake internet harem. Kevin Pezzi has a FreeRepublic.com account and if we have time we'll do a search on it.
Botnets are messing with the stock market. But whose botnets? And why? Especially since they don't seem to be doing anything.
This blog by the guy who found them keeps track of them and looks for a pattern.
Drain Clogs are short today because we're trying to get a bigger article finished while still on lunch. Maybe we will…
Cartoon of the Day:

Categories: #astroturf, #culturewar, #drainclogs Tags: Afghanistan, American Crossroads, Birthers, Colorado, Elena Kagan, FreeRepublic.com, Immigration, Karl Rove, Ken Buck, Kenneth Feinberg, Lamar Smith, Michele Bachmann, Mike Lester, Nevada, not racist, Operation Rescue, Randall Terry, Sharron Angle, Shirley Sherrod, Tea Party Caucus, Tennessee, Texas, Tom Tancredo, Wikileaks, Zach Wamp
I guess bears are killing Americans because we don't follow the Bible or something. Damn you, Smokey!
Bryan Fischer is the same dude who wanted the Orca that killed its trainer to be killed. Will this be on the Colbert Show? Probably.
Acid Rain is back! WoooOOOooOooOO!!! Oh, wait, acid rain sucks!
General Stanley McChrystal said some naughty stuff in a Rolling Stone profile where he basically insulted most of the Obama Administraton and some other people, which is something you aren't allowed to do as an active military person, as it disparages the chain of command. McChrystal has submitted his resignation, so it remains to be seen if Obama will accept it. The best part about this is that Rolling Stone had not idea what they had there and most of the publicity for the issue was about Lady Gaga and her machine gun bra. Now, I love Lady Gaga and machine gun bras as much as the next guy, but no one noticed what McChrystal said?
Glenn Beck thinks George Soros will kill him. Someone make sure Soros doesn't have any machine gun bras!
American Crossroads, the fundraising group that was supposed to break the bank and have the GOP win the 2010 midterm elections is rolling in the cash. All $200 of it! At $200 a month they should reach their $52 million goal by the year 23676.
You might have noticed a new name on the bylines, Politisink has picked up a few new authors and they'll be debuting over the next few weeks. Welcome Immer Spaetlin!
Cartoon of the Day: