Posts tagged "Obama"
Somebody was going to say it. Rick Santorum wins the prize for almost dropping the N word. But I'll bet he's going to say he was saying "negotiator in chief"
Why, yes, some lady yelled "Pretend it's Obama!" as Rick Santorum practiced firing his gun at a firing range in Louisiana during a campaign stop. Santorum rightfully denounced the comment. But we haven't even reached the main event yet, and the Eliminationist rhetoric is spreading.
Visit msnbc.com for breaking news, world news, and news about the economy
Patriot Action Network is back from their failed attempt to go Web 1.1, reactivating their Ning site after losing 99% of their traffic and members with their grand experiment. Thus, they're more active again and back to their lunatic ways! And we can't have a Patriot Action Network article without them saying racist and stupid things! So let's lead off with the "Rev." Larry Wallenmeyer's wonderful post about how he hates Obama no matter what color of the rainbow he is: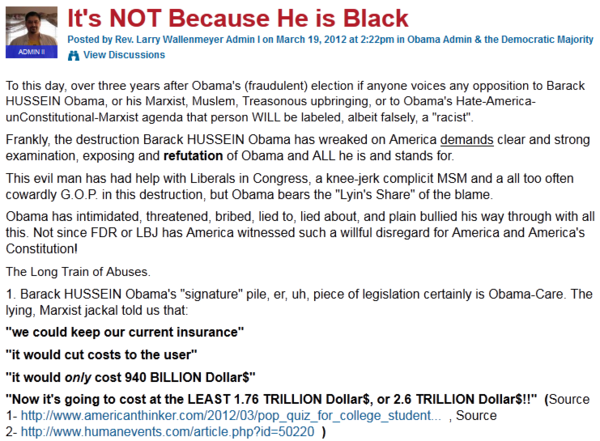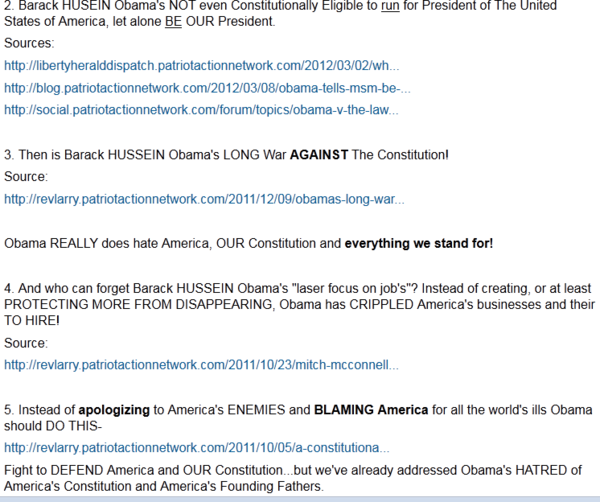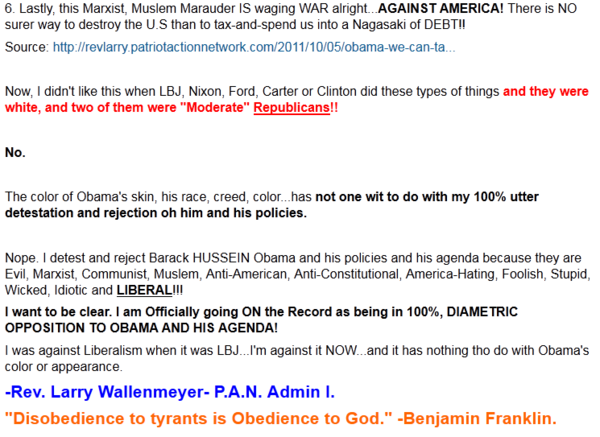 After all, Jesus hates people too. But the Patriot Action Network Posters (aka PANheads) can't let the fact that someone brought up Obama being black slip by…
If only there was some sort of rule about one drop brought about by Southern Racists that made it this way…


I personally don't know any white people named George W. Bush, so he must be a Muslim too!


My racism brings all the boys to the yard…

don knows this article will be popping up on Politisink!


But the good Reverend walks right into the trap, and nullifies his grand statements about how this totally isn't about Obama being black. This is also the only comment he bothered to reply to, letting the racist comments stand in total disregard for what was supposed to be his point.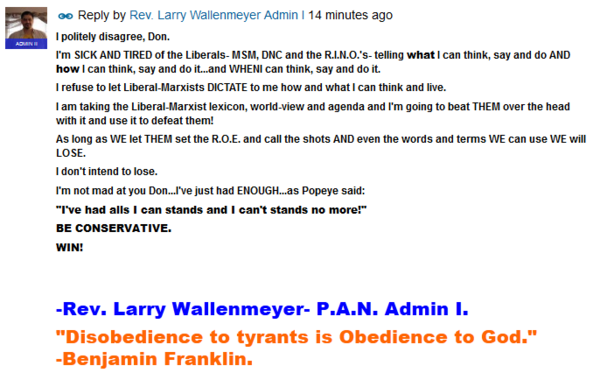 racistly take a person from the mulatto race…


Yeesh, that's enough of the stupid for now, because soon it will burn my house down! Until next time, remember that Liberals are the real racists!
Guess you can't do anything these days without becoming a sworn enemy of FreeRepublic.com. Arizona governor Jan Brewer endorsed Mitt Romney, now let's watch the sparks fly!
The problem is women just don't want to vote for the guy who cheats on his sick wives, because of college brainwashing!
To: DivineMomentsOfTruth

Most people do seem to call themselves conservatives in polls still. The big problem is women. Mitt has been winning far more of the women's vote than the men's vote. Studies show that women who attend college come out as liberals even if they entered as conservatives, while men who attend college don't change their political viewpoint at all. The liberals have a done a wonderful job Balkanizing the country and turning every other demographic against white heterosexual males. Republicans need to fight against this more, without simply conceding their positions on things like abortion. Obviously in war or in politics, when you give up territory, you don't appease your enemy, you only embolden them to go after more territory. I haven't heard enough from any of the candidates seeking to unite the genders, races, etc. Newt did do a good job talking about the poor, blacks, etc. but needs to speak more to that soccer mom vote. Not by pandering, but by at least explaining how his policies will help everybody including them.

11 posted on Sun Feb 26 12:15:36 2012 by JediJones (Watch "Gingrich to Michigan: Change or Die" on YouTube. Best Speech Ever!)
Egads, the "college conspiracy" thing has legs!
To: JediJones

It's difficult to change the minds of those who have been indoctrinated not to think for themselves.. This is why Obama and the Left are pushing for Everyone to get a college education.. They want their dumbed-down drones to vote for them.

15 posted on Sun Feb 26 12:49:34 2012 by DivineMomentsOfTruth ("Give me Liberty or I'll stand up and get it for myself!")
Brewer is a monster, a total monster…
To: All

I know all along she is a rino, doing everything with her own ambition in mind.

She vetoed the state's presidential elig bill;
she had a chance to challenge obozo's constitutional authority (he is not a legitimate president!) to rule against Az's illegal immmigration law but she chose to fight it the hard way and lost. She endorsed McCain for senate in 2010 battle against J.D. Hayworth……
Of course she endorses Romney! Rino for Rino!

23 posted on Sun Feb 26 15:02:19 2012 by chrisnj
Yes, crazy town has come early this Christmas, with a man (Gordon Warren Epperly of 14th-Amendment.com) in Alaska filing a lawsuit trying to get Obama removed from the ballot because he's a Mulatto and therefore not a citizen. Because of some crap regarding the 14th Amendment not being really ratified or something. This is a REAL LAWSUIT! You can read the complaint here!
Barack Hussein Obama II, Aka Barack Hussein Obama, Aka Barack H. Obama has the race status of being a "Mulatto." Barack Obama's father (Barack Hussein Obama I) was a full blood Negro being born Nyang'oma Kogelo, Nyanza Province, Kenya and raised in the Colony of Kenya. Barack Obama's mother (Stanley Ann Dunham) was a white Caucasian woman being born in Wichita, Kansas on November 29, 1942 and raised in the state of Washington and in the State of Hawaii.
As stated above, for an Individual to be a Candidate for the Office of President of the United States, the Candidate must meet the qualifications set forth in the United States Constitution and one of those qualifications is that the Candidate shall be a "natural born Citizen" of the United States. As Barack Hussein Obama II is of the "Mulatto" race, his status of citizenship is founded upon the Fourteenth Amendment to the United States Constitution. Before the [purported] ratification of the Fourteenth Amendment, the race of "Negro" or "Mulatto" had no standing to be citizens of the United States under the United States Constitution.
At least that's what I think this Freeper is saying…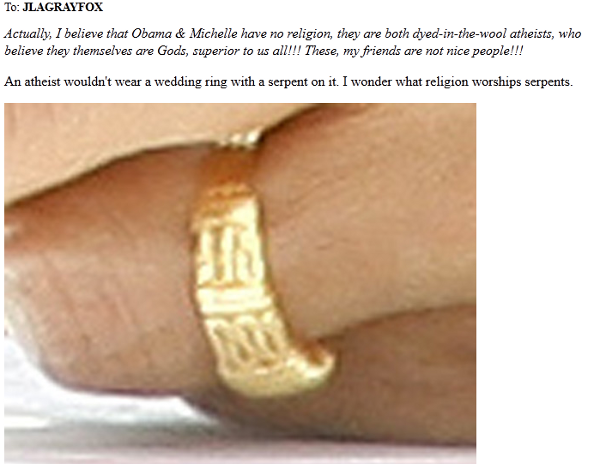 I knew it! Also Etrigan The Demon for some reason…

Categories: #culturewar, #drainclogs, #elections Tags: 2012, Apple, Immigration, Israel, Mitt Romney, Newt Gingrich, Obama, PIPA, Reddit, SOPA, Teabaggers, Terrence Nowicki Jr
Categories: #culturewar, #drainclogs, #elections Tags: antibiotics, big agriculture, Iowa, Lamar Smith, Megaupload, MPAA, Newt Gingrich, Obama, Rick Santorum, Ronald Reagan, SOPA, Tom the Dancing Bug