Posts tagged "not racist"
But FreeRepublic is Not Racist…
To: SoFloFreeper
This case is about :

A quasi-trained MMA fighter whose mind was blasted on "purple drank" trying to kill a guy with no combat training.
The victim saving his own life and likely the lives of other people with a small pistol.
A rogue political party legitimizing a pair of race-hustling criminals by the names of Jackson and Sharpton.
An open threat of large numbers of brainwashed and ignorant people rioting and demanding a human sacrifice not to riot.
A desperate rogue-party president claiming that if he had a son, the son would look like an asshole, i.e. like the purple-dranked-out former MMA artist.
A rogue prosecutor and judge insisting on holding the victim in prison prior to trial for no rational reason and in fact seeking to force him to cop a plea to bullshit charges by threatening his wife with prison over more bullshit occasioned by themselves.

It's also about the basic idea of equality in our society and the question of whether or not we now have special/protected groups of people who are legally untouchable to the extent that the rest of us can't even defend ourselves when one of them goes crazy on drugs and tries to kill us.
74 posted on Friday, July 06, 2012 5:06:07 PM by varmintman
[ Post Reply | Private Reply | To 33 | View Replies]
The RNC can't do anything right when it comes to doing things on the internet. From website to shining website, it is a parade of failure! Let's go marching, shall we?
First of all, the RNC has itself a minority problem. We all know that, but thanks to the RNC, we now know that all minorities are interchangeable! Thanks to RNC Latino, who decided to use photos of Asian kids as its headline banner of Latinos. Whoops! At least we know who designed the website, Former Nevada Senate candidate Sharron Angle!

The parade doesn't stop there, because the RNC is honest. And by honest, I mean totally dishonest and completely stole a DNC website to use for their own! The best part of this is the website they are using it for is to say that Obama doesn't have any ideas! This is the most ironic thing to happen since Alanis Morissette was killed by 10,000 spoons on her rainy wedding day.
National Review Online has fired not one, but two racist contributors this past week. And while John Derbyshire will fit comfortably in the Wingnut Welfare system and get plenty of new jobs, the second contributor – Robert Weissberg – will have to hide a bit further under the rock of disgusting. Here he is (second from the left) at a conference for American Renaissance, a "White nationalism" organization that's basically racist crap written to sound smart. Here is a photo of their recent conference:


I'll just quote goon Aufzug Taube! because it's easier than rewriting the exact same thing:
These are some goofy motherfuckers. But from left is Sam Dickson, a former Klan attorney who according to the SPLC has "built a multi-million dollar business in the niche field of tax lien and title acquisition" who has been successful in no small part due to "keeping his otherwise well-known racism concealed from his targets, many of whom are poor and black."

Next is Donald Templar, a professor who is really into race and IQ pseudo-theories and is apparently crazy. Fourth from left is white supremacist radio host James Edwards. Then Jared Taylor, chief of American Renaissance. Long-haired dude is David Yeagley, a far right Comanche nationalist. In the pink shirt is Richard Lynn, another eugenicist and race/IQ guy. Goth guy with the Hitler Youth haircut is Alex Kurtagic, a British dystopian novelist and black metal musician. On the furthest right (ha ha) is Guillaume Faye, a major French fascist theorist.
So give it up, racial failures, we're all beaten…
Somebody was going to say it. Rick Santorum wins the prize for almost dropping the N word. But I'll bet he's going to say he was saying "negotiator in chief"
Why, yes, some lady yelled "Pretend it's Obama!" as Rick Santorum practiced firing his gun at a firing range in Louisiana during a campaign stop. Santorum rightfully denounced the comment. But we haven't even reached the main event yet, and the Eliminationist rhetoric is spreading.
Visit msnbc.com for breaking news, world news, and news about the economy
Patriot Action Network is back from their failed attempt to go Web 1.1, reactivating their Ning site after losing 99% of their traffic and members with their grand experiment. Thus, they're more active again and back to their lunatic ways! And we can't have a Patriot Action Network article without them saying racist and stupid things! So let's lead off with the "Rev." Larry Wallenmeyer's wonderful post about how he hates Obama no matter what color of the rainbow he is: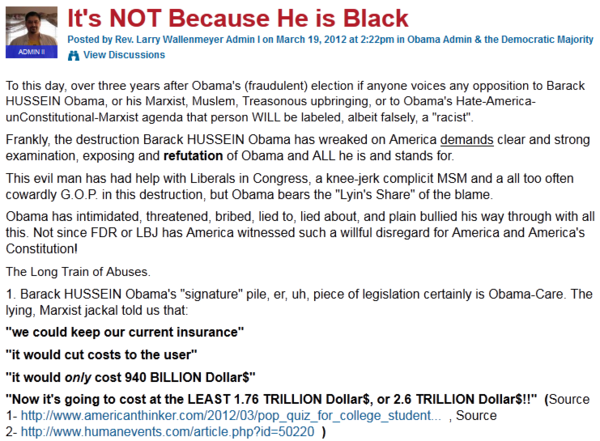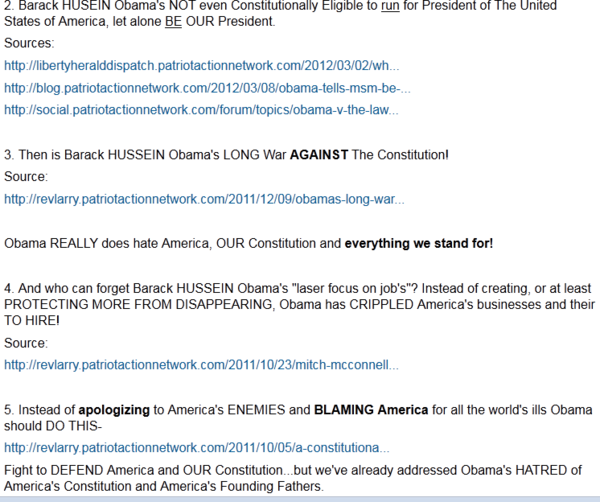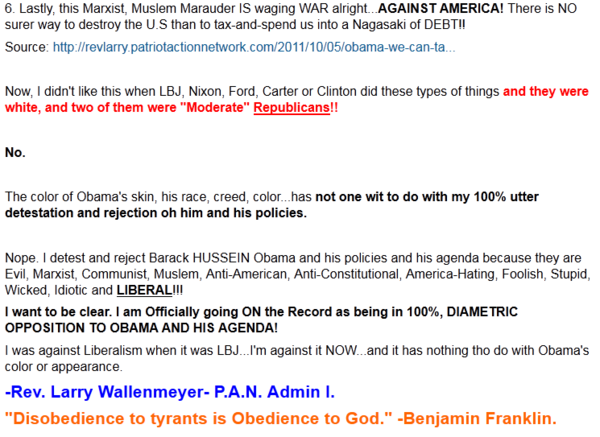 After all, Jesus hates people too. But the Patriot Action Network Posters (aka PANheads) can't let the fact that someone brought up Obama being black slip by…
If only there was some sort of rule about one drop brought about by Southern Racists that made it this way…


I personally don't know any white people named George W. Bush, so he must be a Muslim too!


My racism brings all the boys to the yard…

don knows this article will be popping up on Politisink!


But the good Reverend walks right into the trap, and nullifies his grand statements about how this totally isn't about Obama being black. This is also the only comment he bothered to reply to, letting the racist comments stand in total disregard for what was supposed to be his point.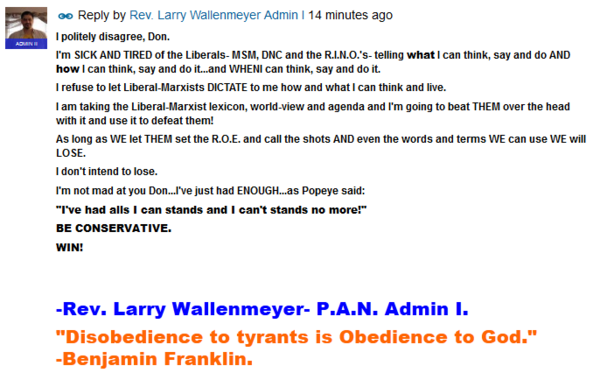 racistly take a person from the mulatto race…


Yeesh, that's enough of the stupid for now, because soon it will burn my house down! Until next time, remember that Liberals are the real racists!
Some roundup stuff from the past week you may have missed…
Categories: #culturewar, #drainclogs, #politicians, #pundits Tags: Anne Frank, Arizona, Bill Koch, Bob Morris, Dave Albo, Frank VanderSloot, Girl Scouts, Holocaust, Immigration, Indiana, Kansas, Marie Colvin, Mark J. Grisant, Mitt Romney, Mormons, Nate Beeler, New York, not racist, Paul Babeu, Peter Hoekstra, Sam Brownback, Virginia

"Turn This Ship Around" is a real ad from Mark Oxner, who is battling Alan Grayson in Florida.
Help turn this ship around! Go to http://MarkOxnerForCongress.com to stop Obama and his pet progressive parrot, Alan Grayson! Share with everyone to give Grayson the bird 🙂
US Coast Guard to escort grain ship as the military is now being used against striking workers. This is the first time since 1970 and Nixon ordered troops during the postal strike. Between that and the indefinite detention, it's a proud time to be an American!
Conservative Huttese Gangster Rush Limbaugh defended attacks against Mitt Romney in regards to Bain Capital, but failed to mention that Bain Capital owns Clear Channel Media, and thus is paying Limbaugh $400 million
The New York Times – Should we check facts occasionally? They're seriously asking people that, instead of going "Of course we should, we apologize for sucking so much the past 25 years!"
Don't like the service of your waitstaff? If you're a rich bastard like John Castle, just break their finger and call them a schmuck!
Categories: #culturewar, #drainclogs, #military Tags: 2012, Bain Capital, Florida, John Castle, Lamar Smith, Michelle Obama, military budget, Mitt Romney, New York Times, not racist, Obama, Rush Limbaugh