Vacation time is over, and though I wasn't going to start up new updates until Monday, it looks like we're going to have to talk about the shooting of Congresswoman Gabrielle Giffords of Arizona. At the time of this writing, there is 6 dead, including a 9-year-old girl born on 9-11 and U.S. District Judge John Roll, and 12 others wounded.
Remember that Rep Giffords was one of the congress people "targeted" by Sarah Palin, literally, with crosshairs over her district.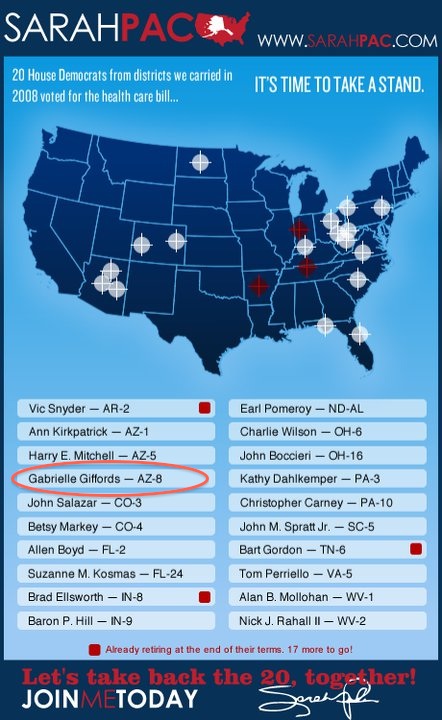 She discusses the issue here:

The shooter has been identified as Jared Lee Loughner, who has left an internet trail of crazy. Sheriff Clarence Dupnik is also looking for another person of interest, so there may be more things developing soon. But I hope all you teabaggers are happy. You are getting what you want. Violence, murder, death. I am sure all our friends who keep calling for violent government overthrow are polishing their guns extra hard tonight. But they'll be the first to try to shift the blame onto everyone else. Just watch.