Posts tagged "Gabrielle Giffords"
Did you know the shooting of Rep Gabrielle Giffords and others was all a fake government conspiracy done by actors? Because according to some nutballs, it is. And the supporters are now harassing survivors of the attack!
…
Such obviously fantastic claims would usually not merit the attention of law enforcement, but they have in this instance because some believers have been confronting, and alarming, some of the people associated with the case in recent weeks.
…
Manuel J. Johnson, a spokesman for the F.B.I., said the bureau was aware of the site, but he declined to say whether an investigation was under way. One shooting victim said he notified the F.B.I. recently after two men showed up at his Tucson home claiming to be investigators and saying they were trying to determine whether the shooting was a hoax.

"They tried to get into my home," said the victim, who asked that he not be identified because it might attract more such visitors. "They wanted to know if I had any pictures. They said they didn't believe the event took place."

The victim said that when he pressed the visitors for identification, one of them presented a business card that listed the Texas conspiracy site, which describes the shooting as an exercise conducted by the Department of Homeland Security. Other people connected to the case, including hospital personnel, victims' relatives and possible trial witnesses, have received similar visits or seen their images on the Web site, officials said.

The site, which solicits donations from visitors to help with its "investigation," shows pictures of people who appeared on television after the shooting — including the suspect, Jared L. Loughner — and claims they resemble photographs of Tucson-area actors found on the Internet.

"We are only trying to uncover the truth and give the information to the Citizens," the site says. "We would love nothing more than to debunk our own theory."

Ed Chiarini, who runs the site, identifies himself as an inventor and Web entrepreneur. He could not be reached for comment.
…
Blood Libel? Are they serious? They are serious. Either Palin is insane or she eats babies. Why would you use that term? Also she used a teleprompter in her YouTube video!
Today is the memorial for the Arizona victims, but Palin has now ensured we're just gonna be talking about her.
Giffords shooter Jared Loughner is nuts. We already knew that, but this lets you know how nuts he is.
Jared also posted crazy stuff on a conspiracy website.
The Tea Party Express is shocked, SHOCKED, that their violent rhetoric is being criticized in wake of the Giffords shooting. Also, give them money!
These giant bulls eye targets aren't gun sights, they are surveyor's symbols! Lock and reload your surveying tools!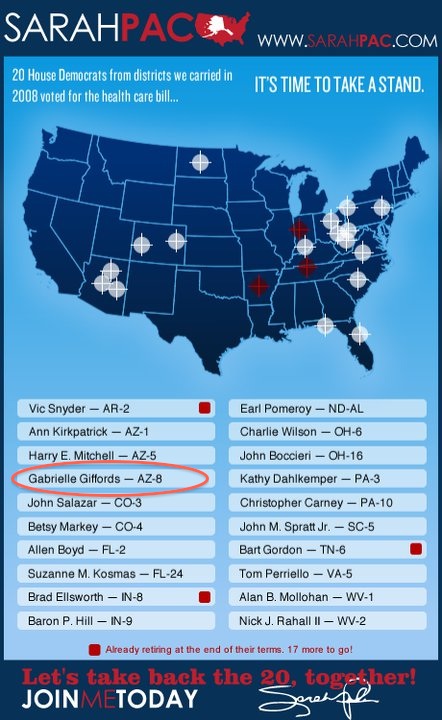 Gateway Pundit then photoshopped his own bulls eye photo trying to smear DailyKos. Here is a link to the original DKos post.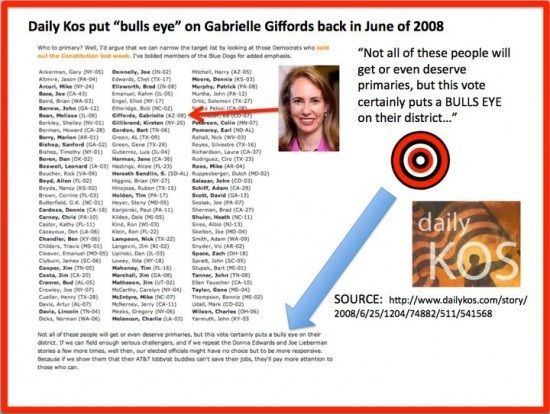 Vacation time is over, and though I wasn't going to start up new updates until Monday, it looks like we're going to have to talk about the shooting of Congresswoman Gabrielle Giffords of Arizona. At the time of this writing, there is 6 dead, including a 9-year-old girl born on 9-11 and U.S. District Judge John Roll, and 12 others wounded.
Remember that Rep Giffords was one of the congress people "targeted" by Sarah Palin, literally, with crosshairs over her district.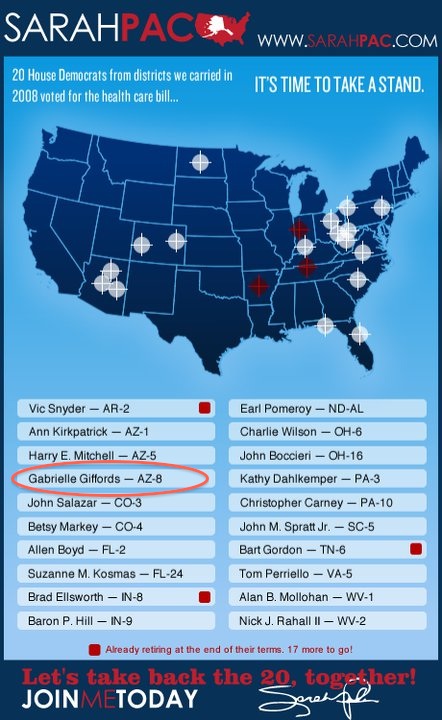 She discusses the issue here:

The shooter has been identified as Jared Lee Loughner, who has left an internet trail of crazy. Sheriff Clarence Dupnik is also looking for another person of interest, so there may be more things developing soon. But I hope all you teabaggers are happy. You are getting what you want. Violence, murder, death. I am sure all our friends who keep calling for violent government overthrow are polishing their guns extra hard tonight. But they'll be the first to try to shift the blame onto everyone else. Just watch.