Posts tagged "guns don't kill people"
In a totally peaceful way, I'm sure…
South Mississippi congressional candidate Ron Williams said mayors vowing to block new Chick-fil-A restaurants because the company's president opposes gay marriage "need to be introduced to the Second Amendment ASAP."
He later backtracked like a mofo:
Williams, a Libertarian candidate for the U.S. House District 4 seat, made that and other statements in a letter to the editor to the Sun Herald. But asked about the letter, he said his comments were "hyperbole, non clarity," and that "I don't want anybody to go shoot anybody, but I want people to understand what a slippery slope we can be on and what the purpose of the Second Amendment is."
Why, yes, some lady yelled "Pretend it's Obama!" as Rick Santorum practiced firing his gun at a firing range in Louisiana during a campaign stop. Santorum rightfully denounced the comment. But we haven't even reached the main event yet, and the Eliminationist rhetoric is spreading.
Visit msnbc.com for breaking news, world news, and news about the economy
Now buy this "You Lie!" commemorative AR-15 gun part! It's the perfect thing to celebrate…the State of the Union…or…your son shooting his first congresswoman!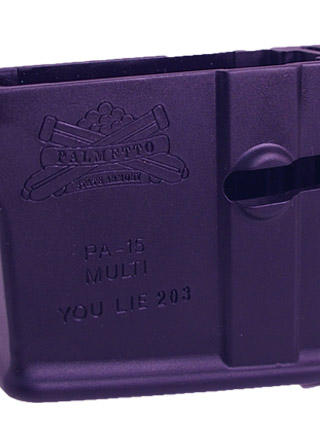 Free Times sez:
A South Carolina gun and accessories company is selling semi-automatic rifle components inscribed with "You lie" – a tribute to the infamous words of 2nd District Republican Congressman Joe Wilson when he shouted at President Barack Obama during a congressional speech about national health care reform in the fall of 2009.

"Palmetto State Armory would like to honor our esteemed congressman Joe Wilson with the release of our new 'You Lie' AR-15 lower receiver," reads a portion of the company's website.

The product "is neither endorsed nor affiliated with Joe Wilson or his campaign," according to a line of text at the bottom of the page. A picture of Wilson holding a rifle and standing in the company's gun shop appears on the same page. The company offers the components, marked "MULTI to accommodate most builds," for $99.95 apiece.

"Only 999 of these will be produced, get yours before they are gone!" the website reads.
FYI, the page on the website is now mysteriously missing…
Here is Joe Wilson himself in the Palmetto State Armory store!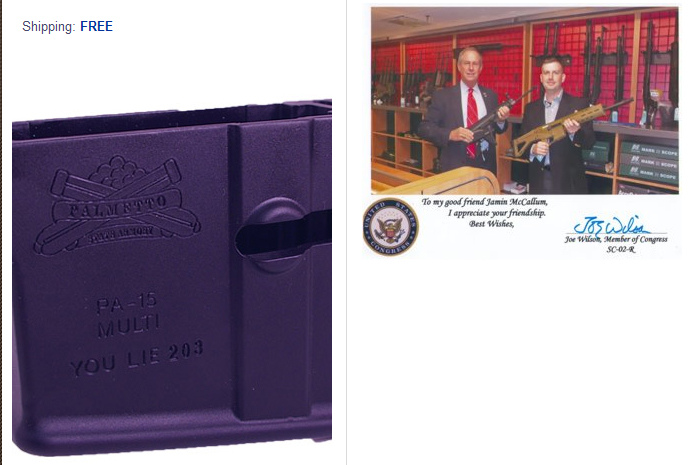 But remember, liberals are just as violent as conservatives! Also the sky is green.
Vacation time is over, and though I wasn't going to start up new updates until Monday, it looks like we're going to have to talk about the shooting of Congresswoman Gabrielle Giffords of Arizona. At the time of this writing, there is 6 dead, including a 9-year-old girl born on 9-11 and U.S. District Judge John Roll, and 12 others wounded.
Remember that Rep Giffords was one of the congress people "targeted" by Sarah Palin, literally, with crosshairs over her district.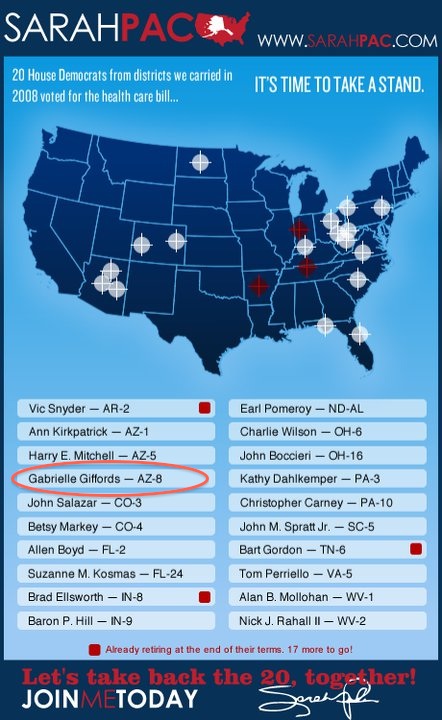 She discusses the issue here:

The shooter has been identified as Jared Lee Loughner, who has left an internet trail of crazy. Sheriff Clarence Dupnik is also looking for another person of interest, so there may be more things developing soon. But I hope all you teabaggers are happy. You are getting what you want. Violence, murder, death. I am sure all our friends who keep calling for violent government overthrow are polishing their guns extra hard tonight. But they'll be the first to try to shift the blame onto everyone else. Just watch.
Hey so I was looking though USA Carry the other day after Tars Tarkas brought it to my attention and realized it was mostly full of conservative crazies who hate everything that doesn't represent an idealized version of the 1950's that the users collective envision. At one point, one of the posters just writes "I want the America I grew up in back" which seems to be what this whole post could be summed up as. Anyway, onto the crazy people:
This is in response to that fake story where some 11 year old girl who is also a skeet shooting champion kills two illegal immigrant home invaders before they can rape and kill her.

Time for some witty word play about what the ACLU could stand for. Also a nice little call for a new Crusade is tucked into the first post.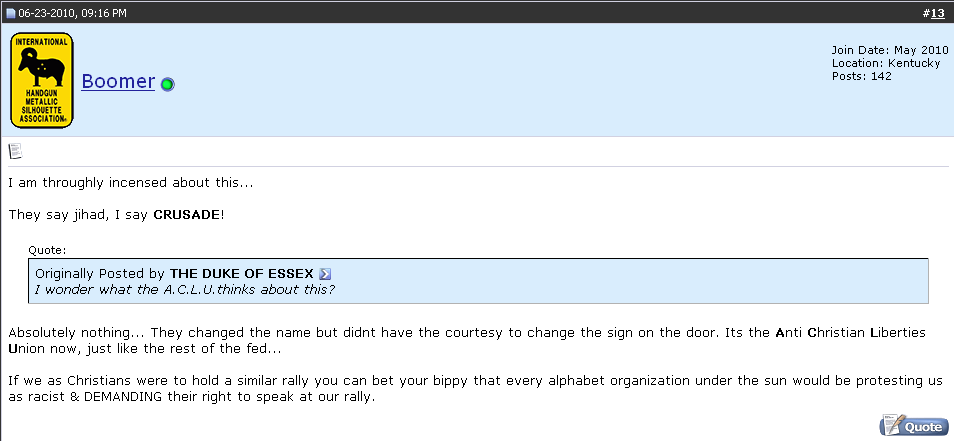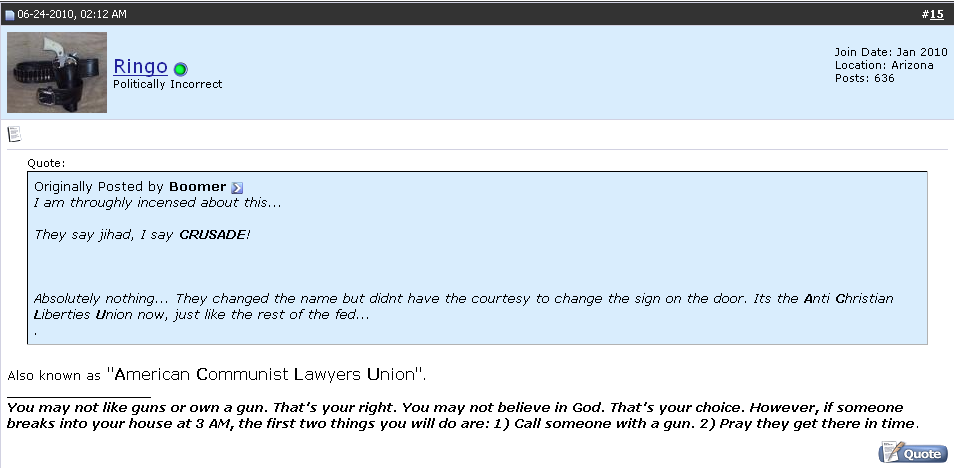 And from the same thread. You know your tactics are working if everyone is calling you a racist. The logic there is just astounding.

Here is a post to round out your right wing talking point bingo card. It contains about five.

The "cowboys and Muslims" thing is pretty prevalent around the site. It's their little joke way of saying "kill all brown people".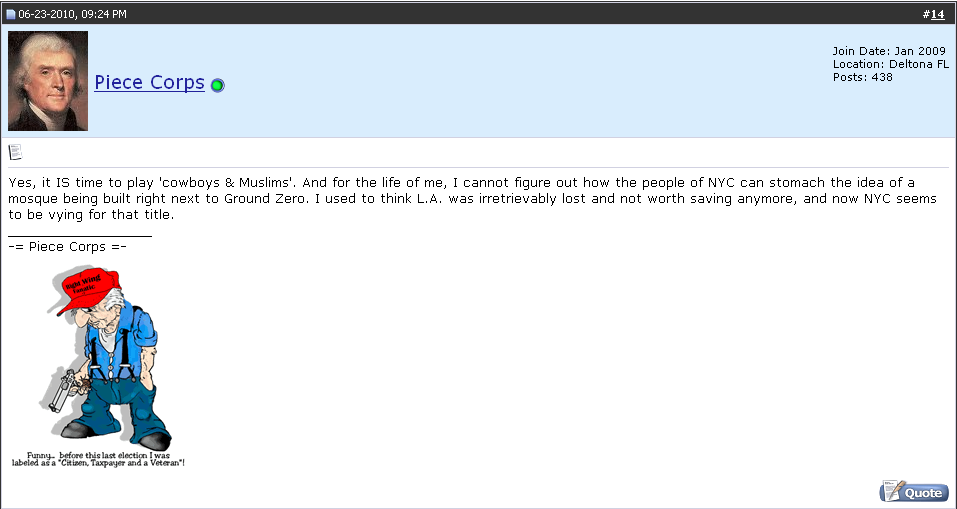 In case you were wondering what the Bill of Rights was really about, it is about spreading the word of God.

Why is gay sex so horrible? Because God said it was worst than every other sin combined. Having sex with a dude (if you're a dude) or a chick (if you're a chick) is like a super ultimate sin that trumps all other sins even if you combine other sins. This post also answers the question "could God make a sin so terrible it makes him sick".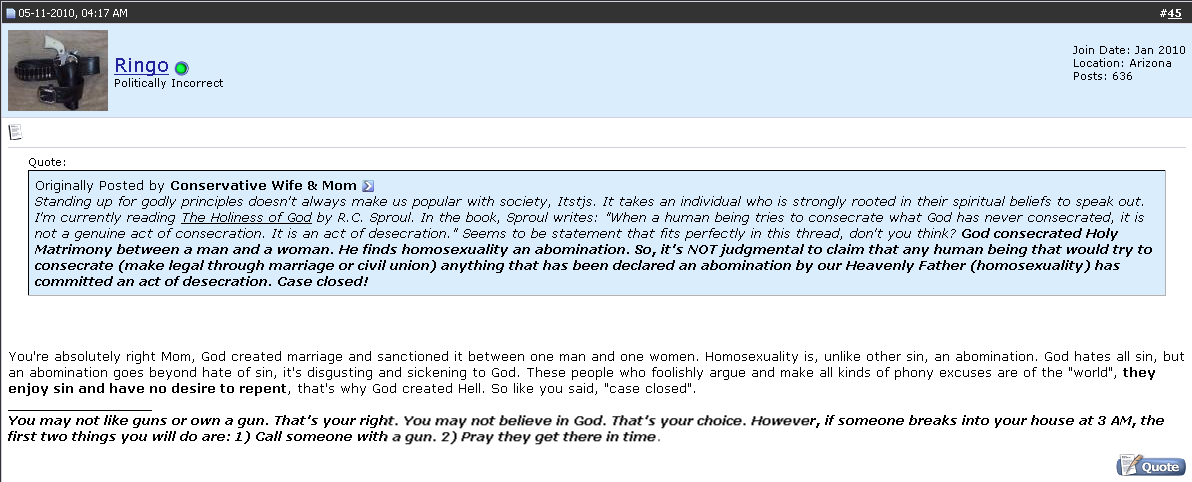 "Hello, My name is Sheldon and I am officially offended by the latest ad you sent me"
"I'm sorry sir, why are you offended by our ad" – comcast employee
"English was not the most prominent language on the ad. In America I want all my marketing in English."
"I'm sorry sir, I really have no control over the marketing…"
"Well you tell whoever is in charge that if I get another piece of Spanish in my ad I will cancel my subscription"
"uh…ok"
*sheldon promptly runs and post about this on the internet*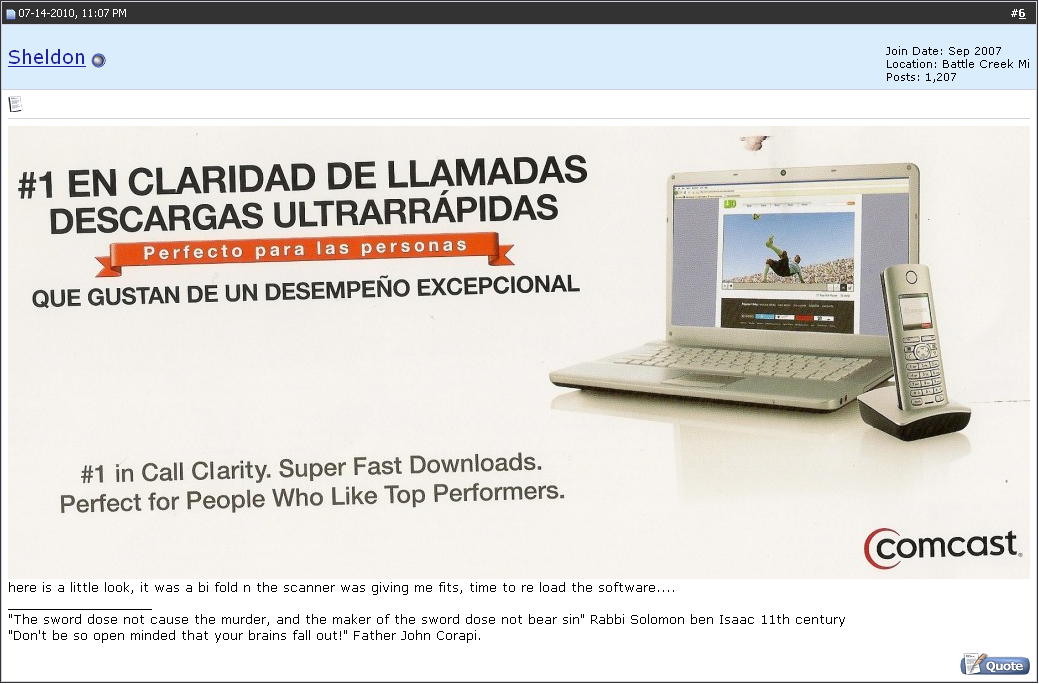 Argggggg! Spanish is everywhere now! Why can't I just buy jell-o with English only instructions?
These are a little old but this dude really hated the idea of a day of protest where people who are gay or support gay marriage don't come into work.



We should probably classify homosexuality as a mental illness and try to treat it as such. Why hasn't anyone thought of this before?


All aboard the horrible logic train. Choo-Choo!

A) I read this dude's name as fetus for the longest time.
B) This guy just used the "I'm gonna tell my dad" argument when talking about God.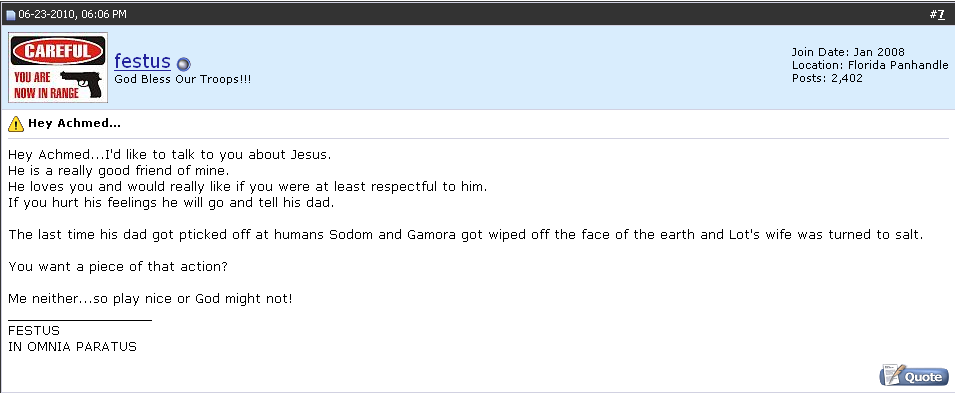 I am a legal American citizen and don't understand much about anything.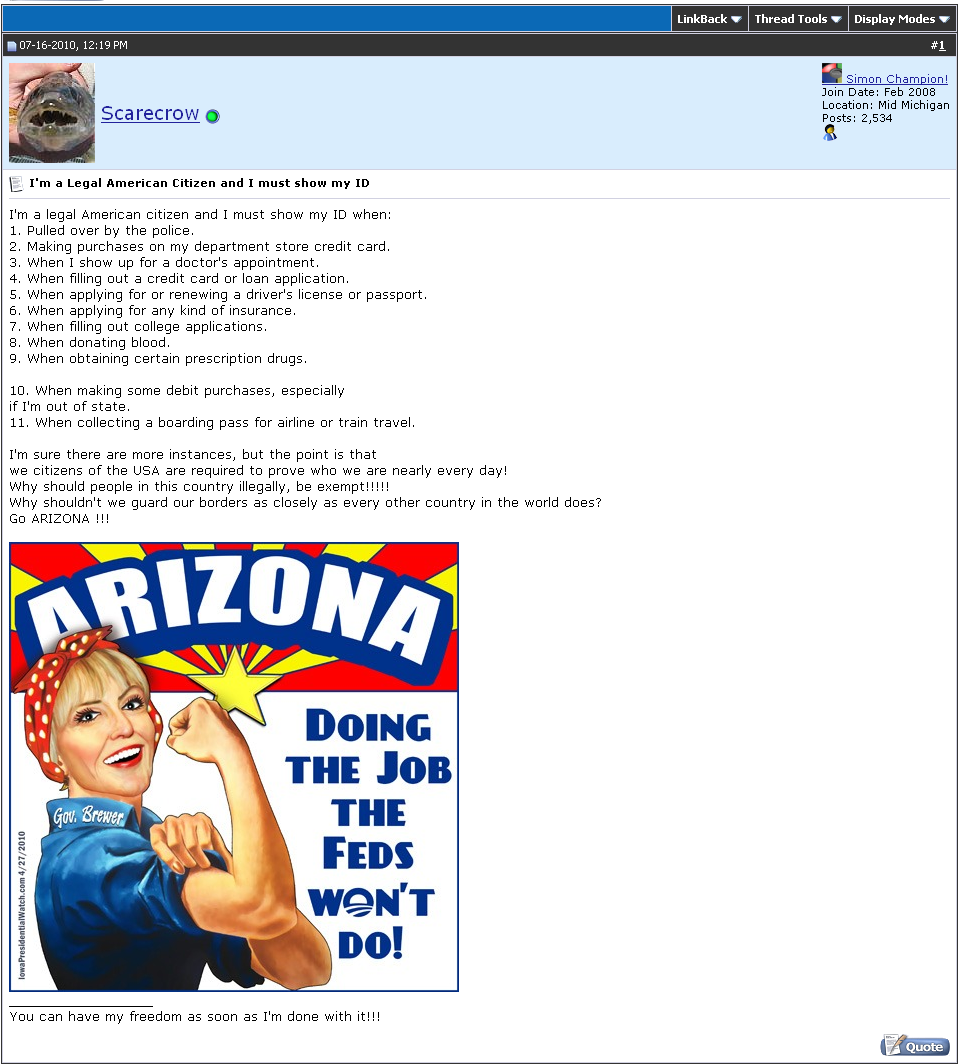 uh…I tried to come up with something funny to say about this post but really the crazy in it stands on its own.

Anothony_I_Am is asking the hard hitting questions about negros.

Marriage, since long before the time of Christ, has been sanctified by the Church

Maybe you're just a racist man.

Why am I not uniting under Obama? Because I am big crazy loon.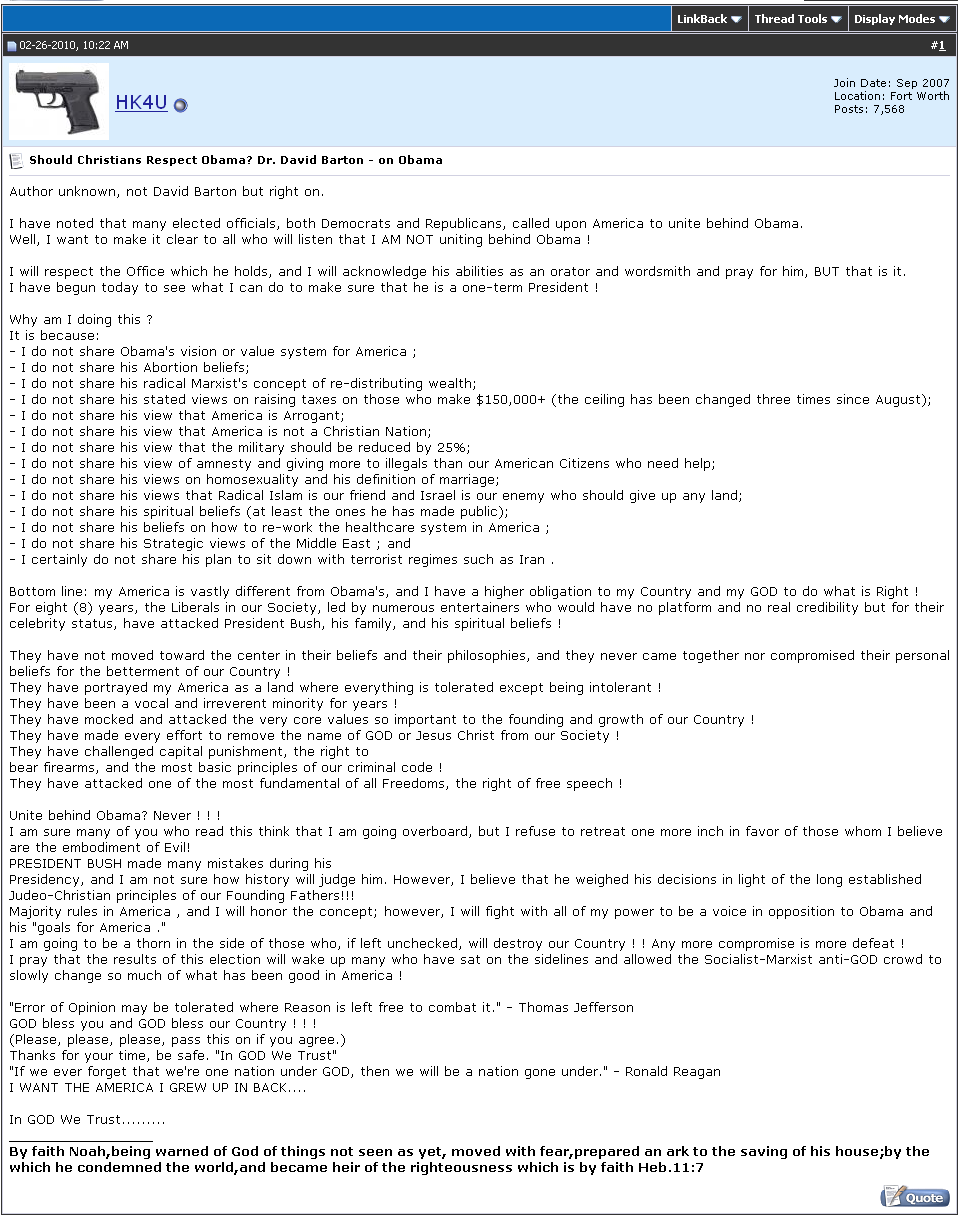 This is Sheldon. He actually used "stop acting like a democrat as an insult". You'll see more of him in a second.
*walks into a McDonalds*
*punches a guy and takes his food and french kisses the guys wife*
*gets arrested*
"But your honor. This is America where I can do what I want, when I want wherever I want".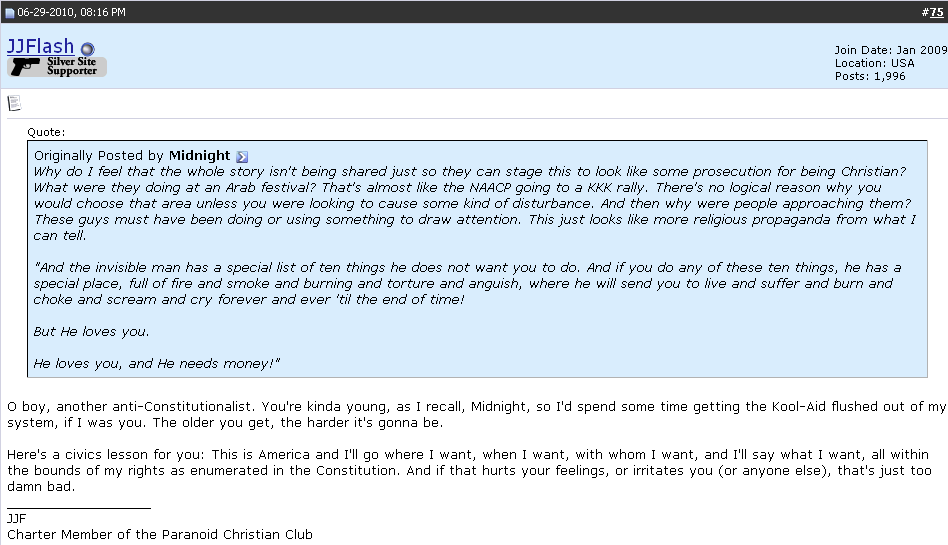 And now for the post that inspired me to make this update.

Now here is a small sampling of the crazy that is Sheldon. First up are some posts from the thread about the Christians being arrested at the Arab American festival.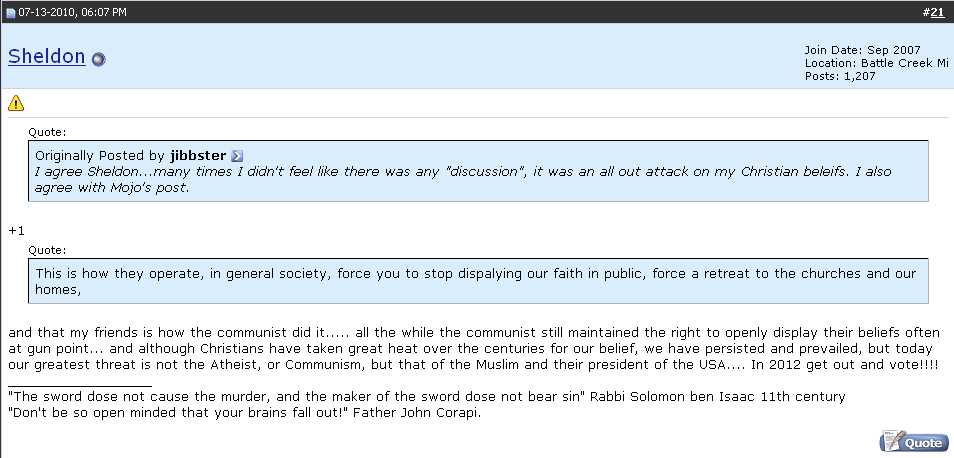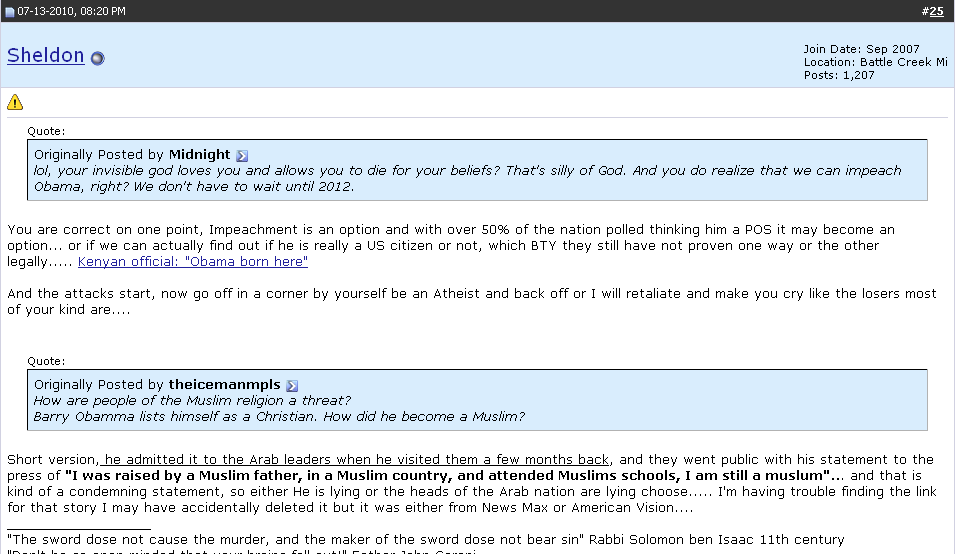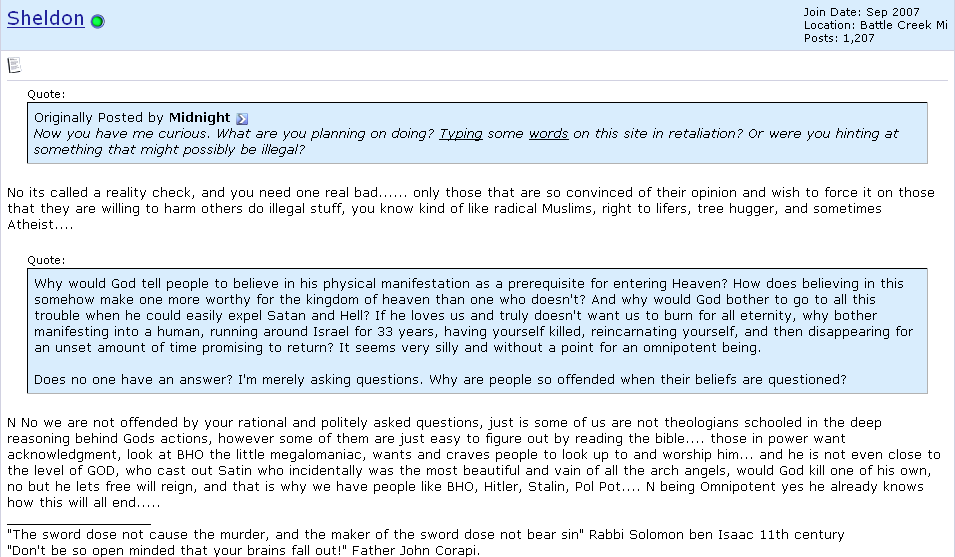 And now he lets us know what is and isn't a militant (hint: Christian no, Muslim yes)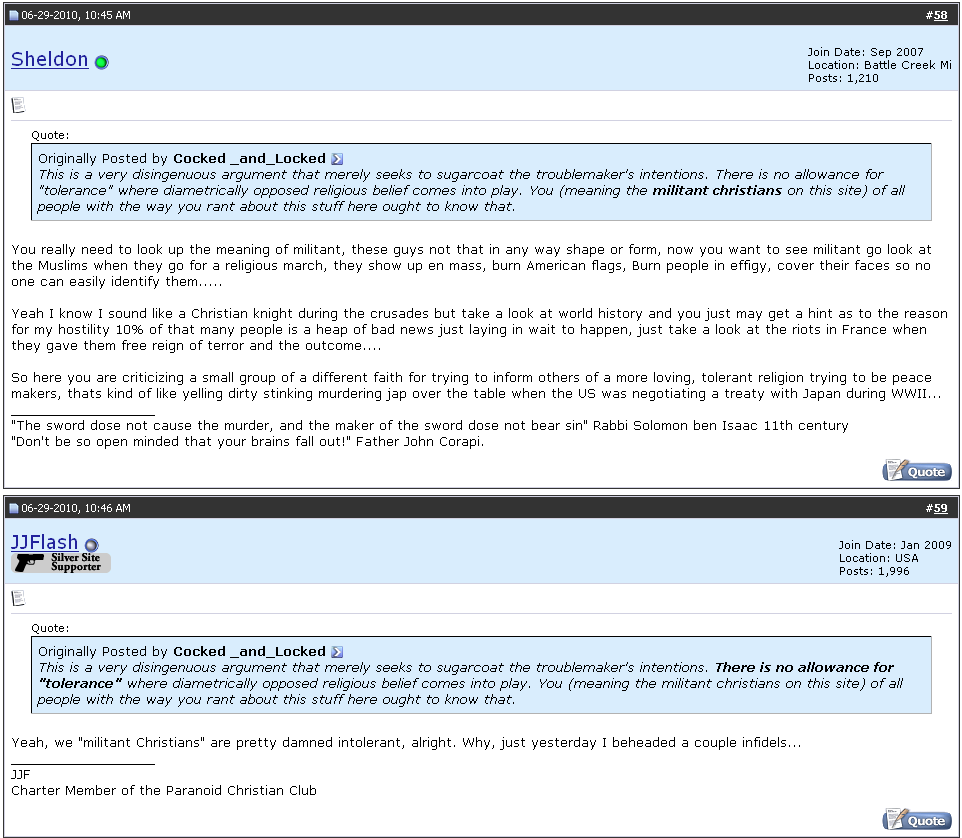 And Sheldon weighs in on the timeline of the world and a fanboy weighs in also to reinforce Sheldon's crazy.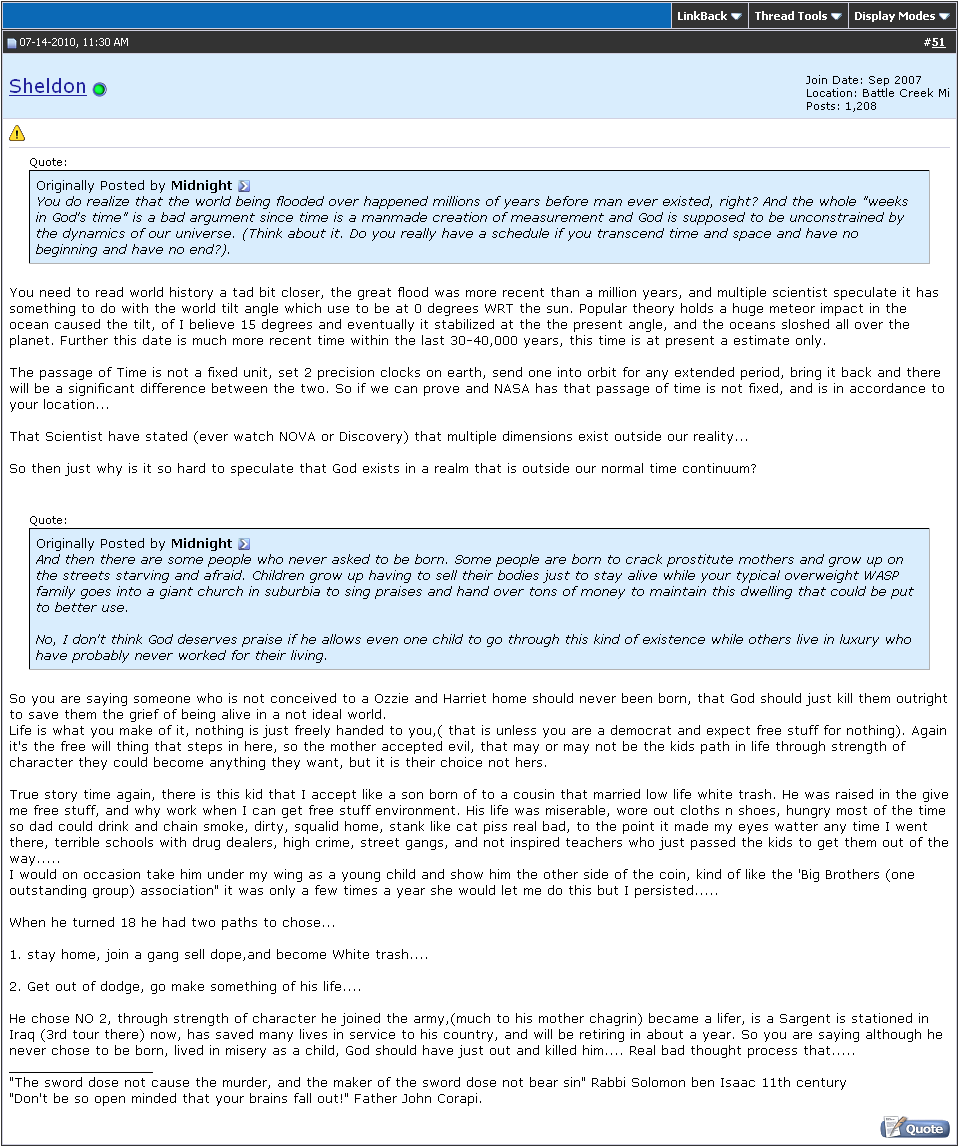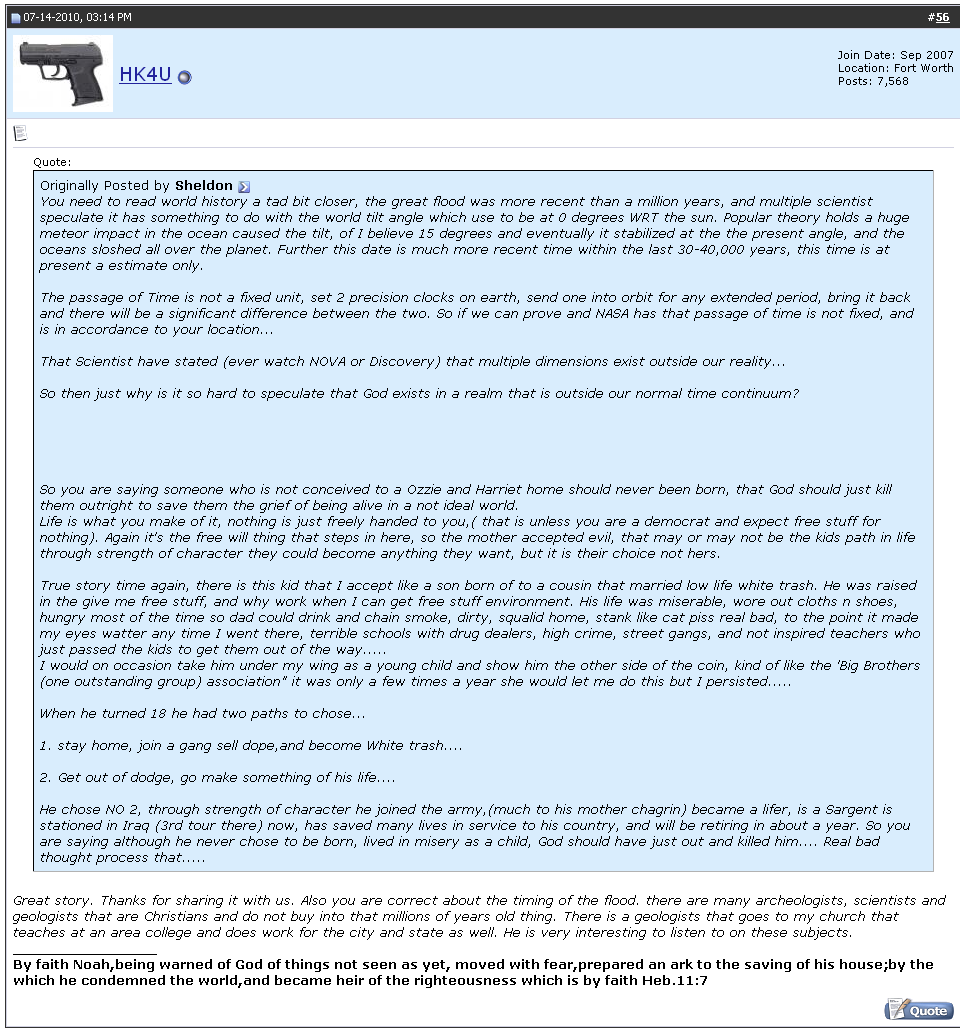 And finally I leave you with a response one of the liberal posters posted on there that I think sums up conservatives motives on the internet. And don't forget, all of the above people own guns and want to use them.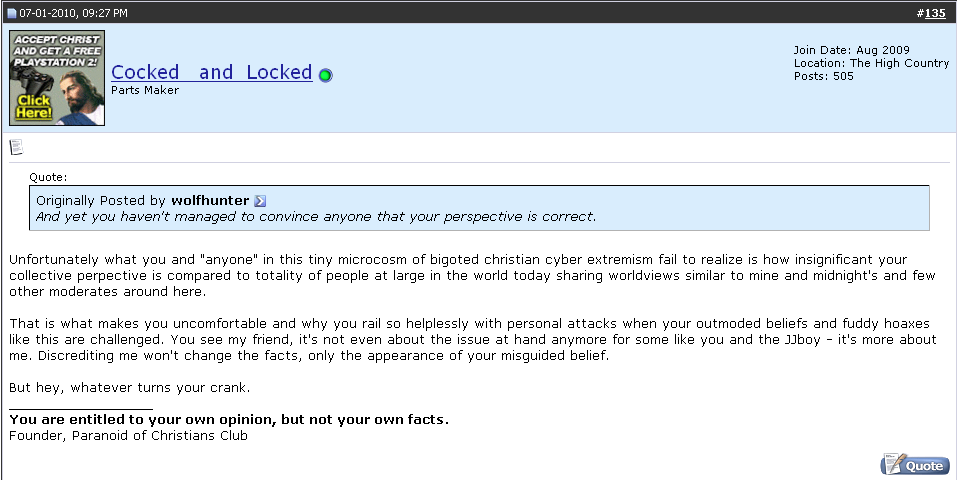 Senator Robert Byrd (D-WV) has died. Our condolences to his family. For a complete obituary, TPM has the best one I have seen (from the AP)
Arizona Governor Jan Brewer thinks all illegal aliens are drugrunners. But she's not-racist!
24% of Americans are unsure if Barack Obama was born in America.
I am sure all the teabaggers screaming about States' Rights and 10th Amendment will be outraged that the SCOTUS overthrew the Chicago gun ban. Oh, wait, no they won't!
The National Tea Party Unity convention coming up in two weeks has been moved to October. To quote Steve Benen:
A National Tea Party Unity convention that was scheduled to be held in Las Vegas in July will now take place in October, according to organizers.

The event, organized by Tea Party Nation (a national Tea Party organization) and Free America (a conservative non-profit group) and other organizations, will still be held at the Palazzo Las Vegas Resort. But Tea Party Nation founder Judson Phillips confirmed to CNN Saturday that the date is being moved from July 15-17 to October in order to hold the event closer to the midterm elections.

"We concluded it would more advantageous to hold the convention in the middle of October just prior to the November elections," says Phillips in a statement.

At first blush, that spin may seem plausible. Maybe the far-right effort will be better off if activists leave their local communities a few weeks before the election, and head to a Las Vegas resort. I wouldn't think so, but organizers didn't ask me.

The more interesting angle to this, though, is what the report didn't mention — the "National Tea Party Unity" convention is being postponed just two weeks before it was scheduled to kick off. I'm not an expert in conference management, but it seems to me that a national group doesn't organize a major gathering at a Las Vegas resort, lining up speakers and guests, and then scrap the whole thing two weeks before it begins unless no one was planning to show up.
A shame we have to wait to get more insane videos.
So Resistnet becomes more and more paranoid as the inmates take over the asylum. Things go from bad to scary when someone posts the latest conspiracy theory about how Obama is gonna seize all our guns in scenarios that sound amazingly like the one in the White Nationalists' Holy Bible, The Turner Diaries. This leads to the latest freakout and fantasy fest as Resistnetters (home of the PEACEFUL resistance) fantasize about killing everyone and everything that isn't conservative enough!
joel carson is our opening shot with a conservative nut so crazy he cut off contact with his sons because they're too liberal for him, and he lives his days waiting only for the day he can shoot them and all other liberals without going to jail.


All Dems are vipers constantly spewing puke at each other. It's our secret salute. If someone doesn't return your vomit advances, they're a conservative and it's gun confiscating time!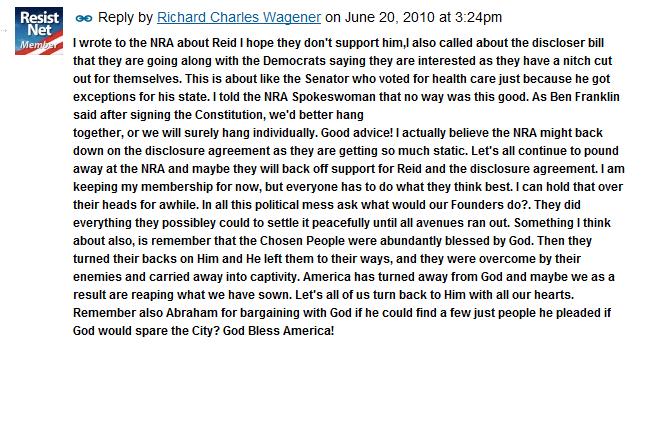 Teabaggers are trying to take down Chris Matthews in an effort similar to what was done to Glenn Beck's sponsors. FreedomWorks chief Dick Armey is also telling candidates not to go on MSNBC, but that's less of a spiteful attack on Matthews and more of a fear that their nutball candidates will actually say things they believe and scare off voters.
The Red Cross has been fined $21 million since 2003 over crappy blood screening, including the latest $16 million fine. Oh, and they also sell blood, which you probably didn't know.
Disclaimer – I give money to the Red Cross disaster funds
Mother Jones has the 10 most ridiculous Congressional oil spill quotes.
Cartoon of the Day:
Enjoy the new comic Microman! It is Joe the Plumber approved. Buy it now, because this Teabagger gravy train won't last after Obama is out in 2016.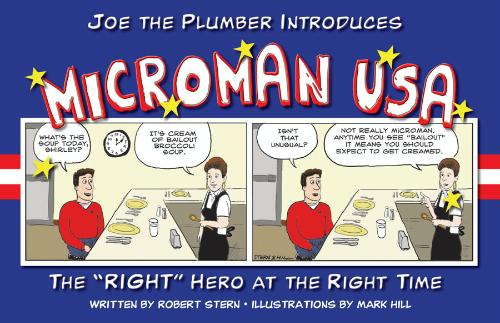 Categories: #drainclogs Tags: #freedomworks, BP, Chris Matthews, Dick Armey, guns don't kill people, Joe the Plumber, Microman, nutballs, Oil, Red Cross, solar power, Teabaggers