Yup I'm a Racist – the Tea Party shirt your dad will be wearing soon
Remember, the Democrats are the real racists, so proudly declare that you are a racist. Uh…..
Yeah!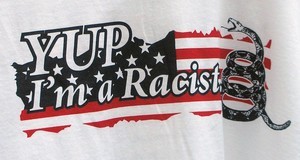 Greg Skilling interviewed some of the morons:

Some of them think this shirt is dumb as well, so there's hope.