Posts tagged "Wingnut Wear"
Categories: #culturewar, #drainclogs, #politicians, #pundits Tags: abortion, Abstinence doesn't work, Alabama, ALEC, Allen West, Chris Christie, Chuck Grassley, education, Florida, home schooled, Iowa, Jesus, Koch Brothers, Larry Pittman, Maryland, Michael Reagan, Michael Steele, Mitt Romney, New Jersey, North Carolina, North Dakota, Rachel Burgin, Reince Priebus, secret homosexual agenda, Shadrack McGill, Terrence Nowicki Jr, Wingnut Wear
Remember, the Democrats are the real racists, so proudly declare that you are a racist. Uh…..
Yeah!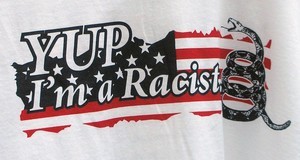 Greg Skilling interviewed some of the morons:

Some of them think this shirt is dumb as well, so there's hope.