Posts tagged "Blacks are the Real Racists"
Every so often the email alerts from Patriot Action Network link to black stories are articles designed to enrage their posters and whip them up into a frenzy. I'm sure the desired effect is to motivate them, but what really happens is they post a lot of racist crap. Despite huge warnings about site policies, the floodgates are open and the site gets drowned in a sea of crazy hate. But those posts are so popular there is going to be no stop to the linking to them, as Patriot Action Network (formerly Resistnet) is getting desperate for views.
So let's get dangerous!
Huh


Black People – now ruining Christmas for their crazy racist relatives!


I'm not sure where Anna Guillen's post is coming from, but it's headed straight to crazy town


Here is a conspiracy theory I hadn't heard before: Obama is a secret Hawaiian native!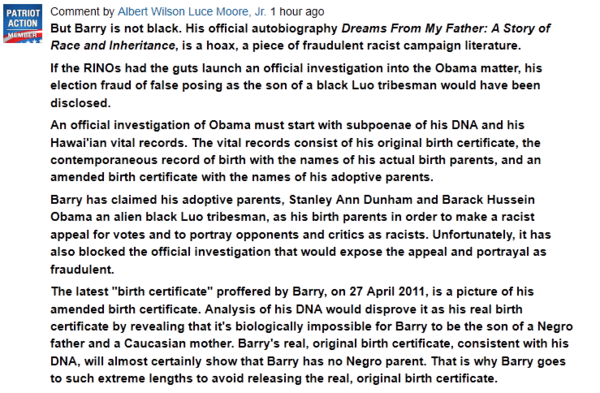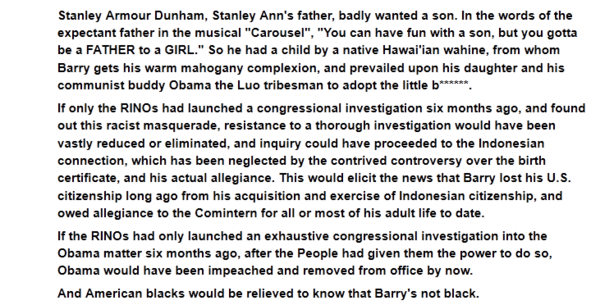 Remember, the Democrats are the real racists, so proudly declare that you are a racist. Uh…..
Yeah!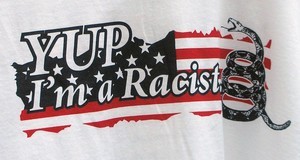 Greg Skilling interviewed some of the morons:

Some of them think this shirt is dumb as well, so there's hope.

So just when I thought it was safe to do a Wingnut Web, I got an email alert from Resistnet about a new thread claiming that Breitbart was telling the NAACP to "go to Hell" or something. Knowing the pack of racist crapeaters at Resistnet can't resist (pun!) a chance to rant about how "Blacks are the Real Racists!" or "All Blacks are welfare queens!" (almost immediately followed by "Why won't more blacks join us???") I clicked. And lo and behold, we got some racism going on! First we'll have a few random posts that were lying around stinking up my hard drive, and then it's on to Resistnet's Cross Burning Party Election '10!
Kill Whitey and/or Asiany! Also Obama has no white in him, I heard it on the internet!

It's the sad story of a self-hating Latino. And he's a Militia dude!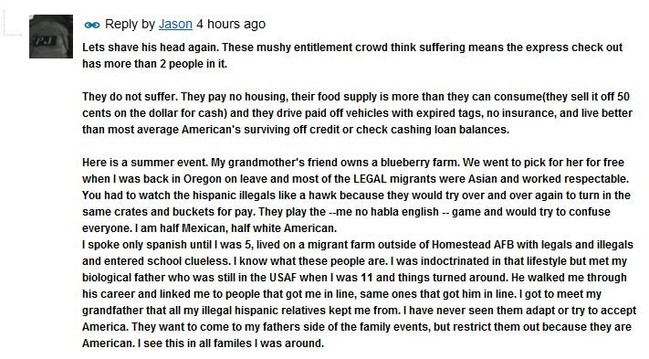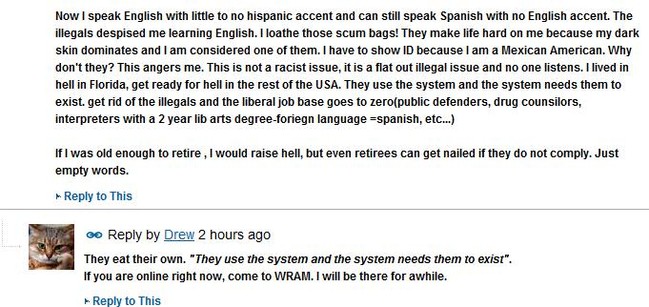 Wake up Amer.What are we SHEEPLE ?



Read more…
Lindsay Lohan is in jail. But enough of that important stuff, the Right has a new NAACP tape to distort and use as evidence that Blacks are the Real Racists!
Andrew Breitbart will be a familiar name to you if you recall videos about pimps and ACORN. Much like how that video was heavily edited, a new edited video has been posted. This one goes along with the current Wingnut furor against the NAACP for daring to say something bad about their precious tea parties. In the video, Shirley Sherrod addresses a local NAACP banquet and recounts a tale from 24 years earlier when she was supposed to help a white farmer save his property who was being condescending to her. The point of the story was to show how she felt remorse for her thoughts of not helping the farmer, Mr. Spooner, and Sherrod did help the farmer and Spooner saved his farm thanks to Sherrod.
The edited video:

Sherrod says she was forced to resign as the department's director of rural development for Georgia.
The wife of Spooner called into CNN and called Sherrod a "friend" who "helped us save our farm":

More on the farmer's wife as news companies do actual journalism! I guess they just couldn't be bothered during the whole ACORN thing, but now they're finally getting off their duffs. As the story continues to develop and Breitbart continues to look weaker and weaker, this story will get more interesting.
But who cares about this, we got Yahoo News comments!!! The only thing dumber than Yahoo news comments are Freepers, AOL, and YouTube comments.
NCAWP – National Coalition Against White People
White People are now the minorities, US Citizens and when we are in need, qualify for NOTHING. I know first hand as a few people in my family have lost everything we worked for over the last 50 years. We were turned down for everything we applied for. Sherrad is one of many people in a government position that had a hand in destroying a hard working family. Unfortunetly white people have not established a NCAWP group. All policy, procedures were put in place for all of the minorities. A hard working white person that ends up in need is automatically turned down. We have to fight for anything government helps us with. Now the the last of the OLD VERSION minorities holds the highest position, let see what he does to help the New version Minorities. Every government position held by a minority should be audited. I am sure there are many Shirley types in the US. The "Pandoras Box" should be opened. Then fairnesws will prevaile!!!!
Impeach Obama for something that happened in 1986!
This makes me MAD AS HELL. This is more reason to IMPEACH Obama for the crimes against humanaty he is comiting against WHITES. It makes me even more MAD the fact that I am paying those tribal Africans a HUGE chunk of my pay for their WELFARE CHECKS. If these blacks dont shape up, I say send them all to Obama's birthplace, Kenya where they can die of aids like all the other head hunting black African canibul tribes.
A real winner here!
Bring back the hanging tree and truck-draggin' chains!
(more of this guy – http://pulse.yahoo.com/_OP7WYV75ERO5UCJNUVZWDZ7RME )
I wanna hug this women for being edited to be racist!
I wanna hug this woman for being willing to be so stupid and saying such damning things and exposing the Racist elements of the NAACP. Perhaps now we can get the Government to be consistant and call ALL organizations that exsist for the advancement of any race, Racist. Now get rid of the NAACP, the Black and Hispanic Caucuses etc. and lets be equal without our color to help us.
Black people never give me fries with that
As a honky, I face overt racism regularly.

When I purchase food at inner-city fast food restaurants,
my order is always messed up deliberately. The orders
for blacks are not messed up.

When dealing with black clerks, cashiers, etc,, I am
forced to wait while they pursue some nonsense.
It is deliberate disrespect.
Black people stuck on my caps lock key!
THATS THE PROBLEM NOW DAYS BLACK PEOPLE TAKE AVANTAGE OF THIER SKIN COLOR BCUZ EVERY THING HAS TO DO WITH THIER SKIN COLOR THIER THE ONES THAT GET EVERYTHING (FREE)IN LIFE .THEY DONT PAY RENT DONT PAY BILLS NOT EVEN THIER CELL FREE FOOD .FREE MEDICAL WHAT ELSE DO THEY NEED TO GET FREE BEFORE KNOWING THEY GOT IT MADE HEAR .I REMEMBER LAST SUMMER I WENT TO A PROGRAM FOR KIDS TO GET SCHOOL SUPPLY,S AND THE LADY THAT WAS TALKING TO (EVERYBODY)TOLD US IF WE DIDNT HAVE ANYTHING PROVING WE LIVED HERE WAS NOT GOING TO GET SUPPLY,S ,(SO FIRST THING THAT CAME OUT OF THAT LADY,S MOUTH WAS OH ITS BECAUSE IM BLACK WHEN THIER WERE ALL RACE THIER EVEN BLACK ,THATS ALL THEY DO IS COMPLAIN ABOUT THE COLOR OF THIER SKIN (BUTT)THEY ALWAYS MAKE SURETHAT BLACK IS BEATIFULTHENB PROUD TO BE BLCK
Abe Lincoln, NAACP racist
YOU HAVE ABRAHAM LINCOLN TO THANK FOR THIS!!!!!!!!!!!!!!!!!!!!!!!!!!!!!!!!!!!!
A comment from someone under the boat.
Look at all these people stumbling all over themselves.
I love it.
Guilt ridden lefties because they are, deep down inside, prejudice; so they try and explain it away.
Get this folks Shes a F_ _ _ing RACIST!!!!
A RACIST appointed by Obama.You connect the dots.
Racism is Racism I don't care what side of the boat your on.
Complaining about my racism is SO FIVE MINUTES AGO!
Black on white racism is done more that the opposite now. Only we whites dont cry about it like big a** babies like the blacks do. They are always looking for some sign of it so they can get a freebie.
Face it black people, your stupid little cry baby rants are OLD, BORING and SO FIVE MINUTES AGO.
GET A LIFE!
ThingsThatDidn'tHappen.txt
To those crying look what whites did in the past….

I have scars running down my neck and on my arms from defending myself from a bunch of racist black thugs.What did I do to provoke this attack you wonder? Nothing.As the paramedic was holding the wound on my neck closed I told the Officer what building they ran into.His reply "Your in the Wrong Nieghborhood" I said "Aren't you going to get them" He said "That might start an altercation" I said "Isn't That Your Job?!!!! Give Me Your Gun And I'll Go Do Your Job For You!!!..Officer was Black.. at the Hospital Doctor said I was Lucky if the throat wound had been a millimeter deeper I would be dead. Next Day I called the Police to find out about my Incident report..None had been filed

My nieghborhood is filled with racist blacks that walk around intimidating people, Last holloween I was going home from work I stopped at the store to get some chips and beer, there were about 40+ black kids gathered across the street..as I left the store to go to the bus stop about 10 kids broke away from the group and followed me..As I stood at the bus stop they gathered behind me..One got brave got next to me and said "Aren't you scared" I stuck my knife too his throat and said "Aren't you" He backed up quick..then one says "You Don't know who I am" and I replied "Obviosly You Don't know Me or you Wouldn't Be Doing This" they left..

What happened 40 years ago is happening today but in reverse!!
So the National Tea Party Federation, the self-appointed bigwigs of the Tea Party group (aka the biggest front groups pretending to be grassroots) kicked out Mark Williams and the Tea Party Express over his famous letter to Lincoln.
This came to a shock to many in the Tea Party movement because they didn't know there was a National Tea Party Federation! Yes, sorry suckers, you are just tools of the big money men! Oddly enough, the National Tea Party Federation was pretty low-key when it formed, the announcements were barely mentioned on the member groups we monitor and the whole thing sank into obscurity. The only reason Politisink hasn't mentioned it was they announced the group around the time we were making plans to transfer over to Politisink from the TarsTarkas.NET Blog and I figured we'd mention them in September when their big march in DC was supposed to happen. But the news has a way of changing things!
The National Tea Party Federation is a real thing, they even have a website! Under the AFFILIATE RELATIONSHIPS banner we see a list of many big moneyed organizations including FreedomWorks, the National Taxpayers Union, the Family Research Council, and Americans for Prosperity. The complete list:
60 Plus
Americans for Prosperity
Americans for Tax Reform
Bannon Strategic Advisors
Citizens Against Government Waste
Citizens United
Constitutional Sovereignty Alliance
Contract From America
Doctor Patient Medical Association
Family Research Council
FreedomWorks
Heartland Institute
Institute for Liberty
Let Freedom Ring
Moms for America
National Taxpayers Union
Ronald Reagan Institute for
Conservative Leadership
Richard Viguerie
Tea Party Patriots Live!
Victory Media Group
We're going to work on a spotter's guide to help identify some of the Tea Party groups in the future.
But first, the Tea Party Express responded via TPE member Joe Wierzbicki (coordinator for the Tea Party Express) and insulted the size of the Federation (saying that the TPE's 400,000 members is larger than the Federation – which claims over 1 million members, btw, so never trust any teabagger's numbers – and then makes a bunch of Star Trek references and calls the NAACP the Real Racists:
The Tea Party Express with over 400,000 members is by far larger than the Tea Party Federation's entire membership. Most rank-and-file tea party activists think we're talking about Star Trek when we try to explain who the "Federation" is. Given the absurdity of the actions by the "Federation," this is quite fitting, since their conduct is alien to our membership.
"Groups trying to say who can or can't be 'expelled' from the tea party movement is arrogant and preposterous. Perhaps this explains why so many tea party groups have left the "Federation" during the past few months. Whatever the reason, most tea party activists are focused on taking back their country and the upcoming 2010 elections and not silly power games being played by individuals such as those in the "Federation."

To add to the absurdity of the "Federation" they have also informed us that our members can't participate in something called their "basecamp" communication network, which makes us think that the individuals involved in the "Federation" spend a bit too much time watching science fiction movies and cartoons. We here at the Tea Party Express prefer a focus that is more grounded in the Constitution and electing tea party conservatives to offices of import in these 2010 elections.

The "Federation" has enabled and empowered the NAACP's racist attacks on the tea party movement, and they should be ashamed of themselves.

Circular firing squads of groups within the tea party movement attacking one another accomplish nothing, and on this issue the Tea Party Federation is wrong, and has both enabled and empowered the NAACP's racist attacks on the tea party movement. Which is something they'll realize when they beam themselves back from basecamp.
As an additional note, whoever typed that up for CNN added like eight extra quotation marks for no reason randomly throughout the speech, which I had to edit out because we have standards here at Politisink (believe it or not!)
So reactions on Resistnet.com were non-existant to the Williams letter, in fact, the site never even mentioned it until someone posted a thread late Sunday night asking what the frak was going on. No official Resistnet person has replied or commented about the latest development.
FreeRepublic has had a different approach. Besides most of the threads about Mark Williams's letter getting pulled almost immediately, FreeRepublic.com founder Jim Robinson (and Tea Party Express rider) has been fuming at the mouth about how they are NOT expelling Mark Williams:
I've caravaned across country several times with Mark Williams and the Tea Party Express and have attended hundreds of their rallies in nearly every state of the lower 57. I know that he is not a racist. Never heard of the Tea Party Federation. They are NOT my leader. In fact, they can kiss my ass!!

Jim Robinson leaderless Tea Party movement member.

11 posted on Mon Jul 19 2010 12:01:01 GMT-0400 (Eastern Daylight Time) by Jim Robinson (JUST VOTE THEM OUT! teapartyexpress.org)
Well, I'm not going to expel him or the Tea Party Express from Free Republic, that's for sure. As I said, the Marxist/racist NAACP can KMA!! So can CNN and the leftist main stream media. And so can His Majesty, the racist/Marxist pig and wannabe DICKtator Obamassiah!!

This is FREE America AND THIS IS WHERE I MAKE MY STAND!!

44 posted on Mon Jul 19 2010 12:46:40 GMT-0400 (Eastern Daylight Time) by Jim Robinson (JUST VOTE THEM OUT! teapartyexpress.org)
Well, as I said earlier, there is really no reason to attempt to satirize the National Association for the Advancement of Colored People. They're a joke. A cruel joke. They are satire. They're nothing but a mob of America-hating, freedom-hating, redistributionist Marxist racist thugs. Eff 'em if they can't take a joke – Mark Twain.

50 posted on Mon Jul 19 2010 12:53:40 GMT-0400 (Eastern Daylight Time) by Jim Robinson (JUST VOTE THEM OUT! teapartyexpress.org)
The NAAACP is UnAmerican!! They're a far left Marxist wealth redistributionist society. And they are racist to the core!! Their entire identity and purpose for being is to foment racism and Marxism!! And you can tell them I said so.

Jim Robinson, leaderless TEA Party member.

59 posted on Mon Jul 19 2010 12:28:46 GMT-0400 (Eastern Daylight Time) by Jim Robinson (JUST VOTE THEM OUT! teapartyexpress.org)