Posts tagged "Teabaggers"
Some disgusting and horrible news out of San Diego, as a Tea Party leader ("Co-Organizer and Public Relations Representative for the San Diego Tea Party" according to his website) has been arrested for the kidnapping and rape of a woman:
Michael John Kobulnicky is accused of offering a woman a ride on February 25, but instead of taking her home, he drove to secluded island, pulled the victim out of the vehicle, sexually assaulted her, and left her in the sand. San Diego Police Lt. Andra Brown said, "He dragged her out of the car and sexually assaulted her pretty brutally."

Kobulnicky, the public relations director for the San Diego Tea Party, is also the former regional director of the Southern California Conservative Party.
Kobulnicky's website touts his conservative and Christian values. Too bad his life doesn't seem to follow those values, or any values. And maybe the GOP War on Women is being stepped up a notch…
Categories: #culturewar, #drainclogs, #elections Tags: 2012, Apple, Immigration, Israel, Mitt Romney, Newt Gingrich, Obama, PIPA, Reddit, SOPA, Teabaggers, Terrence Nowicki Jr
If you missed the latest of the many many boring Republican presidential debates (I don't blame you!), then you missed the Tea Party crowd at the CNN/Tea Party Express (bleh!) Debate cheering for a hypothetical 30 year old productive worker with no health insurance to die. Party of life, indeed! Let's see how many of those angry mob members themselves don't have health insurance.
Remember, the Democrats are the real racists, so proudly declare that you are a racist. Uh…..
Yeah!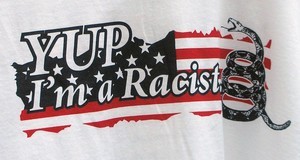 Greg Skilling interviewed some of the morons:

Some of them think this shirt is dumb as well, so there's hope.

William Temple of Brunswick, GA (leader of the Tea Party Founding Fathers group) is one of the faces of the Tea Party movement due to his cosplay as a Revolutionary War soldier. Temple also claims to be the pastor of a small African-American church in Georgia. But what is odd about Temple's outfit, is that he doesn't look like an American Revolutionary War soldier. His outfit looks like the outfits of the Hessian Jaeger troops. You know, the mercenaries hired by the British to fight the Americans! That's very patriotic of him…or telling…YOU MAKE THE CALL!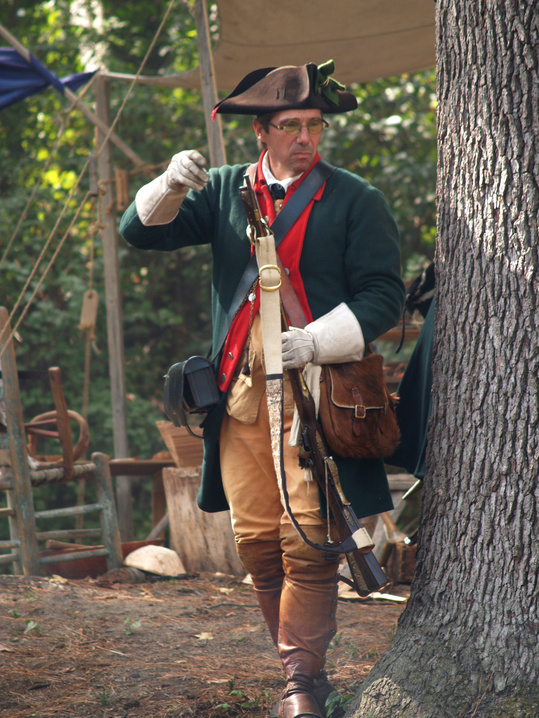 Pictures of Hessian Jaeger uniforms from a reenactment group
And don't worry, the teabaggers will have their own "jamboree" to determine which Republican these "independents" will vote for
With the band new direct-to-VD Tea Party fan series about colonial life with totally Conservative values! Like un-wed mothers…
The official site for Courage, New Hampshire
Americans need their story!

The bald truth of the matter is that we don't get enough of it. A handful of major feature films have been made about the American Revolution and very very few about the formative years from Jamestown to Bunker Hill. America, even today, is still very much about those five generations who braved the New World in the fearful decades between Roanoke and Lexington.

They were a sturdy lot of men and women who dreamed of a city built on a hill. Their struggle to create that city and to sustain a republic dedicated to the rare notion of individual freedom and "unalienable rights" has outlived them, but there's a side of their story we don't often study: what made them strong enough to fight?

Courage, New Hampshire is the chronicle of a shire town on the western border of New Hampshire. In those days, the inn keeper was often the justice of the peace as well, and neighborly disputes were moderated at the local public house or tavern. Starting with the winter of 1770, we will be telling the seasonal story of the great events of the era, as seen from a country town distant from the colonial capitals. Each new season of this decade, will take the audience on the road to revolution, along with the citizens of "Courage."

You can help us tell that story by joining the colony.

..Because one or two movies every twenty years isn't enough! We want a dramatic series — something you can watch every week.
Let's get started!
Those one or two moves every twenty years are Red Dawn and Red Dawn (remake), btw!
Nothing I say will be as ridiculous as this ad from Turn Right USA for CA-36, described as Willie Horton on Steroids. Don't forget to visit the accompanying website Hahn's Homeboyz.org
CA-36 features Los Angeles Councilwoman Janice Hahn (D) against Teabagger businessman Craig Huey.
Categories: #drainclogs Tags: banksters, Koch Brothers, Medicaid, Medicare, Missouri, Obama, Peter Kinder, Teabaggers, Wachovia, War on Terror, Wisconsin
Categories: #culturewar, #drainclogs Tags: Birthers, Chris Smith, Chuck Asay, Dean Duffy, Donald Trump, Kenya, Michelle Rhee, New Jersey, schools, Teabaggers
The Republican class war continues in Wisconsin, and has spread to Indiana and Maine.
The US has wasted tens of billions of dollars on contractors in Iraq and Afghanistan. But, we must cut money from the poors, not these rich companies!
US Rep. Paul Broun (R-GA) laughed along with the crowd when a supporter asked him when someone was going to shoot President Obama. I'm sure he laughed peacefully at the peaceful questioner who only wants Obama to be shot with a camera, and peacefully reported him to the secret service.
Fucking insane Georgia Republican state rep. Bobby Franklin wants to make miscarriages illegal. Every time a miscarriage happens, there will be a criminal investigation and the woman must prove she didn't do it herself. Or she gets the death penalty. Culture of life, bitches! Considering like 1/3 of all pregnancies end in miscarriages (many without the woman even knowing), invest your money in death penalty chemicals!
I guess Georgia is sick of Arizona being the worst state in the Union…
South Dakota was going to make it legal to kill abortion doctors, but instead have decide to just make women who want to have abortions have "counseling"
(3) Provide the pregnant mother with the names, addresses, and telephone numbers of all pregnancy help centers that are registered with the South Dakota Department of Health pursuant to this Act, and provide her with written instructions that set forth the following:
(a) That prior to the day of any scheduled abortion the pregnant mother must have a consultation at a pregnancy help center at which the pregnancy help center shall inform her about what education, counseling, and other assistance is available to help the pregnant mother keep and care for her child, and have a private interview to discuss her circumstances that may subject her decision to coercion;
(b) That prior to signing a consent to an abortion, the physician shall first obtain from the pregnant mother, a written statement that she obtained a consultation with a pregnancy help center, which sets forth the name and address of the pregnancy help center, the date and time of the consultation, and the name of the counselor at the pregnancy help center with whom she consulted;
Why these are bad.
What South Dakota already requires women who want abortions to do:
(a) The name of the physician who will perform the abortion;
(b) That the abortion will terminate the life of a whole, separate, unique, living human being;
(c) That the pregnant woman has an existing relationship with that unborn human being and that the relationship enjoys protection under the United States Constitution and under the laws of South Dakota;
(d) That by having an abortion, her existing relationship and her existing constitutional rights with regards to that relationship will be terminated;
(e) A description of all known medical risks of the procedure and statistically significant risk factors to which the pregnant woman would be subjected, including:
(i) Depression and related psychological distress;
(ii) Increased risk of suicide ideation and suicide;
(iii) A statement setting forth an accurate rate of deaths due to abortions, including all deaths in which the abortion procedure was a substantial contributing factor;
(iv) All other known medical risks to the physical health of the woman, including the risk of infection, hemorrhage, danger to subsequent pregnancies, and infertility;
(f) The probable gestational age of the unborn child at the time the abortion is to be performed, and a scientifically accurate statement describing the development of the unborn child at that age; and
(g) The statistically significant medical risks associated with carrying her child to term compared to undergoing an induced abortion.
Florida Senate teabag candidates are hiring assistants for over $100K/year:
But to help them do it they hired 61 assistants, each making more than a $100,000 a year. Salaries in the speaker's office rose one and a half percent.

Cannon's top aide, Matthew Bahl, makes $146,000 a year; that's more than three-and-a-half times the speaker's salary. Haridopolos' top aide, Stephen MacNamara, makes more than $175,000, or more than four times the Senate president's salary.
Fiscal Responsibility!
Categories: #drainclogs Tags: Afghanistan, Bobby Franklin, contractors, Dean Cannon, Florida, government waste, Indiana, Iraq, Matt Bors, Matthew Bahl, Mike Haridopolos, Obama, Paul Broun, South Dakota, Stephen MacNamara, Teabaggers, War on Women, Wisconsin