Posts tagged "PatriotActionNetwork"
Grassfire.org's "cash in on the conservatives" site Resistnet changed their name to Patriot Action Network aka PANetwork to avoid the bad publicity from all the racist members out spreading their poison, and then began attempting a fund drive among their members. But it doesn't take a whole lot of looking to find the same old crap at PANetwork/Resistnet. In fact, almost all of these posts are from the same article, a blog entry by Lloyd Marcus, Tea Party favorite because he's someone they can wave around to prove they aren't racist. But they can't help themselves and the responses are filled with racism and calls for violent government overthrow. Oh, Grassfire.org…will you ever be sane? (No.)
Most Rev. Archbishop Military Dictatorship

Let's fantasize about killing cops!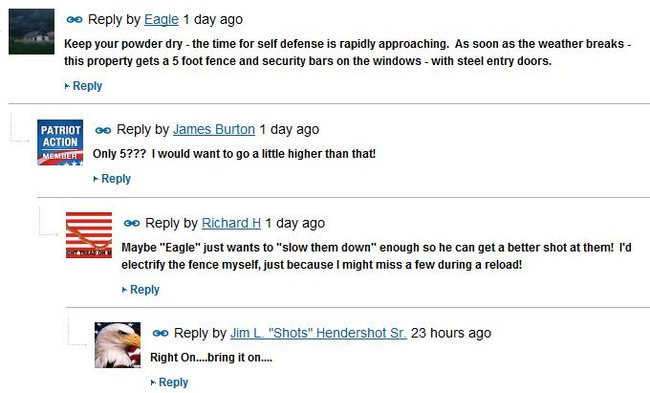 Obama: Earthquake Jihadist!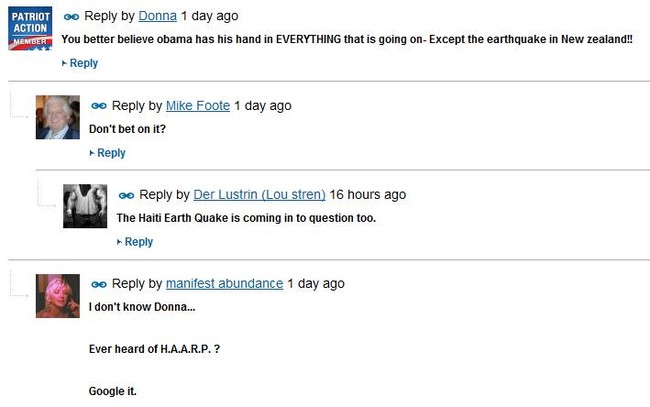 Read more…
I was just surfing on PatriotActionNetwork aka PANetwork aka Resistnet grabbing images for a new Wingnut Web, and ran across John W. McSherry's weird rant about space robots. Apparently, Obama has an army of space robots with lasers that will soon accidentally crash into the Earth and kill us all, or something. In any event, this is a magical posting that everyone must see!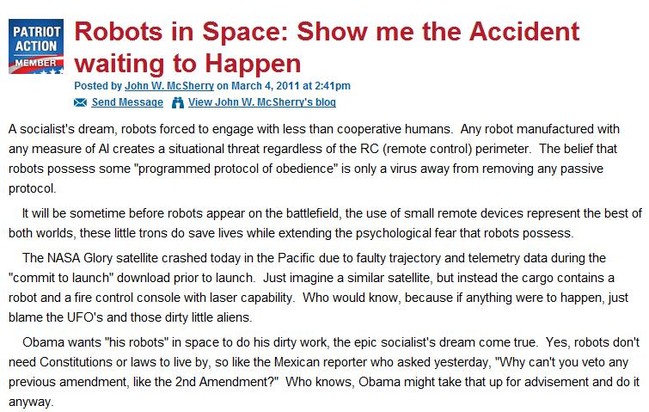 And, yes, the new Wingnut Web is armed and will be fired off later in the week!
Ding dong, those bitches are dead! It is true, Resistnet.com is no more! They have rebranded themselves PatriotActionNetwork.com! Don't think you can go to PatriotActionNetwork.com and snoop around, they haven't bothered to activate it yet, so the undead corpse of Resistnet.com is still chugging along for a few more weeks. The walking dead.
Resistnet.com was started shortly after Barack Obama was elected president by Grassfire.org, Steve Elliot's group that makes money off of gullible conservatives. Elliot had the vision to realize that crazy racists would be pissed off and that he could get phat loot from their wallets as they desperately looked to anyone to protect them from the dark skinned fellow in the White House. Resistnet has been getting bad press ever since, spearheaded by Our Crew, back when Politisink was just a feature on the TarsTarkas.NET Blog known as Wingnut Web. We became so well known in connection to Resistnet, links to our articles regularly turned up on first page Google results of Resistnet queries. The quantity of articles continued non-stop, due to the memberbase of Resistnet being full of crazy crazy crazy people who wrote the most racist, violent things you could imagine. And then the moderators would get mad at US for posting what they were doing, instead of bothering to police their site. The stink became so bad they got bad press in mainstream newsites, and their membership has largely stagnated the past year, growing very slowly compared to their first year of life. It's time to rebrand, lose all that bad press, and try to make money off of the recent election victories. Thus, PatriotActionNetwork was born!
Here is the new PatriotActionNetwork logo. Note the attention to detail:



The detail I am referring to is the quote by Thomas Jefferson, "One man with courage, is the majority". Except that quote is "One man with courage makes a majority" and was said by Andrew Jackson!!!! That's the kind of accuracy and Patriotism you can expect from the PatriotActionNetwork!
Despite the slowdown in updates in recent weeks due to several reasons between the various contributors here, we are still committed to bring you the awful awfulness that is the dredges of the political world. And PatriotActionNetwork will have plenty
To the Teabaggers itching to join the PatriotActionNetwork, we have this message for you: Don't. Lay down your teabags and embrace sanity. Open your eyes to how you are being duped. The Teabagger candidates you just sent to Congress are hiring lobbyists as their chiefs of staffs! Ron Johnson, Mike Lee, and Rand Paul don't care what you think at all! It was all a scam, and they think you are scum. The rich will continue to get richer off your backs.
We will bury PatriotActionNetwork.com like we are burying Resistnet.com – in a shallow grave with no mourners. Resistnet joins Rosanna Pulido on our Butcher's Bill, but we always have room for more. You can change the name, but you can't change the stupid. But for now, it's party time!