Posts tagged "Sarah Palin"
Behold the greatest post posted this week on FreeRepublic.com. I don't know what's more crazy, this post, or the fact [email protected] seems to believe it will happen. Unfortunately you will just have to imagine the point where the text becomes randomly blue halfway though the post.
Political "Death of A Salesman" : Sarah Palin's Dramatic Rescue of America's Conservative Movement in 2012 …

Away from Myth Romney's Pathetic Self-Implosion against Obama and Axelrod

I would like to be very careful in my next few words.

"Newt Gingrich and Sarah Palin will be the 2012 GOP Nominees in Tampa".

I am neither an alleged spiritual prophet, or a Pollyanna madman.

I have worked much in politics, including with Pat Buchanan, Dole-96, Bush-43 (Florida "Ballot-Chad" Protestor") and Newt Gingrich in Florida this year.

Something in my gut intuition tells me that the O-Romney GOP E-RINO Campaign is in a state of "quiet fear and desperation", albeit in a stealth mode …

Forgive me for the historic analogy, but the situation has a peculiar feel about it, similar to Gen. Patton's vague suspicions that the German Wermacht was "up to something" just prior to launching the 1944 Battle of the Bulge".

A peculiar quiet has settled-in among the GOP Conservative Leadership … Newt, Sarah, Santorum, Perry …

I do not sense that this is the "Quiet of the Vanquished" … but rather the same "quiet before the storm" that saw General George Washington's surprise defeat of the Hessians at Trenton, a CRUCIAL turning point of the Revolutionary War …

Newt Gingrich repeatedly discussed this EXACT metaphor during his (active) campaign … especially the "Victory or Death" aspect …

From the British Empire's perspective (or Fox News), wasn't Gen. George Washington's conventional military campaign "suspended", "defeated", "financially broke with furious creditors" … with Gen. Washington personally criticized with having a "monstrous ego", "grandiose delusions of victory", needlessly calling on his troops to fight a "lost cause from the very beginning" ?

I can easily imagine Fox New's Sheppard Smith (and the other recent GOP talking-head) … telecasting this Fox News report about Gen. George Washington's defeat … and that of the American Tea Party, as well … using the above words … as a part of the British Empire's "official" propaganda messenger boys …

Coincidentally, these were (approximately) the VERY SAME WORDS that Fox News and Townhall used to describe Newt Gingrich's political decisions over the past few days …

Again … those Fox News derogatory terms for your convenience …

a campaign "defeated", "financially broke with furious creditors" … with Newt Gingrich having a "monstrous ego", "grandiose delusions of victory", needlessly calling on his troops to fight a "lost cause from the very beginning" …

We Free Republic Conservatives are well familiar with the literary phrase "Who is John Galt ?"

Let me ask "you" (gentle reader) a question …

Who is Newt Gingrich ?

Who is Sarah Palin ?

Who is Rick Santorum ?

Who is Rick Perry ?

Who is Herman Cain ?

Who is Michelle Bachman ?

Do any of these names conjure up character-descriptions like "weak", "afraid", "cowardly", "visionless", "foolhardy", "phony", "money-grubbers", "liars" ???

Hardly, and quite the opposite !

For me, every one of these men and women (from my perspective) …

Conjure up words like "courage", "intellect", "strength", "character", "faith", "VISION" ….

So what's my premise here ?

Again …

"Newt Gingrich and Sarah Palin will be the 2012 GOP Nominees in Tampa".

The O-Romney campaign won a Pyrrhic Victory with his 650-whatever delegates "won" for Tampa …

A tactical and strategic fool … akin to Hitler's military genius (/sarcasm-off) …

O-Romney has butchered has own (potential) Infantry Corps the Tea Party and Free Republic Conservatives) when he "carpet-bombed" his GOP Competitors (Newt, Santorum, Perry, Cain) into leaving the field …

O-Romney "never once" articulated a "single" original "conservative" political idea the entire 2012 primary season …

Not a "single" one …

Obama defeats Romney in November 2012 … period.

Marco Rubio, Colin Powell, Paul Ryan, Juan McCain, Condi Rice … all know that …

When Dan Rather (hail to Feeeper Buckhead) yesterday (2012-05-04) said that Romney might defeat Obama … it's high-time to get the Bravo-Sierra knee-high waders on …

O-Romney is toast.

And even Mittens knows it … that explains the "desperation" move of publicly (begging) for Condi Rice to (please) come to Mitt's rescue …

And Condi Rice ain't buying Mitt's baloney …

"Successful" (presumed) presidential candidates ARE NEVER BEGGING for Vice Presidential mates … three (full) months before the GOP Convention's door opens …

Never.

Romney is in "strategic" level trouble. Like the German Army at Stalingrad, he's sooo screwed …

What happens next ? Funny you ask …

"The Plan"

1) Romney's Hollow-Support:

No one really likes Romney (including George & Barbara Bush) …

The GOP E-RINO club (and Rush Limbaugh) only selected Romney because the other 7-8 GOP candidates wouldn't drink their Bain Capital "betray America" kool-aide …

Supporters of Gingrich, Santorum, Perry, Cain, Michelle Bachman … loathe Romney

The only folks who voted for Mittens were 75-year old-school "Gerald Ford" Republicans absolutely terrified that they were loosing all their stock-market savings … and plus they don't really use the internet (FreeRepublic, et al) … all these folks watch is ABC and CNN …

Of course, lots and lots of Mormons voted for Romney … which is why Romney dominated in Utah and Arizona … and got clobbered in The South …

Evangelical Christians … the political "boots-on-the-ground" Infantry of any successful GOP Campaign … are quietly scared to death over this "Mormon Used Car Salesman"

2) "Genuine Conservatives" REFUSE to Play the Juan McCain Game again in 2012:

Tea Party Members …supporters of Gingrich, Santorum, Perry, Cain, Michelle Bachman … loathe Romney

Again … the "political campaign infantry" of the other 7-8 candidates believe (with good reason) that Romney's $$$ bought endorsements, and Willard's "despicable" lying-through-his-teeth, and finally, Willard's "scorched-earth" TV ad campaigns against Newt Gingrich, Rick Perry … and (almost) Rick Santorum in Pennsylvania …

Make all these potential GOP voters … and campaign workers … "vomit" at the mention of Mitt Romney …

The last time the GOP E-RINO establishment told us "Patriots" to fall on our swords for "The Party" (may it's unholy pro-choice name be blasphemed forever) … they gave us that …

(fill-in-the-blank) Juan McCain … who literally gave Obama the U.S. Presidency on a Silver Platter.

Not again, baby … certainly not in 2012 !

3) "The Secret Patriot Resistance" is Already Born:

OK … so Romney won a lot of delegates … but still 500 short … just like Hitler surprised the French in 1941 …

What to do, Gingrich, Santorum, Perry, Cain, Michelle Bachman ???

SUSPEND your campaigns. Offer a "token" quasi-SOFT endorsement of Mittens.

Do NOT give your delegates to Romney.

The Goal ?

Willard "stops" the negative TV ads against everyone.

All the campaign money Romney still has left (aircraft, bullets, bombs, ships) sit "useless" in a warehouse.

No more casualties … for the "good guys" … Gingrich, Santorum, Perry, Cain, Michelle Bachman

And they quietly wait for the surprise counter attack … in Tampa …

4) Mitt Romney's "Tsunami of Severe Verbal Campaign Gaffes" … until August 2012 …

Every week Romney says something "severely" STUPID …

Every week Romney inches (crawls) back to his LIBERAL POLITICAL ROOTS … trying to win-over the political Holy Grail … the (highly over-rated "Independents) …

Every week … genuine Conservatives QUIETLY decide in their hearts … "There's no way in Hell I'm voting for that LIBERAL idiot"

Every week … genuine Christian Conservatives QUIETLY decide in their hearts … "There's no way in Hell I'm voting for that Mormon Anti-Christ cult member"

Every week … Conservatives in California, Texas and 12 other (Primary Voting) states that the GOP E-RINO Club just "tossed-aside" … will QUIETLY decide in their hearts … "There's no way in Hell I'm voting for that E-RINO Pubbie Imposter"

5) Ten Days prior to the GOP Convention … Sarah Palin's D-Day Landing …

On that day … Sarah Palin … the great conservative Peace Maker will assemble the entire group of 2012 GOP Candidates … except Mitt Romney, of course …

Sarah Palin … and … Gingrich, Santorum, Perry, Cain, Michelle Bachman …

Sarah Palin will declare Mitt Romney's Candidacy a "complete fraud" … their ammunition will be all the Romney Campaign Gaffes and (new-old-again) "Liberal Mitt Romney" political positions …

Sarah Palin will (in her speech published on YouTube to avoid Fox News Censorship) … will personally nominate the entire GOP Ticket …

Sarah Palin will nominate Newt Gingrich for President …

Newt Gingrich, when it's his (choreographed turn to speak after Sarah Palin) … will ask Sarah Palin to be his Vice President …

As Sarah Palin returns to the podium to accept, she will them "suggest" that Rick Santorum be US Attorney General

As Rick Santorum gives his "informal" acceptance speech, he will "suggest" that Rick Perry be the Energy Secretary …

6) An American Conservative Movement "On Fire Again" …

Over the next ten days before the Tampa Convention's Opening Bell …

All of Romney's uncommitted delegates will be invited to meet with all the above folks …

Sarah Palin, Newt Gingrich, Santorum, Perry, Cain, Michelle Bachman …

Mitt Romney can't run any more campaign ads, because the primaries are all over … Romney's Bain Capital Campaign Money is "useless" …

7) The 2012 Tampa GOP Convention in August …

Newt Gingrich and Sarah Palin win the GOP nomination on the "first ballot" …

Mitt Romney is forever "politically exiled" to the GOP's Planet Kolob … to join his loser friends like Juan McCain and Bob Dole and Jeb Bush …

8) The 2012 Presidential Election …

Newt Gingrich and Sarah Palin win the election in a "Ronald Reagan Landslide"




20 posted on Saturday, June 16, 2012 11:19:07 PM by [email protected] (Newt Gingrich and Sarah Palin will DEFEAT the Obama-Romney Socialist Gay-Marriage Axis of Evil)
[ Post Reply | Private Reply | To 18 | View Replies]
If you're like me, you know the best thing about the Grifting Quitter's big announcement is the exploding heads from the die hard true believers. And no place has a bigger, badder, crazier concentration than FreeRepublic.com. Come join us as we watch the fun!
First up is se_ohio_young_conservative, who was one of the Palin or bust fanatics, who launched a big thread about being betrayed:
"Sarah Palin is a total coward with no guts *my apology*"

I would like to apologize for all of the vanity messages over the years. I apologize for trying to defend and support a person who now appears to have no heart and no courage. I apologize to those who have supported other candidates. I apologize for any attacks on those in the Republican party who didn't support her.

I have to painfully admit that I was wrong on everything since 2008.

If this is what this woman is really all about, I wouldn't even hire her to run an ice cream shop. She is not our side and we need to make sure that she knows that in the future. Lets forget all of this (since 2008) ever happened and move on and work together with people who really have a heart and want to save our country.
But, less than two weeks ago, se_ohio_young_conservative was saying…
Why Palin needs to run

Posted on Wednesday, September 28, 2011 12:21:12 PM by se_ohio_young_conservative

1. Regular people will see how the media treated her, how they defeated her and be discouraged from ever running for local, state and national office. Especially conservative females. If she doesn't run, that sends the signal of defeat to the country and victory for the MSM. Think about it. How many young conservative women in this country would look at what has happened to Sarah Palin and decide that it wouldnt be worth it to enter politics. The same goes for conservative men like myself who come from small towns and non rich families.

2. She is the only person I see on the national stage who I believe has the guts to dismantle Obama's policies like Obamacare piece by piece until it is gone.

3. There is no one who has a connection to Middle America like Sarah Palin. We look down the row of candidates and I see nobody that midwesterners and southerners can relate to. That is very important. Our elections are always decided in the midwest and southern border states.

4. Lisa Murkowski and other anti Palin idiots from Alaska will celebrate if she doesnt run. job well done.
His rant against Sarah is yanked, but not before he was piled on by Freepers:
To: se_ohio_young_conservative

You Are An IDIOT!

26 posted on Wednesday, October 05, 2011 4:52:20 PM by PoloSec ( Believe how that Christ died for our sins, was buried and rose again for our justification)
To: se_ohio_young_conservative

I would like to apologize for all of the vanity messages over the years…

~~~~~~~~~~~~~~~~~~~~~~~~~~~~~~~~~~~~~~~~~~~~

And yet here you are with yet another whiny cry-baby vanity.

What will all the vanities about your mother dying and all. And now this traumatic devasting news….

You're not gonna kill yourself or nothing are ya?

28 posted on Wednesday, October 05, 2011 3:52:38 PM by Responsibility2nd (NO LIBS! This means liberals AND libertarians (same thing) NO LIBS!)
To: se_ohio_young_conservative

u
r
an
idiot.

65 posted on Wed Oct 5 16:01:55 2011 by nhwingut (Palin '12… Accept No Other)
[ Post Reply | Private Reply | To 1 | View Replies]
jonrick46 wins the prize for Vice President hope
To: se_ohio_young_conservative

You may want to look at the silver lining in all of this. Sarah Palins performance in the up coming months will play an important role in getting a Republican majority elected in the U.S. Senate. How could she do it as a Presidental candidate?

Sarah Palins performance in the up coming months will play an important role in extending the Republican majority in the Congress. Now she can focus on that effort.

Sarah's position at Fox gives her an important advantage in putting out the conservative message. She will take on the DemonRAT spin, the DemonRAT deception and the DemonRAT DemonRAT play book. She will be our bomb thrower to weaken the enemy before the main team, our Presidential Candidate, advances their effort on the playing field.

Sarah will electrofy the electorate for conservative, common sense candates. The DemonRAT opposing candidates will look like fools when Sarah attracts huge crowds for Republican candidates. The money from the average citizen will be a money bomb for everyone she supports. That will weaken the enemy fueled by union campaign war chests.

Finally, do not count Sarah out as the Vice Presidential candidate. Eight years as Vice President transforms to eight years as the first woman President of the United States. Sixteen years in such a position of power will transform this nation and the world suffering from the cancer of Progressivism (which we call Marxist Communism). Sixteen years with Sarah Palin's leadership will put America once again as that Shining City on the Hill—that beacon for all mankind to the principle of Liberty.

143 posted on Wed Oct 5 16:26:18 2011 by jonrick46 (2012 can't come soon enough.)
To: se_ohio_young_conservative

You really need to get off freerepublic and work on yourself. You've posted about a thousand vanities supporting her, and now you say she "can't run an icecream shop". I'm not for banning people easily, but considering your inane vanities you've posted over the years, and your total meltdown today, you really need to go. Go see a psychologist. You have problems.

16 posted on Wednesday, October 05, 2011 3:50:16 PM by teg_76
[ Post Reply | Private Reply | To 1 | View Replies]
Crazed Palin booster The Wizard posts a long screed about his broken heart…
***Who Needs A Knife: Stabbed In The Back By Someone We Loved***
Stardate: 1110.5

Posted on Wednesday, October 05, 2011 5:44:05 PM by The Wizard

Those of you who read me know how I feel about Sarah Palin….just look at my tag line…..and I will write her name in in November, and keep my word that I will vote fro her….

But if she does not undo this incredible mistake, and quickly, she will supply all the media and all her detractors with what they will call "Proof" that every rotten thing they said about her was true…..

And what a way to thank Steve Bannon for his film and DVD….on the day it comes out to most stores, she gets out, braking millions of little people hearts and killing the sales of all those DVD, which will now be in the $1 bin in a month, if it takes that long…..actually I wouldn't be surprised to see Walmart cancel the order.

Book sales, TV shows, etc. they have all been thrown away….oh it might take a little while, but you can see it disappearing as we speak…..

Sarah talked to Mark Levin about security for her family….does she think they will be safer now that she's invisible? Her son went to war and risked his life, and we know only too well that she is risking her life and the lives of her family, but the only way to fight that is to shine a light on it…….

I believe tremendous numbers of Americans would surround them and her home to protect the kids….and her…..

She needed to be in the debates, and in the media every day possible, WIN OR LOSE, it doesn't matter, she had such strength that she could command coverage for the right things…..she has thrown all that away…

To my wonderful Freeper friends here, how long do you really think she will be a power now without the possibility of becoming President….the crowds will leave because they feel betrayed….I've been through this with Perot…..we worked hard and did what we could because we wanted a real person in the White House, and then he punked out and there was nothing left but the illusion of a compaign.

Sarah needs to retract this, blame it on all of us who are crying tonight, but if she gets out, she will no longer be a force.

No Offense Angel, but you owe it to us to even lose your life in the pursuit of America, many others have and will, but you are the chosen one, and you need to get right in the middle of this and take bambi and his socialism down.
The Wizard is a true believer in Palin, but is betrayed and hurt.
To: Blue Turtle

She will be on the record with Greta tonight and for the first time I WILL NOT be watching….betrayed is not the word that is strong enough for me, I was ready to help, I was ready to give, and I will NOT be running over to Walmart now for the DVD, which I went to get at 5am this morning….glad I didn't get it.

103 posted on Wednesday, October 05, 2011 5:52:55 PM by The Wizard (Madam President is my President now, and in the future)
For more information on The Wizard, be sure to check out his awesome website and TV show!
Sarah Barracuda is still in love
To: Tuxedo

She didnt deserve all of the hell she has gotten..from BOTH sides..both sides have treated her like crap and for what, after all, what horrible thing has she ever done..nothing..she is a beautiful human being who only has wanted to help people and this is how she gets treated. I dont blame her at all for not wanting to run, she has had enough of this crap and she will probably endorse Cain who I am happy with. Maybe if some on the GOP want to know why she chose not to run they should look in the mirror..there is only so much a human being can take

153 posted on Wednesday, October 05, 2011 5:42:30 PM by Sarah Barracuda
[ Post Reply | Private Reply | To 129 | View Replies | Report Abuse]
MestaMachine wins the award for Most Delusional Thinking, with this post:
To: quesney

Shadow Wars, my friend. We are seeing the battlelines being drawn and pretend we don't. This has nothing to do with who is president and a LOT more to do with who controls the presidency…and it hasn't been We the People for an awfully long time.
Each and every one of us has a duty to stand up against this. One person cannot do it. Sarah has chosen to fight on THEIR turf, not from inside an imaginary bubble called the presidency. She has more guts than anyone has given her credit for.
Does anyone here REALLY believe that obama controls ANYTHING? He's so frikking stupid he can't remember what year it is.
Look around you. The left has total control. If that control thinks it will LOSE control, they will begin a scorched earth. That is what we are looking at. That is what Sarah sees. Her entrance into this race would have triggered that. Are you people so blind that you can't see what is going on?
We need to become an army or yes, we die.

42 posted on Thursday, October 06, 2011 4:31:28 AM by MestaMachine (obama kills)
[ Post Reply | Private Reply | To 26 | View Replies | Report Abuse]
wardaddy is back to stab the Palin Fans in the back after years of being stabbed in the back. Basically, FR eats their own 24/7/356
To: LibLieSlayer; wtc911; don-o
You just can't help yourself can you?

neither could you guys and some of you are still at it

the behavior of the Palin zot patrols here will not be forgotten by me

it dwarfed what you guys liked to call Pissant and Rabs PDS brigade..which slowed to a trickle after Piss's zot

Palin has been a huge disappointment…incredible…the planets had aligned for her and in my estimation (not wtc's) we needed her…bad…a social conservative.

and she drags it out to the end and just announces like she did?..some feeble opt out?

and we are just aren't gonna talk about it and now treat her like Elder Stateswoman?

bullcrap

She finked out.

And her Zot posse goons here should shut up.

Months of zot pack hunts on anyone ..even supporters like me…who questioned any little utterance she had or why she was dragging out announcing?

and now we will just be good little campers and let you guys have your cry and not criticize what the hell was she thinking like no biggie?

not on your life hoss…

any of that pack want to unleash the zot now?

decent posters got zotted…and for what.

those who had a part in that should hide their heads in shame here..jerks…and many of them have exhibited that behavior before on other issues…it's how they post here and they wrapped around Sarah…even a number of Giuliani/Wideawakes freeper exiles.

Now splain that to me Lucy…making the switch from Giuliani to Palin.

There are plenty of reasonable Sarah supporters here but there are some who are the ugliest posters I've seen in 11 years
115 posted on Thursday, October 06, 2011 10:36:35 AM by wardaddy (I wish palin would run…..she can win strike that now obviously)
[ Post Reply | Private Reply | To 107 | View Replies | Report Abuse]
Gargantua gives us the final eulogy of this Wingnut Web…
To: pgyanke
You are 100% correct, and past tense "Mattered" is also appropos. Her amazing popularity was due, the majority of it, to the hope that she would do for America what she did for Alaska. That was always her unspoken promise in the hearts and minds of millions upon millions of sincere, hard working, God fearing American patriots.

I still don't understand how you can one minute say how you honor our troops for their willingness to sacrifice all for our country, and then in the next minute, turn your back on that same country as it cries out for your leadership in its hour of life-or-death need.

I'm dangerously close to despising her for her gutless decision, and for ripping the beating heart out of the country I love. She has really pissed me off, and she may well have destroyed our chance of winning in 2012.

It's going to take an energized base to beat Obama, Acorn, SEIU, Soros, etc. I just don't see anyone among the current field that conservatives can get excited about.

"Buck up or stay in the truck!"

"If you can't ride two horses at once, you probably shouldn't join the circus."

"Don't retreat… RELOAD!"

What a bad, sad joke.
50 posted on Thursday, October 06, 2011 11:02:30 AM by Gargantua (President Palin isn't coming, and she's brought America down with her…)
[ Post Reply | Private Reply | To 1 | View Replies | Report Abuse]
And finally, go ninja! Go ninja! Go go go go go!
To: grey_whiskers

Palin has always won, and the reason for that is she only enters if she is reasonably sure she can win. When Cain was in the lower pack, and Perry was up, she probably thought it was possible for her to win and was waiting to see how it worked out.

However with the rise of Cain, she knew that she would only divide the conservative votes between Cain and herself. That would have delivered the nomination to Romney.

So, that is probably part of her decision not to run for President.

The other reason is, if you read her missive carefully, she was concerned about threats to her and her family's life. She referred to "innocence" of "childhood" lost. I read that as her being afraid her kids would lose their Mom and /or Dad to an assassination.

Perot had a nighttime visit of "ninjas" that made him decide to back out for the sake of his grand children. This seems to be the rule rather than the exception for those challenging the status quo. Sarah couldn't even get that author creep from living next door. That implies a lack of control of her security and environment. It was intended to intimidate her and her family.

Cain essentially offered to be a VP a few days ago, and that may have been an overture to Palin. Perhaps she could return the favor with Cain and be well positioned for the next election. A Veep is not as much of a target as a President.

There is also the fat ugly cow and misogynous male votes that Palin seemed to never be able to win over. Kelda points out that Thatcher and Hillary are not very sexually attractive types.

124 posted on Thursday, October 06, 2011 12:04:10 PM by helpfulresearcher (Palin and Cain – Courageous leaders who can actually fire people and prosecute corruption!)
[ Post Reply | Private Reply | To 2 | View Replies | Report Abuse]
Remember, with all the Shadow Wars and ninjas out there, be careful! Until next time….
Categories: #conspiracytheories, #freerepublic, #pundits, #wingnutweb Tags: 2012, conspiracy theories, freepers, FreeRepublic.com, Obama's Space Robots, Perot Ninjas, Sarah Palin, Wingnut Web
From friend of the site D.C. Douglas:
Hollywood Actor D.C. Douglas Mounts "Draft Sarah Palin" Campaign

Actor and part- time political gadfly D.C. Douglas releases a political rock opera anthem for a Sarah Palin/Michele Bachmann presidency.

Hollywood, CA ( PRWEB ) April 05, 2011 – – Actor D.C. Douglas has produced and released an online music video today entitled "A Sarah Palin/Michele Bachman Ticket" in an effort to galvanize the Tea Party and ultraconservative Republican base. The music video features imagery of America's Founding Fathers against a political anthem for the GOP primary race and an ultimate Sarah Palin/Michele Bachmann ticket.

Los Angeles based character actor D.C. Douglas is known for his earnest internet video productions. His controversial, but heartfelt " Tea Party PSA " was released in May of 2010 and garnered over 300,000 hits within a few days. It went on to be featured on several conservative blogs as well The Huffington Post and HLN's Joy Behar Show. His "Burn A Quran Day " spec commercial for Reverends Terry Jones and Fred Phelps had a similar impressive debut.

Mr. Douglas, in a post on his Hollywood blog, explains that he felt compelled to act after MSNBC and CNN dismissed the prospect of a Sarah Palin run for the Republican nomination in 2012. "It astonishes me that people like Lawrence O'Donell and Anderson Cooper cannot see the benefit of her running…" Mr. Douglas said in a later interview, "After all that America has been through recently – – the recession, Wall Street, God's natural disaster punishments – – we truly need Sarah Palin and Michele Bachmann in the race. Laughter is the best medicine, and their candidacy would be such a healing experience for our country."

According to his blog post , he hopes the video will be picked up by Fox News and other conservative outlets so that as many republicans and Tea Party members will see it and be inspired to draft Sarah Palin into the 2012 race, with the ultimate goal of her winning the nomination and choosing Michele Bachmann as her running
mate.

"You may say that I'm a dreamer," Mr. Douglas concluded, "but I'm not the only one."

Mr. Douglas' film and television work can be seen on his official film & tv website.

Mr. Douglas is represented by David Secor at the Daniel Hoff Agency in Los Angeles.
Who is Lou Sarah? Sarah Palin's fake Facebook account used to praise her Sarah Palin account!! Finally, something hilarious out of the whole "former insider writing a tell-all memorial about Sarah Palin" besides the memorial being sent to everyone ever without getting a publishing deal so everything in it is old news.

Blood Libel? Are they serious? They are serious. Either Palin is insane or she eats babies. Why would you use that term? Also she used a teleprompter in her YouTube video!
Today is the memorial for the Arizona victims, but Palin has now ensured we're just gonna be talking about her.
Giffords shooter Jared Loughner is nuts. We already knew that, but this lets you know how nuts he is.
Jared also posted crazy stuff on a conspiracy website.
The Tea Party Express is shocked, SHOCKED, that their violent rhetoric is being criticized in wake of the Giffords shooting. Also, give them money!
These giant bulls eye targets aren't gun sights, they are surveyor's symbols! Lock and reload your surveying tools!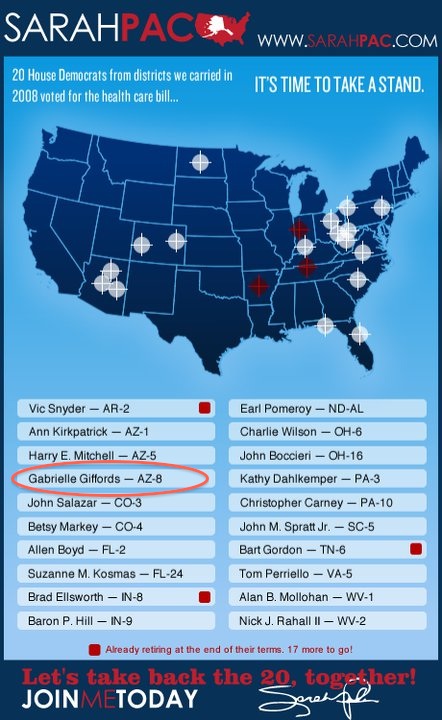 Gateway Pundit then photoshopped his own bulls eye photo trying to smear DailyKos. Here is a link to the original DKos post.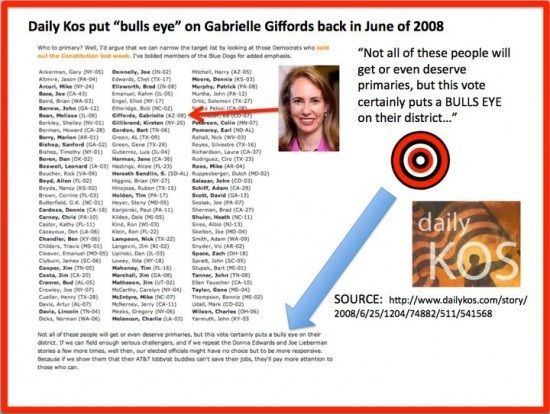 Almost immediately after skiplogic posted his article about Sarah Palin, two of Palin's kids got into a giant Facebook fight where they threw gay slurs around like they just don't care. Because they don't. Kids will be dumb, but leave it to FreeRepublic.com to see their words as some sort of epic battle of freedom against teh gays!
The head of FoxNews is literally calling people Nazis.
War criminal Congressman Allen West will be a constant stream of crazy.
Bryan Fischer is a tool. But he wants you to know he's a manly tool, unlike that female man Staff Sgt. Salvatore Giunta who got the Medal of Honor for bravely defending his fallen comrade. What a pussy, am I right?
The Teabaggers now direct their rage towards sustainable development! All these crazy people ranting against Agenda 21 means we have to add this to the #conspiracytheories category. Good job, loons! It's sort of sad that we have a tag for that already…
Cartoon of the Day: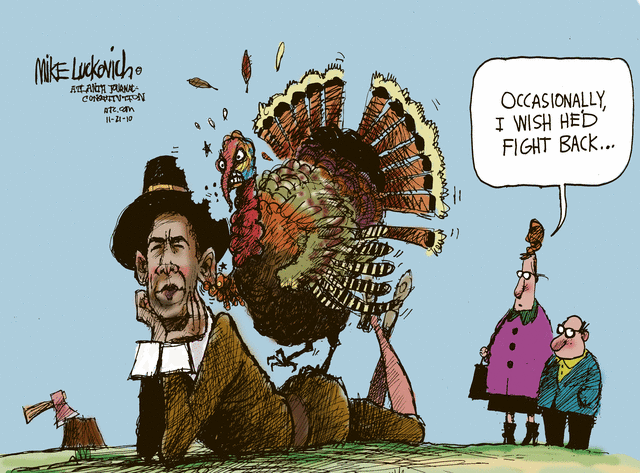 You know, when it was first announced Bristol Palin would be appearing on ABC's 'Dancing With The Stars' this year, I thought what I think every year when ABC announces their Dancing With The Stars line-up: "it's 'Dancing With The Stars' and I don't give a fuck about that show, but I'm sure something hilarious will come out of this pathetic attempt at broadcast television entertainment".
From what I can glean on the internet, this year has been no exception, but the more I hear about ridiculous publicity stunts involving members of the Palin family these days the more I feel badly for the individuals caught up in the middle of the mess and angrier at the woman whose directly responsible for it all.
I wonder what Sarah Palin would say if you asked her what her opinion on fame is. What does she think about becoming famous? What did she see in famous people before she herself became famous? Is fame a responsibility or a luxury? Stumbling across this re-published article from 1996 in the Alaska Daily News, entitled "Alaskans line up for a whiff of Ivana", then fisherman Sarah Palin, all the way back in the Clinton years, became a lede in a news article:
Sarah Palin, a commercial fisherman from Wasilla, told her husband on Tuesday she was driving to Anchorage to shop at Costco. Instead, she headed straight for Ivana.

And there, at J.C. Penney's cosmetic department, was Ivana, the former Mrs. Donald Trump, sitting at a table next to a photograph of herself. She wore a light-colored pantsuit and pink fingernail polish. Her blonde hair was coiffed in a bouffant French twist.

"We want to see Ivana," said Palin, who admittedly smells like salmon for a large part of the summer, "because we are so desperate in Alaska for any semblance of glamour and culture."

…
Fast-forward to fall 2010, Sarah Palin's new reality show on TLC got the highest ratings of any premier ever to air on the 38th most popular channel on basic cable. From what I've read, the show doesn't perch much on politics or religion (or reality, let's be honest here) but "Sarah Palin's Alaska" is simply a bunch of cameras following Sarah Palin and clan around while they embark on wacky adventures across America's biggest concentration of tundras and glaciers.
As Andrew Sullivan at The Atlantic points out however, "She Can't Fish or Shoot a Gun".
Sarah Palin. The woman best known for her love of sniping at arctic wolves from helicopter, immortalized by lonely Republican men around the country as a powerful starlet wearing a sexy red bikini and holding an AR-15 assault rifle, a mother who tries to relate to Real America over and over by talking about how much venison she's stocked herself in the ice chest (aka outside) at home. She had to ask Levi Johnston to teach her how to use a hunting rifle, and from keen viewers to her show's premier point out, she clearly knows nothing about fly fishing.
Trying to be something she's not. While this isn't a political tactic specific to just Sarah Palin, everyone in Washington panders to your sensibilities so you'll like them more, but I think you could easily say Palin the the biggest exploiter currently of this quasi-celebrity/freakshow type of media attention. She is a paid talking head on FOX News, she wrote a book and toured the country promoting it (and is working on a second), receives extraordinarily amounts of money for speaking engagements where the press are actively discouraged from attending, has a daughter on a major prime-time TV show, now has her own TLC reality show, and receives financial contributions via private donors and her 527 SarahPAC organization. For Palin it hasn't been too bad of a financial year (I'm surprised she's so quite about wanting tax breaks for the wealthy).
Forget about thrusting one of your many daughters onto the public stage as a teenage mom and ironic abstinence advocate. For Sarah we have this PSA to thank her for:
It's worth enough to mention too how Sarah Palin's cult mama grizzly following showers an outpouring of support and unintelligible babble whenever Sarah needs it. Hence her book sales, hence her 5 million viewer reality TV show ratings (though I'm sure at least 2 million of these people tuned in to watch her crash and burn), and Palin also has her supporters to thank for her daughter Bristol's continued voter-decided success on Dancing With The Stars.
And the best part? Because Palin is and always has been the Snookie of the political world, the less she seems to be accountable for giving straight answers to questions and proposing solutions to the problems that a president of the United States faces. And the more she's allowed to act like a Real Housewife and not a former Alaskan governor, the more encouragement she gets to write books and parader her and her family around on television and seize greater political ambitions and appear on FOX News specials. She is her own walking PR press junket.
The more she pretends to be someone else the more people will like her for who she is, the less they will admire her for her understanding of the world and her ability to form coalitions while governing and move the country forward and making the United States successful once again. Voters can text their choice of president NOW to 94712, we'll have the results for you right after this commercial break! Stay tuned!
Welcome to politicking in America.
Sarah Palin finally showed up on Dancing with the Stars, got booed.
Crazy Teabagger Nevada Senate Candidate Sharron Angle is on government health care.
Swiftboating Birther Jerome Corsi wants Obama to "Renounce Lucifer"
Tea Party Patriots got a $1 million anonymous donation from someone horrible. Grass roots millionaires! Remember that Tea Party Patriots was the "grassroots" teabagger group formed by Freedomworks and Washington insider Dick Armey, who still secretly run TPP despite claiming not to.
Health insurance companies decide that they aren't going to insure kids only anymore. Thank goodness we don't have single payer, because…..uh…socialism, I guess. Little Billy we be happy as he dies since his mom can't afford to insure both him and herself.
Senator Saxby Chambliss's staffers spend their days writing hate comments on websites.
Obama and Biden both are trying to shore up the base by insulting them. Thanks a lot, losers, I'll use my campaign donations elsewhere.
Cartoon of the Day: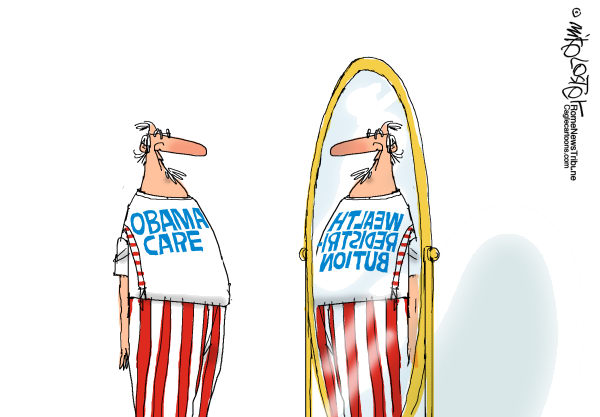 Freedomworks head and Teabagger grifter Dick Armey thinks 3% of voters are dead and voting Democratic.
D.C. Douglas has a new video out about the Koran burning:

The Republicans are running homeless people on the Green Party to siphon off votes from the Democrats. This guy Steve May was on NPR defending this yesterday and he claimed he was friends with all these homeless people and they were real. He also wants to sell you a bridge in Brooklyn.
Arizona governor Jan Brewer can't debate, but she sure can take $1.5 million from Timothy Mellon, a Wyoming millionaire to help defend her SB1070 law
Wifebeating racist cartoonist Mike Lester (who has been featured here as a Cartoon of the Day a few times) has gone all legal threats happy on a fellow cartoonist who dared to call Lester the racist he is!


lease be aware that your comments are being monitored. Like all our readers, you are free to disagree w/ my cartoons. However, should you libel and or slander me or my newspaper publicly, we will seek legal remedy. We are also in possession of previous blog entries.

Sincerely,
ML

Mike Lester

Mr. Lester

re: your hilarious and insane threat to sue me

I appreciate your alerting me that my comments are being monitored. I am not sure if you are aware of this, but that is generally what people hope happen to their comments when they are posted on a website on the internet. I am glad to hear you are also in possession of previous blog entries. I too have internet access.

As a professional courtesy, please consider spelling my name correctly when delivering any future baseless and ludicrous threats because your feelings were hurt. As a personal favor, please stop making racist, ignorant and illogical cartoons.

-August J. Pollak

Iowa For Freedom is ticked over the gay marriage in Iowa and is trying to get a bunch of judges yanked. They are even lying about support from former SCOTUS judges to do it.
The Koran burning is on-again, off-again, with the tiny church pastor Terry Jones saying he's not going to do it because the community center got moved, the community center not knowing what he's talking about, and Donald Trump wandering in. And Fred Phleps is claiming he'll burn Korans if the other guy chickens out. Who knows??? We'll see tomorrow if things go up in flames.

At Politisink, we agree the church has the right to burn the Korans because free speech is awesome, but free speech also gives us the right to call this shenanigan damn dumb. Because it is damn dumb.

Wonkette does our job for us (because Wonkette gets paid to do it, while we just update during lunch or after work) and posts a bunch of posts from wackos on Sarah Palin's Facebook page that disagree with her on the Koran burning.
Our friends at Resistnet.com have freaked out over the Koran burning, by deleting every post that mentions it and even shutting down chat in an effort to stem the calls for Muslim Final Solutions that are appearing all over the site, probably because they know we're watching them. Because we are. At the same time, the Resistnet Admins are going to New York with a petition to try to get the Community Center moved.
Already read Over the Cliff? Think American Taliban was keen? Enjoy people writing about how the Teabaggers are a bunch of suckers? Than this book (The Backlash by Will Bunch) might be interesting, but I haven't read it yet so who knows?
Being in San Bruno when it explodes is not as fun as you might think. But Tanforan Mall stayed open extra hours for those of us trapped in traffic as the mountain nearby burned from the gas pipe explosion. At least 4 are dead and 38 homes completely destroyed with hundreds damaged.
Cartoon of the Day:

Categories: #drainclogs, #pundits, #resistnet Tags: #freedomworks, #resistnet, Arizona, D.C. Douglas, Dick Armey, Facebook, Iowa, Iowa for Freedom, Jan Brewer, Mike Lester, Mosques, Sarah Palin, Terry Jones, Timothy Mellon, Will Bunch
America's honor is restored. And by America's honor, I mean Glenn Beck and Sarah Palin's bank accounts! good job, Wingnut Suckas! I'm sure maybe a few cents will end up at the charity, but only whatever Canadian pennies accidentally got put in the donation baskets.
The crowd was estimated at 87,000, but that didn't stop Glenn Beck and the rest of the rightwing loons to inflate the numbers and soon they were over half a million. By Friday there will have been 96 quintillion people at Beck's rally. All of them white.
And the "peaceful crowd" was filled with violent psychopaths.


Hey, Japan is ripping off the Teabaggers for their own crazy xenophobic mobs!
The demonstrators appeared one day in December, just as children at an elementary school for ethnic Koreans were cleaning up for lunch. The group of about a dozen Japanese men gathered in front of the school gate, using bullhorns to call the students cockroaches and Korean spies.

….

More significantly, the protests also signaled the emergence here of a new type of ultranationalist group. The groups are openly anti-foreign in their message, and unafraid to win attention by holding unruly street demonstrations.

Since first appearing last year, their protests have been directed at not only Japan's half million ethnic Koreans, but also Chinese and other Asian workers, Christian churchgoers and even Westerners in Halloween costumes. In the latter case, a few dozen angrily shouting demonstrators followed around revelers waving placards that said, "This is not a white country."

….

No such estimates exist for the size of the new Net right. However, the largest group appears to be the cumbersomely named Citizens Group That Will Not Forgive Special Privileges for Koreans in Japan, known here by its Japanese abbreviation, the Zaitokukai, which has some 9,000 members.

The Zaitokukai gained notoriety last year when it staged noisy protests at the home and junior high school of a 14-year-old Philippine girl, demanding her deportation after her parents were sent home for overstaying their visas. More recently, the Zaitokukai picketed theaters showing "The Cove," an American documentary about dolphin hunting here that rightists branded as anti-Japanese.

In interviews, members of the Zaitokukai and other groups blamed foreigners, particularly Koreans and Chinese, for Japan's growing crime and unemployment, and also for what they called their nation's lack of respect on the world stage. Many seemed to embrace conspiracy theories taken from the Internet that China or the United States were plotting to undermine Japan.

…..

Mr. Sakurai says the group is not racist, and rejected the comparison with neo-Nazis. Instead, he said he had modeled his group after another overseas political movement, the Tea Party in the United States. He said he had studied videos of Tea Party protests, and shared with the Tea Party an angry sense that his nation had gone in the wrong direction because it had fallen into the hands of leftist politicians, liberal media as well as foreigners.
Here's a good article about the shrinking privacy rights for our public schools.
Libertarians are so mature they yell, curse, and swear at each other even if they unanimously agree.
Focus on Family is defending school bullies and their right to beat up gay students! Yes, Jesus wants you to smear the queer, thus sayth the Lord!
The Taliban is totally for stopping the Park51 center (aka the Ground Zero Mosque) because it is the best recruitment tool they've had in years! Thanks, hateful bigots, for helping America's enemies once again. I present to you the George W. Bush Award for FUBARing Everything Up, Big Time!
Speaking of FUBAR, some nutjob set a fire at the site of a proposed mosque in Tennessee
Cartoon of the Day: