Posts tagged "Orly Taitz"
Alternet has a list of 10 young Right Wingers who are the future of the conservative movement. Read up because they'll be saying horrible crap on a tv near you soon enough!
A scam company is using a Bill O'Reilly interview to pretend he endorses them to scam more people! Ever wonder why scams are so popular with Right Wing news advertisers? It's almost if they think the audience is stupid…why could that be? For his part, BillO is pissed. But NewsMax is the group promoting this junk along with scam organizer Bill Spetrino, who turns his 60-day "trial" account for his system into a $99/year payday.
Teabagger Republican Nevada Senate Candidate Sharron Angle – "Black is Evil!"
Professor HM Orly Taitz TE got smacked down by the Supreme Court (again) and is trying to appeal. Expect that to go nowhere fast. Taitz is also claiming she has new evidence Obama is not a citizen because she's seeing things in videos posted on the WhiteHouse.gov site. Yeah.
So Dr. Laura will be ending her show after her now-legendary N-word rant. Luckily, Sarah Palin supports her and tells her to reload! I guess, yell the n-word even more? And she was against the n-word a few months ago. I'm totally confused, but who would have though Sarah Palin would back racist rants?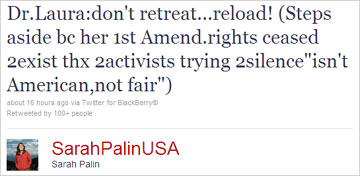 Wingnuts go insane on a juror in the Blago trial, blaming her for being the loan holdout that got Illinois governor Rod Blagojevich convicted on only one count. Their evidence? She's black, worked for the state, and listens to NPR! Shirley Sherrod 2.0
Juror # 106, a black female believed to be in her 60s, is a retired state public health director who has ties to the Chicago Urban League. She has handed out campaign literature for a relative who ran for public office. She listens to National Public Radio and liberal talk radio shows.
Who would have though the Wingnuts would destroy the life of a black woman?
The anti-Mosque hysteria might cost the GOP a big name donor! Who would have though the Wingnuts would be racist against Muslims?
This is a good read about the Tea Party Exchange: One man came up with a scheme for a Tea Party discount card, and the businesses that signed up suddenly had a lot of angry customers that didn't want to do business with supporters of crazy Teabaggery. Now the whole thing has collapsed and the guy is going to lose all the sweet sweet money he made of the back of hard working local businesses.
Cartoon of the Day: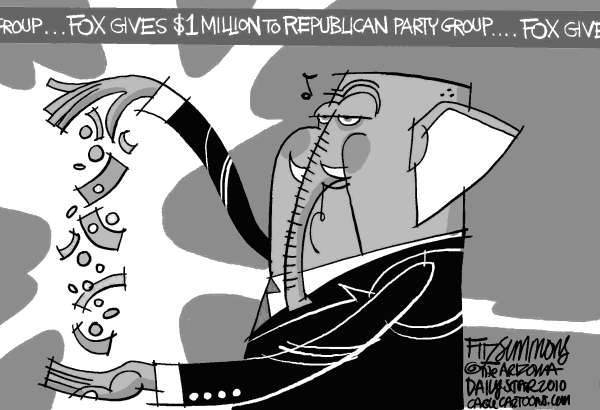 Categories: #drainclogs Tags: Alternet, Bill O'Reilly, Illinois, Nevada, NewsMax, not racist, Orly Taitz, Rod Blagojevich, Sarah Palin, Sharron Angle, Tea Party Exchange
TERROR BABIES!!!!

A US politician is seriously discussing this, and a US TV Newschannel is seriously discussing it instead of instantly calling it a giant pile of horse puke. But at least Rep. Louis Gohmert makes a great case….at how freaking crazy he is!
Beck makes sense for once in his life.
Teabaggers hate net neutrality
Obama is in Madden 2011? Must be Obama Indoctrination! No one tell this guy about the Socks the Cat video game…
A couple pretended to be immigration and "deported" another woman, and are now arrested.
The US infrastructure is falling apart. All that infrastructure spending that got cut from the stimulus bill would have came in handy…
Dr. Orly Taitz Jr. Esq. PhD is appealing to the Supreme Court, again, and is about to get denied by every justice, again.
Cartoon of the Day: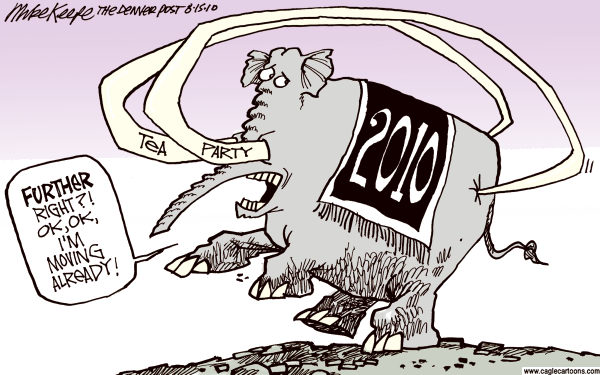 You can now rent Obama's New York City apartment, the one he lived at when he went to Columbia University, even though we all know he didn't go there because he was a CIA agent.
HM Rev. Dr. Orly Taitz TE's election loss was because of voter fraud, so she's suing!
I NEED ALL THE PATRIOTS OF THIS COUNTRY TO HELP ME FIGHT THIS ENORMOUS VOTER FRAUD, ASSOCIATED WITH VOTE COUNTING MACHINES RUN ON TRADE SECRET PROTECTED SOFTWARE, WHICH DOES NOT ALLOW PUBLIC OVERSIGHT. OUR ECONOMY AND OUR CONSTITUTIONAL RIGHTS WERE BOUGHT FOR $16 MLN DOLLARS COMING FROM THE COMMUNIST TYRANNY OF VENEZUELA. IF YOU ARE A VOTER AND WANT TO BE PART OF A CLASS ACTION LEGAL ACTION, PLEASE E-MAIL ME AT [email protected]
that is just the title of her post.
The Israeli government's Ministry of Foreign Affairs is promoting Glenn Beck on its "selected articles" page, specifically the Gaza Freedom Flotilla episode.
The "We Con The World" video from a few days ago on the Right Wing blogs/boards has an interesting story.
I don't know what is up with Alvin Greene, surprise Democratic South Carolina Senate Primary winner, but it is hilarious and awesome whatever is going on. He now has a website where:
Alvin Greene is the Democratic candidate for candidate in the 2010 Senate contest.
Campaign platform
Issues:

Unemployment – getting South Carolina back to work
Lower gas prices for working people
Foreign policy – A united, democratic Korea
Justice system – There are too many prisons and not enough schools
Labor – supporting the Charleston Five and the abolition of Taft-Hartley
He's still 10000% better than Jim DeMint.
House Minority Leader John Boehner made statements that he thought taxpayers should help bail out BP's cleanup effort, then quickly backpeddaled when he found out that was a damn stupid thing to say.
A video has surfaced of the shooting of 15-year-old Sergio Adrian Hernandez Guereca that seems to contradict the story of the Border Patrol Agent who shot him. Eagerly awaiting the Agent to not be charged, but the guy who made the cell phone video to be thrown in jail.
Cartoon of the Day:


Hey, don't look now, but we've had a second oil spill in the Gulf, this one happened on April 30th!! It's still going, btw.
Yesterday we found out Blackwater Pro Gear was for sale, today we find out Blackwater itself is for sale!
California voted for Prop 14, which changes the primaries so either it is a dagger in the heart of special interest groups or it assures that only the milquetoastiest of moderates get elected to do anything. Awful Props 16 and 17 were voted down.
Dr. Orly Taitz failed in her bid to become the Republican candidate for Secretary of State. All the fun we could have had…wasted.
Arkansas Senator Blanche Lincoln won her runoff election against Bill Halter, after which a White House official blasted the unions (saying "Organized labor just flushed $10 million down the toilet.") As Blanche Lincoln will get beat down heavily in November, good riddance to her, while the unnamed White House official should go suck a lemon after blasting the working class people who comprise the core of the Democratic Party like that.
Yeah.
Nevada GOP Senate candidate Sharron Angle earlier in her career spoke out strongly against fluoride, the substance known alternately for improving dental health and as a Communist plot to undermine Western democracy.
Cartoon of the Day: