#privatization
Categories: #culturewar, #drainclogs, #privatization, #shameful Tags: Americans for Prosperity, Clarence Thomas, Corporate Thugocracy, DHS, Haiti, Hanes, Homegrown Terror, Illinois, Levis, Mike Lester, Obama, Ryan LeVin, SPLC
Last year, the CFTC decided to allow trading in movie futures, enabling people to bet on how much major films will earn at the box office (either up or down) before they've been finished or even started for that matter.
Even as lawmakers rail against impossible-to-understand toxic securities and Wall Street vows to clean up its act, the investing public continues to be inundated with new, exotic, and complex financial products.

….

Among the proposed offerings are plans to allow traders to bet on the success of blockbuster movies, an idea that has prompted opposition from some in Hollywood and the U.S. Congress. The exchange-traded fund industry is creating new ETFs at a rate of more than 100 per year, tracking everything from financial stocks to natural gas prices, many unsuitable for all but the savviest traders.
The plan was approved the next month and the consequences are being noticed now.  The Financial Times reports that the stock of Berkshire Hathaway, Warren Buffet's company, is shooting up whenever Anne Hathaway's name is mentioned in the press.  How is that possible?  70 percent of stock trades are now performed by computer algorithms–a practice known as high-frequency trading–that perform trades based on, among other things, searches for online news trends.
Part 1 here.  I'm going to consolidate mandatory and discretionary spending into one post so I can deal with the tax stuff separately.
Discretionary
Discretionary spending is spending authorized or re-authorized every year by congress.  See the summary of the 2011 budget by the National Priorities Project here.
• 1% of the FY2011 discretionary budget was allocated to Food.

• 4% of the FY2011 discretionary budget was allocated to Education.

• Military expenditures are well over 50% of the discretionary budgets in each of fiscal years 2006-2011.
It's pretty obvious where to cut and kind of telling that they only proposed $100 billion in cuts here despite the fact that it accounts for over a third of the federal budget. Still, they managed to come in with a few stupid proposals like "sell excess federal property" which they estimated to save $1 billion.  I wonder who might buy and re-sell property taken off the government's balance sheet and how that might "save" anybody anything.
Mandatory

Mandatory spending is spending that occurs in compliance with existing laws to comply with particular programs or functions such as Social Security, Medicare, Medicaid, etc.  They begin by not recommending either single-payer or a public option on health care and jut go after weird stuff like "tort-reform" (i.e. limiting corporate liability in civil litigation).  The results are correspondingly modest and should be pretty embarrassing to anyone pretending to be serious about this.
Next they recommend shifting to a "chained CPI" which makes no sense.  The CPI is a really selective and terrible measure of inflation for a number of reasons that I don't really have the space for here.  The point is that it's supposed to be a measure of inflation, so indexing it over time like you do with the GDP, etc. makes absolutely no sense.  There argument for doing this is:
Current measures of inflation overestimate increases in cost of living by failing to account for "substitution bias"
Substitution for living?  I don't know, the CPI has always been pretty bad and that's kinda creepy.
P. 38: "Eliminate in-school interest subsidies for student loans"
So shift it off the government's balance sheets and on to students' rather than just reducing the the interest on them altogether or maybe providing more in grants, or having schools stop raising tuition so much for no reason.
P. 39: "End payments to states and tribes for abandoned mines."
I'm pretty sure that violates some treaties, but it's not like that hasn't happened before.
"Extend FCC's authority to auction radio spectrum licenses."
Privatize.
"Require IRS to deposit fees for its services in Treasury as miscellaneous receipts."
Making up new costs.
"Index all fixed-dollar user fees to inflation."
But don't measure them with the CPI.
Then they bring out the stuff about social security's supposed solvency problems.  For that, see this and this.
As our elected officials have started to come to terms with what they've done:
The financial services industry is growing increasingly concerned as more politicians get behind the idea of a broad moratorium on home foreclosures, which banks and many outside analysts say could be good short-term politics but terrible long-term policy.One senior Wall Street executive told Morning Money over the weekend: 'President Obama should be very cautious about aligning himself with Congressional leaders who are playing politics with the foreclosure issue. With foreclosed properties comprising one in every four homes sold in the United States, the spreading moratorium could disrupt real estate deals in progress, slow down the process of clearing the backlog of troubled home loans and [endanger] the economic recovery.'
"The recovery" meaning financial markets, not the economy that you and I actually live in, which is stagnant: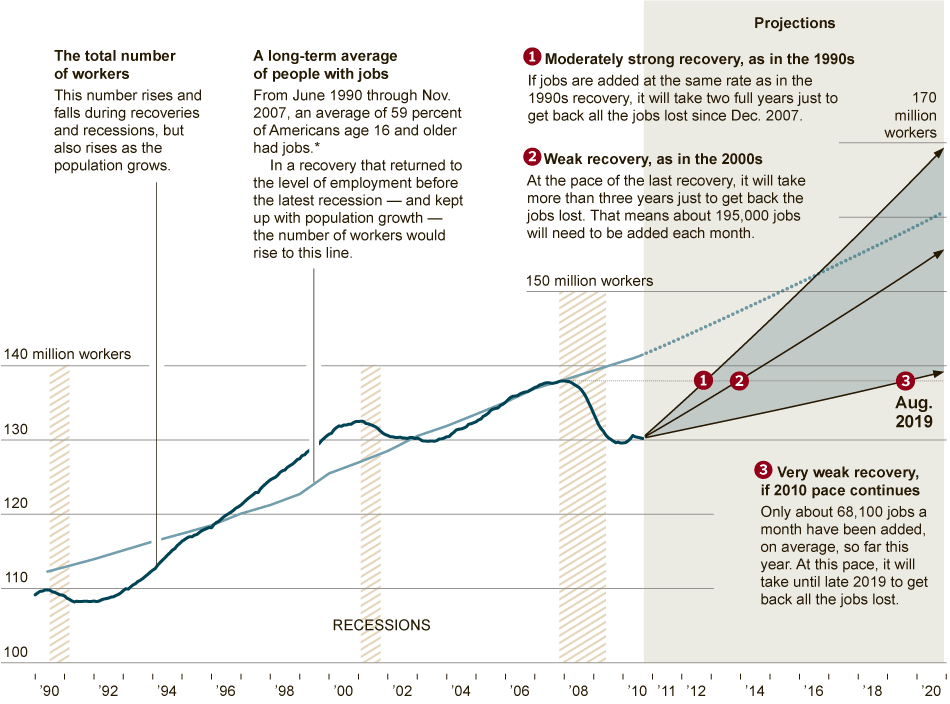 Now there are a number of details that have been drowned out by the massive public relations campaign that's been put forward on this such as this New York Times article.  There's a wonderful quote to describe this: "The most effective propaganda paradoxically uses information to drive information out of circulation."  It was the same thing when the crisis started and we heard about all kinds of derivatives–which are problematic–rather than the massive housing bubble that they filled.  Curiously, that will actually help to explain the MERS problem.
MERS is an electronic mortgage registry database that was used to speed up the whole process of securitizing these loans faster than they could keep track of who actually owned the properties they were for.  See this NYT article from 2009 describing the system.  The key quote is this:
MERS, a tiny data-management company, claimed the right to foreclose, but would not explain how it came to possess the mortgage notes originally issued by banks. Judge Logan summoned a MERS lawyer to the Pinellas County courthouse and insisted that that fundamental question be answered before he permitted the drastic step of seizing someone's home.

"You don't think that's reasonable?" the judge asked.

"I don't," the lawyer replied. "And in fact, not only do I think it's not reasonable, often that's going to be impossible."
If they really believed they were worth multiple trillions of dollars, you'd think they'd spend the time to make sure they could take back these valuable properties, but of course they didn't, which was why it was a multi-trillion dollar bubble.  If you're pawning something off on people, you want them to take it off your hands for more than its worth so they are the ones stuck with it and you're gone when they realize it's not worth what they paid.  The person in that position is here is the real estate broker, the lender assumes the deed to the property and is supposed to take a loss if the buyer can't actually pay for it.  For assuming this risk they take interest on the loan.   What we have been surrounded by is a bizarre "bank always wins" mentality.  It's having your cake and eating it too, then getting another one when it's gone.
This is why the bizarre decision to preserve the debts that couldn't be paid by doing a creditor bailout was so terrible, not "taxpayer dollars" which were far less than they've gotten in loan guarantees and access to the fed's discount window.  The recipients of that money often pay a 15% capital gains tax rate on their alleged "investments" compared to the 25% income tax anyone who makes more than $34k a year pays and all of the sales taxes people pay for necessities.   Even people who have been able to keep up with their mortgage payments are in "negative equity" and paying for a loan on a house at bubble levels despite the bubble bursting.
Only under such a uniform standard could we so easily determine who the houses belong to.  Only under an effective media blackout could the NYT print a story attributing the "foreclosure issue" to something so mundane without embarrassment.
Don't pay your dues, lose everything. Welcome to Libertopia. WPSD6 via Thinkprogress:

Each year, Obion County residents must pay $75 if they want fire protection from the city of South Fulton. But the Cranicks did not pay.
The mayor said if homeowners don't pay, they're out of luck.
This fire went on for hours because garden hoses just wouldn't put it out. It wasn't until that fire spread to a neighbor's property, that anyone would respond.
Turns out, the neighbor had paid the fee.
"I thought they'd come out and put it out, even if you hadn't paid your $75, but I was wrong," said Gene Cranick.
Because of that, not much is left of Cranick's house.
They called 911 several times, and initially the South Fulton Fire Department would not come.
The Cranicks told 9-1-1 they would pay firefighters, whatever the cost, to stop the fire before it spread to their house.
"When I called I told them that. My grandson had already called there and he thought that when I got here I could get something done, I couldn't," Paulette Cranick.
It was only when a neighbor's field caught fire, a neighbor who had paid the county fire service fee, that the department responded. Gene Cranick asked the fire chief to make an exception and save his home, the chief wouldn't.
We asked him why.
He wouldn't talk to us and called police to have us escorted off the property. Police never came but firefighters quickly left the scene. Meanwhile, the Cranick home continued to burn.
To give you an idea of just how intense the feelings got in this situation, soon after the fire department returned to the station, the Obion County Sheriff's Department said someone went there and assaulted one of the firefighters.
The Washington Post has added a new feature on the subject named Top Secret America.  It has stories as well as interactive features to see where companies and agencies are located, who they contract with, etc.  The way this stuff has expanded over the past decade is extremely creepy and almost never really reported on.
A major reason for concern about it is that necessity is not what's driving its growth:
In the Department of Defense, where more than two-thirds of the intelligence programs reside, only a handful of senior officials – called Super Users – have the ability to even know about all the department's activities. But as two of the Super Users indicated in interviews, there is simply no way they can keep up with the nation's most sensitive work.

"I'm not going to live long enough to be briefed on everything" was how one Super User put it. The other recounted that for his initial briefing, he was escorted into a tiny, dark room, seated at a small table and told he couldn't take notes. Program after program began flashing on a screen, he said, until he yelled "Stop!" in frustration.

"I wasn't remembering any of it," he said.

Underscoring the seriousness of these issues are the conclusions of retired Army Lt. Gen. John R. Vines, who was asked last year to review the method for tracking the Defense Department's most sensitive programs. Vines, who once commanded 145,000 troops in Iraq and is familiar with complex problems, was stunned by what he discovered.

"I'm not aware of any agency with the authority, responsibility or a process in place to coordinate all these interagency and commercial activities," he said in an interview. "The complexity of this system defies description."

The result, he added, is that it's impossible to tell whether the country is safer because of all this spending and all these activities. "Because it lacks a synchronizing process, it inevitably results in message dissonance, reduced effectiveness and waste," Vines said. "We consequently can't effectively assess whether it is making us more safe."
Another good resource is Spies for Hire, which has some information on the activities of some of the major contractors.
I'll see if I can find more interesting stuff to post about this now that I have some more substantial background to work from than scattered news stories. For now,  I'll leave you with another recent one: Police Video Shows ProPublica Photographer Detained in Texas (includes video)

This is a little old by internet standards, but:
Something no one cares about called the "National Center for Public Policy Research" has something called the "Free Enterprise Project," both of which can be distinguished by the fact that they are run by a handsome man with a mustache and have names that mean nothing at all.  The Free Enterprise Project recently called for the resignation of the CEO of GE, Jeffery Immelt.
Why? Because he is lobbying to get government money.  According to the press release, because "'We the people' have had enough of Obama's government gone wild spending programs and CEOs such as Immelt that are seeking to profit from taxpayers," said Deneen Borelli, full-time fellow with the National Center's Project 21.""
Did you get that?  Its "we the people," because this is a DEMOCRACY and we deserve to have a SAY in how BUSINESS ARE RUN says the "Free Enterprise Project."  What?
"When you think of it, Immelt poses more risk to liberty than a progressive Senator. Immelt's ability to affect public policy has no checks and balances and he is using the vast resources of GE to promote Obama's agenda. It's time 'we the people' hold Immelt accountable for undermining America's economic sustainability and our free enterprise system," added Tom Borelli.
Now, I agree 100% with this.  If corporations are allowed unlimited use of their "vast resources" to promote a political agenda, it is "more risk to liberty than a progressive Senator."  But the problem is that The National Center for Public Policy Research basically signed away any right they had to complain about corporations using these "vast resources" to promote a political agenda when they signed this adorable amicus curiae where they said, basically, it is unconstitutional and discriminatory to tell corporations exactly what they're asking Immelt to do.
Not only is this contradictory, but frankly, assuming that "we the people" have the right to demand anything of a corporation, even when coming from something called the Free Enterprise Project, sounds just a little socialist.  Just a little.  Which I'm fine with, but I wonder why they chose to take this risk right now?  Maybe the petition will help us understand:
Jeffrey Immelt
Chairman of the Board, Chief Executive Officer
General Electric Company
3135 Easton Turnpike
Fairfield, CT 06828

June 22, 2010

Dear Mr. Immelt,

In the new world order of "too big to fail," the responsibility for holding corporate leaders accountable now resides with "we the people."  On that basis, I am urging you to resign as Chief Executive Officer and Chairman of General Electric because you have abandoned the tenets of free enterprise to profit from President Obama's progressive political agenda.

Specifically:

You were a leading proponent of President Obama's $ 787 billion economic stimulus bill, which failed to curb unemployment but added billions of dollars to our crushing national debt.

You are a leading advocate of President Obama's cap-and-trade policy, which will raise the cost of gasoline, electricity, consumer products and export jobs overseas.

You allowed the MSNBC cable TV network to repeatedly hurl demeaning insults, often of a racial or sexual nature, at patriotic Americans who are peacefully challenging President Obama's big-government policies.

Your work is a risk to the founding American values of liberty and free enterprise.  "We the people" urge you to resign.
Sincerely,

The Free Enterprise Project
Oh.  They're sick of being called white racist teabaggers.  HILARIOUS.
And the grudge against GE is longstanding.  In fact, if you look at the amicus curiae, they inexplicably say
"Contrary to Austin and McConnell, freedom of the press belongs not just to corporations like General
Electric, but rather to "the people.""
And I guess they put "the people" in quotes because they're actually talking about corporations that are not GE.
If you search the phrase "general electric" on their site you get at least 100 hits going back to 1997.  Most of the ones I read seemed pretty angry with the company, except one from 2001, which, based on their claim that PCBs, some of the most poisonous compounds on earth, are not harmful, and that GE should not be held responsible for dumping them in the Hudson River.  I mean, I guess insisting that poor people get slowly poisoned by denying that the poison exists trumps everything.
Extending the corporate safety net: ARPA-e
Recognizing the need to reevaluate the way the United States spurs innovation, the National Academies released a 2006 report, "Rising Above the Gathering Storm", that included the recommendation to establish an Advanced Research Projects Agency—Energy (ARPA-E) within the Department of Energy (DOE). The America COMPETES Act (PDF 39 KB), signed into law in August of 2007, codified many of the recommendations in the National Academies report. Authorized but without an initial budget, ARPA-E received $400 million funding in April 2009 through the American Recovery and Reinvestment Act (ARRA). ARPA-E is modeled after the successful Defense Advanced Research Projects Agency (DARPA), the agency responsible for technological innovations such as the Internet and the stealth technology found in the F117A and other modern fighter aircraft. Specifically, ARPA-E was established and charged with the following objectives:

To bring a freshness, excitement, and sense of mission to energy research that will attract many of the U.S.'s best and brightest minds—those of experienced scientists and engineers, and, especially, those of students and young researchers, including persons in the entrepreneurial world;
To focus on creative "out-of-the-box" transformational energy research that industry by itself cannot or will not support due to its high risk but where success would provide dramatic benefits for the nation;
To utilize an ARPA-like organization that is flat, nimble, and sparse, capable of sustaining for long periods of time those projects whose promise remains real, while phasing out programs that do not prove to be as promising as anticipated; and
To create a new tool to bridge the gap between basic energy research and development/industrial innovation.
Would refraining from giving patents funded by public research to private corporations just this once really be that hard?  I know it's the standard for how we do things in the U.S., but getting this technology out there is kind of important.
It looks like while Blackwater is being sold, Mr. Prince is running off to the United Arab Emirates:
Sources close to Blackwater and its secretive owner Erik Prince claim that the embattled head of the world's most infamous mercenary firm is planning to move to the United Arab Emirates (UAE). The Middle Eastern nation, a major hub for the US war industry, has no extradition treaty with the United States. In April, five of Prince's top deputies were hit with a fifteen-count indictment by a federal grand jury on conspiracy, weapons and obstruction of justice charges. Among those indicted were Prince's longtime number-two man, former Blackwater president Gary Jackson, former vice presidents William Matthews and Ana Bundy and Prince's former legal counsel Andrew Howell.
Have fun with the corrupt Islamic monarchs!
Before, they concealed it behind a veneer of expertise and formal institutions, but their truly stunning failures have apparently given rise to a desire to do things a little more hands on and behind the scenes.  The Atlantic has a new article about Paul Romer's plan to force poor people around the world to behave how he wants them to.  The entire article is a stunning example of just how shameless some hacks that serve as self-appointed sources of "enlightened opinion" are, but I'm going to keep it short and try to focus on the proposal.
Paul Romer is promoting the idea of "charter cities" where people with enough money and certainty about their benevolent intentions would actually buy themselves colonies:
By building urban oases of technocratic sanity, struggling nations could attract investment and jobs; private capital would flood in and foreign aid would not be needed….Romer looks to the chief source of legitimate coercion that exists today—the governments that preside over the world's more successful countries. To launch new charter cities, he says, poor countries should lease chunks of territory to enlightened foreign powers, which would take charge as though presiding over some imperial protectorate. Romer's prescription is not merely neo-medieval, in other words. It is also neo-colonial.
There's really a lot to appreciate just in the wording here, such as "oases of technocratic sanity" which might well be surrounded by barren deserts of democracy, but again, I'm going to have to resist the urge because there's a lot to cover.
To drive home the importance of good rules to economic growth, Romer sometimes shows a photograph of Guinean teenagers doing their homework under streetlights. The line of hunched, concentrating figures presents a mystery, Romer says; from the photo it is clear that the teens are not dirt poor, and youths like these generally own cell phones. Yet they evidently have no electric light at home, or they would not be studying by the curbside. "So here is the puzzle," Romer declares: Why do these kids have access to a cutting-edge technology like the cell phone, but not to a 100-year-old technology for generating electric light in the home? The answer, in a word, is rules. Because of misguided price controls in the teenagers' country, the local electricity utility has no incentive to connect their houses to the power grid. Their society lacks the rules that make technological advance meaningful.
You might be tempted to wonder why he's so fascinated by this when his own country has problems like massive unemployment being exacerbated by employers increasingly performing credit checks to determine if they should hire people who can't buy things because they don't have jobs.  A crucial requirement for enlightened foreign powers is that they never question their wisdom because it would pose a serious challenge to claims of enlightenment.  This brings me to a passage about Cuba:
It must have occurred to [Raúl] Castro, Romer says, that his island could do with its own version of Hong Kong; and perhaps that the Guantánamo Bay zone, over which Cuba has already ceded sovereignty to the United States, would be a good place to build one. "Castro goes to the prime minister of Canada and says, 'Look, the Yankees have a terrible PR problem. They want to get out. Why don't you, Canada, take over? Run a special administrative zone. Allow a new city to be built up there,'" Romer muses, channeling a statesmanlike version of Raúl Castro that Cuba-watchers might not recognize. "Some of my citizens will move into that city," Romer-as-Castro continues. "Others will hold back. But this will be the gateway that will connect the modern economy and the modern world to my country."
How Cuba ceded Guantanamo Bay provides a great deal of insight on how little has changed in colonialism.  US control stems back to a 1903 treaty imposed by force on a defeated Cuba at the end of the Spanish-American War.  Cuba had been a Spanish colony until the Cubans waged a war for independence that they were on the verge of winning when the United States declared war ostensibly against the Spanish, but in reality against a truly liberated Cuba.  Cuba contests this claim and has been refusing to cash checks for "rent" on the territory for quite some time.
Romer has apparently already tried to do this in Madagascar with very ugly results as "the idea of giving up vast swaths of territory to foreigners [became] increasingly unpopular."
"Anything that involves land can be manipulated by people who want to rise up against a leader," [Romer] began. "You have to find a place where there's a strong enough leader with enough legitimacy to do this knowing that he's going to get attacked. It narrows the options quite a bit. But we shouldn't give up without trying a few more places." In short, a disappointment with one client is no excuse for failing to pitch other ones. Any entrepreneur knows that.
To summarize the virtues of this scheme as seen by its proponents, I can't really top direct quotes:
Rather than getting a vote at the ballot box, Romer is saying, the residents of a charter city would have to vote with their feet. Their leaders would be accountable—but only to the rich voters in the country that appointed them.

….

Romer is hardly the only person to doubt that democracy is a necessary condition for economic progress. And to the extent that opt-in charter cities offer a third way—something between pure democracy and pure authoritarianism—those who care for liberty might do well to embrace the experiment. Charter cities make it harder for authoritarians to claim that their system offers the only fast route out of poverty.
The Center for Public Integrity reports another factor in the Deepwater Horizon response:
At least three Coast Guard aircraft and one cutter suffered serious mechanical problems that delayed, cut short or aborted rescue missions during the Gulf incident, the logs reveal. The Coast Guard averaged one problem for every seven rescue sorties it operated during the first three days of the oil spill crisis in April, according to logs obtained by the Center.

Just three months earlier, 10 of the 12 Coast Guard cutters dispatched to help evacuate victims of the Haiti earthquake encountered serious mechanical problems that affected their ability to conduct rescue missions, officials confirm. Two cutters were so impacted that they had to return to port for repairs, and aircraft were diverted from search and rescue to fly parts in for others, according to officials.It's a situation that has been in the making for years, according to documents and interviews. The Coast Guard's multibillion-dollar effort to modernize its fleet was mismanaged by the Coast Guard and contractors during the Bush administration, leaving it without much of the new equipment it paid for.

…..

But the Coast Guard also has itself to blame for many of the problems, according to a Department of Homeland Security inspector general review and Government Accountability Office investigations.

Between 2002 and 2008, the Guard spent $1.8 billion on its Deepwater modernization project to build the next generation of its cutters, only to find many of the new ships were either unusable or required expensive repairs because of design defects.

For instance, it abandoned eight new 123-foot patrol cutters because of such problems as "deformation and cracks in the hull," records show. That left the Guard to rely on boats that were decades old. It is now trying to recoup some of its money from Integrated Coast Guard Systems, a contractor that was formed by Lockheed Martin Corp. and Northrop Grumman Corp. specifically for the Deepwater project.
In the meantime we'll just award Northrop Grumman with more contracts for really important tasks:
Northrop Grumman Corp. will provide operational support for the Federal Emergency Management Agency's regional preparedness exercises under a 20-month, $5.5 million task order.

Under the terms of the task order, the company will support homeland security preparedness exercises in the 28 states and U.S. territories in FEMA regions VI through X, which includes the south central United States to the West Coast.

The company will design, develop, conduct, evaluate and provide operational support for the exercises.