Posts tagged "Nevada"
"Screw you, poor children!" – Wilson Lucom's widow Hilda Lucom, after suing to get Lucom's will and it's donation of millions of dollars to Panama charities declared void.
Remember during one of the many marches in DC some teabagger sent out a memo telling people not to go on certain subway routes because of black people? Now an actual black person got killed by one of those routes, and the teabagger is a perfect storm of cheering and smugness.
In case you missed it, "Not a witch" witch Christine O'Donnell has super-maxi-ultra-secret-supreme top secret access to how China is gonna take over the US.
The US Chamber of Commerce gets lots of money from overseas entities and is blowing the cash on attack ads against Democratic candidates, meaning Christine O'Donnell might be right…except she's on the side of the foreign takeoverers!

vSharron Angle tried to get one of her opponents to drop out of the race, even trying to offer him future favors with her DC insider mojo….but remember, she's an outsiders candidate! CrooksandLiars cleared up the audio.

National Republican Senatorial Committee wanted "a 'Hicky' Blue Collar look" for its ad for the West Virginia senate bashing Governor Joe Manchin. They don't seem to think too highly of their constituents.


"We are going for a 'Hicky' Blue Collar look," read the casting call for the ad, being aired by the National Republican Senatorial Committee. "These characters are from West Virginia so think coal miner/trucker looks."

"Clothing Suggestions" included jeans, work boots, flannel shirt, denim shirt, "Dickie's type jacket with t-shirt underneath," down-filled vest, "John Deer [sic] hats (not brand new, preferably beat up)," "trucker hats (not brand new, preferably beat up)."

Banks are breaking into homes, changing the locks, stealing stuff, and you can't do a damn thing about it. USA! USA! USA!! At least Obama is gonna veto the awful awful bill that somehow got passed in the Senate while the unemployment extensions, public option, tax cuts, climate change legislation, and don't ask all can't seem to get voted on.
Lou Dobbs hates the illegals…unless they're painting his house!
Cartoon of the Day:

Sarah Palin finally showed up on Dancing with the Stars, got booed.
Crazy Teabagger Nevada Senate Candidate Sharron Angle is on government health care.
Swiftboating Birther Jerome Corsi wants Obama to "Renounce Lucifer"
Tea Party Patriots got a $1 million anonymous donation from someone horrible. Grass roots millionaires! Remember that Tea Party Patriots was the "grassroots" teabagger group formed by Freedomworks and Washington insider Dick Armey, who still secretly run TPP despite claiming not to.
Health insurance companies decide that they aren't going to insure kids only anymore. Thank goodness we don't have single payer, because…..uh…socialism, I guess. Little Billy we be happy as he dies since his mom can't afford to insure both him and herself.
Senator Saxby Chambliss's staffers spend their days writing hate comments on websites.
Obama and Biden both are trying to shore up the base by insulting them. Thanks a lot, losers, I'll use my campaign donations elsewhere.
Cartoon of the Day: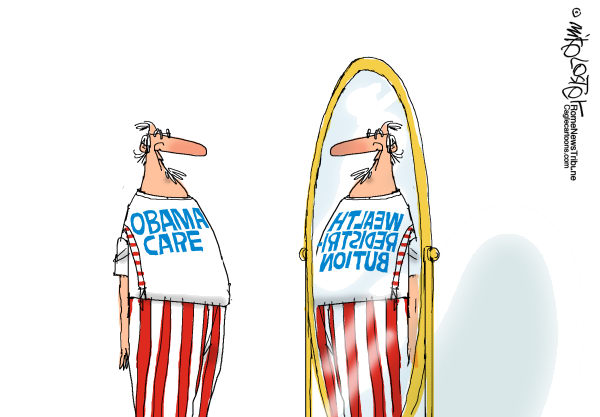 We're going to start a series on the Teabagger candidates filling this election with hilarity and scariness. And we'll get to them in roughly the order they appeared on the national scene (skipping Marco Rubio for now), thus first up is Nevada senate candidate Sharron Angle.
Sharron Angle defeated fellow crazy candidate Sue Lowden, who lost largely due to her hilarious comment about bartering with chickens to get health care. Senator Harry Reid was scoring low in the polls until Angle appeared, shocking everyone with how awful she was. Her first few media appearances were nothing short of embarassing, and the GOP leadership called her to DC to try to work on her image. Or at least get her out of the limelight for a while. Angle worked hard to try to convince the GOP she wasn't nuts, but they got distracted by other candidates saying nuttier things.
It should come to no surprise Sharron Angle didn't spring from the ground, but was in fact a force in crazy politics for decades. In the 1990s, she was a member of the fringe rightwing Independent American Party, which is a Libertarian/NWO conspiracy party. The IAP published an anti-gay flier in the 90s that has been uploaded to the web.
Sharron Angle's gaffes and awful statements have been a Godsend to Harry Reid, who up until that point was looking to be collecting unemployment after the election. Despite the fact many voters on both sides wish they had better choices, Harry Reid has regained the lead in Nevada polling and the race is now running close to dead even.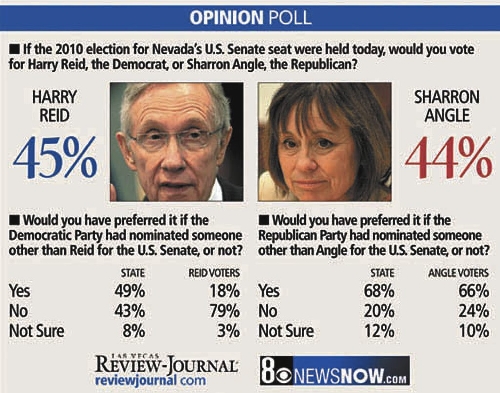 Sharron Angle then upped the rhetoric and appealed to the violent gun-clutcher wing of the GOP by saying "2nd Amendment Remedies" were the "Cure" for the "Harry Reid Problems". The 2nd Amendment Remedies quote took on a chilling new meaning when Sharron Angle went on the radio and agreed with a host who said we had "domestic enemies" in Congress
MANDERS: You know I talk often about this oath that they give and it is to defend the Constitution and all that. But one of the things that is very important to me in this oath that they give is that they will defend against foreign and domestic enemies.

ANGLE: Yes. Yes.

MANDERS: We have domestic enemies. We have home-born homegrown enemies in our system. And I for one think we have some of those enemies in the walls of the Senate and the Congress.

ANGLE: Yes. I think you're right, Bill.
Who are these Domestic Enemies? Like all the Republicans who say such things, no one is naming names.
Harry Reid even went off on her over this latest statement, but Sharron Angle refuses to back down.
Sharron Angle is not a friend of the media (to the point where local stations were literally begging with her to give interviews) and she's shut out the Hispanic media almost entirely. And Angle has stoked Illegal Immigration fears by calling Harry Reid the "illegal immigrant's best friend"
Sharron Angle wants to wipe out all federal funding for education, and the methods she refers to will also eliminate all state funding of education, destroying every public school. She also wants to eliminate Social Security, which she has repeatedly referred to as an "entitlement"
The greatest Sharron Angle story of them all is how she hates the color black. It seems she started quoting all sorts of Bible verses to stop football players from wearing black jerseys.
Alternet has a list of 10 young Right Wingers who are the future of the conservative movement. Read up because they'll be saying horrible crap on a tv near you soon enough!
A scam company is using a Bill O'Reilly interview to pretend he endorses them to scam more people! Ever wonder why scams are so popular with Right Wing news advertisers? It's almost if they think the audience is stupid…why could that be? For his part, BillO is pissed. But NewsMax is the group promoting this junk along with scam organizer Bill Spetrino, who turns his 60-day "trial" account for his system into a $99/year payday.
Teabagger Republican Nevada Senate Candidate Sharron Angle – "Black is Evil!"
Professor HM Orly Taitz TE got smacked down by the Supreme Court (again) and is trying to appeal. Expect that to go nowhere fast. Taitz is also claiming she has new evidence Obama is not a citizen because she's seeing things in videos posted on the WhiteHouse.gov site. Yeah.
So Dr. Laura will be ending her show after her now-legendary N-word rant. Luckily, Sarah Palin supports her and tells her to reload! I guess, yell the n-word even more? And she was against the n-word a few months ago. I'm totally confused, but who would have though Sarah Palin would back racist rants?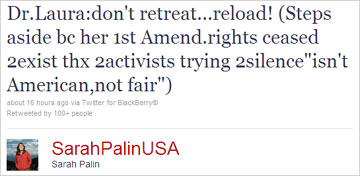 Wingnuts go insane on a juror in the Blago trial, blaming her for being the loan holdout that got Illinois governor Rod Blagojevich convicted on only one count. Their evidence? She's black, worked for the state, and listens to NPR! Shirley Sherrod 2.0
Juror # 106, a black female believed to be in her 60s, is a retired state public health director who has ties to the Chicago Urban League. She has handed out campaign literature for a relative who ran for public office. She listens to National Public Radio and liberal talk radio shows.
Who would have though the Wingnuts would destroy the life of a black woman?
The anti-Mosque hysteria might cost the GOP a big name donor! Who would have though the Wingnuts would be racist against Muslims?
This is a good read about the Tea Party Exchange: One man came up with a scheme for a Tea Party discount card, and the businesses that signed up suddenly had a lot of angry customers that didn't want to do business with supporters of crazy Teabaggery. Now the whole thing has collapsed and the guy is going to lose all the sweet sweet money he made of the back of hard working local businesses.
Cartoon of the Day: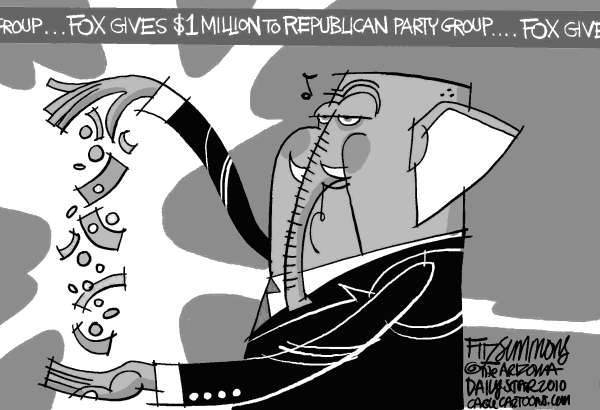 Categories: #drainclogs Tags: Alternet, Bill O'Reilly, Illinois, Nevada, NewsMax, not racist, Orly Taitz, Rod Blagojevich, Sarah Palin, Sharron Angle, Tea Party Exchange
Categories: #astroturf, #culturewar, #drainclogs Tags: Afghanistan, American Crossroads, Birthers, Colorado, Elena Kagan, FreeRepublic.com, Immigration, Karl Rove, Ken Buck, Kenneth Feinberg, Lamar Smith, Michele Bachmann, Mike Lester, Nevada, not racist, Operation Rescue, Randall Terry, Sharron Angle, Shirley Sherrod, Tea Party Caucus, Tennessee, Texas, Tom Tancredo, Wikileaks, Zach Wamp
China news is claiming that the Taliban are training monkeys to kill US troops. True or not, it's hilarious.
Diaper Dan Vitter is a Birther!
For those of you who aren't scientists, there is a big cabal that controls access to journals. The company that owns Nature is hiking its access fees by 400%. That is ticking off the UCs. This is exciting enough it probably deserves its own entry one day when I am not pressed for time.
Sharron Angle thinks Bob Bennett has "outlived his usefulness"
Republican Pennsylvania governor candidate Tom Corbett says unemployed people just sit there. He really did!
"The jobs are there, but if we keep extending unemployment, people are just going to sit there,"
Automated debt collection has gone crazy and is finally ticking off some state legislatures enough they're demanding more proof of debt. But not enough state legislatures.
If you spend any time like I do on Righwing sites, you probably saw dozens of morons praising bobby Jindal for giving the Feds the finger and going ahead and building sand booms to block the oil. Except those sand booms were freaking stupid and they all washed away during the first storm. And the company that was hired to build them was Jindal's number 3 donor! More here.

Real Men beat their wives for having a abortion. Liberal pussies put an end to that. – Female WND pundit Jill Stanek
Cartoon of the Day: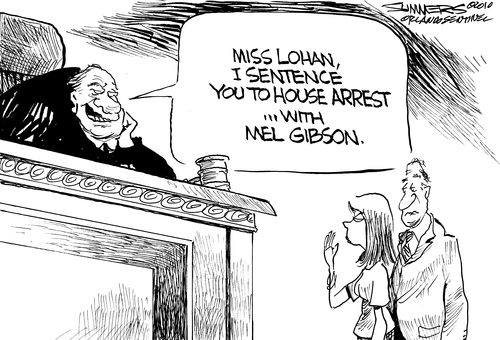 Categories: #drainclogs Tags: abortion, Afghanistan, Birthers, Bob Bennett, Bobby Jindal, Dan Vitter, debtors prison, Jill Stanek, killer monkeys, Louisiana, Nevada, Pennsylvania, science news, Sharron Angle, Teabaggers, Tom Corbett
Iran has a robot. Iran, the new Japan.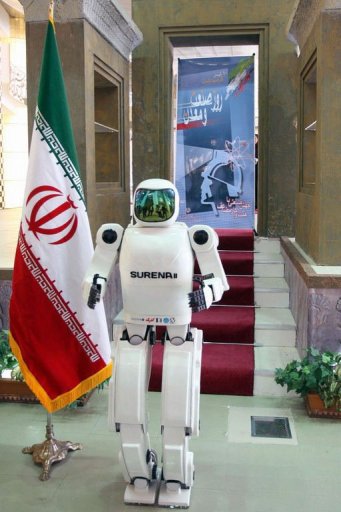 Mitt Romney is a moron, and gets destroyed by Fred Kaplan
Harry Reid put the Sharron Angle website back up, so props to Harry Reid!
I was gonna do an article on this before I saw it linked on Kos, and may still do one, but this is the worst opinion column of the year.
Besides pimping garbage about vaccines causing autism, HuffPo is now hosting a creationist and editing out criticism to said creationist from its own writers.
Cartoon of the Day: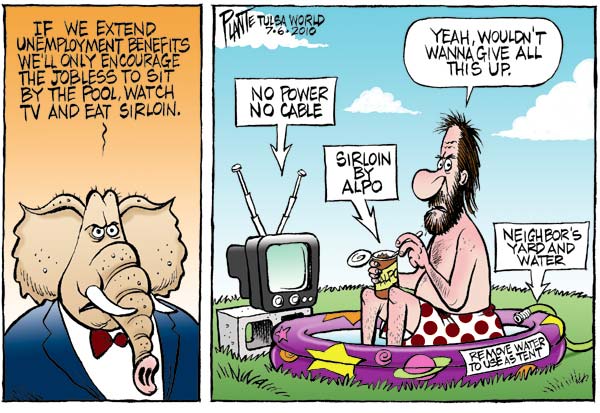 Categories: #drainclogs Tags: creationists are stupid, evolution, Fred Kaplan, Harry Reid, HuffingtonPost, Iran, Mitt Romney, Nevada, nuclear weapons, Sharron Angle, Soorena-2, Terry Savage
We're getting threatened again, this time by our old pal Helene. You remember her? Her husband invented everything ever.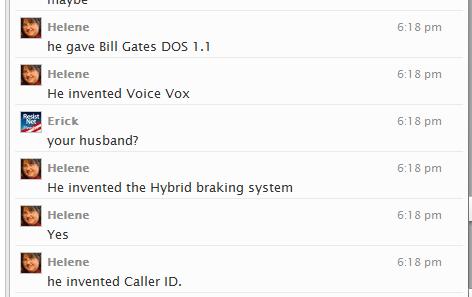 One thing he didn't invent was a way to have us not make fun of her, thus she's gone tattling to Dreamhost (our webhosting company) and "the property government authorities" – Looks like the jig is up! So here is her comment in full (found in the above link)
Hi Frankie,

You caught me. Bet I had you going for a minute didn't I?

In any event, I have contacted Dreamhost and the property government authorities about your posts. I'm sure you will understand since you love our government nowadays and would love to be a part of their enslavement.
Boots. Shaking.
In the future world of 2010, rogue debt collecting companies can destroy your life with nothing more than a piece of paper.
Remember when Anthem Blue Cross decided to raise rates a ridiculous amount and pretty much got the Health Care Reform passed because of it, then backed off? Well, they're gonna raise the rates again!
Republican John Oxendine paid his former campaign manager's consulting firm to dispatch Christian teenage volunteers from TeenPact door-to-door promoting his bid for Georgia governor. But I'm sure this is all in the up and up, except for the fact that the group TeenPact is a non-profit with tax-exempt status that isn't suppose to be doing that and can be fined and stripped of their status.
Wanna cover the BP oil leak and not go exactly where BP tells you to go? Pay $40,000 and go to jail! FUBP.
Who is lamer? Sharron Angle for sending a cease-and-desist letter to the Reid campaign after they quoted her old campaign website (full of crazy stuff) or Harry Reid for his campaign complying with the cease-and-desist letter?
Real Patriots sue the fire department
A Republican a member of an all-white country club? Shocks of shocks!
Riots in the USA! Yes, Puerto Rico is part of the USA, even if it isn't a state.
Check out this awesome excessive force action!

Remember the Anonymous Tarp Wife who whined about being embarrassed because her husband's crappy company destroyed the economy of the entire planet? Well, she's Liz Peek, and now she thinks she can give financial advice. I'm no expert, but I have a feeling she's completely and utterly wrong about everything.
Living wages are cool, unless you're a jerk. Hey, there are lots of jerks in New York!
This WND dude used to love America more when it was a fictional country. But what do you expect from the author of Liberals: America's Termites or It's A Shame That Liberals, Unlike Hamsters, Never Eat Their Young. I think he needs a longer book title.
Cartoon of the Day: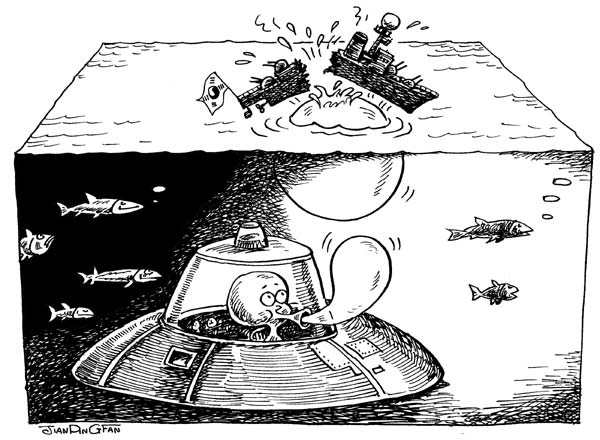 Categories: #drainclogs Tags: Andy Barr, Anthem Blue Cross, BP, Burt Prelutsky, California, debtors prison, Denny Rehberg, Georgia, Harry Reid, John Oxendine, Kentucky, Liz Peek, Montana, Nevada, New York, Puerto Rico, Sharron Angle, TARP, TeenPact, wages
DailyKos is having words with their pollster Research 2000, who they are accusing of fabricating data. Research 2000 is pushing back by declaring DailyKos founder Markos Moulitsas will face "criminal sanctions". I guess that's better than releasing your raw data to prove you didn't just make stuff up…oh, wait, no it's not. Way to look guilty, Research 2000! At least this drama has given me a reason to read FiveThirtyEight again after getting sick of Nate Silver's sperglording.
Got raped by dad? God's plan! – Sharron Angle.
Joe Scarborough called John Boehner a barhopper
Dem Rep. Pete Stark vs Minutemen
"The Minutemen want to have something to say," Stark says, as one of the border security advocates begins to ask a question. "Who are you going to kill today?"

After brushing off the congressman's remark, the activist said, "I want to know why the federal government is not doing anything more to seal the borders of this country."

"Well, we can't get enough Minutemen armed," Stark answered. "We'd like to. Get all the Minutemen armed so they can stop shooting people here."

"We'll try to get you some more arms and get you down there," the congressman added.

Stark then tried to move on to the next question, but the man cut in to ask why his hadn't been answered.

"The question is, why is the federal government leaving our borders porous for anybody to come in?" the man said.

"Our borders are quite secure, thank you," Stark responded. "How would you secure it? … Tell me, I'm not the government."

The man then interrupted Stark, telling the congressman, "This a very serious matter, and you're sitting there making fun of it."

"I don't have to make fun of you, sir," Stark responded. "You make a fine job [of it] all by yourself."
Republicans hate the troops, especially homeless troops.

Please welcome new writer Frank Delicious to Politisink.com!
Categories: #drainclogs Tags: abortion, DailyKos, Joe Scarborough, John Boehner, Minutemen, Nevada, Pete Stark, polls, Republican hypocrites, Research 2000, Sharron Angle, Support the Troops!
Obama loves the blacks, hates the whites, so say Rep. Steve King, the worst thing to come out of Iowa ever. Be he's totally not racist.
He was on a mission from God. Seriously.
An American carrying a sword and pistol who told police he was on a mission to kill Osama bin Laden has been arrested in a remote mountain forest in northern Pakistan.

Police said they detained Gary Brooks Faulkner, a construction worker from California, as he attempted to cross the border with Afghanistan in Chitral district.
Meg Whitman likes to shove people.
Depressing story of the day: A meeting with the Muslim American Society about the proposed Mosque in Staten Island turned into a bunch of people yelling and gave us this lovely slice of America:
But just 20 minutes earlier, as Bill Finnegan stood at the microphone, came the meeting's single moment of hushed silence. Mr. Finnegan said he was a Marine lance corporal, home from Afghanistan, where he had worked as a mediator with warring tribes.

After the sustained standing ovation that followed his introduction, he turned to the Muslims on the panel: "My question to you is, will you work to form a cohesive bond with the people of this community?" The men said yes.

Then he turned to the crowd. "And will you work to form a cohesive bond with these people — your new neighbors?"

The crowd erupted in boos. "No!" someone shouted.
Sharron Angle is a wack-a-doodle, was a member of a fringe political party, and is now getting brought to DC so she can try to convince Republican bigwigs she isn't an extremist wack-a-doodle.
The NRA gets an exemption from financial disclosure rules. Also, RedState whines the NRA isn't conservative enough.
A Minutemen group co-founder Chris Simcox has a warrant out for him so he can get served a subpoena in regards to threatening his estranged wife and young children with a gun, and a rival MCDC guy – Stacey O'Connell – is serving up fake wanted posters of Chris Simcox to make things confusing. Chris Simcox was co-founder of MCDC – Minuteman Civil Defense Corps – and was a former advisor on the J.D. Hayworth senate campaign. Stacey O'Connell also has an injunction against him for harassing another guy!
Cartoon of the Day: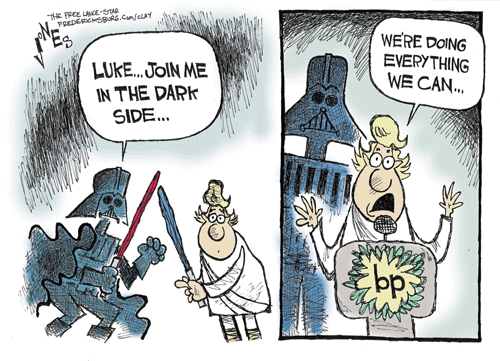 Categories: #drainclogs Tags: #redstate, Afghanistan, Arizona, California, Chris Simcox, Gary Brooks Faulkner, God, Independent American Party, Iowa, J.D. Hayworth, Meg Whitman, Minutemen, Nevada, not racist, NRA, Osama bin Laden, Sharron Angle, Steve King