Posts tagged "abortion"
This is hilarious. Remember, DON'T LET YOUR CHILDREN WATCH! Also cake and vagina. NOT SAFE FOR WORK!!
Categories: #culturewar, #drainclogs, #politicians, #pundits, #snakeoil Tags: abortion, Bill Turner, Family Research Council, Global Warming, insemination with marxist crap, Invade all vaginas!, Janet Howell, Matt Bors, Mitt Romney, Peter Hoekstra, Planned Parenthood, rape, Reddit, Rick Santorum, Ron Paul, Susan G Komen, TSA, Virginia, Walker Nickless, War on Women
Categories: #culturewar, #drainclogs, #politicians, #pundits Tags: abortion, Abstinence doesn't work, Alabama, ALEC, Allen West, Chris Christie, Chuck Grassley, education, Florida, home schooled, Iowa, Jesus, Koch Brothers, Larry Pittman, Maryland, Michael Reagan, Michael Steele, Mitt Romney, New Jersey, North Carolina, North Dakota, Rachel Burgin, Reince Priebus, secret homosexual agenda, Shadrack McGill, Terrence Nowicki Jr, Wingnut Wear
Onion article fools idiots via buzzfeed


China news is claiming that the Taliban are training monkeys to kill US troops. True or not, it's hilarious.
Diaper Dan Vitter is a Birther!
For those of you who aren't scientists, there is a big cabal that controls access to journals. The company that owns Nature is hiking its access fees by 400%. That is ticking off the UCs. This is exciting enough it probably deserves its own entry one day when I am not pressed for time.
Sharron Angle thinks Bob Bennett has "outlived his usefulness"
Republican Pennsylvania governor candidate Tom Corbett says unemployed people just sit there. He really did!
"The jobs are there, but if we keep extending unemployment, people are just going to sit there,"
Automated debt collection has gone crazy and is finally ticking off some state legislatures enough they're demanding more proof of debt. But not enough state legislatures.
If you spend any time like I do on Righwing sites, you probably saw dozens of morons praising bobby Jindal for giving the Feds the finger and going ahead and building sand booms to block the oil. Except those sand booms were freaking stupid and they all washed away during the first storm. And the company that was hired to build them was Jindal's number 3 donor! More here.

Real Men beat their wives for having a abortion. Liberal pussies put an end to that. – Female WND pundit Jill Stanek
Cartoon of the Day: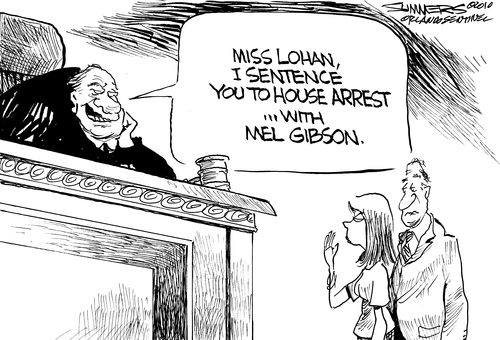 Categories: #drainclogs Tags: abortion, Afghanistan, Birthers, Bob Bennett, Bobby Jindal, Dan Vitter, debtors prison, Jill Stanek, killer monkeys, Louisiana, Nevada, Pennsylvania, science news, Sharron Angle, Teabaggers, Tom Corbett
DailyKos is having words with their pollster Research 2000, who they are accusing of fabricating data. Research 2000 is pushing back by declaring DailyKos founder Markos Moulitsas will face "criminal sanctions". I guess that's better than releasing your raw data to prove you didn't just make stuff up…oh, wait, no it's not. Way to look guilty, Research 2000! At least this drama has given me a reason to read FiveThirtyEight again after getting sick of Nate Silver's sperglording.
Got raped by dad? God's plan! – Sharron Angle.
Joe Scarborough called John Boehner a barhopper
Dem Rep. Pete Stark vs Minutemen
"The Minutemen want to have something to say," Stark says, as one of the border security advocates begins to ask a question. "Who are you going to kill today?"

After brushing off the congressman's remark, the activist said, "I want to know why the federal government is not doing anything more to seal the borders of this country."

"Well, we can't get enough Minutemen armed," Stark answered. "We'd like to. Get all the Minutemen armed so they can stop shooting people here."

"We'll try to get you some more arms and get you down there," the congressman added.

Stark then tried to move on to the next question, but the man cut in to ask why his hadn't been answered.

"The question is, why is the federal government leaving our borders porous for anybody to come in?" the man said.

"Our borders are quite secure, thank you," Stark responded. "How would you secure it? … Tell me, I'm not the government."

The man then interrupted Stark, telling the congressman, "This a very serious matter, and you're sitting there making fun of it."

"I don't have to make fun of you, sir," Stark responded. "You make a fine job [of it] all by yourself."
Republicans hate the troops, especially homeless troops.

Please welcome new writer Frank Delicious to Politisink.com!
Categories: #drainclogs Tags: abortion, DailyKos, Joe Scarborough, John Boehner, Minutemen, Nevada, Pete Stark, polls, Republican hypocrites, Research 2000, Sharron Angle, Support the Troops!