Archive for December, 2010
This headline greated visitors to the FoxNewsLatino site, Fox's Latino-interest news service: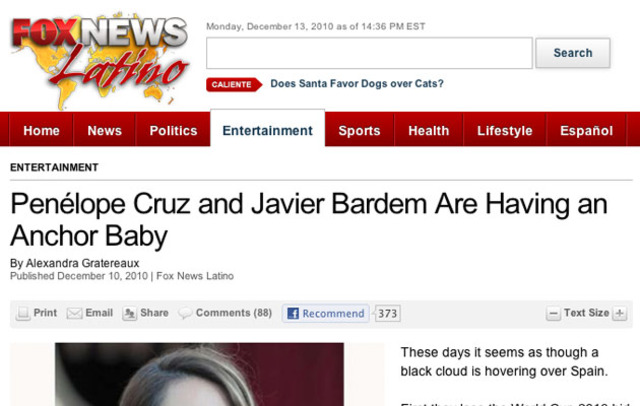 It was mysteriously pulled later in the day.
Who can forget everyone's favorite birther Army man who refused to deploy for the service he signed up for because he was convinced President Obama was some illegitimate undocumented Kenyan-born Muslim Taliban Antichrist? Yes it was only a handful of months ago that Republicans and the Tea Partiers alike, led by Birther Queen Orly Taitz, went on a blind witch hunt to prove that our nation's first African American president was in fact a scary black man who had used his voodoo magic to usurp the presidency (possibly because the devil made him do it). Clearly this was the most legitimate way to get President Obama impeached.
But who were these brave patriots coming out of the woodworks to condemn our Socialist Marxist president? Most of them were anonymous internet cowards who belonged to communities like Resistnet.com (an organization that's now running away with its tail between its legs) and questioned the authenticity of the President's birth certificate from the comfort of their retirement community's library computer. But still there were others who led the birther charge through the lamestream media, wasting valuable minutes of Anderson Cooper's time with their indefensibly crazy notion that the president was an actually Indonesian Communist born to a single mother and bred for the American presidency from birth, supported by a 40 year long conspiracy that has now lifted him from poor African street beggar to president of the most powerful country in the world.
Lt. Col. Terrence Lakin was one such coward, an army doctor who had signed up for military duty and trained for his deployment yet refused to participate in his military service because he so strongly believed that President Obama was not American's legitimate Commander in Chief. Here he is on YouTube espousing his deeply-held yet sudden beliefs:
Who can forget classic television interviews like this one?
Despite losing appeal after appeal, both Orly Taitz and Lt. Col. Lakin were committed to exposing the truth that is President Obama's illegitimate ruse, no matter that they were making themselves look more and more laughable by the day. Undeterred by official birth certificates or the truth both opponents of the president soldiered on to prove their point and hopefully take down one of the shaddowiest cabals of power out there.
Well, actually, like the sane among us expected, Orly Taitz was laughed out of court (on repeated occasions) and eventually went back to her dental/hairdressing business. And today we find that Lt. Col. Lakin is now pleading in court (or well, a court marshal more specifically) that he was a fool to believe that President Obama is not a natural born citizen. It was wrong of him to be a lying liar so he could avoid deployment, it was cowardly of him to call his COMMANDER IN CHIEF a Kenyan usurper, and it was incalculably retarded for him to have continued to push this issue in the media and in the courts for so long!
Now we hear Lt. Col. Lakin pleading with the Army to dismiss the case against him. He wants to serve his country again he protests! Forgive the fact that he disobeyed his orders for months and months. Forget the fact that for even longer Lt. Col. Lakin made television appearance after television appearance, a man trained by the United State Military now coming on the public airwaves DEFAMING the leader of the very country he signed up to serve and protect. Now after so long and so much losing in court Lakin just wants the military and the president to forget about him and what he did?
No Lt. Col. Lakin you fucking assdouche, that isn't how this kind of shit works. Are you any sort of a brave responsible human being? You are fucking scum, and your cowardly fucking scum ways gave heed to a very small but vocal minority of people who, because of the fuss you were causing, believed in the batshit retarded rhetoric you and Birther Queen Taitz were spewing on FOX News and Rush Limbaugh. Your actions disgraced the president in the eyes of the country, you disgraced your own boss, and that's not cool especially when that boss is the PRESIDENT. You took an oath when you became a soldier, hell you even served as a soldier long before Obama was elected, but now that there's a black man in office you feel some kind of responsibility to stand up and tell him to go fuck himself?
History has already been written Lt. Col. Lakin, and the minstrel part you played on television made you and the Army look like traitors and fools. And now you just want the courts to forgive you. You had a year long lapse in judgement and for some reason you no longer felt it was necessary to honor your military oath. Yeah, like the country should just gloss over how much of a bigot and a coward you made yourself out to be. You face up to 3 1/2 years in military prison for the wretched treason you tried to enact against the president. Hell that is peanuts compared to the kind of time Lt. Bradly Manning is going to be serving for leaking classified documents.
Lt. Col. Lakin if you have even one ounce of fucking self-esteem in your body you will take your slap on the wrist punishment from the Army with your head up. I doubt this is the case given how you've sheepishly performed on television the past year, but you don't ever chose to sign up for something as sterling and patriotic as active military duty only to sully the name and rank of the United States Army by railing against the newly elected president, no matter what his skin color. You're going to get what's coming to you and no amount of appeals will save you. Let it live as a lesson to anyone else who wants to act like a moron in the name of "truth". Merry Christmas traitor.
American Action Forum thinktank head Rob Collins (a former aide to Rep. Eric Cantor (R-VA)) cannot explain the attack ads produced by his group
Former House candidate Tan Nguyen (R) lied to investigators about a voter suppression scheme. Where were the teabaggers screaming about this voter intimidation? Oh, wait, he only intimidated Spanish-speaking people, so he's their hero.
Rep. Louie Gohmert (R-TX) hates the truth that the non-partisan Congressional Budget Office says, so he just wants to eliminate it.
Glenn Beck thinks 10% of Muslims are terrorists.
The Teabag Caucus requested $1 billion in earmarks. Just ignore how they are "anti-earmark" and are "fiscally responsible".
NAME EARMARKS AMOUNT
Aderholt (R-AL) 69 $78,263,000
Akin (R-MO) 9 $14,709,000
Alexander (R-LA) 41 $65,395,000
Bachmann (R-MN) 0 0
Barton (R-TX) 14 $12,269,400
Bartlett (R-MD) 19 $43,060,650
Bilirakis (R-FL) 14 $13,600,000
R. Bishop (R-UT) 47 $93,980,000
Burgess (R-TX) 15 $15,804,400
Broun (R-GA) 0 0
Burton (R-IN) 0 0
Carter (R-TX) 26 $42,232,000
Coble (R-NC) 19 $18,755,000
Coffman (R-CO) 0 0
Crenshaw (R-FL) 37 $54,424,000
Culberson (R-TX) 22 $33,792,000
Fleming (R-LA) 10 $31,489,000
Franks (R-AZ) 8 $14,300,000
Gingrey (R-GA) 19 $16,100,000
Gohmert (R-TX) 15 $7,099,000
S. Graves (R-MO) 11 $8,331,000
R. Hall (R-TX) 16 $12,232,000
Harper (R-MS) 25 $80,402,000
Herger (R-CA) 5 $5,946,000
Hoekstra (R-MI) 9 $6,392,000
Jenkins (R-KS) 12 $24,628,000
S. King (R-IA) 13 $6,650,000
Lamborn (R-CO) 6 $16,020,000
Luetkemeyer (R-MO) 0 0
Lummis (R-WY) 0 0
Marchant (R-TX) 0 0
McClintock (R-CA) 0 0
Gary Miller (R-CA) 15 $19,627,500
Jerry Moran (R-KS) 22 $19,400,000
Myrick (R-NC) 0 0
Neugebauer (R-TX) 0 0
Pence (R-IN) 0 0
Poe (R-TX) 12 $7,913,000
T. Price (R-GA) 0 0
Rehberg (R-MT) 88 $100,514,200
Roe (R-TN) 0 0
Royce (R-CA) 7 $6,545,000
Scalise (R-LA) 20 $17,388,000
P. Sessions (R-TX) 0 0
Shadegg (R-AZ) 0 0
Adrian Smith (R-NE) 1 $350,000
L. Smith (R-TX) 18 $14,078,000
Stearns (R-FL) 17 $15,472,000
Tiahrt (R-KS) 39 $63,400,000
Wamp (R-TN) 14 $34,544,000
Westmoreland (R-GA) 0 0
Wilson (R-SC) 15 $23,334,000
TOTAL 764 $1,049,783,150
Cartoon of the Day: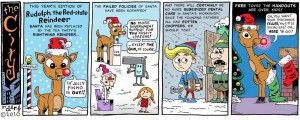 Ding dong, those bitches are dead! It is true, Resistnet.com is no more! They have rebranded themselves PatriotActionNetwork.com! Don't think you can go to PatriotActionNetwork.com and snoop around, they haven't bothered to activate it yet, so the undead corpse of Resistnet.com is still chugging along for a few more weeks. The walking dead.
Resistnet.com was started shortly after Barack Obama was elected president by Grassfire.org, Steve Elliot's group that makes money off of gullible conservatives. Elliot had the vision to realize that crazy racists would be pissed off and that he could get phat loot from their wallets as they desperately looked to anyone to protect them from the dark skinned fellow in the White House. Resistnet has been getting bad press ever since, spearheaded by Our Crew, back when Politisink was just a feature on the TarsTarkas.NET Blog known as Wingnut Web. We became so well known in connection to Resistnet, links to our articles regularly turned up on first page Google results of Resistnet queries. The quantity of articles continued non-stop, due to the memberbase of Resistnet being full of crazy crazy crazy people who wrote the most racist, violent things you could imagine. And then the moderators would get mad at US for posting what they were doing, instead of bothering to police their site. The stink became so bad they got bad press in mainstream newsites, and their membership has largely stagnated the past year, growing very slowly compared to their first year of life. It's time to rebrand, lose all that bad press, and try to make money off of the recent election victories. Thus, PatriotActionNetwork was born!
Here is the new PatriotActionNetwork logo. Note the attention to detail:



The detail I am referring to is the quote by Thomas Jefferson, "One man with courage, is the majority". Except that quote is "One man with courage makes a majority" and was said by Andrew Jackson!!!! That's the kind of accuracy and Patriotism you can expect from the PatriotActionNetwork!
Despite the slowdown in updates in recent weeks due to several reasons between the various contributors here, we are still committed to bring you the awful awfulness that is the dredges of the political world. And PatriotActionNetwork will have plenty
To the Teabaggers itching to join the PatriotActionNetwork, we have this message for you: Don't. Lay down your teabags and embrace sanity. Open your eyes to how you are being duped. The Teabagger candidates you just sent to Congress are hiring lobbyists as their chiefs of staffs! Ron Johnson, Mike Lee, and Rand Paul don't care what you think at all! It was all a scam, and they think you are scum. The rich will continue to get richer off your backs.
We will bury PatriotActionNetwork.com like we are burying Resistnet.com – in a shallow grave with no mourners. Resistnet joins Rosanna Pulido on our Butcher's Bill, but we always have room for more. You can change the name, but you can't change the stupid. But for now, it's party time!


Yes, again. Resistnet poster Jim Payne posted the following screed where he calls for a military coup:
I appreciate all of your earnest posts here–I know you are trying to do the very best you can to correct this miriade of problems that have become the trademark of this administration and the 111th Congress. Yes, I'll make my phone calls again–just like I'm being asked to do–again.

But now I have to get some stuff off my chest–again. We have been sending petitions, pink slips, faxes, phone calls, e-mails and everything else (including our money) to D.C. for two years now, especially this last year. I don't know what it takes to convince ya'll but at this point (actually a long time ago) I have become thoroughly convinced that the ONLY thing Reid and Pelosi and their crews are really good at is IGNORING us. And I don't see one whit of evidence that they are gonna change that. Just how much longer are we supposed to keep writing letters and making phone calls? Just how much worse does it have to get before we actually MAKE them do what they should? That same question has been asked a billion times already and we are still doing the same ol' same ol'. NOTHING LESS THAN FORCE WILL MAKE A DIFFERENCE!!

Now, there is no doubt that the Tea Party movement was quite effective. It showed us (the citizens) that a lot of us are fed up and that enough is enough. But, Obama, Reid and Pelosi STILL do not get it. They have done their best to ignore the Tea Parties. The only thing they can't ignore is the fact that the House has flipped. But, even so, they are still just as hard headed about pushing their stupid agenda. There is no doubt in my mind that they adtually want to wreck this Country.

Okay, so what kind of force? Well, we have already "discussed" impeachment and have realized that this is NOT the answer. It took 5 years to just get Clinton's wrist slapped. That won't work. Unless somebody has a better suggestion (and if you do, we will be very ready to listen) we need to convince our Military Leaders over in the Pentagon to get their stuff together and do their jobs. Now they are sworn to "uphold our Constitution." They have the means to stop this administration from just trampling all over our Constitution.

Now, I don't like the term "military coup" and it wouldn't have to be a military coup as such. But, Obama has committed so many crimes against this Nation, 'til — well, a military coup would be a much lesser crime than MANY of the things Obama and this administration have already done and are continuing to do. It wouldn't even have to amount to martial law. If our Top Brass would just appoint somebody to temporarily fill in for the president and then replace a bunch of those other czars etc. with somebody on a temp basis just long enough to get things back to "normal" where we would at least be operating under our Constitution again. Hell, it wouldn't even have to effect any governmental functions below the federal level. State, County, City governments would not be affected at all.

Now I don't know exactly what the priorities should be, but for a short time (maybe less than a year) our military appointees could do some things to stop the erosion of our economic system.

They would need to immediately turn our oil production back on. Need to end the Fed and go back to a gold standard. Need to implement the Fair Tax proposal. Need to bulldoze the IRS. Need to turn education and healthcare back over to the states. Need to declare invalid ALL the laws on the books that are in violation of the Constitution. etc. etc. Then when that is done, have a "valid" election and impose term limits. Impose tariffs on imports to put our people back to work in manufacturing etc. Litmus tests on all elected officials: if they are not qualified for a Top Secret Clearance, and demonstrate a thorough knowledge of our founding documents, then they don't get on the ballot.

Our borders need to be properly managed and immigration laws need to be refined and inforced. As for the muslim problem: At some point we will have to define the Islamic "religion" as an invalid "religion." Since their Sharia Law is not compatible with and can never co-exist with our Constitution, it will not be recognized as a religion for the purposes of First Amendment rights. If they want to remain in this country, they will have to renounce their Islamic beliefs; otherwise, they are free to either leave or stand trial for treason.

Okay, I'm still listening. I know there should be all kinds of objections. What we need is either a better way (and waiting two more years while we are watching our Nation crumble under this administration is NOT a better way)–or–support for what I am suggesting. God bless our nation. And I have all the faith in the world that He will. Faith can move mountains; we need to grab our shovels and help.
And we have Bart Piscitello calling for chopping off Obama's head:
To all you dummies out there who believe that they are true patriots by blogging amongst the choir; take notice!

You may as well stand in the middle of the Sahara desert and shout as loud as you can; no-one will hear you..
and if they did, they are not listening.

All of you have failed again.
The point isn't taxes, govt funding , or school lunches..
When the snake is at your feet, and coiled around your leg, sucking blood and spreading venon, don't just stand there and
ask for someone to help..

CUT OFF THE HEAD OF THE SNAKE.

You guessed it:;;obama is your true enemy, Reid, Pelosi, and Rhinos are pawns in the snakepit.
There should be a mass surge to impeach obama and expose his eligibility, and other crimes.
Don't piddle-dick with any other legislation, lame duck issue or excuses until this is done, not thought about, but DONE.

Use your resources, rallies, monies and God given brains to get this issue done now.
The BS meetings at the white house, are to lull you to sleep. Your new congress is weak; they will show their true colors as soon as they can find a compromise.
The sell-out is probably already made.
obama will stay in place and by executive order run roughshod over all of them.

The snake will have 2 more years to destroy this country.
There's no-one to stop him..
The courts have failed (recent SCOTUS decision)
The people are failing , your elected officials have failed.

They are talking about jobs, taxes, school lunches, and other irrevelant issues. Unemployment
is self created when people just sit around awaiting for a govt handout.
The people will not return to work, as they have lost all incentive to work under a repressive
illitigiment foreign born so-called muslim president.
Get off your asses and take the axe to the snake's head.
All of these were found in literally 1 minute of surfing Resistnet.com. Imagine all we'll find when we look longer than 1 minute.