Posts tagged "Oil"
Hope next week is better.
Categories: #drainclogs Tags: banksters, BP, disenfranchising, Florida, Japan, Libya, Michigan, Mike Keefe, Net Neutrality, Oil, Qaddafi, Rick Scott, Rick Snyder, Scott Walker, Tunisia, Wisconsin
Categories: #breitbart, #drainclogs, #freedomworks Tags: #freedomworks, DiversiTea, Islam, Joe Arpaio, Marcellus Shale, New Black Panthers, Newt Gingrich, Oil, Pennsylvania, Repent Amarillo, Teabaggers
Teabaggers are trying to take down Chris Matthews in an effort similar to what was done to Glenn Beck's sponsors. FreedomWorks chief Dick Armey is also telling candidates not to go on MSNBC, but that's less of a spiteful attack on Matthews and more of a fear that their nutball candidates will actually say things they believe and scare off voters.
The Red Cross has been fined $21 million since 2003 over crappy blood screening, including the latest $16 million fine. Oh, and they also sell blood, which you probably didn't know.
Disclaimer – I give money to the Red Cross disaster funds
Mother Jones has the 10 most ridiculous Congressional oil spill quotes.
Cartoon of the Day:
Enjoy the new comic Microman! It is Joe the Plumber approved. Buy it now, because this Teabagger gravy train won't last after Obama is out in 2016.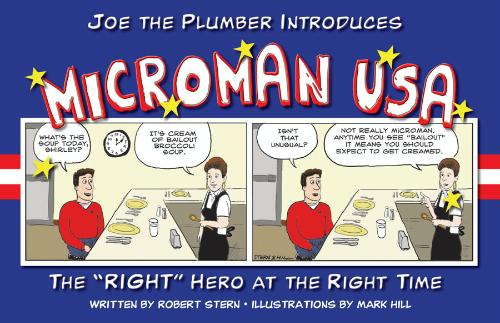 Categories: #drainclogs Tags: #freedomworks, BP, Chris Matthews, Dick Armey, guns don't kill people, Joe the Plumber, Microman, nutballs, Oil, Red Cross, solar power, Teabaggers
The GOP is so proud of Rand Paul and Sharron Angle it is hiding them so they don't become the new face of the GOP.
BP agrees to a $20 billion victims compensation fund. I will go out on a limb here and say it won't be enough.
Crazy lady Michelle Bachmann is already screaming that the fund is a "redistribution of wealth"
YahooNews comments gave us this gem:
ONCE AGAIN,DRACUBAMA SINKS HIS TEETH INTO THE NECK! YES, BP NEEDS TO PAY FOR IT'S MESS,BUT WHERE HAS O'BIMBO BEEN FOR 59 DAYS, GOLF, THEATER, VACATION ( CHICAGO) STIKING HIS FINGER UP A TARBALLS A$$!
Dracubama is a new one.
And this:
BP should have told that freaking IDIOT!!! of a worthless President,
to go and F@#& himself along with the rest of his cronnies. When will
a company stand up and tell this administration, and tell them we're not doing anything
anymore, and if you clowns keep on we'll close up shop here in the Sates,
and go elsewhere to another country How you like that.
I think it would be hilarious if BP tried that, because the only response is to seize all American BP assets by the Federal government, which would be awesome. Too bad Obama would never do that.
BP is still barring access to the beaches.
Meg Whitman has now donated $91 million of her own money to run for CA governor. And she's running as a fiscally responsible candidate.
World-o-crap takes down RenewAmerica's Paul Craft
Real Patriots are squatters, apparently. I knew about this story by itself, but now that it is part of some sort of wingnut scam network it has taken a whole new twist.
Cartoon of the Day: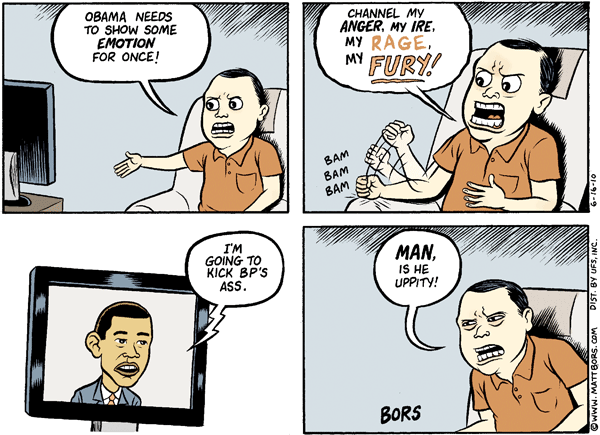 Hey, don't look now, but we've had a second oil spill in the Gulf, this one happened on April 30th!! It's still going, btw.
Yesterday we found out Blackwater Pro Gear was for sale, today we find out Blackwater itself is for sale!
California voted for Prop 14, which changes the primaries so either it is a dagger in the heart of special interest groups or it assures that only the milquetoastiest of moderates get elected to do anything. Awful Props 16 and 17 were voted down.
Dr. Orly Taitz failed in her bid to become the Republican candidate for Secretary of State. All the fun we could have had…wasted.
Arkansas Senator Blanche Lincoln won her runoff election against Bill Halter, after which a White House official blasted the unions (saying "Organized labor just flushed $10 million down the toilet.") As Blanche Lincoln will get beat down heavily in November, good riddance to her, while the unnamed White House official should go suck a lemon after blasting the working class people who comprise the core of the Democratic Party like that.
Yeah.
Nevada GOP Senate candidate Sharron Angle earlier in her career spoke out strongly against fluoride, the substance known alternately for improving dental health and as a Communist plot to undermine Western democracy.
Cartoon of the Day: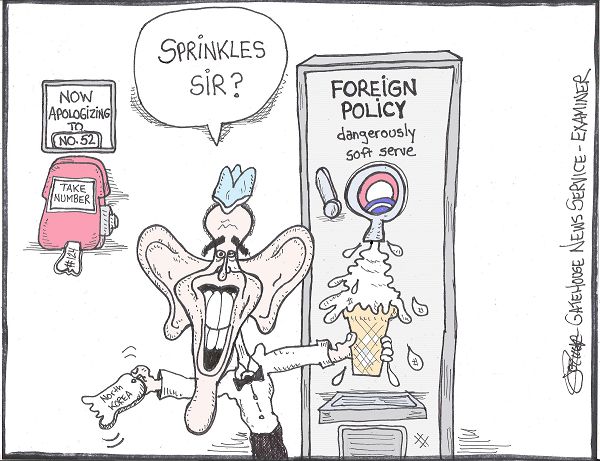 Maine teabagging idiots got it in their heads the teacher who operates the classroom they were renting for space was a commie so they trashed the place like any mature patriotic American would do!
Obama has approved assassinating an American citizen. BOOOOO! to Obama.
The INAFJ (I need a freakin' job) folks are astroturf from Breitbart.TV
The oil leak is 10 times what was previously thought. but nevermind that, the BP CEO sez that it is only a teeny-weeny itty-bitty smidgen of oil!
Cartoon of the day: