Posts tagged "Afghanistan"
The Republican class war continues in Wisconsin, and has spread to Indiana and Maine.
The US has wasted tens of billions of dollars on contractors in Iraq and Afghanistan. But, we must cut money from the poors, not these rich companies!
US Rep. Paul Broun (R-GA) laughed along with the crowd when a supporter asked him when someone was going to shoot President Obama. I'm sure he laughed peacefully at the peaceful questioner who only wants Obama to be shot with a camera, and peacefully reported him to the secret service.
Fucking insane Georgia Republican state rep. Bobby Franklin wants to make miscarriages illegal. Every time a miscarriage happens, there will be a criminal investigation and the woman must prove she didn't do it herself. Or she gets the death penalty. Culture of life, bitches! Considering like 1/3 of all pregnancies end in miscarriages (many without the woman even knowing), invest your money in death penalty chemicals!
I guess Georgia is sick of Arizona being the worst state in the Union…
South Dakota was going to make it legal to kill abortion doctors, but instead have decide to just make women who want to have abortions have "counseling"
(3) Provide the pregnant mother with the names, addresses, and telephone numbers of all pregnancy help centers that are registered with the South Dakota Department of Health pursuant to this Act, and provide her with written instructions that set forth the following:
(a) That prior to the day of any scheduled abortion the pregnant mother must have a consultation at a pregnancy help center at which the pregnancy help center shall inform her about what education, counseling, and other assistance is available to help the pregnant mother keep and care for her child, and have a private interview to discuss her circumstances that may subject her decision to coercion;
(b) That prior to signing a consent to an abortion, the physician shall first obtain from the pregnant mother, a written statement that she obtained a consultation with a pregnancy help center, which sets forth the name and address of the pregnancy help center, the date and time of the consultation, and the name of the counselor at the pregnancy help center with whom she consulted;
Why these are bad.
What South Dakota already requires women who want abortions to do:
(a) The name of the physician who will perform the abortion;
(b) That the abortion will terminate the life of a whole, separate, unique, living human being;
(c) That the pregnant woman has an existing relationship with that unborn human being and that the relationship enjoys protection under the United States Constitution and under the laws of South Dakota;
(d) That by having an abortion, her existing relationship and her existing constitutional rights with regards to that relationship will be terminated;
(e) A description of all known medical risks of the procedure and statistically significant risk factors to which the pregnant woman would be subjected, including:
(i) Depression and related psychological distress;
(ii) Increased risk of suicide ideation and suicide;
(iii) A statement setting forth an accurate rate of deaths due to abortions, including all deaths in which the abortion procedure was a substantial contributing factor;
(iv) All other known medical risks to the physical health of the woman, including the risk of infection, hemorrhage, danger to subsequent pregnancies, and infertility;
(f) The probable gestational age of the unborn child at the time the abortion is to be performed, and a scientifically accurate statement describing the development of the unborn child at that age; and
(g) The statistically significant medical risks associated with carrying her child to term compared to undergoing an induced abortion.
Florida Senate teabag candidates are hiring assistants for over $100K/year:
But to help them do it they hired 61 assistants, each making more than a $100,000 a year. Salaries in the speaker's office rose one and a half percent.

Cannon's top aide, Matthew Bahl, makes $146,000 a year; that's more than three-and-a-half times the speaker's salary. Haridopolos' top aide, Stephen MacNamara, makes more than $175,000, or more than four times the Senate president's salary.
Fiscal Responsibility!
Categories: #drainclogs Tags: Afghanistan, Bobby Franklin, contractors, Dean Cannon, Florida, government waste, Indiana, Iraq, Matt Bors, Matthew Bahl, Mike Haridopolos, Obama, Paul Broun, South Dakota, Stephen MacNamara, Teabaggers, War on Women, Wisconsin
Categories: #astroturf, #culturewar, #drainclogs Tags: Afghanistan, American Crossroads, Birthers, Colorado, Elena Kagan, FreeRepublic.com, Immigration, Karl Rove, Ken Buck, Kenneth Feinberg, Lamar Smith, Michele Bachmann, Mike Lester, Nevada, not racist, Operation Rescue, Randall Terry, Sharron Angle, Shirley Sherrod, Tea Party Caucus, Tennessee, Texas, Tom Tancredo, Wikileaks, Zach Wamp
China news is claiming that the Taliban are training monkeys to kill US troops. True or not, it's hilarious.
Diaper Dan Vitter is a Birther!
For those of you who aren't scientists, there is a big cabal that controls access to journals. The company that owns Nature is hiking its access fees by 400%. That is ticking off the UCs. This is exciting enough it probably deserves its own entry one day when I am not pressed for time.
Sharron Angle thinks Bob Bennett has "outlived his usefulness"
Republican Pennsylvania governor candidate Tom Corbett says unemployed people just sit there. He really did!
"The jobs are there, but if we keep extending unemployment, people are just going to sit there,"
Automated debt collection has gone crazy and is finally ticking off some state legislatures enough they're demanding more proof of debt. But not enough state legislatures.
If you spend any time like I do on Righwing sites, you probably saw dozens of morons praising bobby Jindal for giving the Feds the finger and going ahead and building sand booms to block the oil. Except those sand booms were freaking stupid and they all washed away during the first storm. And the company that was hired to build them was Jindal's number 3 donor! More here.

Real Men beat their wives for having a abortion. Liberal pussies put an end to that. – Female WND pundit Jill Stanek
Cartoon of the Day: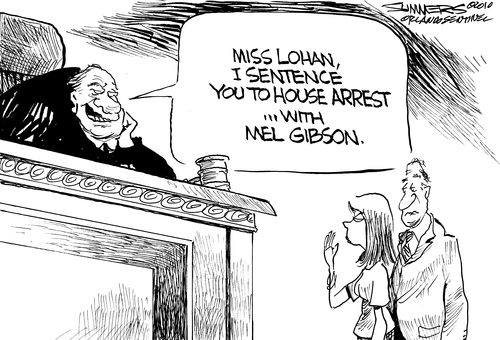 Categories: #drainclogs Tags: abortion, Afghanistan, Birthers, Bob Bennett, Bobby Jindal, Dan Vitter, debtors prison, Jill Stanek, killer monkeys, Louisiana, Nevada, Pennsylvania, science news, Sharron Angle, Teabaggers, Tom Corbett
David Weigel resigns from the Washington Post for his unprofessional behavior, making an apology on the way out.
I'm a member of an off-the-record list-serv called "Journolist," founded by my colleague Ezra Klein. Last Monday, I was deluged with angry e-mail after posting a story about Rep. Bob Etheridge (D-N.C.) that was linked by the Drudge Report with a headline intimating that I defended his roughing-up of a young man with a camera; after this, the Washington Examiner posted a gossip item about my dancing at a friend's wedding. Unwisely, I lashed out to Journolist, which I've come to view as a place to talk bluntly to friends.
The WaPo ombudsman explains that Weigel, "bears responsibility for sarcastic and scornful comments he made," on Journolist, which he describes as "supposedly private" and that this raises questions about the role of Serious bloggers.
With bloggers such as Weigel, "I think The Post needs to decide what it wants to be online," said Dan Gainor, a vice president at the conservative Media Research Center. "Does it want to be opinion? Or, does it want to be news? The problem here was that it was never clear."

"If it's going to be opinion, it ought to have somebody on the conservative side — something Dave Weigel never was," he said.

If The Post wants to assign a "good neutral reporter" to cover conservatives, "we'd be thrilled," said Gainor. But quickly added, Weigel "wasn't one. He looked at the conservative movement as if he was visiting a zoo. We're more than that."

Gainor raises valid points. Klein's blog posts clearly pass through a liberal prism. For that reason, liberals have a comfort level with what he writes, and conservatives know where he's coming from, even if they disagree. In contrast, Weigel's blog seemed to confuse many conservatives who contacted me. Was he supposed to be a neutral reporter, some wondered? Others complained that he was a liberal trying to write about conservatives he disdained.
Which brings me to the Serious "liberal" Ezra Klein, who made some very revealing comments on this and what he sees as related.
I was on all sorts of e-mail lists, but none that quite got at the daily work of my job: Following policy and political trends in both the expert community and the media. But I always knew how much I was missing. There were only so many phone calls I could make in a day. There were only so many times when I knew the right question to ask. By not thinking of the right person to interview, or not asking the right question when I got them on the phone, or not intuiting that an economist would have a terrific take on the election, I was leaving insights on the table.

That was the theory behind Journolist: An insulated space where the lure of a smart, ongoing conversation would encourage journalists, policy experts and assorted other observers to share their insights with one another.
Suddenly, he brings in the Rolling Stone profile that got McChrystal fired and reporting on Afghanistan generally.
In a column about Stanley McChrystal today, David Brooks talks about the union of electronic text, unheralded transparency, 24/7 media and a culture that has not yet settled on new rules for what is, and isn't, private, and what is, and isn't, newsworthy. "The exposure ethos, with its relentless emphasis on destroying privacy and exposing impurities, has chased good people from public life, undermined public faith in institutions and elevated the trivial over the important," he writes.

….

Broadly speaking, neither journalism nor the public has quite decided on how to handle this explosion of information about people we're interested in. A newspaper reporter opposing the Afghanistan war in a news story is doing something improper. A newspaper reporter telling his wife he opposes the war is being perfectly proper. If someone had been surreptitiously taping that reporter's conversations with his wife, there'd be no doubt that was a violation of privacy, and the gathered remarks and observations were illegitimate. If a batch of that reporter's e-mails were obtained and forwarded along? People are less sure what to do about it. So, for now, they use it.
So is he implying that being critical of the war in Afghanistan is grounds for being fired?  This is pretty interesting because the public is split over Afghanistan:
You would think that a roughly even split would merit commentary "opposing the Afghanistan war" occasionally, especially through the "liberal prism" (a majority of Democrats oppose the war), but no, it's the job of Serious People to determine the range of acceptable opinion.  If they were serious (as opposed to Serious) about reporting, they might raise some of the following points:
First, this argument tends to lump the various groups we are contending with together, and it suggests that all of them are equally committed to attacking the United States. In fact, most of the people we are fighting in Afghanistan aren't dedicated jihadis seeking to overthrow Arab monarchies, establish a Muslim caliphate, or mount attacks on U.S. soil. Their agenda is focused on local affairs, such as what they regard as the political disempowerment of Pashtuns and illegitimate foreign interference in their country. Moreover, the Taliban itself is more of a loose coalition of different groups than a tightly unified and hierarchical organization, which is why some experts believe we ought to be doing more to divide the movement and "flip" the moderate elements to our side. Unfortunately, the "safe haven" argument wrongly suggests that the Taliban care as much about attacking America as bin Laden does.

Second, while it is true that Mullah Omar gave Osama bin Laden a sanctuary both before and after 9/11, it is by no means clear that they would give him free rein to attack the United States again. Protecting al Qaeda back in 2001 brought no end of trouble to Mullah Omar and his associates, and if they were lucky enough to regain power, it is hard to believe they would give us a reason to come back in force.

Third, it is hardly obvious that Afghan territory provides an ideal "safe haven" for mounting attacks on the United States. The 9/11 plot was organized out of Hamburg, not Kabul or Kandahar, but nobody is proposing that we send troops to Germany to make sure there aren't "safe havens" operating there. In fact, if al Qaeda has to hide out somewhere, I'd rather they were in a remote, impoverished, land-locked and isolated area from which it is hard to do almost anything. The "bases" or "training camps" they could organize in Pakistan or Afghanistan might be useful for organizing a Mumbai-style attack, but they would not be particularly valuable if you were trying to do a replay of 9/11 (not many flight schools there), or if you were trying to build a weapon of mass destruction. And in a post-9/11 environment, it wouldn't be easy for a group of al Qaeda operatives bent on a Mumbia-style operation get all the way to the United States. One cannot rule this sort of thing out, of course, but does that unlikely danger justify an open-ended commitment that is going to cost us more than $60 billion next year?

Fourth, in the unlikely event that a new Taliban government did give al Qaeda carte blanche to prepare attacks on the United States or its allies, the United States isn't going to sit around and allow them to go about their business undisturbed. The Clinton administration wasn't sure it was a good idea to go after al Qaeda's training camps back in the 1990s (though they eventually did, albeit somewhat half-heartedly), but that was before 9/11.   We know more now and the U.S. government is hardly going to be bashful about attacking such camps in the future.  (Remember: we are already doing that in Pakistan, with the tacit approval of the Pakistani government). Put differently, having a Taliban government in Kabul would hardly make Afghanistan a "safe haven" today or in the future, because the United States has lots of weapons it can use against al Qaeda that don't require a large U.S. military presence on the ground.

Fifth, as well-informed critics have already observed, the primary motivation for extremist organizations like the Taliban and Al Qaeda is their opposition to what they regard as unwarranted outside interference in their own societies. Increasing the U.S. military presence and engaging in various forms of social engineering is as likely to reinforce such motivations as it is to eliminate them. Obama is hoping that a different strategy will eventually undercut support for the Taliban and strengthen the central government, but it is still an open question whether more American involvement will have positive or negative effects. If we are in fact making things worse, then we may be encouraging precisely the outcome we are trying to avoid.
The humanitarian purpose?  The State Department was alright with the situation in the 90's.  From a 1997 State Department cable: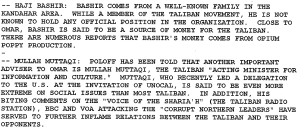 But it's the guy that reports on tea partiers that gets fired for a lack of objectivity.
Which is to say none, really.  Keeping in mind the bankruptcy of the "safe haven" argument, let's see what government officials and the press have to say about changes after McChrystal's embarrassing exit.
A debate over the administration's war strategy is already underway, as Democratic and Republicans lawmakers clashed Sunday over whether Obama should rethink his pledge now that a new commander will oversee the war."I'm against a timetable," Sen. John McCain of Arizona, the top Republican on the Senate Armed Services Committee, said on NBC's "Meet the Press."

Warning that a timetable emboldens the enemy to wait for Americans to depart, he added, "A high-ranking Taliban prisoner said, 'You've got the watches and we've got the time.' "

But Sen. Carl Levin (D-Mich.), the committee chairman, said a timetable is crucial to show "urgency to the Afghan government that they must take responsibility … for their own security."

"The only way you get things done is by setting dates," Levin said on CBS' "Face the Nation."

The dispute over the start of the U.S. withdrawal is likely to be a prominent issue Tuesday when Petraeus faces senators in a hearing on his confirmation. Petraeus, now head of all U.S. forces in the Middle East, was chosen for the top post in Afghanistan after the removal of Army Gen. Stanley A. McChrystal for comments critical of civilian leaders in a magazine article.
And as a bonus:
CIA Director Leon Panetta, appearing on ABC News's "This Week" on Sunday, said the agency had awarded Xe Services LLC — the company formerly known as Blackwater — a contract to protect its installations in Afghanistan. The contract, reported by the Washington Post to be worth $100 million, is in addition to a separate contract Xe has with the State Department to protect U.S. officials in the country.

Blackwater was involved by a series of controversial incidents, including a deadly shootout in Baghdad in 2007 that claimed the lives of Iraqi civilians and became a political liability for the U.S. government.
I guess bears are killing Americans because we don't follow the Bible or something. Damn you, Smokey!
Bryan Fischer is the same dude who wanted the Orca that killed its trainer to be killed. Will this be on the Colbert Show? Probably.
Acid Rain is back! WoooOOOooOooOO!!! Oh, wait, acid rain sucks!
General Stanley McChrystal said some naughty stuff in a Rolling Stone profile where he basically insulted most of the Obama Administraton and some other people, which is something you aren't allowed to do as an active military person, as it disparages the chain of command. McChrystal has submitted his resignation, so it remains to be seen if Obama will accept it. The best part about this is that Rolling Stone had not idea what they had there and most of the publicity for the issue was about Lady Gaga and her machine gun bra. Now, I love Lady Gaga and machine gun bras as much as the next guy, but no one noticed what McChrystal said?
Glenn Beck thinks George Soros will kill him. Someone make sure Soros doesn't have any machine gun bras!
American Crossroads, the fundraising group that was supposed to break the bank and have the GOP win the 2010 midterm elections is rolling in the cash. All $200 of it! At $200 a month they should reach their $52 million goal by the year 23676.
You might have noticed a new name on the bylines, Politisink has picked up a few new authors and they'll be debuting over the next few weeks. Welcome Immer Spaetlin!
Cartoon of the Day: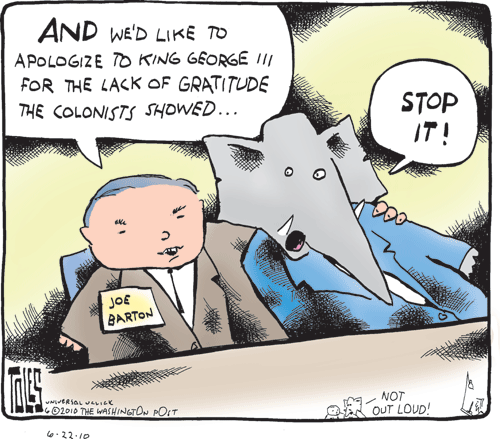 Obama loves the blacks, hates the whites, so say Rep. Steve King, the worst thing to come out of Iowa ever. Be he's totally not racist.
He was on a mission from God. Seriously.
An American carrying a sword and pistol who told police he was on a mission to kill Osama bin Laden has been arrested in a remote mountain forest in northern Pakistan.

Police said they detained Gary Brooks Faulkner, a construction worker from California, as he attempted to cross the border with Afghanistan in Chitral district.
Meg Whitman likes to shove people.
Depressing story of the day: A meeting with the Muslim American Society about the proposed Mosque in Staten Island turned into a bunch of people yelling and gave us this lovely slice of America:
But just 20 minutes earlier, as Bill Finnegan stood at the microphone, came the meeting's single moment of hushed silence. Mr. Finnegan said he was a Marine lance corporal, home from Afghanistan, where he had worked as a mediator with warring tribes.

After the sustained standing ovation that followed his introduction, he turned to the Muslims on the panel: "My question to you is, will you work to form a cohesive bond with the people of this community?" The men said yes.

Then he turned to the crowd. "And will you work to form a cohesive bond with these people — your new neighbors?"

The crowd erupted in boos. "No!" someone shouted.
Sharron Angle is a wack-a-doodle, was a member of a fringe political party, and is now getting brought to DC so she can try to convince Republican bigwigs she isn't an extremist wack-a-doodle.
The NRA gets an exemption from financial disclosure rules. Also, RedState whines the NRA isn't conservative enough.
A Minutemen group co-founder Chris Simcox has a warrant out for him so he can get served a subpoena in regards to threatening his estranged wife and young children with a gun, and a rival MCDC guy – Stacey O'Connell – is serving up fake wanted posters of Chris Simcox to make things confusing. Chris Simcox was co-founder of MCDC – Minuteman Civil Defense Corps – and was a former advisor on the J.D. Hayworth senate campaign. Stacey O'Connell also has an injunction against him for harassing another guy!
Cartoon of the Day: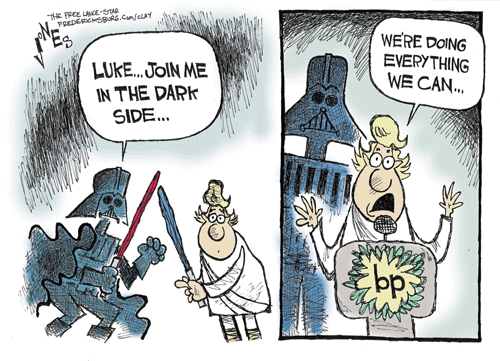 Categories: #drainclogs Tags: #redstate, Afghanistan, Arizona, California, Chris Simcox, Gary Brooks Faulkner, God, Independent American Party, Iowa, J.D. Hayworth, Meg Whitman, Minutemen, Nevada, not racist, NRA, Osama bin Laden, Sharron Angle, Steve King
Glenn Beck's new book The Overton Window is at bookstores now, and if you can't make it to Border's to read a copy at the cafe without buying it, Media Matters has the breakdown. The important thing to know is "don't tease the panther."
Johnson and Johnson hired fake shoppers to buy up bad Motrin so they didn't have to do a public recall.
Is the Red Dawn remake being kept from theaters by a Vast Left-Wing Conspiracy? Yes, that conspiracy is the Free Market, because MGM is broke. Damn you, Free Market, you commie Marxist Nazi!
We are never leaving Afghanistan – Trillions of dollars of minerals in Afghanistan
Oh, wait, we knew about this crap years ago!
Paypal has cut off notorious crazy lady Pam Geller/Atlas Shrugs from taking any more donations. Thus, Paypal and Ebay are now Muslims or something. Hey, maybe you can show your worth on the Free Market now, Pam!
Teabagger and Republican hopeful Rick Barber, running for congress in a primary runoff in Alabama's Second District, has a new commercial where he has a seance with the Founding Fathers and features pistol imagry and talk of gathering your armies to fight the IRS.
Barber said that using the phrase "gather your armies" and stroking revolutionary-era pistols could lead some to get the wrong impression of his message — but there's nothing that can be done about that.

"You've always got some folks that could take it the wrong way," he said.
NC Democratic Rep. Bob Etheridge beats up a "college student", giving Andrew Breitbart's Big Government project (via the Stage Right Show) another coup. Way to go, Rep Etheridge! I am sure rewarding Breitbart's buddies by providing a reaction to their harassment techniques will prevent them from going even further in the future!

Cartoon of the Day: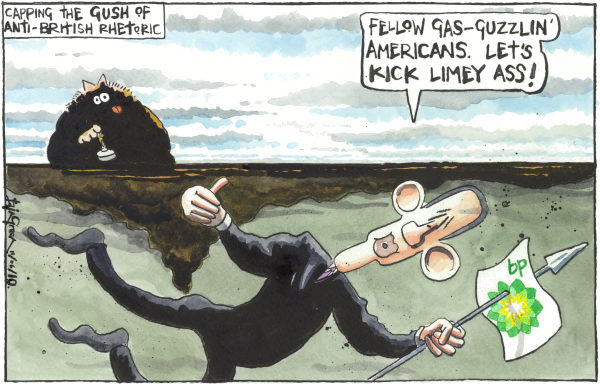 Categories: #drainclogs Tags: Afghanistan, Alabama, Atlas Shrugs, Bob Etheridge, Glenn Beck, Johnson & Johnson, North Carolina, Pam Geller, Red Dawn, Rick Barber, Teabaggers, The Overton Window
The Bush Administration may have medically experimented on detainees. Sorry, no joke about this, because fuck them if this is true.
The "Ground Zero mosque" protest (of the mosque that will not be on Ground Zero, but whatever, stupid people are stupid) ended as it began, as a bunch of totally not-racist garbage. The most hilarious racism was when the protestors attacked two Coptic Christians who had come to protest the mosque as well.
At one point, a portion of the crowd menacingly surrounded two Egyptian men who were speaking Arabic and were thought to be Muslims.

"Go home," several shouted from the crowd.

"Get out," others shouted.

In fact, the two men – Joseph Nassralla and Karam El Masry — were not Muslims at all. They turned out to be Egyptian Coptic Christians who work for a California-based Christian satellite TV station called "The Way." Both said they had come to protest the mosque.

"I'm a Christian," Nassralla shouted to the crowd, his eyes bulging and beads of sweat rolling down his face.

But it was no use. The protesters had become so angry at what they thought were Muslims that New York City police officers had to rush in and pull Nassralla and El Masry to safety.

"I flew nine hours in an airplane to come here," a frustrated Nassralla said afterward.
Just imagine what would have happened had they been racist!
Rep Bart Stupak (D-MI) sucks, but not so much that fathers and sons should be making joint death threats against him!
The letter of threatening threats
Russell Hesch, 73, and David Hesch, 50, were charged with conspiracy to threaten to assault, kidnap or murder a U.S. official. They face up to five years in prison and a $250,000 fine.

In the most explicit threat from the letter, the author threatens to "paint the Mackinaw [sic] Bridge with the blood of you and your family members. … Maybe you will be the main character of a story that parents tell their children as they cross the bridge decades from know [sic]. The red paint of Bart Stupak!"
Afghanistan is now the longest US military combat action in history. WOOOOooOOOOO!!!
Are you smarter than this WSJ Op-Ed? (Enlightened Answer: Yes)
Who is better informed about the policy choices facing the country—liberals, conservatives or libertarians? According to a Zogby International survey that I write about in the May issue of Econ Journal Watch, the answer is unequivocal: The left flunks Econ 101.
Let's see the questions:
The other questions were: 1) Mandatory licensing of professional services increases the prices of those services (unenlightened answer: disagree). 2) Overall, the standard of living is higher today than it was 30 years ago (unenlightened answer: disagree). 3) Rent control leads to housing shortages (unenlightened answer: disagree). 4) A company with the largest market share is a monopoly (unenlightened answer: agree). 5) Third World workers working for American companies overseas are being exploited (unenlightened answer: agree). 6) Free trade leads to unemployment (unenlightened answer: agree). 7) Minimum wage laws raise unemployment (unenlightened answer: disagree).
I guess to be Enlightened means to be a Libertarian douchebag that is against regulation of industries to have standards, spiraling rent costs, worker exploitation, against regulations of markets that cause things like the Great Recession, and against anyone having a living wage. Daniel Klein is the King of Enlightenment.
Buy Blackwater/Xe crap! Hate shopping online? Just go to their retail stores!
There are lots of elections going on today, vote and stuff if you can.
Cartoon of the Day: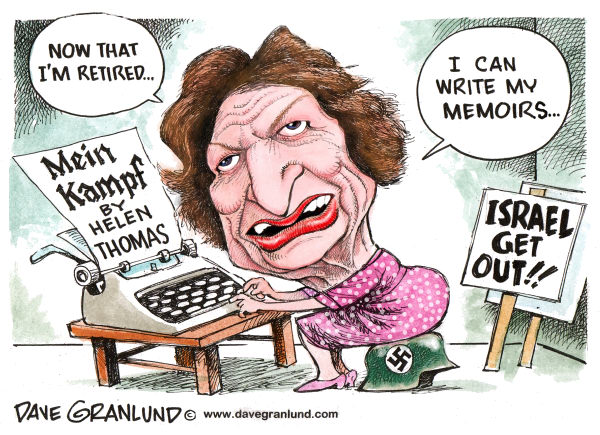 Categories: #drainclogs Tags: #blackwater, Afghanistan, Bart Stupak, Coptic Christians, Dan Granlund, Daniel Klein, George W Bush, Islam, racism, Wall Street Journal, Xe
A man who admitted he leaked the Wikileaks Iraq tape that showed US troops killing civilians has been arrested. That makes much more sense than punishing the troops who murdered civilians!~
Helen Thomas has announced her immediate retirement as fallout from her recent very controversial comments over Israel.
In a story that broke Friday and I was too lazy to add to the Drain Clogs that day, an AZ school wanted to change faces on a mural at the school so they were lighter shades. The kids in the mural were actual students at the school. This prompted outrage, and now the mural will stay as it is and a jerkoff radio host who started the whole mess got fired.
SPLC goes over the three main groups behind the AZ SB 1070 law – FAIR, CIS and NumbersUSA
BP has hired Dick Cheney's former campaign press secretary. That will make America love you just as much as we love Dick Cheney!
The most powerful man in this arid stretch of southern Afghanistan is not the provincial governor, nor the police chief, nor even the commander of the Afghan Army.

It is Matiullah Khan, the head of a private army that earns millions of dollars guarding NATO supply convoys and fights Taliban insurgents alongside American Special Forces.

In little more than two years, Mr. Matiullah, an illiterate former highway patrol commander, has grown stronger than the government of Oruzgan Province, not only supplanting its role in providing security but usurping its other functions, his rivals say, like appointing public employees and doling out government largess. His fighters run missions with American Special Forces officers, and when Afghan officials have confronted him, he has either rebuffed them or had them removed.
Cartoon of the Day: