Archive for July, 2011
Put me in charge . . .
Put me in charge of food stamps. I'd get rid of food stamp cards; no cash for
Ding Dongs or Ho Ho's, just money for 50-pound bags of rice and beans,
blocks of cheese and all the powdered milk you can haul away. If you want
steak and frozen pizza, then get a job.
Put me in charge of Medicaid. The first thing I'd do is to get women
Norplant birth control implants or tubal ligations. Then, we'll test
recipients for drugs, alcohol, and nicotine and document all tattoos and
piercings. If you want to reproduce or use drugs, alcohol, smoke or get
tats and piercings, then get a job.
Put me in charge of government housing. Ever live in a military barracks?
You will maintain our property in a clean and good state of repair. Your
"home" will be subject to inspections anytime and possessions will be
inventoried. If you want a plasma TV or Xbox 360, then get a job and your
own place.
In addition, you will either present a check stub from a job each week or
you will report to a "government" job. It may be cleaning the roadways of
trash, painting and repairing public housing, whatever we find for you. We
will sell your 22 inch rims and low profile tires and your blasting stereo
and speakers and put that money toward the "common good.."
Before you write that I've violated someone's rights, realize that all of
the above is voluntary. If you want our money, accept our rules.. Before
you say that this would be "demeaning" and ruin their "self esteem,"
consider that it wasn't that long ago that taking someone else's money for
doing absolutely nothing was demeaning and lowered self esteem.
If we are expected to pay for other people's mistakes we should at least
attempt to make them learn from their bad choices. The current system
rewards them for continuing to make bad choices.
AND While you are on Gov't subsistence, you no longer can VOTE! Yes that is
correct. For you to vote would be a conflict of interest. You will
voluntarily remove yourself from voting while you are receiving a Gov't
welfare check. If you want to vote, then get a job.
What would YOU do if You were in charge?
There have been plenty of reports written on how the rightwing bloggers immediately jumped the gun on Norway and declared it Al Qaeda jihad, and then suddenly all backpeddled when they found out it was one of their own who openly professed to going to many of their sites (Here is a good one.) So we're not going to talk about that. What we are going to focus on is what we do best, culling crazy comments from rightwing nutjobs discussing the rightwing terrorist attack in Norway from Andres Breivik, and what FreeRepublic.com posters think, considering his views align with theirs 99% of the way.
Remember when Batman murdered a bunch of children?


RBK is itching for a massacre in the US


Democrats are Worse! Actually killing people pales in comparison to my made up conspiracy theories about thinking about killing people!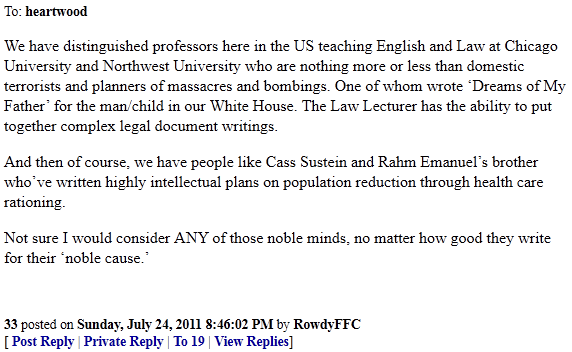 Strategerist gets uncomfortable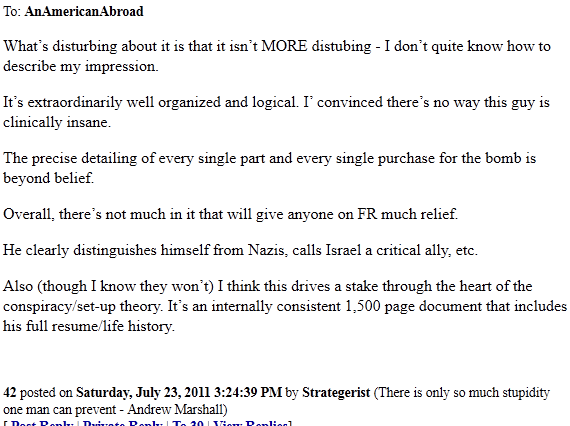 As does AnAmericanAbroad. They're both then yelled down because liberals are worse.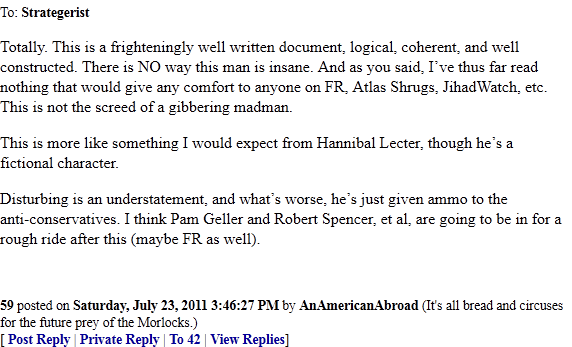 No Christian ever did anything bad, so he must be a Satanic Agent (Agent 00666!)

B4Ranch must love school shootings, then

And bert makes a threat against the media


Kids in a camp=WORSE than Nazis!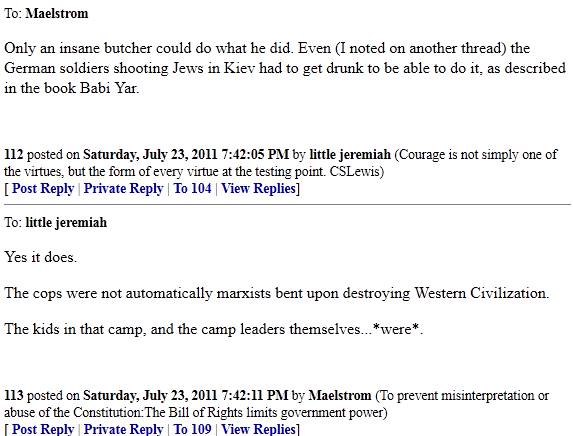 It's all Brown's fault!


Dead Corspe starts the creepy train…


And lays the tracks into Obama!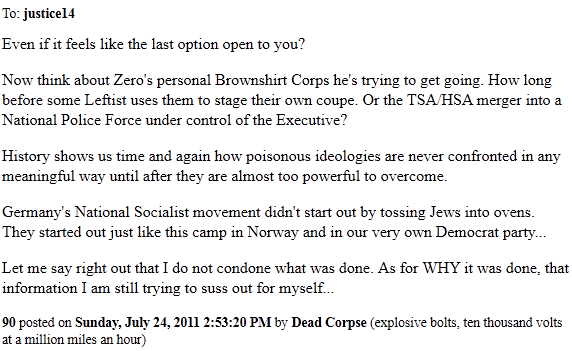 This is but a small sampling, there is more, much more at FreeRepublic.com!
Culled from FreeRepublic.com threads:
http://www.freerepublic.com/focus/f-news/2753108/posts
http://www.freerepublic.com/focus/f-news/2752932/posts
http://www.freerepublic.com/focus/f-bloggers/2752946/posts
http://www.freerepublic.com/focus/f-news/2752869/posts
Texas Inmate Mark "Arab Slayer" Stroman Executed
Texas inmate Mark Anthony Stroman was executed Wednesday for the killing of a man from India in what Stroman believed to be revenge for the September 11, 2001, attacks, a spokesman for the Texas Department of Criminal Justice said.

Stroman was put to death at 9:53 p.m. ET, the spokesman said.

Stroman, 41, made national headlines after he fatally shot Vasudev Patel during a shooting rampage after the 9/11 attacks. An admitted white supremacist, Stroman targeted those he believed were Middle Eastern in revenge for the attacks.

Patel was shot at the Mesquite, Texas, gas station that he operated.

A Pakistani man, Waqar Hasan, was also killed, and a Bangladeshi man, Rais Bhuiyan, was seriously wounded in separate attacks committed by Stroman, prosecutors said.
Freepers say:
To: nickcarraway

It appears he got two out of three. The Indian was misindentification. These are just facts.

I understand how he felt but he should have been executed. Hopefully his family will build him a tombstone with the etching "Here Lies the first Soldier to respond to 911".

18 posted on Thursday, July 21, 2011 3:52:01 AM by Terry Mross (I'll only vote for a SECOND party.)
[ Post Reply | Private Reply | To 1 | View Replies | Report Abuse]
It's since been deleted, but here it is in all it's glory!
Thanks to Seventyfour for the tip!
Every so often the email alerts from Patriot Action Network link to black stories are articles designed to enrage their posters and whip them up into a frenzy. I'm sure the desired effect is to motivate them, but what really happens is they post a lot of racist crap. Despite huge warnings about site policies, the floodgates are open and the site gets drowned in a sea of crazy hate. But those posts are so popular there is going to be no stop to the linking to them, as Patriot Action Network (formerly Resistnet) is getting desperate for views.
So let's get dangerous!
Huh


Black People – now ruining Christmas for their crazy racist relatives!


I'm not sure where Anna Guillen's post is coming from, but it's headed straight to crazy town


Here is a conspiracy theory I hadn't heard before: Obama is a secret Hawaiian native!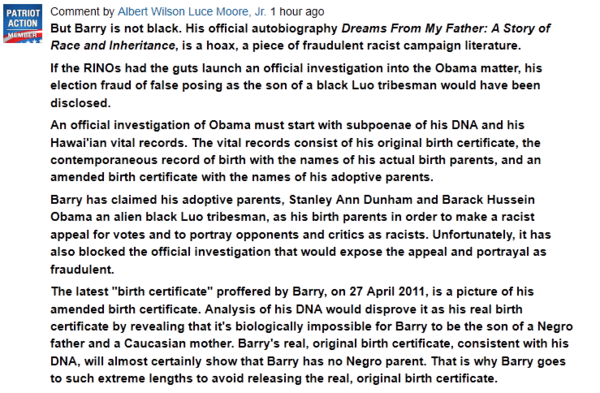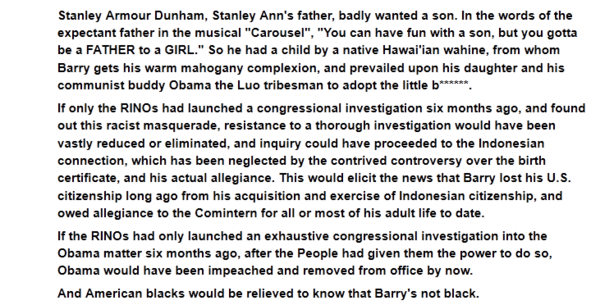 A Politisink ninja operative sent us this wonderful post about a guy who totally wishes gays were eradicated by AIDS back in the 1980s. His writing pattern sounds straight out of Reagan's decade, making him sound even more like a neanderthal. And he has a fascination with oven mitts that can't be matched!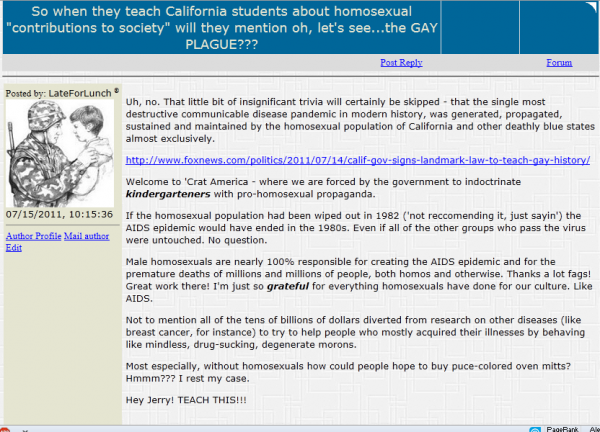 Yes, Right Wing Nuts are actually saying this! Oklahoma City-based pastor John Benefiel, the head of the Heartland Apostlic Prayer Network and friend of Texas governor Rick Perry (who is also going to Perry's big Day of Prayer event)
Libertas is also called the Freedom Goddess, Lady Freedom, the Goddess of Liberty. You know there's a statue in New York harbor called the Statue of Liberty. You know where we got it from? French Free Masons. Listen folks that is an idol, a demonic idol, right there in New York harbor. People say, 'well no it's patriotic.' What makes it patriotic? Why is it? It's a statue of a false goddess, the Queen of Heaven. We don't get liberty from a false goddess folks, we get our liberty from Jesus Christ.
Source: RightWingWatch via MotherJones
Wingnut Web is not dead, it was just caught in the various hard drive explosions. But thanks to the constant stream of Right wing craziness, we'll never stop having new content! So here is some fun racism and drama from the former Resistnet.com, Patriot Action Network! Will PANetwork still be full of violent and racist dicks? Duh! Read on, good citizens!
Jim Soden starts us off with some non-racist racism:


Aren't you glad he finds PatriotActionNetwork so warm and welcoming of his blatant racism?
Remember, the Democrats are the real racists, so proudly declare that you are a racist. Uh…..
Yeah!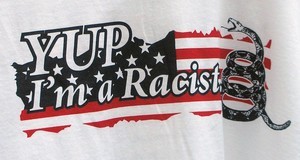 Greg Skilling interviewed some of the morons:

Some of them think this shirt is dumb as well, so there's hope.