Posts tagged "Iowa"
Categories: #culturewar, #drainclogs, #politicians, #pundits Tags: abortion, Abstinence doesn't work, Alabama, ALEC, Allen West, Chris Christie, Chuck Grassley, education, Florida, home schooled, Iowa, Jesus, Koch Brothers, Larry Pittman, Maryland, Michael Reagan, Michael Steele, Mitt Romney, New Jersey, North Carolina, North Dakota, Rachel Burgin, Reince Priebus, secret homosexual agenda, Shadrack McGill, Terrence Nowicki Jr, Wingnut Wear
Categories: #culturewar, #drainclogs, #elections Tags: antibiotics, big agriculture, Iowa, Lamar Smith, Megaupload, MPAA, Newt Gingrich, Obama, Rick Santorum, Ronald Reagan, SOPA, Tom the Dancing Bug
Freedomworks head and Teabagger grifter Dick Armey thinks 3% of voters are dead and voting Democratic.
D.C. Douglas has a new video out about the Koran burning:

The Republicans are running homeless people on the Green Party to siphon off votes from the Democrats. This guy Steve May was on NPR defending this yesterday and he claimed he was friends with all these homeless people and they were real. He also wants to sell you a bridge in Brooklyn.
Arizona governor Jan Brewer can't debate, but she sure can take $1.5 million from Timothy Mellon, a Wyoming millionaire to help defend her SB1070 law
Wifebeating racist cartoonist Mike Lester (who has been featured here as a Cartoon of the Day a few times) has gone all legal threats happy on a fellow cartoonist who dared to call Lester the racist he is!


lease be aware that your comments are being monitored. Like all our readers, you are free to disagree w/ my cartoons. However, should you libel and or slander me or my newspaper publicly, we will seek legal remedy. We are also in possession of previous blog entries.

Sincerely,
ML

Mike Lester

Mr. Lester

re: your hilarious and insane threat to sue me

I appreciate your alerting me that my comments are being monitored. I am not sure if you are aware of this, but that is generally what people hope happen to their comments when they are posted on a website on the internet. I am glad to hear you are also in possession of previous blog entries. I too have internet access.

As a professional courtesy, please consider spelling my name correctly when delivering any future baseless and ludicrous threats because your feelings were hurt. As a personal favor, please stop making racist, ignorant and illogical cartoons.

-August J. Pollak

Iowa For Freedom is ticked over the gay marriage in Iowa and is trying to get a bunch of judges yanked. They are even lying about support from former SCOTUS judges to do it.
The Koran burning is on-again, off-again, with the tiny church pastor Terry Jones saying he's not going to do it because the community center got moved, the community center not knowing what he's talking about, and Donald Trump wandering in. And Fred Phleps is claiming he'll burn Korans if the other guy chickens out. Who knows??? We'll see tomorrow if things go up in flames.

At Politisink, we agree the church has the right to burn the Korans because free speech is awesome, but free speech also gives us the right to call this shenanigan damn dumb. Because it is damn dumb.

Wonkette does our job for us (because Wonkette gets paid to do it, while we just update during lunch or after work) and posts a bunch of posts from wackos on Sarah Palin's Facebook page that disagree with her on the Koran burning.
Our friends at Resistnet.com have freaked out over the Koran burning, by deleting every post that mentions it and even shutting down chat in an effort to stem the calls for Muslim Final Solutions that are appearing all over the site, probably because they know we're watching them. Because we are. At the same time, the Resistnet Admins are going to New York with a petition to try to get the Community Center moved.
Already read Over the Cliff? Think American Taliban was keen? Enjoy people writing about how the Teabaggers are a bunch of suckers? Than this book (The Backlash by Will Bunch) might be interesting, but I haven't read it yet so who knows?
Being in San Bruno when it explodes is not as fun as you might think. But Tanforan Mall stayed open extra hours for those of us trapped in traffic as the mountain nearby burned from the gas pipe explosion. At least 4 are dead and 38 homes completely destroyed with hundreds damaged.
Cartoon of the Day:

Categories: #drainclogs, #pundits, #resistnet Tags: #freedomworks, #resistnet, Arizona, D.C. Douglas, Dick Armey, Facebook, Iowa, Iowa for Freedom, Jan Brewer, Mike Lester, Mosques, Sarah Palin, Terry Jones, Timothy Mellon, Will Bunch
Friend of the site D.C. Douglas has made a new video to help Dick Armey and Matt Kibbe sell their book Give Us Liberty: A Tea Party Manifesto:

Also how awesome is it that DC Douglas is in Titanic II? Pretty awesome.
Alan Simpson says dumb stuff, somehow isn't fired from awful committee that shouldn't exist. Also Digby is almost always right.
Some Muslim/American news:
Glenn Beck's 8-28 Rally is this weekend, where Beck will try to co-opt the Civil Rights Movement in order to sell books..I mean, be patriotic and take back America. It has nothing to do with selling books. But his books will be available for purchase! Real Patriotic Americans will be at the 9-12 Rally instead! Which one will have the larger made up number of attendees? You'll have to wait and see!
So there were a few fights at the Iowa State Fair and rumors swirled it was Beat Whitey Night and that gangs of black youths were systematically beating down poor white people. Despite the police now denying there was a Beat Whitey Night, the right wing noise machine went into full force, and soon FreeRepublic's whining and blanket race war threats had gotten the attention of the Aryan Nation!

Aryan Nations Headed to Des Moines, Iowa

Paul Mullet is the director of the Aryan Nations Church of Jesus Christ Christian. When he heard Rep. Ako Abdul-Samad, Democrat from Des Moines say that there wasn't enough information about the beatings and attacks to call them racially motivated, he said they (Aryan Nations) were going to Des Moines. When asked how many were coming or when they were coming, Mullet said he wasn't going to let anyone know ahead of time. He (Mullet) said he wasn't stupid.

That's right, the white supremacist guy's name is Mullet.

Luckily FreeRepublic is sensible and they all deny the Nazis..oh, wait..

To: stillafreemind

Funny…don't much about Iowa Aryan Nations sorts but maybe the black fellows should study Greensboro NC before they go off half cocked

just some helpful advice

24 posted on Thursday, August 26, 2010 8:52:46 AM by wardaddy (effed up times..)

wardaddy is making a reference to the Greensboro Massacre, the 1979 Klan-Nazi Shootings of 14 blacks at a workers march, 5 were killed.
Categories: #drainclogs, #freedomworks, #freerepublic Tags: #freedomworks, Alan Simpson, D.C. Douglas, FreeRepublic.com, Glenn Beck, Iowa, Islam, RAHOWA, Teabaggers
There are three big stories right now:
1- NAACP vs Teabaggers
The NAACP supported a resolution condemning the racism at some Tea Party events and asking that Tea Party groups condemn the racism as well, and that drove the Teabaggers into a frothing furor of hate and bile. The foam from their mouths flooded six states and 329 people drowned.
Mark Williams, the spokesperson for Tea Party Express (friends of our buddies at Resistnet.com) said:
They make more money off of race than any slave trader ever. It's time groups like the NAACP went to the trash heap of history where they belong with all the other vile racist groups that emerged in our history.
Here is a nice video of the racism that doesn't exist:

2- The Immigration list being sent around Utah – someone is sending around an email list of 1300 names (including 200 children) of supposed illegal immigrants, including names, birth dates, addresses, and SSNs. Yes, their social security numbers. Supporters justify this by saying that the illegals are using fake SSNs. Note that they are saying this without seeing the list, knowing anything about it, or being concerned at all that someone broke into some sort of database and pulled all this private information and is sending it all over the internet. Followup reports have mentioned that some of the names on the list are US citizens.
A letter from the anonymous group Concerned Citizens for the United States attached to the list also pointed out that six women on the list were pregnant and should be deported immediately.
The CCUS website ( http://ccoa.us/ ) is just a giant .JPG image with standard conservative crazy writing and fonts/colors with an embedded audio file.
Here is another goofy website one of the writers here found: http://illegalalienreport.com/ It's a site where you can report illegal aliens yourself!
3- Obama=Hitler billboard that got put up in Iowa and was quickly covered up as everyone on the planet was offended except idiot Teabaggers.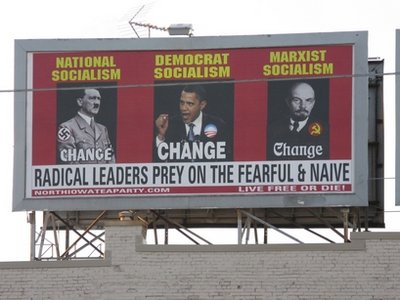 Extra news:
Erick Erickson, RedState.com guy and CNN employee who is an expert on goat-fucking child molesters, says the GOP should use racial fearmongering to demonize blacks to scare up votes.
That's related to the New Black Panthers scaremongering currently inflating the right wing nuts (as we saw on FreeRepublic recently)
And here is FoxNews anchor Megyn Kelly flipping out over this issue.
In other Black People Fearmongering news, Republican Tennessee Congressional candidate George Flinn is caught in a dirty three-way primary battle where he is now being accused of being a gangsta rap overlord. Yes, a gangsta rap overlord.
Cartoon of the Day: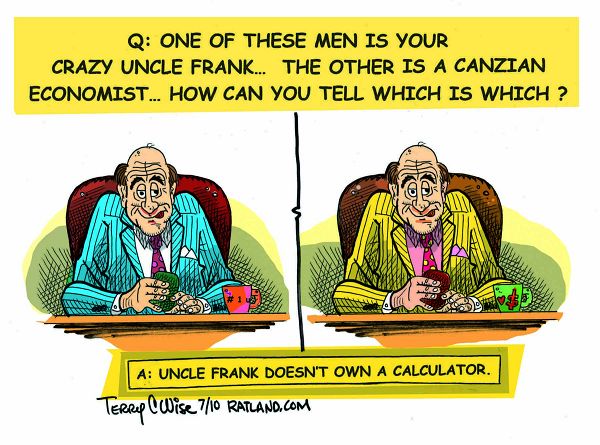 Categories: #drainclogs, #redstate Tags: #redstate, Concerned Citizens for the United States, Erick Erickson, George Flinn, Hitler, Immigration, Iowa, NAACP, New Black Panthers, Obama, Teabaggers, Tennessee
Obama loves the blacks, hates the whites, so say Rep. Steve King, the worst thing to come out of Iowa ever. Be he's totally not racist.
He was on a mission from God. Seriously.
An American carrying a sword and pistol who told police he was on a mission to kill Osama bin Laden has been arrested in a remote mountain forest in northern Pakistan.

Police said they detained Gary Brooks Faulkner, a construction worker from California, as he attempted to cross the border with Afghanistan in Chitral district.
Meg Whitman likes to shove people.
Depressing story of the day: A meeting with the Muslim American Society about the proposed Mosque in Staten Island turned into a bunch of people yelling and gave us this lovely slice of America:
But just 20 minutes earlier, as Bill Finnegan stood at the microphone, came the meeting's single moment of hushed silence. Mr. Finnegan said he was a Marine lance corporal, home from Afghanistan, where he had worked as a mediator with warring tribes.

After the sustained standing ovation that followed his introduction, he turned to the Muslims on the panel: "My question to you is, will you work to form a cohesive bond with the people of this community?" The men said yes.

Then he turned to the crowd. "And will you work to form a cohesive bond with these people — your new neighbors?"

The crowd erupted in boos. "No!" someone shouted.
Sharron Angle is a wack-a-doodle, was a member of a fringe political party, and is now getting brought to DC so she can try to convince Republican bigwigs she isn't an extremist wack-a-doodle.
The NRA gets an exemption from financial disclosure rules. Also, RedState whines the NRA isn't conservative enough.
A Minutemen group co-founder Chris Simcox has a warrant out for him so he can get served a subpoena in regards to threatening his estranged wife and young children with a gun, and a rival MCDC guy – Stacey O'Connell – is serving up fake wanted posters of Chris Simcox to make things confusing. Chris Simcox was co-founder of MCDC – Minuteman Civil Defense Corps – and was a former advisor on the J.D. Hayworth senate campaign. Stacey O'Connell also has an injunction against him for harassing another guy!
Cartoon of the Day: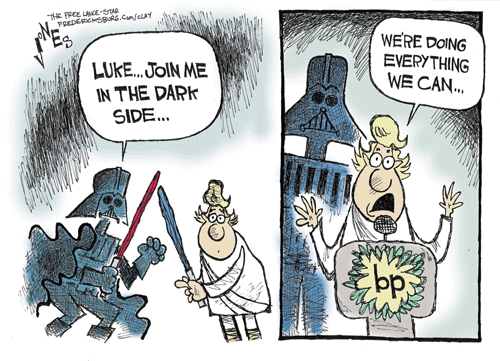 Categories: #drainclogs Tags: #redstate, Afghanistan, Arizona, California, Chris Simcox, Gary Brooks Faulkner, God, Independent American Party, Iowa, J.D. Hayworth, Meg Whitman, Minutemen, Nevada, not racist, NRA, Osama bin Laden, Sharron Angle, Steve King