Posts tagged "Immigration"
Some roundup stuff from the past week you may have missed…
Categories: #culturewar, #drainclogs, #politicians, #pundits Tags: Anne Frank, Arizona, Bill Koch, Bob Morris, Dave Albo, Frank VanderSloot, Girl Scouts, Holocaust, Immigration, Indiana, Kansas, Marie Colvin, Mark J. Grisant, Mitt Romney, Mormons, Nate Beeler, New York, not racist, Paul Babeu, Peter Hoekstra, Sam Brownback, Virginia
Categories: #culturewar, #drainclogs, #elections Tags: 2012, Apple, Immigration, Israel, Mitt Romney, Newt Gingrich, Obama, PIPA, Reddit, SOPA, Teabaggers, Terrence Nowicki Jr
This headline greated visitors to the FoxNewsLatino site, Fox's Latino-interest news service: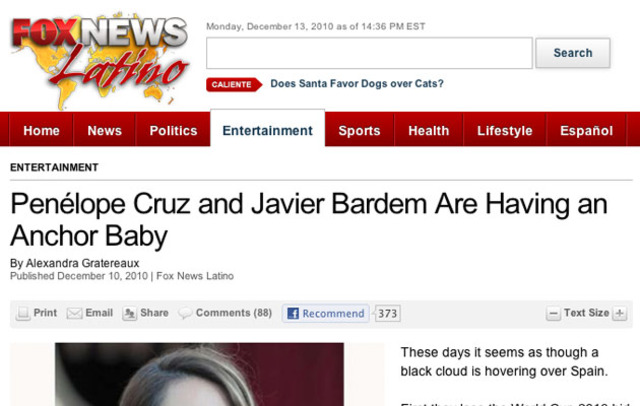 It was mysteriously pulled later in the day.
"Screw you, poor children!" – Wilson Lucom's widow Hilda Lucom, after suing to get Lucom's will and it's donation of millions of dollars to Panama charities declared void.
Remember during one of the many marches in DC some teabagger sent out a memo telling people not to go on certain subway routes because of black people? Now an actual black person got killed by one of those routes, and the teabagger is a perfect storm of cheering and smugness.
In case you missed it, "Not a witch" witch Christine O'Donnell has super-maxi-ultra-secret-supreme top secret access to how China is gonna take over the US.
The US Chamber of Commerce gets lots of money from overseas entities and is blowing the cash on attack ads against Democratic candidates, meaning Christine O'Donnell might be right…except she's on the side of the foreign takeoverers!

vSharron Angle tried to get one of her opponents to drop out of the race, even trying to offer him future favors with her DC insider mojo….but remember, she's an outsiders candidate! CrooksandLiars cleared up the audio.

National Republican Senatorial Committee wanted "a 'Hicky' Blue Collar look" for its ad for the West Virginia senate bashing Governor Joe Manchin. They don't seem to think too highly of their constituents.


"We are going for a 'Hicky' Blue Collar look," read the casting call for the ad, being aired by the National Republican Senatorial Committee. "These characters are from West Virginia so think coal miner/trucker looks."

"Clothing Suggestions" included jeans, work boots, flannel shirt, denim shirt, "Dickie's type jacket with t-shirt underneath," down-filled vest, "John Deer [sic] hats (not brand new, preferably beat up)," "trucker hats (not brand new, preferably beat up)."

Banks are breaking into homes, changing the locks, stealing stuff, and you can't do a damn thing about it. USA! USA! USA!! At least Obama is gonna veto the awful awful bill that somehow got passed in the Senate while the unemployment extensions, public option, tax cuts, climate change legislation, and don't ask all can't seem to get voted on.
Lou Dobbs hates the illegals…unless they're painting his house!
Cartoon of the Day:

Been sick so sorry about the lack of updates.
Speaking of sick…fake ACORN pimp, failed wiretapper, and Breitbart's best bud James O'Keefe was caught trying to "seduce" a CNN anchor or something. Whatever it was, it is hilarious he thought he could pull it off. Here are some of the documents about it, a pro-read.
Things that make you hang your head in shame:


U.S. government medical researchers intentionally infected hundreds of people in Guatemala, including institutionalized mental patients, with gonorrhea and syphilis without their knowledge or permission more than 60 years ago.

Many of those infected were encouraged to pass the infection onto others as part of the study

Ohio-13 GOP congressional candidate Tom Ganley is accused of picking up a woman at a teabagger rally, taking her back to his office, and trying to teabag her himself.


Ganley told her he wanted her to dominate her, parade her on a leash and have sex with her in front of his "play friends," the suit says. It accuses him of grabbing her from behind, wrapping his arms around her, kissing her and, despite her resistance, reaching into her pants.

Yeah, but liberals are the sick perverts…

Tom Ganley has been sued like hundreds of times before, though that was all related to business problems.

Meg Whitman hates illegals, except when they're doing her dishes and raising her kids.

Categories: #breitbart, #drainclogs, #murderinc Tags: #blackwater, California, D.C. Douglas, Guatemala, Immigration, Meg Whitman, Ohio, Saxby Chambliss, Tom Ganley, Ward Sutton
Boy was Resistnet mad when Arizona's sb1070 was partially overturned by a federal judge. They got so made, they forgot they were supposed to be the peaceful resistance and just became the angry mob. Luckily, Politisink.com was there with our handy PrintScreen button and captured the action for all to see. Thrill as Real Patriots try to outdo each other for how eager they are to overthrow the country! It's amazing, especially when the moderator tells them to stop yet doesn't bother to delete or punish anyone and even joins in on parts of the discussions! That's why Wingnut Web is here!
Resistnet starts off with a bang calling for the death of Senator Barbara Boxer because she's proud of her job…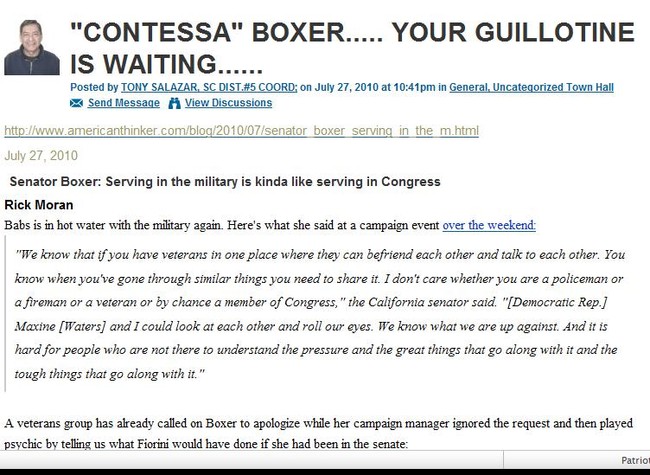 James Gragg then declares that if the Arizona Immigration Law isn't left standing, it is WAR! He means it, he posted a terrible drawing!


Resistnet now allows you to say "wetbacks" with no penalty! Thanks, Resistnet!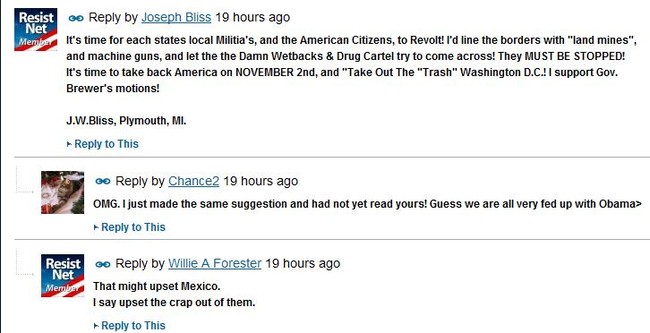 Fluoride in the water and Chemtrails? I think I'm getting close to winning Conspiracy Theory Bingo!


Well, it looks like a Federal Judge put the smack down on Arizona's fancy new Immigration law, thus the wingnuts have gone loco on the internet. One fun thing is the return of this lovely email forward, which has mutated slightly since the last time I saw it. Sort of like the flu!
If you cross the North Korean border illegally you get 12 years hard labor.
If you cross the Iranian border illegally you are detained indefinitely.
If you cross the Afghan border illegally, you get shot.
If you cross the Saudi Arabian border illegally you will be jailed.
If you cross the Chinese border illegally you may never be heard from again.
If you cross the Venezuelan border illegally you will be branded a spy and your fate will be sealed.
If you cross the Mexican borders illegally you will jailed for two years.
If you cross the Cuban border illegally you will be thrown into political prison to rot.

If you cross the United States border illegally you get:
1 – A job
2 – A driver's license
3 – A Social Security card
4 – Welfare
5 – Food stamps
6 – Credit cards
7 – Subsidized rent or a loan to buy a house
8 – Free education
9 – Free health care
10 – A lobbyist in Washington
11 – Billions of dollars in public documents printed in your language
12 – Millions of servicemen and women who are willing to – and do – die
for your right to the ways and means of our @#$%—-ution
13 – And the right to carry the flag of your country – the one you walked
out on – while you call America racist and protest that you don't get
enough respect.
My favorite part is how this version somehow can't bring itself to type out Constitution and instead goes with @#$%—-ution. What the frak is that?
Oh, and you don't get those things in America for being illegal.
Now, the lovely subtext of this email forward is that the author seems to think that all the so called "evil" countries doing horrible things to people is something to admire. So let's be more like North Korea, America!
Categories: #astroturf, #culturewar, #drainclogs Tags: Afghanistan, American Crossroads, Birthers, Colorado, Elena Kagan, FreeRepublic.com, Immigration, Karl Rove, Ken Buck, Kenneth Feinberg, Lamar Smith, Michele Bachmann, Mike Lester, Nevada, not racist, Operation Rescue, Randall Terry, Sharron Angle, Shirley Sherrod, Tea Party Caucus, Tennessee, Texas, Tom Tancredo, Wikileaks, Zach Wamp
There are three big stories right now:
1- NAACP vs Teabaggers
The NAACP supported a resolution condemning the racism at some Tea Party events and asking that Tea Party groups condemn the racism as well, and that drove the Teabaggers into a frothing furor of hate and bile. The foam from their mouths flooded six states and 329 people drowned.
Mark Williams, the spokesperson for Tea Party Express (friends of our buddies at Resistnet.com) said:
They make more money off of race than any slave trader ever. It's time groups like the NAACP went to the trash heap of history where they belong with all the other vile racist groups that emerged in our history.
Here is a nice video of the racism that doesn't exist:

2- The Immigration list being sent around Utah – someone is sending around an email list of 1300 names (including 200 children) of supposed illegal immigrants, including names, birth dates, addresses, and SSNs. Yes, their social security numbers. Supporters justify this by saying that the illegals are using fake SSNs. Note that they are saying this without seeing the list, knowing anything about it, or being concerned at all that someone broke into some sort of database and pulled all this private information and is sending it all over the internet. Followup reports have mentioned that some of the names on the list are US citizens.
A letter from the anonymous group Concerned Citizens for the United States attached to the list also pointed out that six women on the list were pregnant and should be deported immediately.
The CCUS website ( http://ccoa.us/ ) is just a giant .JPG image with standard conservative crazy writing and fonts/colors with an embedded audio file.
Here is another goofy website one of the writers here found: http://illegalalienreport.com/ It's a site where you can report illegal aliens yourself!
3- Obama=Hitler billboard that got put up in Iowa and was quickly covered up as everyone on the planet was offended except idiot Teabaggers.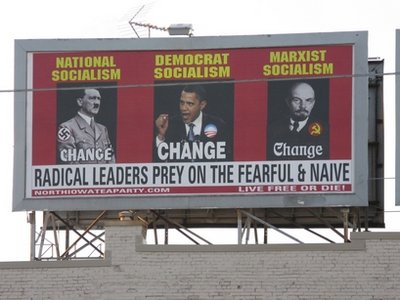 Extra news:
Erick Erickson, RedState.com guy and CNN employee who is an expert on goat-fucking child molesters, says the GOP should use racial fearmongering to demonize blacks to scare up votes.
That's related to the New Black Panthers scaremongering currently inflating the right wing nuts (as we saw on FreeRepublic recently)
And here is FoxNews anchor Megyn Kelly flipping out over this issue.
In other Black People Fearmongering news, Republican Tennessee Congressional candidate George Flinn is caught in a dirty three-way primary battle where he is now being accused of being a gangsta rap overlord. Yes, a gangsta rap overlord.
Cartoon of the Day: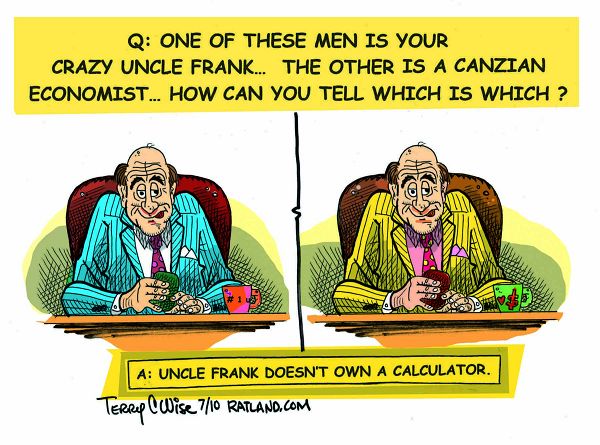 Categories: #drainclogs, #redstate Tags: #redstate, Concerned Citizens for the United States, Erick Erickson, George Flinn, Hitler, Immigration, Iowa, NAACP, New Black Panthers, Obama, Teabaggers, Tennessee
Conservatives think Nancy Pelosi, Barack Obama, George Soros, and Harry Reid are giant monsters, and now one GOP group has decided to just make Nancy Pelosi an actual giant monster in their commercials. I am sure the fact that she is gunned down by Republicans is totally not a threat and it would have been perfectly acceptable to make a commercial with liberals gunning down George W. Bush in 2003.
"Illegals gonna cut off your head!" – Arizona Governor Jan Brewer.
Dem Senator Mary Landrieu is pretty awful, unless you are an oil company.
One thing you learn on the internet is that Digby is usually right. Here she talks about Terrance Wall, conservative idealist who got screwed over because Real Conservatives are a bunch of money-grubbing bastards.
Um….what the fuck is wrong with Arizona??

via
Cartoon of the Day: