Posts tagged "RAHOWA"
So this got posted:


Yet another random speech by the dozen or so idiots who call themselves the new Black Panther Party and then spend all their time going on rightwing talk shows and looking like morons. But they do one thing well, and that is be used by rightwingers to rally the troops! And as usual, the FreeRepublic.com troops start spouting off a bunch of racist crap…
cripplecreek starts out with racism at the gate. Yes, they'll be some familiar posters here who never seem to get banned…


Chode expresses his desire to murder black people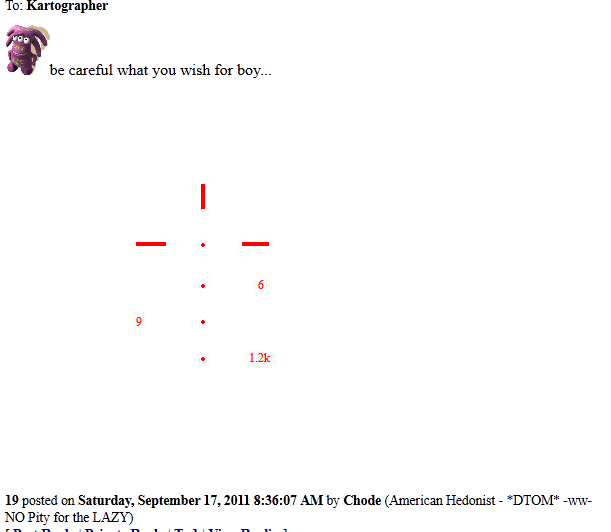 And Astronaut is practically begging for RAHOWA


Praise Jesus I can shoot me some darkies!


Venturer is the king of projection

Because people ask permission to riot. And more bonus racism.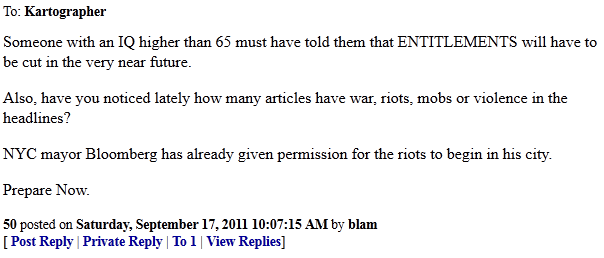 I don't know, Shalmaneser, they seem pretty willing to put up with anything so far…


My bad knee always flares up before Civil Wars!


B4Ranch ups the crazy to Muslim/Gang Army Conspiracy territory. BTW, I think the Travis he is referring to is poster Travis McGee, aka Matthew Bracken of crazy right wing fiction fame.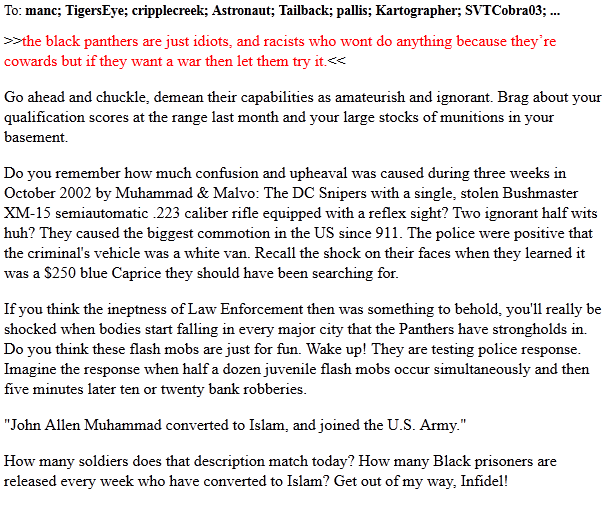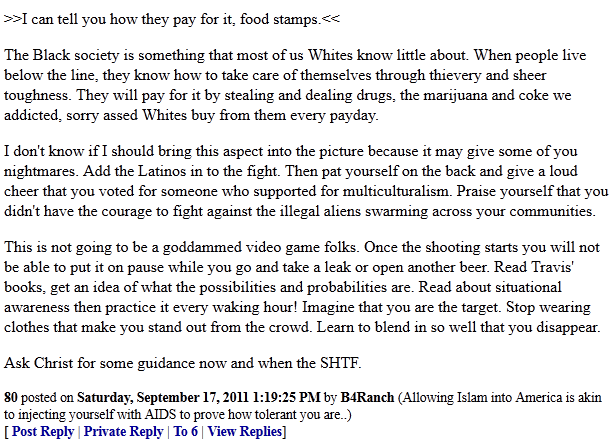 Someone tries to calm the clucking hens…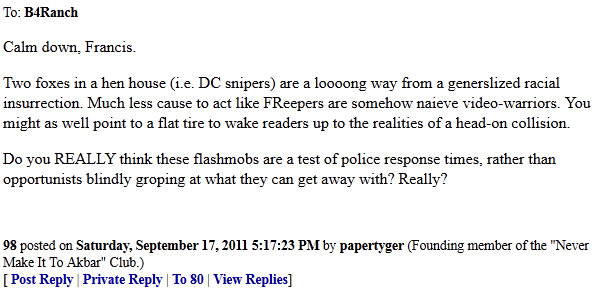 And B4Ranch puts him in his place with logic, because teenagers never figure out how to use new technology on their own…


Except for all these calls for Civil War 2 in this very thread…


And GOPJ with the closer that goes every direction with it's awfulness.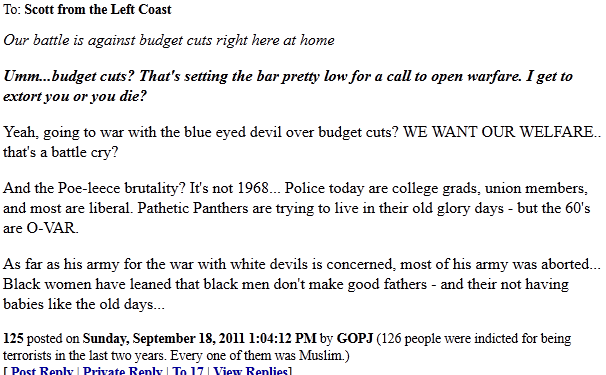 They'll be more. And it will be worse. The FreeRepublic.com Guarantee!
Friend of the site D.C. Douglas has made a new video to help Dick Armey and Matt Kibbe sell their book Give Us Liberty: A Tea Party Manifesto:

Also how awesome is it that DC Douglas is in Titanic II? Pretty awesome.
Alan Simpson says dumb stuff, somehow isn't fired from awful committee that shouldn't exist. Also Digby is almost always right.
Some Muslim/American news:
Glenn Beck's 8-28 Rally is this weekend, where Beck will try to co-opt the Civil Rights Movement in order to sell books..I mean, be patriotic and take back America. It has nothing to do with selling books. But his books will be available for purchase! Real Patriotic Americans will be at the 9-12 Rally instead! Which one will have the larger made up number of attendees? You'll have to wait and see!
So there were a few fights at the Iowa State Fair and rumors swirled it was Beat Whitey Night and that gangs of black youths were systematically beating down poor white people. Despite the police now denying there was a Beat Whitey Night, the right wing noise machine went into full force, and soon FreeRepublic's whining and blanket race war threats had gotten the attention of the Aryan Nation!

Aryan Nations Headed to Des Moines, Iowa

Paul Mullet is the director of the Aryan Nations Church of Jesus Christ Christian. When he heard Rep. Ako Abdul-Samad, Democrat from Des Moines say that there wasn't enough information about the beatings and attacks to call them racially motivated, he said they (Aryan Nations) were going to Des Moines. When asked how many were coming or when they were coming, Mullet said he wasn't going to let anyone know ahead of time. He (Mullet) said he wasn't stupid.

That's right, the white supremacist guy's name is Mullet.

Luckily FreeRepublic is sensible and they all deny the Nazis..oh, wait..

To: stillafreemind

Funny…don't much about Iowa Aryan Nations sorts but maybe the black fellows should study Greensboro NC before they go off half cocked

just some helpful advice

24 posted on Thursday, August 26, 2010 8:52:46 AM by wardaddy (effed up times..)

wardaddy is making a reference to the Greensboro Massacre, the 1979 Klan-Nazi Shootings of 14 blacks at a workers march, 5 were killed.
Categories: #drainclogs, #freedomworks, #freerepublic Tags: #freedomworks, Alan Simpson, D.C. Douglas, FreeRepublic.com, Glenn Beck, Iowa, Islam, RAHOWA, Teabaggers
So I was hanging out in Resistnet chat being awesome when suddenly Resistnet chat decided to go all racial holy war. You see, the posters on Resistnet long for the day they can shoot all the Mexicans and Blacks, because they're crazy racists who are crazy. Especially dan taylor, who has been featured in many many many of our Wingnut Webs. And he gets no moderation or discipline by the Resistnet moderators at all. Because what he says must not be offensive to them! But don't take my word for it, take the words of the Resistnet chatters themselves!
Blacks are gonna start something!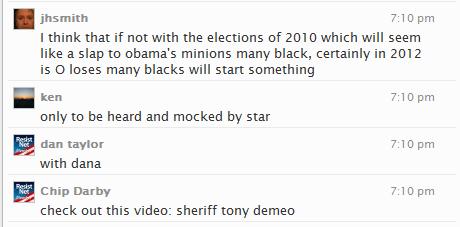 dan taylor says just machine gun those blacks!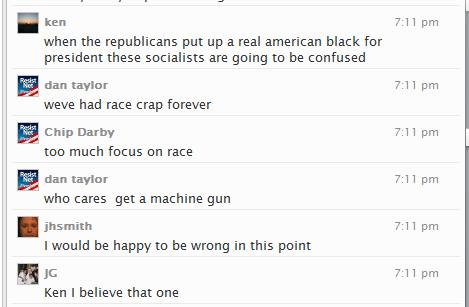 dan taylor also thinks we don't need Mexicans because we already have all those troublesome blacks!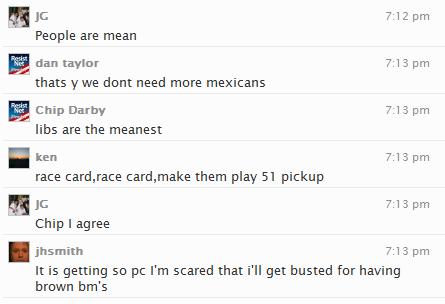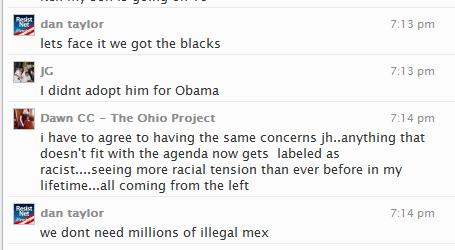 all cultures are not equal – some get drunk and run over white people, while white people never get drunk and drive!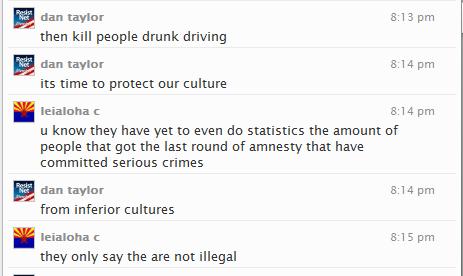 dan taylor is already at war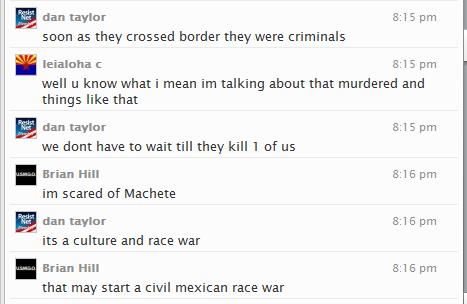 dan taylor thinks we could take over Mexico in two days, while suddenly someone brings up the Machete movie again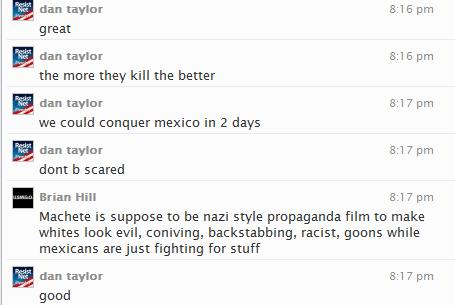 dan taylor is hoping beyond hope that Machete will make whites declare their mastery over all other races again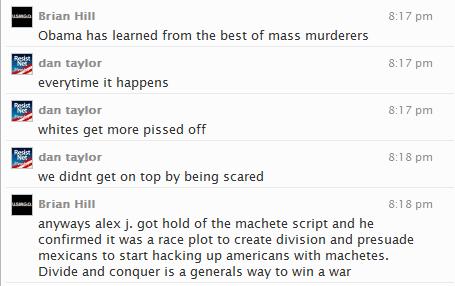 Mexicans are so easy to defeat a caveman could do it. Continue with someone suddenly getting scared that their lovely war will disrupt their medical supplies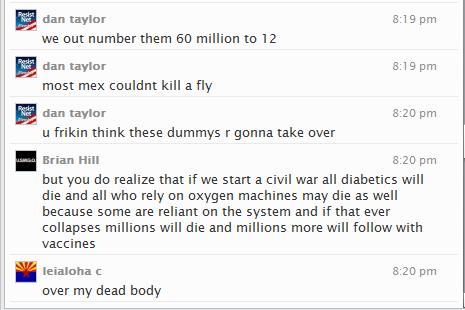 help me please kill mexicans!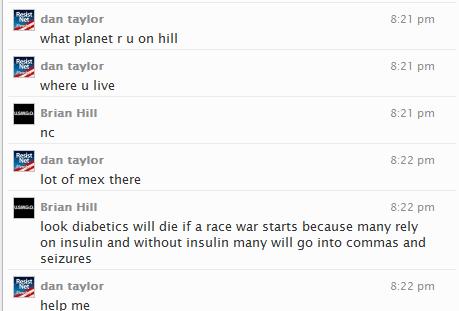 A Mexican ate my rabbit!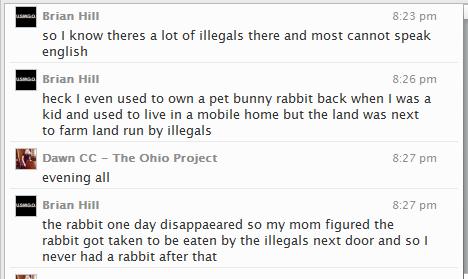 Brian Hill then goes all conspiracy theory!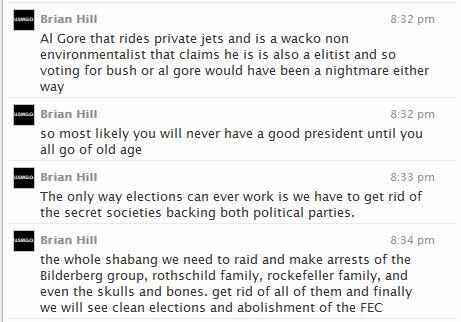 If you go to Resistnet.com you can get recruited to the race war today! dan taylor is in chat all the time, and it's obvious that no one is bothered by his call for racial holy war. I guess that means Resistnet is totally fine with it! Good to know!
If you've read The Wrecking Crew by Thomas Frank you will be familiar with the vast direct mail fundraising apparatus the Right has. Now, the modern Web 2.0 version has been operation for years, and Salon has exposed that like before most of the money goes to the firms and not the candidates.
Thousands of grassroots conservative donors around the country who believe they are contributing to the fight to reclaim Congress in the fall have actually poured millions of dollars into a group of political action committees whose primary function appears to be enriching a notorious Washington direct mail fundraising firm, Salon's review of the groups' FEC filings shows.

The PACs — Freedom's Defense Fund, the Black Republican PAC, Veterans for Victory, and the Republican Member Senate Fund — are all based out of post office boxes in Washington and all have a treasurer in common: Scott Mackenzie, a campaign finance consultant at Base Connect, the direct mail firm. Formerly known as BMW Direct, Base Connect has long been controversial for its practice of raising large sums of money for long-shot conservative candidates, who in turn pay Base Connect as much as 80 or 90 percent of the money raised for its services.
This is just the Free Market in action, baby! Also the new Politisink Concerned Americans for an American America Patriot Freedom Eagle PAC is now seeking donations, we promise that we may eventually get around to giving money to a candidate.
Speaking of Right Wing nuts, the Washington Post has a neat article up about how Colonial Williamsburg has become sort of a Mecca for Wingnuts wanting to hear the founding fathers give rousing speeches. The Founding Fathers are played by actors, many of which aren't into the crazy wingnut beat and are shooting down Glenn Beck talking points while in character. It rules.
Women are all about porn, and only church groups can save them!
The Iowa GOP wants to join the ranks of the other crazy state GOP groups, so they've decided to support the "original" 13th Amendment solely because they want to try to use it to strip Obama's citizenship. At least they think Obama is a citizen…
In other citizenship news, Republicans love the Constitution except for every part of it that isn't the 2nd Amendment. And now they want to toss the 14th Amendment because too many brown babies are being born. Oh, wait, it's to "fight illegal immigration" aka too many brown babies are being born. The following Senators hate babies: Lindsey Graham of South Carolina, Jon Kyl of Arizona, John McCain of Arizona, Mitch McConnell of Kentucky, and Chuck Grassley of Iowa.
This stuff is so nuts even Lou Dobbs and Alan Keyes want out.
Prop 8 got overturned! Until the appeal…
but that means we got awesome Right Wing comments!
Please don't forget the people of Lut who were engagad in the same indecent acts as these gays/lesbian doing in this modern era.

God punished them with 5 sentences :

1) Rain of stones fell on them
2) Upside down the place where this thing had been going
3) Their faces were burnt
4) There was a big voice which torn them down.
5) Gabreil again upside down their place .

No nation in the past was given that stern punishment as nation of Lut..

May God give us the righteous path, the path of success in this life & hereafter. Amen.

PEACE TO ALL.
We're gonna get upside down the place here twice! Oddly enough, this person hid their profile…
Glenn Beck loves the white power…at least his Twitter did until caught!
Glenn Beck's band of merry morons got a book pulled from a New Jersey library. Please call your local library and get Beck's books banned. Or not, because we're better than that.
Did you hear about the prison guard who killed a dude to steal his gun to use to overthrow the US government in the name of Right Wing Freedom? Well, now you have. Raymond Peake and fellow guard Thomas Tuso are in some trouble now, entirely because of the Federal Government is out to get them. And the murder. But mostly that the Federal Government is out to get them.
Apparently this happened when I wasn't paying attention: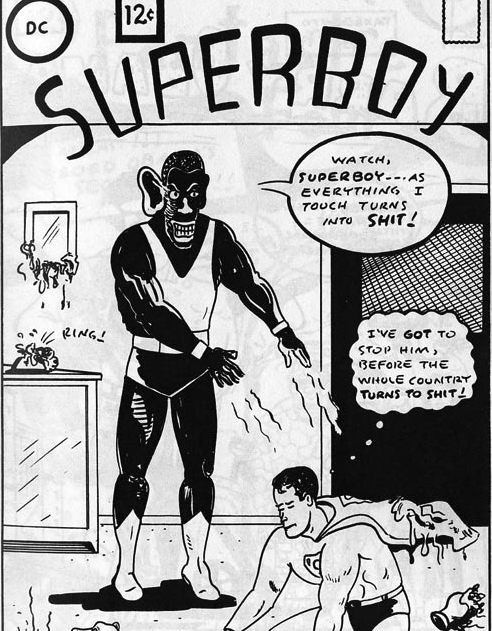 Despite the right saying it was a plant, it turns out it is a right wing dude who claims he didn't know it was racist. Right.
Cats for Gold is the best site since the last best site!
Cartoon of the Day: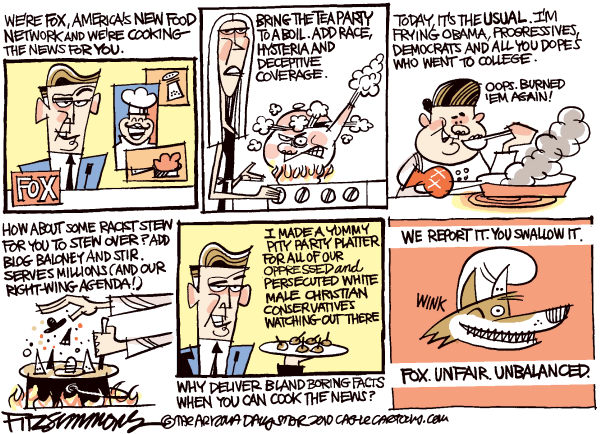 Categories: #drainclogs Tags: 13th Amendment, 14th Amendment, Alan Keyes, Chuck Grassley, Glenn Beck, John McCain, Jon Kyl, Lindsey Graham, Lou Dobbs, Mitch McConnell, Obama, porn, Prop 8, RAHOWA, Raymond Peake, Thomas Tuso
The spat between the NAACP and the Tea Party groups exploded into a bigger mess than I thought it would. You see, despite the fact that we spend hours each week pouring over right wing sites and reading all sorts of awful things, we at Politisink are still decent people, and thus, don't automatically think about how awful a backlash of racism will be against groups that have been demonized for months on Glenn Beck. Our mistakes. But, besides Mark Williams's awesome letter that totally proved the NAACP's point better than they could themselves, Resistnet's commentors have also been weighing in on this issue. And, being Resistnet, they've been weighing in as a bunch of racists.
Miles is our douchebag of the day, because his story is frakking insane. Besides the obvious lies about how much money a family gets and the pre-1994 welfare reform arguments about families spending generations on welfare, there are more spelling errors than if you threw 1000 Scrabble pieces at random on the ground.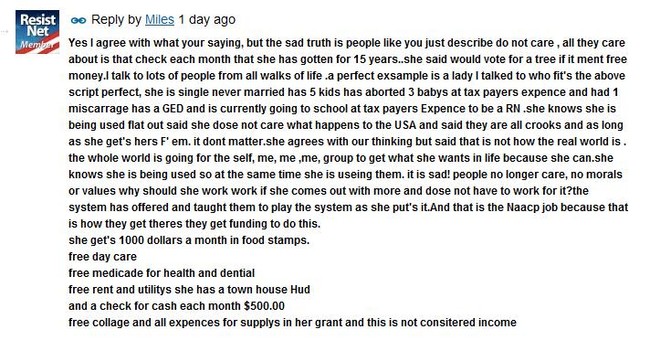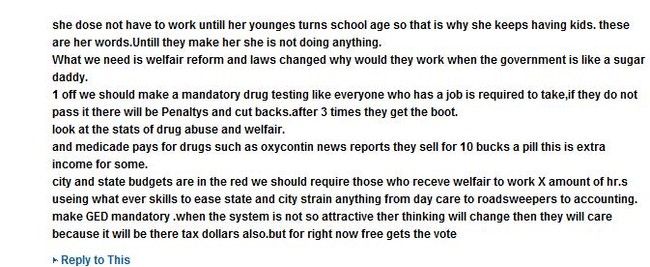 Wow, Lynn Bryant DeSpain is a moron. The NAACP fought against Wilson and his racist segregation policies, and the "entitlements" crap he is talking about is probably a reference to things FDR started, not Wilson. This is what happens when you get history lessons from Glenn Beck and Jonah Goldberg. But "seven babies, seven fathers" is totally not racist! Why do the blacks not like us?