#followup
In case you haven't heard, financial markets are plummeting again.  We have yet to see how this will play out, but it was to be expected because absolutely nothing has been resolved since the last time.  The most direct causes–not to be confused with the most fundamental ones–are trouble with the banking system in Europe and trouble with the banking system in the US.  In the media, the former is discussed in terms of countries for perverse reasons and both are further abstracted and described in terms of attitudes held by "the markets" towards everything from employment data to Ben Bernanke's body language.  I call it financial anthropomorphism and this is a beautiful example.
Insofar as economies produce and consume things, the US and most other "advanced" countries have been basically stagnant since 2008.  The "recovery" was confined to financial markets that have been more or less doing their own thing with a lot more assistance from the federal government than anyone else has gotten.  If you look back, narratives switching between a "double-dip recession" and "green shoots" probably reflect whatever was going on with financial markets at the time rather than real output or employment.
Recessions are technically defined by the NBER dating committee and according to them, the last one began in December 2007 and ended in June 2009.  The dating committee bases its definition largely on changes in trends relating to (reported) aggregate income and expenditures, particularly expenditures (GDP).  Note that expenditures can be on anything, so even something like hikes in health insurance premiums count towards GDP growth (check the national accounts for yourself).  As far as most people are concerned, national income has actually been falling:
Employees have always received more than half the total national income, until now. In 2010, the percentage of national income devoted to wages and salaries fell to 49.9 percent, and it slipped a little more to 49.6 percent in the first quarter of this year. That continued decline may help explain the economic worries of many Americans who have jobs but still fear they are falling behind.
The idea of a "double-dip recession" starting now is basically just a media narrative because nothing has improved at all for most people.  The unemployment and underemployment statistics don't mean much of anything anymore because so many people have completely fallen off the radar and become unpeople as far as decision-makers are concerned.  It's worth noting that the system for measuring national income that we currently have came into existence during the Great Depression.
Financial markets coming down to the economic reality in which everyone else exists might finally draw the attention of officialdom.  The course we've been on for the past few years isn't going to improve unless some serious changes are made to how we do things.
I'll start by following up on a post Tars made about the debt ceiling because the fun isn't over!  The ceiling is going to be hit again on the 16th (according to a letter Timmy Geithner sent to congress).  If you weren't sure that this was all completely cynical, even Chamber of Commerce is getting nervous now.  Still, the whole dysfunctional government that responds only to cash thing leaves us with a political problem.  It looks like Boehner doesn't have control of the GOP caucus and all of the freshmen that came in on a wave of campaign contributions from the financial sector believe they'll lose in next year's primaries if they don't vote against raising it.
With all of this going on in the background, the "Freedom to Invest Act of 2011" has been introduced in the House.  If you're wondering how corporate America could possibly get more investment freedoms, it's because they want to bring the money they have in tax havens back to the U.S.  They claim that if they're allowed to do so, they'll invest.  This is a blatant lie.
Doug Henwood quotes the Financial Times, saying that they're spending it on buy-backs:
The rise in buy-backs and deals marks a turning point in the credit cycle, as companies become more willing to invest their cash and borrow more money. Since the 2008 financial crisis, many companies have been hoarding cash and building up ever greater treasure chests and rainy-day funds.
This is exactly what they did the last time they were given a tax break to "repatriate" earnings held offshore.  For the repeat, they've created a hilarious little website (I found it on the Adobe blog) to promote the idea, complete with a picture of blue-collar workers at the top.  The slogan, "Let's invest the money here at home–not spend it overseas," is beautiful because it was earned overseas in the first place, which is why it's in a tax haven.
Blood Libel? Are they serious? They are serious. Either Palin is insane or she eats babies. Why would you use that term? Also she used a teleprompter in her YouTube video!
Today is the memorial for the Arizona victims, but Palin has now ensured we're just gonna be talking about her.
Giffords shooter Jared Loughner is nuts. We already knew that, but this lets you know how nuts he is.
Jared also posted crazy stuff on a conspiracy website.
The Tea Party Express is shocked, SHOCKED, that their violent rhetoric is being criticized in wake of the Giffords shooting. Also, give them money!
These giant bulls eye targets aren't gun sights, they are surveyor's symbols! Lock and reload your surveying tools!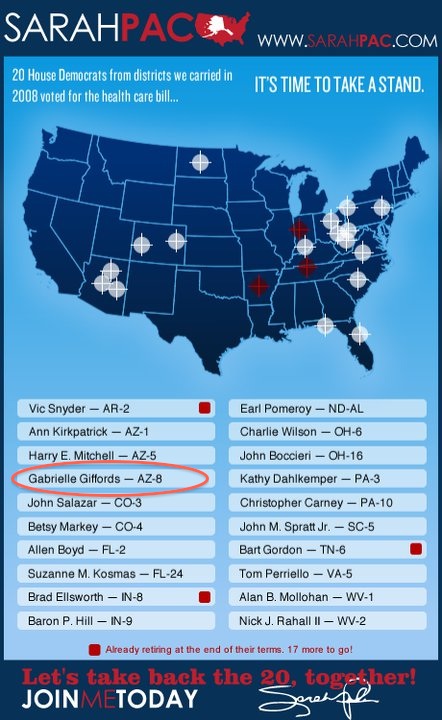 Gateway Pundit then photoshopped his own bulls eye photo trying to smear DailyKos. Here is a link to the original DKos post.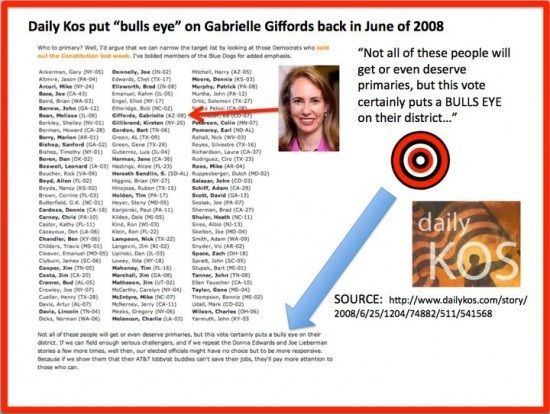 From the brave man who brought you The Teabagger Boogie: Dick Armey's Army of Dicks and of course the voice of the GEICO guy brings you a second heaping helping of astroturfed Tea Party tidings (sponsored by FreedomWorks) in the form of a brand new PSA! The video features a couple of people who don't look like me or talk like me (so naturally I assume I'll need to see their papers):
The dangers of drinking and operating a telephone handset, don't do it (unless you value your career enough to never speak up about anything in the public sphere ever, the teabaggers are always watching). And bravo for using so many clearly hypocritical and delightfully self-serving statements from "brown journalism" sites like BigGovernment and FOX News, complete with footnotes and direct quotes.
D.C. Douglas should continue to push the campaign into the far reaches of the Tea Party universe; there are just so many entertaining possibilities for bits like this. Are those anti-tea bag campaign ads I smell? A line of D.C Douglas talking pull-string action figures that sound off on Wingnuts? Perhaps even a 'Bosum Buddies' type sitcom featuring two lovable goofs who decide to get jobs at FreedomWorks, infiltrating the nefarious organization by donning expensive suits, cowboy hats, and "Drill, baby, drill" bumper stickers? The possibilities are limitless.
D.C. Douglas, we want to work with YOU to make all these ideas and more a reality.
We've all met that guy. Maybe he went to your high school, sat next to you on an airplane that one time, has a nationally syndicated talk-radio and television show, or even attended one of those Tea Party protest and ended spouting off with his misspelled protest sign while someone interviewed him for a video you saw on YouTube. This type of individual is what I like to refer to as the "taint hair" of society.
"Taint hairs" serve no purpose in life but to irritate and annoy the whole of society. Their shit-eating grin of an attitude and toxic personalities, while giving the individual mysterious origins (probably the product of sexual abuse, universal rejection throughout their existance, or the deep-seeded idea that their lives are worthless unless they're making other people miserable), make their infected rash of "character" stand out like the sore polyp on the asshole of the country. Caleb Howe is exactly this kind of asshole infection.
That episode of South Park, the clip in particular, put perfectly into words that attitude of why you can let guys like Caleb Howe or Eric Cartman, kids of a similar mind who believe they can never be taken down a notch since they're always willing to shamelessly up the ante with their words (no matter how awful or retarded those words make them sound) when there's no real or immediate perceived threat to them (it's the internet after all!). The more defenseless, disabled, or weak the target is the better for them. People like that will not let up with their demeanor, no matter what's said to them or who calls them out on their clear and universally repugnant behavior. What's left to do when you've exhausted every other ration option you know of to satisfy their hunger for attention? You can't just give up or forget about the problem and hope things will get better.
Instead physical action needs to be taken against them, to have them be beaten into a pulp, to be physically incapacitated, to be destroyed in order to understand that what they do and say to others in life has actual repercussions in the civilized world, where civilized people with even the remotest bit of compassion will stand against the entirety of everything they take pride in and build their repulsive characters on. How else can a disease change itself unless you put every ounce of effort into eradicating it?
And we're not talking about a horrible and ruthless condition such as cancer here. Caleb Howe is like polio. He is god-awful scourge on the world, a blight of intelligence and moral character in every sense of the word, but with the right people working against him, attacking every vector of his words and callous opinion, he can eventually be eradicated from the face of the world. People will throw parades, celebrate across the globe, and cheer in unison when a personality like Caleb Howe's is eliminated from the face of the earth. After all, Caleb Howe and his ilk are the weakest kind of disease, a condition that didn't even deserve to exist, a condition that can instantaneously be stopped with the proper treatment and right attitude, due to how inherently weak and void of a backbone the core of the virus is.