Posts tagged "Glenn Beck"
NBComcast is a reality. God help us all.
Maine Governor Paul LePage told the NAACP to "kiss my butt" then started rambling on about his "black son". His full grown black son. Who moved into the house in 2002. After LePage used his dad as a caddy in Jamaica. The grown man has never been adopted by LePage. FYI, LePage ended up going to the NAACP event regardless of his butt kissing fetish.
Alabama Governor Robert Bentley get inaugurated, declares all non-Christians aren't his brothers and sisters. But he didn't mean to insult anyone.
Conservative Pundit Glenn Beck stands against violence. Look out! Glenn Beck's got a gun!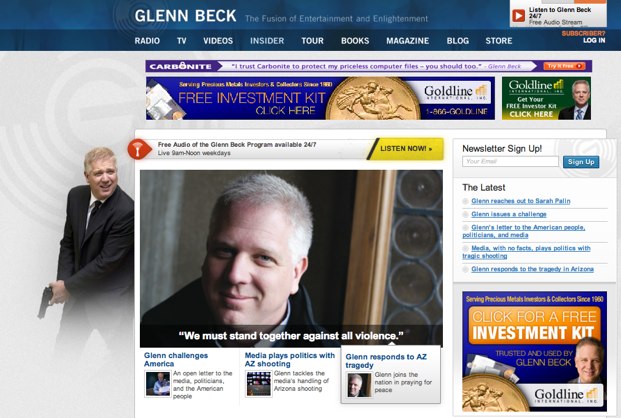 RedState's Erick Erickson is quitting his city council job that he never shows up to to become a radio show host!
Tom "The Hammer" DeLay is going to jail for three years. It's all liberals' fault!
Cartoon of the Day: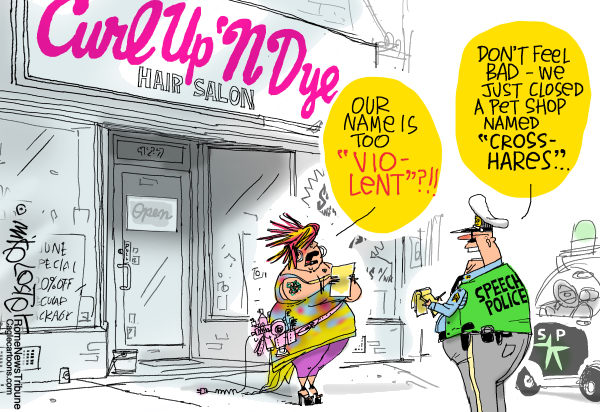 American Action Forum thinktank head Rob Collins (a former aide to Rep. Eric Cantor (R-VA)) cannot explain the attack ads produced by his group
Former House candidate Tan Nguyen (R) lied to investigators about a voter suppression scheme. Where were the teabaggers screaming about this voter intimidation? Oh, wait, he only intimidated Spanish-speaking people, so he's their hero.
Rep. Louie Gohmert (R-TX) hates the truth that the non-partisan Congressional Budget Office says, so he just wants to eliminate it.
Glenn Beck thinks 10% of Muslims are terrorists.
The Teabag Caucus requested $1 billion in earmarks. Just ignore how they are "anti-earmark" and are "fiscally responsible".
NAME EARMARKS AMOUNT
Aderholt (R-AL) 69 $78,263,000
Akin (R-MO) 9 $14,709,000
Alexander (R-LA) 41 $65,395,000
Bachmann (R-MN) 0 0
Barton (R-TX) 14 $12,269,400
Bartlett (R-MD) 19 $43,060,650
Bilirakis (R-FL) 14 $13,600,000
R. Bishop (R-UT) 47 $93,980,000
Burgess (R-TX) 15 $15,804,400
Broun (R-GA) 0 0
Burton (R-IN) 0 0
Carter (R-TX) 26 $42,232,000
Coble (R-NC) 19 $18,755,000
Coffman (R-CO) 0 0
Crenshaw (R-FL) 37 $54,424,000
Culberson (R-TX) 22 $33,792,000
Fleming (R-LA) 10 $31,489,000
Franks (R-AZ) 8 $14,300,000
Gingrey (R-GA) 19 $16,100,000
Gohmert (R-TX) 15 $7,099,000
S. Graves (R-MO) 11 $8,331,000
R. Hall (R-TX) 16 $12,232,000
Harper (R-MS) 25 $80,402,000
Herger (R-CA) 5 $5,946,000
Hoekstra (R-MI) 9 $6,392,000
Jenkins (R-KS) 12 $24,628,000
S. King (R-IA) 13 $6,650,000
Lamborn (R-CO) 6 $16,020,000
Luetkemeyer (R-MO) 0 0
Lummis (R-WY) 0 0
Marchant (R-TX) 0 0
McClintock (R-CA) 0 0
Gary Miller (R-CA) 15 $19,627,500
Jerry Moran (R-KS) 22 $19,400,000
Myrick (R-NC) 0 0
Neugebauer (R-TX) 0 0
Pence (R-IN) 0 0
Poe (R-TX) 12 $7,913,000
T. Price (R-GA) 0 0
Rehberg (R-MT) 88 $100,514,200
Roe (R-TN) 0 0
Royce (R-CA) 7 $6,545,000
Scalise (R-LA) 20 $17,388,000
P. Sessions (R-TX) 0 0
Shadegg (R-AZ) 0 0
Adrian Smith (R-NE) 1 $350,000
L. Smith (R-TX) 18 $14,078,000
Stearns (R-FL) 17 $15,472,000
Tiahrt (R-KS) 39 $63,400,000
Wamp (R-TN) 14 $34,544,000
Westmoreland (R-GA) 0 0
Wilson (R-SC) 15 $23,334,000
TOTAL 764 $1,049,783,150
Cartoon of the Day: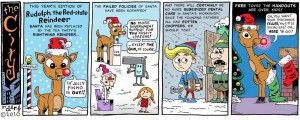 Conservatives are now calling for the eradication of Grizzly Bears. I am not making this up. Please note my lack of Colbert jokes.
Texas's budget problem is proportionally worse than California's. Looks like fiscal conservatism doesn't have all the answers! Who woulda thunk it?
Arizona state senator Russell Pearce (a sb1070 guy) is saying Arizona will refuse federal funding for health care, affecting the 1 million people on the program. What does Pearce say about them?
RESNIK: And the one million people on access, what's their future?

PEARCE: They'll probably be okay.
Newly elected congressman Allen West (who is a war criminal, btw!) hired a crazy person for his chief of staff. Who woulda thunk it??
Ben Franklin was for progressive taxation….that COMMIE!!!
Morgan Stanley wealth manager Martin Joel Erzinger committed a hit and run, and won't be charged because he's all rich and stuff. Colorado District Attorney Mark Hurlbert is the guy who won't charge him, if you need someone to send angry emails to.
Beck says something bad is coming! How can that be, when his book has already come out…
Cartoon of the Day: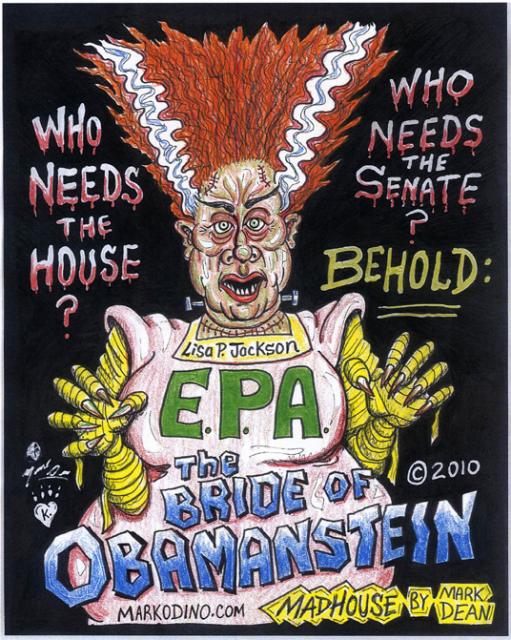 ThinkProgress is kicking ass in finding out all the overseas money the US Chamber of Commerce is getting and spending on attack ads against mainly Democratic candidates – $885,000 so far!
Media Matters interviewed Byron Williams, the guy who got into a gunfight on the highway with police while on his way to murder people in the ACLU and the Tides Foundation after getting the idea from Glenn Beck – "Progressive Hunter"
People are freaking out about Campbell's halal soup. The same morons who got upset over Rachel Ray's scarf.
How could this have gone wrong?


NEW YORK (AP) — In an effort to rush through thousands of home foreclosures since 2007, financial institutions and their mortgage servicing departments hired hair stylists, Walmart floor workers and people who had worked on assembly lines and installed them in "foreclosure expert" jobs with no formal training, a Florida lawyer says.

In depositions released Tuesday, many of those workers testified that they barely knew what a mortgage was. Some couldn't define the word "affidavit." Others didn't know what a complaint was, or even what was meant by personal property. Most troubling, several said they knew they were lying when they signed the foreclosure affidavits and that they agreed with the defense lawyers' accusations about document fraud.

American Family Association blogger Bryan Fischer claimed Jesus wanted the house that burned down because the guy didn't pay the fire department $75 to burn down. And he's doubling down on it! Jesus – crazed arsonist???
Glenn Beck is picking a fight with Donald Duck over some video mashups, even trying to see if they were federally funded by the stimulus! http://tpmlivewire.talkingpointsmemo.com/2010/10/glenn-beck-donald-duck-is-a-government-agent-video.php?ref=fpb
Nazi Cosplayer, Teabagger, and Congressional Candidate Richard Iott is freaking everyone out and defending his Nazi play. And also defending Nazis – "They were doing what they thought was right for their country."He's also a movie producer, including the SciFi Channel fare Yeti: Curse of the Snow Demon! And if you disagree with his Nazi Parties, you're a Democrat!
FoxNews has opened FoxNewsLatino! Complete with a Spanish Language Section! And awful puns like La Tea No.
Cartoon of the Day:

The CEO of Stardock is a crazed Wingnut who publishes pseudo-white nationalist fan fiction as official novels for their video games. More here:
So Stardock CEO, Brad Wardell, wrote a book about a group of heroes building a fence to keep olive-skinned and dark-skinned antagonists out of a continent…
Glenn Beck has started his own HuffPo ripoff site, TheBlaze.com. The best part of this is that it will probably kill Tucker Carlson's DailyHowler, but FoxNation.com will still putter along. TheBlaze.com allows comments, so expect it to show up on a Wingnut Web once free time becomes something I have.
Ohio thinks Puerto Rico is a foreign country.
Now that the teabaggers have restored honor they can go back to having sex with children. Ohio again? Constitution Party candidate Eric Deaton is the guy's name.
Retired Lt. Gen. Thomas McInerney has gone Birther, and is now supporting court martialed birther Lt. Col. Terry Lakin. McInerney works for FoxNews, who will undoubtedly fire him. And by fire him, I mean have him on much more!
Another Gulf Oil rig exploded. That North Korean sub has been busy!
Cartoon of the Day:

America's honor is restored. And by America's honor, I mean Glenn Beck and Sarah Palin's bank accounts! good job, Wingnut Suckas! I'm sure maybe a few cents will end up at the charity, but only whatever Canadian pennies accidentally got put in the donation baskets.
The crowd was estimated at 87,000, but that didn't stop Glenn Beck and the rest of the rightwing loons to inflate the numbers and soon they were over half a million. By Friday there will have been 96 quintillion people at Beck's rally. All of them white.
And the "peaceful crowd" was filled with violent psychopaths.


Hey, Japan is ripping off the Teabaggers for their own crazy xenophobic mobs!
The demonstrators appeared one day in December, just as children at an elementary school for ethnic Koreans were cleaning up for lunch. The group of about a dozen Japanese men gathered in front of the school gate, using bullhorns to call the students cockroaches and Korean spies.

….

More significantly, the protests also signaled the emergence here of a new type of ultranationalist group. The groups are openly anti-foreign in their message, and unafraid to win attention by holding unruly street demonstrations.

Since first appearing last year, their protests have been directed at not only Japan's half million ethnic Koreans, but also Chinese and other Asian workers, Christian churchgoers and even Westerners in Halloween costumes. In the latter case, a few dozen angrily shouting demonstrators followed around revelers waving placards that said, "This is not a white country."

….

No such estimates exist for the size of the new Net right. However, the largest group appears to be the cumbersomely named Citizens Group That Will Not Forgive Special Privileges for Koreans in Japan, known here by its Japanese abbreviation, the Zaitokukai, which has some 9,000 members.

The Zaitokukai gained notoriety last year when it staged noisy protests at the home and junior high school of a 14-year-old Philippine girl, demanding her deportation after her parents were sent home for overstaying their visas. More recently, the Zaitokukai picketed theaters showing "The Cove," an American documentary about dolphin hunting here that rightists branded as anti-Japanese.

In interviews, members of the Zaitokukai and other groups blamed foreigners, particularly Koreans and Chinese, for Japan's growing crime and unemployment, and also for what they called their nation's lack of respect on the world stage. Many seemed to embrace conspiracy theories taken from the Internet that China or the United States were plotting to undermine Japan.

…..

Mr. Sakurai says the group is not racist, and rejected the comparison with neo-Nazis. Instead, he said he had modeled his group after another overseas political movement, the Tea Party in the United States. He said he had studied videos of Tea Party protests, and shared with the Tea Party an angry sense that his nation had gone in the wrong direction because it had fallen into the hands of leftist politicians, liberal media as well as foreigners.
Here's a good article about the shrinking privacy rights for our public schools.
Libertarians are so mature they yell, curse, and swear at each other even if they unanimously agree.
Focus on Family is defending school bullies and their right to beat up gay students! Yes, Jesus wants you to smear the queer, thus sayth the Lord!
The Taliban is totally for stopping the Park51 center (aka the Ground Zero Mosque) because it is the best recruitment tool they've had in years! Thanks, hateful bigots, for helping America's enemies once again. I present to you the George W. Bush Award for FUBARing Everything Up, Big Time!
Speaking of FUBAR, some nutjob set a fire at the site of a proposed mosque in Tennessee
Cartoon of the Day: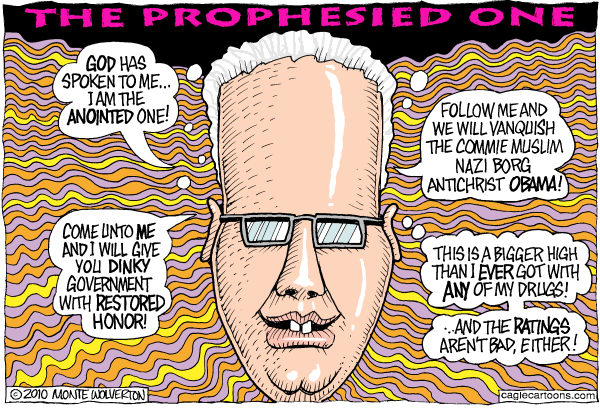 Friend of the site D.C. Douglas has made a new video to help Dick Armey and Matt Kibbe sell their book Give Us Liberty: A Tea Party Manifesto:

Also how awesome is it that DC Douglas is in Titanic II? Pretty awesome.
Alan Simpson says dumb stuff, somehow isn't fired from awful committee that shouldn't exist. Also Digby is almost always right.
Some Muslim/American news:
Glenn Beck's 8-28 Rally is this weekend, where Beck will try to co-opt the Civil Rights Movement in order to sell books..I mean, be patriotic and take back America. It has nothing to do with selling books. But his books will be available for purchase! Real Patriotic Americans will be at the 9-12 Rally instead! Which one will have the larger made up number of attendees? You'll have to wait and see!
So there were a few fights at the Iowa State Fair and rumors swirled it was Beat Whitey Night and that gangs of black youths were systematically beating down poor white people. Despite the police now denying there was a Beat Whitey Night, the right wing noise machine went into full force, and soon FreeRepublic's whining and blanket race war threats had gotten the attention of the Aryan Nation!

Aryan Nations Headed to Des Moines, Iowa

Paul Mullet is the director of the Aryan Nations Church of Jesus Christ Christian. When he heard Rep. Ako Abdul-Samad, Democrat from Des Moines say that there wasn't enough information about the beatings and attacks to call them racially motivated, he said they (Aryan Nations) were going to Des Moines. When asked how many were coming or when they were coming, Mullet said he wasn't going to let anyone know ahead of time. He (Mullet) said he wasn't stupid.

That's right, the white supremacist guy's name is Mullet.

Luckily FreeRepublic is sensible and they all deny the Nazis..oh, wait..

To: stillafreemind

Funny…don't much about Iowa Aryan Nations sorts but maybe the black fellows should study Greensboro NC before they go off half cocked

just some helpful advice

24 posted on Thursday, August 26, 2010 8:52:46 AM by wardaddy (effed up times..)

wardaddy is making a reference to the Greensboro Massacre, the 1979 Klan-Nazi Shootings of 14 blacks at a workers march, 5 were killed.
Categories: #drainclogs, #freedomworks, #freerepublic Tags: #freedomworks, Alan Simpson, D.C. Douglas, FreeRepublic.com, Glenn Beck, Iowa, Islam, RAHOWA, Teabaggers
If you've read The Wrecking Crew by Thomas Frank you will be familiar with the vast direct mail fundraising apparatus the Right has. Now, the modern Web 2.0 version has been operation for years, and Salon has exposed that like before most of the money goes to the firms and not the candidates.
Thousands of grassroots conservative donors around the country who believe they are contributing to the fight to reclaim Congress in the fall have actually poured millions of dollars into a group of political action committees whose primary function appears to be enriching a notorious Washington direct mail fundraising firm, Salon's review of the groups' FEC filings shows.

The PACs — Freedom's Defense Fund, the Black Republican PAC, Veterans for Victory, and the Republican Member Senate Fund — are all based out of post office boxes in Washington and all have a treasurer in common: Scott Mackenzie, a campaign finance consultant at Base Connect, the direct mail firm. Formerly known as BMW Direct, Base Connect has long been controversial for its practice of raising large sums of money for long-shot conservative candidates, who in turn pay Base Connect as much as 80 or 90 percent of the money raised for its services.
This is just the Free Market in action, baby! Also the new Politisink Concerned Americans for an American America Patriot Freedom Eagle PAC is now seeking donations, we promise that we may eventually get around to giving money to a candidate.
Speaking of Right Wing nuts, the Washington Post has a neat article up about how Colonial Williamsburg has become sort of a Mecca for Wingnuts wanting to hear the founding fathers give rousing speeches. The Founding Fathers are played by actors, many of which aren't into the crazy wingnut beat and are shooting down Glenn Beck talking points while in character. It rules.
Women are all about porn, and only church groups can save them!
The Iowa GOP wants to join the ranks of the other crazy state GOP groups, so they've decided to support the "original" 13th Amendment solely because they want to try to use it to strip Obama's citizenship. At least they think Obama is a citizen…
In other citizenship news, Republicans love the Constitution except for every part of it that isn't the 2nd Amendment. And now they want to toss the 14th Amendment because too many brown babies are being born. Oh, wait, it's to "fight illegal immigration" aka too many brown babies are being born. The following Senators hate babies: Lindsey Graham of South Carolina, Jon Kyl of Arizona, John McCain of Arizona, Mitch McConnell of Kentucky, and Chuck Grassley of Iowa.
This stuff is so nuts even Lou Dobbs and Alan Keyes want out.
Prop 8 got overturned! Until the appeal…
but that means we got awesome Right Wing comments!
Please don't forget the people of Lut who were engagad in the same indecent acts as these gays/lesbian doing in this modern era.

God punished them with 5 sentences :

1) Rain of stones fell on them
2) Upside down the place where this thing had been going
3) Their faces were burnt
4) There was a big voice which torn them down.
5) Gabreil again upside down their place .

No nation in the past was given that stern punishment as nation of Lut..

May God give us the righteous path, the path of success in this life & hereafter. Amen.

PEACE TO ALL.
We're gonna get upside down the place here twice! Oddly enough, this person hid their profile…
Glenn Beck loves the white power…at least his Twitter did until caught!
Glenn Beck's band of merry morons got a book pulled from a New Jersey library. Please call your local library and get Beck's books banned. Or not, because we're better than that.
Did you hear about the prison guard who killed a dude to steal his gun to use to overthrow the US government in the name of Right Wing Freedom? Well, now you have. Raymond Peake and fellow guard Thomas Tuso are in some trouble now, entirely because of the Federal Government is out to get them. And the murder. But mostly that the Federal Government is out to get them.
Apparently this happened when I wasn't paying attention: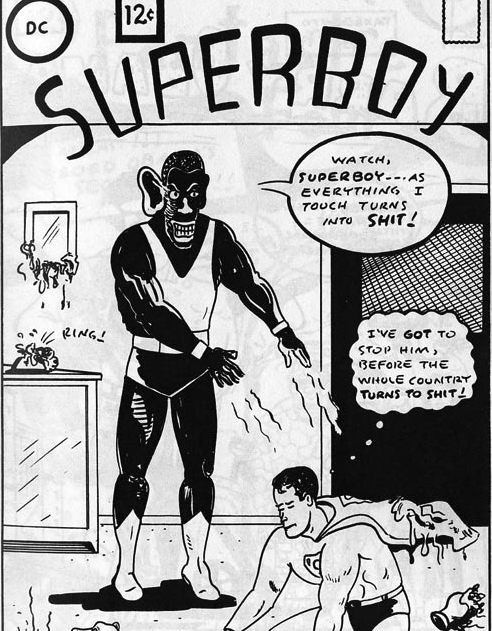 Despite the right saying it was a plant, it turns out it is a right wing dude who claims he didn't know it was racist. Right.
Cats for Gold is the best site since the last best site!
Cartoon of the Day: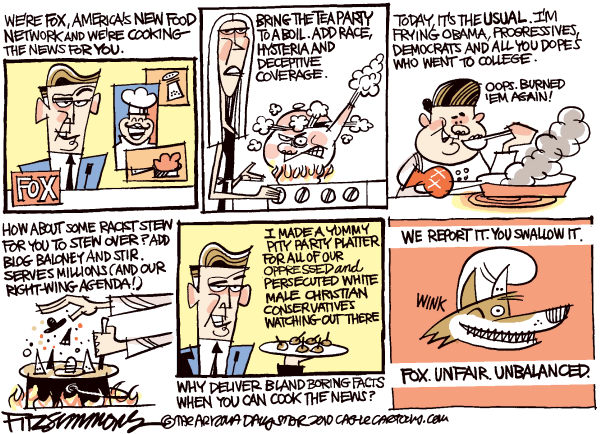 Categories: #drainclogs Tags: 13th Amendment, 14th Amendment, Alan Keyes, Chuck Grassley, Glenn Beck, John McCain, Jon Kyl, Lindsey Graham, Lou Dobbs, Mitch McConnell, Obama, porn, Prop 8, RAHOWA, Raymond Peake, Thomas Tuso
Hey you on the couch! Yes, you.
Are you tired of entitled arrogant "educated" people like your boss or scientists always telling you what to do or saying how Global Warming isn't a lie? Frustrated by the fact that the only thing setting you and "Mr. Know-It-All" apart might simply be a college degree or high school diploma? Attending a traditional education institution can take a lot of work and time, sometimes as much as 4 or even 5 years, possibly requiring a commute or even the need to read books, but thanks to the wonders of technology now YOU can enjoy the quality of a university education right in the comfort of your own home!
Announcing the groundbreaking of the nation's newest institution of American academic thought and achievement, Beck University! Started by one of America's most eminent educator, thinkers, and morning talk-radio hosts, Glenn Beck invites you and other patriotic like-minded Americans to submit a student application today and begin your journey into the world of a college education. By studying to get your degree at Beck University you will be joining the ranks of other college educated smarty smarts such as Ann Coulter, Former President Ronald Reagan, and Legendary football coach and occasional guest on Sean Hannity's 'Great American Panel', Tony Dungy.
Beck University is accredited by the New England Educational Board of Non-Accredited Schools and is the only college education that's available on a subscription basis (as part of the "Extra Features" section on Glenn Beck's 'Insider Extreme', available exclusively at GlennBeck.com. Just read some of the Facebook Comments our eager students have left us inquiring about our fine institution and thanking us for establishing a mecca of educated thought like Beck University: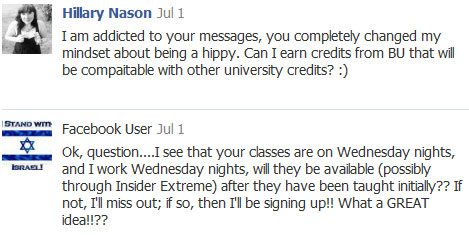 Some generous souls just wanted to thank Glenn for his service to the truthseekers of the world: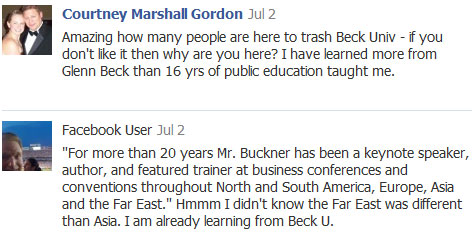 And some just wanted to hate on the snotty "college degree holders" who commented on how Beck University is completely and utterly ridiculous, an institution with no connection to reality whatsoever that the very thought of its existence is laughable and depressing: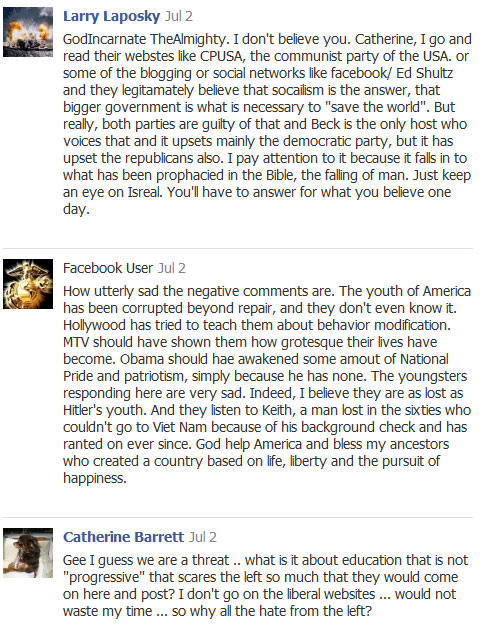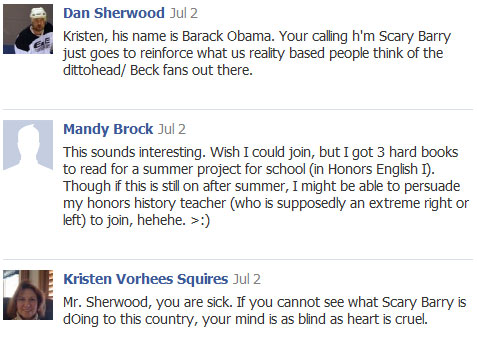 And this was just the first 300 responses!
Yours Truly,
skiplogic
Beck University, Class of 2011
Charity Studies, Minor in Hope
I guess bears are killing Americans because we don't follow the Bible or something. Damn you, Smokey!
Bryan Fischer is the same dude who wanted the Orca that killed its trainer to be killed. Will this be on the Colbert Show? Probably.
Acid Rain is back! WoooOOOooOooOO!!! Oh, wait, acid rain sucks!
General Stanley McChrystal said some naughty stuff in a Rolling Stone profile where he basically insulted most of the Obama Administraton and some other people, which is something you aren't allowed to do as an active military person, as it disparages the chain of command. McChrystal has submitted his resignation, so it remains to be seen if Obama will accept it. The best part about this is that Rolling Stone had not idea what they had there and most of the publicity for the issue was about Lady Gaga and her machine gun bra. Now, I love Lady Gaga and machine gun bras as much as the next guy, but no one noticed what McChrystal said?
Glenn Beck thinks George Soros will kill him. Someone make sure Soros doesn't have any machine gun bras!
American Crossroads, the fundraising group that was supposed to break the bank and have the GOP win the 2010 midterm elections is rolling in the cash. All $200 of it! At $200 a month they should reach their $52 million goal by the year 23676.
You might have noticed a new name on the bylines, Politisink has picked up a few new authors and they'll be debuting over the next few weeks. Welcome Immer Spaetlin!
Cartoon of the Day: