#freedomworks
The shooter was a crazy Tea Party patriot! The shooter was a crazy leftist marxist who had a shrine to Obama in his backyard!
Unsurprisingly, the talkers on both the left and the right are barking up the wrong tree again. Like everything else in the news these days the "substitutive debate" on this incident has been nothing more than finger pointing at who is responsible for this tragedy. Of course if the media were crazy enough to approach the real debate here, how the public receives and is influenced by the talking heads on television and radio, they'd be inditing themselves. Obviously we'll never hear about this end of the story from the lamestream media.
However, the internet has been abuzz with speculation and finger pointing! I decided to check in with our good friends over at Resistnet PatriotActionNetwork to see what their take on the shootings were. Again, unsurprisingly, the discussion on this incident has taken a predictable turn on the PAN forums. As all good Resistnet threads have gone, it started with a "heartfelt" plea from admin Darla DeWald on how this tragedy is a tragedy and should not be an excuse to score political points on any side. And also how this particular thread should be dedicated to praying for the victims and NOT for debating or passing blame: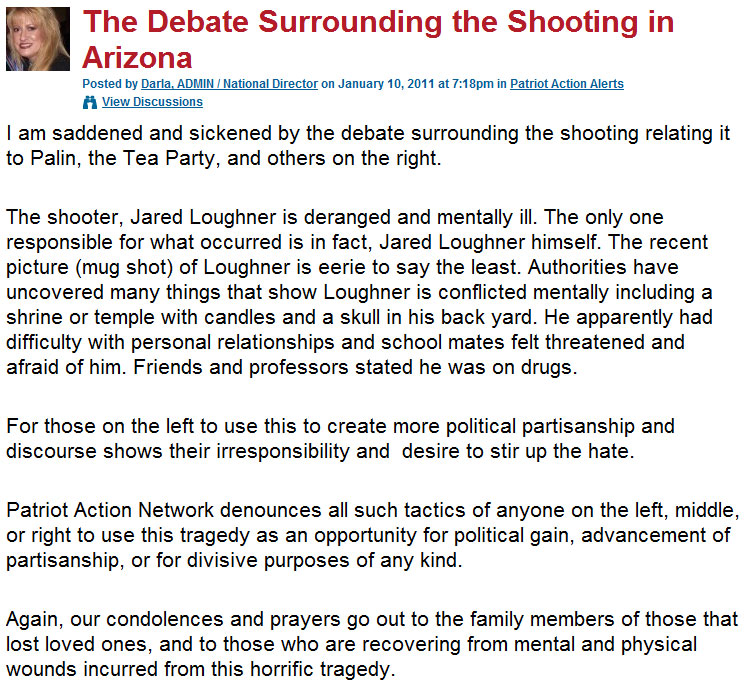 But like every other thread on Resistnet PatriotActionNetwork though it went from 0 to BLAME-CRAZY in about 7 seconds:

Yes, you read that right! The Missouri Tea Party groups, Joe the Plumber, and a whole host of conservative douche-gobblers have all come out against a law that would stop puppy mills in Missouri. The War on Puppies stance from the Teabagger groups is gobsmackingly dumb, but not as dumb as some of the quotes from the various nutjobs. Be warned that this article will eventually have quotes about abused dogs at some of the puppy mills run by some of the people orchestrating the War on Puppies.
Proposition B (or the "Puppy Mill Cruelty Prevention Act") in on the Missouri Ballot this November and is intended to stomp out 3000 puppy mills in Missouri, which is 30% of puppy mills nationwide. It is supported by Humane Society of the United States (HSUS) and practically every animal rights organization in the country.

Evil bastards Alliance For Truth (we are fair and balanced here!) take exception to the law
, claiming the HSUS has a "radical agenda"
and is "misleading the public with its intentions on Prop B. The society seeks only to raise the cost of breeding dogs, making it ever-more difficult for middle-class American families to be dog-owners." This is the kind of arguments usually used against PeTA and Cass Sunstein, but as HSUS isn't a bunch of wackos, it doesn't play well here.
Anita Andrews from Alliance For Truth told TPM that it's a "deceptive, lying bill" that is "trying to purposefully get rid of the breeders." The state of Missouri, she said, has been given a bad rap as "the puppy mill capitol" of the U.S. but "in truth we have the best ribbon breeders in the country." And, Andrews said, the state already has anti-cruelty laws on the books.

"They don't like animals," she said of the Humane Society of the United States.
Yes, "They don't like animals" – This is real life, folks, not The Onion. Someone actually said this.
Read more…
Categories: #breitbart, #drainclogs, #freedomworks Tags: #freedomworks, DiversiTea, Islam, Joe Arpaio, Marcellus Shale, New Black Panthers, Newt Gingrich, Oil, Pennsylvania, Repent Amarillo, Teabaggers
Friend of the site D.C. Douglas has made a new video to help Dick Armey and Matt Kibbe sell their book Give Us Liberty: A Tea Party Manifesto:

Also how awesome is it that DC Douglas is in Titanic II? Pretty awesome.
Alan Simpson says dumb stuff, somehow isn't fired from awful committee that shouldn't exist. Also Digby is almost always right.
Some Muslim/American news:
Glenn Beck's 8-28 Rally is this weekend, where Beck will try to co-opt the Civil Rights Movement in order to sell books..I mean, be patriotic and take back America. It has nothing to do with selling books. But his books will be available for purchase! Real Patriotic Americans will be at the 9-12 Rally instead! Which one will have the larger made up number of attendees? You'll have to wait and see!
So there were a few fights at the Iowa State Fair and rumors swirled it was Beat Whitey Night and that gangs of black youths were systematically beating down poor white people. Despite the police now denying there was a Beat Whitey Night, the right wing noise machine went into full force, and soon FreeRepublic's whining and blanket race war threats had gotten the attention of the Aryan Nation!

Aryan Nations Headed to Des Moines, Iowa

Paul Mullet is the director of the Aryan Nations Church of Jesus Christ Christian. When he heard Rep. Ako Abdul-Samad, Democrat from Des Moines say that there wasn't enough information about the beatings and attacks to call them racially motivated, he said they (Aryan Nations) were going to Des Moines. When asked how many were coming or when they were coming, Mullet said he wasn't going to let anyone know ahead of time. He (Mullet) said he wasn't stupid.

That's right, the white supremacist guy's name is Mullet.

Luckily FreeRepublic is sensible and they all deny the Nazis..oh, wait..

To: stillafreemind

Funny…don't much about Iowa Aryan Nations sorts but maybe the black fellows should study Greensboro NC before they go off half cocked

just some helpful advice

24 posted on Thursday, August 26, 2010 8:52:46 AM by wardaddy (effed up times..)

wardaddy is making a reference to the Greensboro Massacre, the 1979 Klan-Nazi Shootings of 14 blacks at a workers march, 5 were killed.
Categories: #drainclogs, #freedomworks, #freerepublic Tags: #freedomworks, Alan Simpson, D.C. Douglas, FreeRepublic.com, Glenn Beck, Iowa, Islam, RAHOWA, Teabaggers
From the brave man who brought you The Teabagger Boogie: Dick Armey's Army of Dicks and of course the voice of the GEICO guy brings you a second heaping helping of astroturfed Tea Party tidings (sponsored by FreedomWorks) in the form of a brand new PSA! The video features a couple of people who don't look like me or talk like me (so naturally I assume I'll need to see their papers):
The dangers of drinking and operating a telephone handset, don't do it (unless you value your career enough to never speak up about anything in the public sphere ever, the teabaggers are always watching). And bravo for using so many clearly hypocritical and delightfully self-serving statements from "brown journalism" sites like BigGovernment and FOX News, complete with footnotes and direct quotes.
D.C. Douglas should continue to push the campaign into the far reaches of the Tea Party universe; there are just so many entertaining possibilities for bits like this. Are those anti-tea bag campaign ads I smell? A line of D.C Douglas talking pull-string action figures that sound off on Wingnuts? Perhaps even a 'Bosum Buddies' type sitcom featuring two lovable goofs who decide to get jobs at FreedomWorks, infiltrating the nefarious organization by donning expensive suits, cowboy hats, and "Drill, baby, drill" bumper stickers? The possibilities are limitless.
D.C. Douglas, we want to work with YOU to make all these ideas and more a reality.
From the man who brought you the GEICO Insurance ad announcer voice, who was recently fired from his job for having an opinion on something ridiculous, brings you another Tea Bag-tacular event you won't want to miss, The Teabagger Boogie (Dick Armey's Army of Dicks):
This DC Douglas guy is awesome, his new full time job should be being the slick and sane voice of reason on a series of videos that hold the Tea Parties' feet to the candle and, in particular the people at FreedomWorks and their "community organizers", make them accountable for the retarded mess they've created in this country.