Posts tagged "#freedomworks"
Yes, you read that right! The Missouri Tea Party groups, Joe the Plumber, and a whole host of conservative douche-gobblers have all come out against a law that would stop puppy mills in Missouri. The War on Puppies stance from the Teabagger groups is gobsmackingly dumb, but not as dumb as some of the quotes from the various nutjobs. Be warned that this article will eventually have quotes about abused dogs at some of the puppy mills run by some of the people orchestrating the War on Puppies.
Proposition B (or the "Puppy Mill Cruelty Prevention Act") in on the Missouri Ballot this November and is intended to stomp out 3000 puppy mills in Missouri, which is 30% of puppy mills nationwide. It is supported by Humane Society of the United States (HSUS) and practically every animal rights organization in the country.

Evil bastards Alliance For Truth (we are fair and balanced here!) take exception to the law
, claiming the HSUS has a "radical agenda"
and is "misleading the public with its intentions on Prop B. The society seeks only to raise the cost of breeding dogs, making it ever-more difficult for middle-class American families to be dog-owners." This is the kind of arguments usually used against PeTA and Cass Sunstein, but as HSUS isn't a bunch of wackos, it doesn't play well here.
Anita Andrews from Alliance For Truth told TPM that it's a "deceptive, lying bill" that is "trying to purposefully get rid of the breeders." The state of Missouri, she said, has been given a bad rap as "the puppy mill capitol" of the U.S. but "in truth we have the best ribbon breeders in the country." And, Andrews said, the state already has anti-cruelty laws on the books.

"They don't like animals," she said of the Humane Society of the United States.
Yes, "They don't like animals" – This is real life, folks, not The Onion. Someone actually said this.
Read more…
Categories: #breitbart, #drainclogs, #freedomworks Tags: #freedomworks, DiversiTea, Islam, Joe Arpaio, Marcellus Shale, New Black Panthers, Newt Gingrich, Oil, Pennsylvania, Repent Amarillo, Teabaggers
Freedomworks head and Teabagger grifter Dick Armey thinks 3% of voters are dead and voting Democratic.
D.C. Douglas has a new video out about the Koran burning:

The Republicans are running homeless people on the Green Party to siphon off votes from the Democrats. This guy Steve May was on NPR defending this yesterday and he claimed he was friends with all these homeless people and they were real. He also wants to sell you a bridge in Brooklyn.
Arizona governor Jan Brewer can't debate, but she sure can take $1.5 million from Timothy Mellon, a Wyoming millionaire to help defend her SB1070 law
Wifebeating racist cartoonist Mike Lester (who has been featured here as a Cartoon of the Day a few times) has gone all legal threats happy on a fellow cartoonist who dared to call Lester the racist he is!


lease be aware that your comments are being monitored. Like all our readers, you are free to disagree w/ my cartoons. However, should you libel and or slander me or my newspaper publicly, we will seek legal remedy. We are also in possession of previous blog entries.

Sincerely,
ML

Mike Lester

Mr. Lester

re: your hilarious and insane threat to sue me

I appreciate your alerting me that my comments are being monitored. I am not sure if you are aware of this, but that is generally what people hope happen to their comments when they are posted on a website on the internet. I am glad to hear you are also in possession of previous blog entries. I too have internet access.

As a professional courtesy, please consider spelling my name correctly when delivering any future baseless and ludicrous threats because your feelings were hurt. As a personal favor, please stop making racist, ignorant and illogical cartoons.

-August J. Pollak

Iowa For Freedom is ticked over the gay marriage in Iowa and is trying to get a bunch of judges yanked. They are even lying about support from former SCOTUS judges to do it.
The Koran burning is on-again, off-again, with the tiny church pastor Terry Jones saying he's not going to do it because the community center got moved, the community center not knowing what he's talking about, and Donald Trump wandering in. And Fred Phleps is claiming he'll burn Korans if the other guy chickens out. Who knows??? We'll see tomorrow if things go up in flames.

At Politisink, we agree the church has the right to burn the Korans because free speech is awesome, but free speech also gives us the right to call this shenanigan damn dumb. Because it is damn dumb.

Wonkette does our job for us (because Wonkette gets paid to do it, while we just update during lunch or after work) and posts a bunch of posts from wackos on Sarah Palin's Facebook page that disagree with her on the Koran burning.
Our friends at Resistnet.com have freaked out over the Koran burning, by deleting every post that mentions it and even shutting down chat in an effort to stem the calls for Muslim Final Solutions that are appearing all over the site, probably because they know we're watching them. Because we are. At the same time, the Resistnet Admins are going to New York with a petition to try to get the Community Center moved.
Already read Over the Cliff? Think American Taliban was keen? Enjoy people writing about how the Teabaggers are a bunch of suckers? Than this book (The Backlash by Will Bunch) might be interesting, but I haven't read it yet so who knows?
Being in San Bruno when it explodes is not as fun as you might think. But Tanforan Mall stayed open extra hours for those of us trapped in traffic as the mountain nearby burned from the gas pipe explosion. At least 4 are dead and 38 homes completely destroyed with hundreds damaged.
Cartoon of the Day:

Categories: #drainclogs, #pundits, #resistnet Tags: #freedomworks, #resistnet, Arizona, D.C. Douglas, Dick Armey, Facebook, Iowa, Iowa for Freedom, Jan Brewer, Mike Lester, Mosques, Sarah Palin, Terry Jones, Timothy Mellon, Will Bunch
Friend of the site D.C. Douglas has made a new video to help Dick Armey and Matt Kibbe sell their book Give Us Liberty: A Tea Party Manifesto:

Also how awesome is it that DC Douglas is in Titanic II? Pretty awesome.
Alan Simpson says dumb stuff, somehow isn't fired from awful committee that shouldn't exist. Also Digby is almost always right.
Some Muslim/American news:
Glenn Beck's 8-28 Rally is this weekend, where Beck will try to co-opt the Civil Rights Movement in order to sell books..I mean, be patriotic and take back America. It has nothing to do with selling books. But his books will be available for purchase! Real Patriotic Americans will be at the 9-12 Rally instead! Which one will have the larger made up number of attendees? You'll have to wait and see!
So there were a few fights at the Iowa State Fair and rumors swirled it was Beat Whitey Night and that gangs of black youths were systematically beating down poor white people. Despite the police now denying there was a Beat Whitey Night, the right wing noise machine went into full force, and soon FreeRepublic's whining and blanket race war threats had gotten the attention of the Aryan Nation!

Aryan Nations Headed to Des Moines, Iowa

Paul Mullet is the director of the Aryan Nations Church of Jesus Christ Christian. When he heard Rep. Ako Abdul-Samad, Democrat from Des Moines say that there wasn't enough information about the beatings and attacks to call them racially motivated, he said they (Aryan Nations) were going to Des Moines. When asked how many were coming or when they were coming, Mullet said he wasn't going to let anyone know ahead of time. He (Mullet) said he wasn't stupid.

That's right, the white supremacist guy's name is Mullet.

Luckily FreeRepublic is sensible and they all deny the Nazis..oh, wait..

To: stillafreemind

Funny…don't much about Iowa Aryan Nations sorts but maybe the black fellows should study Greensboro NC before they go off half cocked

just some helpful advice

24 posted on Thursday, August 26, 2010 8:52:46 AM by wardaddy (effed up times..)

wardaddy is making a reference to the Greensboro Massacre, the 1979 Klan-Nazi Shootings of 14 blacks at a workers march, 5 were killed.
Categories: #drainclogs, #freedomworks, #freerepublic Tags: #freedomworks, Alan Simpson, D.C. Douglas, FreeRepublic.com, Glenn Beck, Iowa, Islam, RAHOWA, Teabaggers
Teabaggers are trying to take down Chris Matthews in an effort similar to what was done to Glenn Beck's sponsors. FreedomWorks chief Dick Armey is also telling candidates not to go on MSNBC, but that's less of a spiteful attack on Matthews and more of a fear that their nutball candidates will actually say things they believe and scare off voters.
The Red Cross has been fined $21 million since 2003 over crappy blood screening, including the latest $16 million fine. Oh, and they also sell blood, which you probably didn't know.
Disclaimer – I give money to the Red Cross disaster funds
Mother Jones has the 10 most ridiculous Congressional oil spill quotes.
Cartoon of the Day:
Enjoy the new comic Microman! It is Joe the Plumber approved. Buy it now, because this Teabagger gravy train won't last after Obama is out in 2016.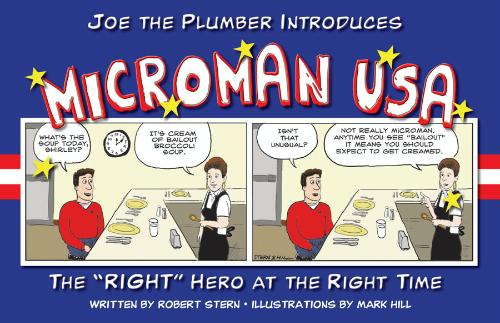 Categories: #drainclogs Tags: #freedomworks, BP, Chris Matthews, Dick Armey, guns don't kill people, Joe the Plumber, Microman, nutballs, Oil, Red Cross, solar power, Teabaggers
Welcome to the year 1810: Teacher fired for "fornication" for becoming pregnant out of wedlock. On the plus side, I can add the tag "fornication" to the blog!
Just a peaceful patriot: Militiaman and Birther Darren Westly Huff has pleaded not guilty for vowing to seize control of Sweetwater, Georgia, and round up the traitors blocking the indictment of President Barack Obama for his treasonous turn as commander-in-chief. He was running around Sweetwater with a lot of guns, and told everyone who would listen. Then the FBI arrested him. Noted "American Grand Jury" nutball Walter Fitzpatrick is also charged over these shenanigans.
South Carolina State Senator Jake Knotts got censured for his raghead comments, but Knotts says he "could care less"
The teabaggers and Freedomworks are protesting….trash pickup!
Three political activist groups are joining together Saturday to protest Gwinnett County's new trash plan, which begins July 1.

The Four Corners Tea Party, FreedomWorks Gwinnett and Gwinnett Citizens for Responsible Government have organized the protest, which will begin at 11 a.m. Saturday at the gazebo next to the Gwinnett Historic Courthouse on the Lawrenceville square.
Now I can call them "trashbaggers" unironically.
Cato health policy expert Michael Cannon used Twitter to joke that illegal immigrants are very absorbent when told they might be being used to clean up the oil spill. He since deleted the tweet.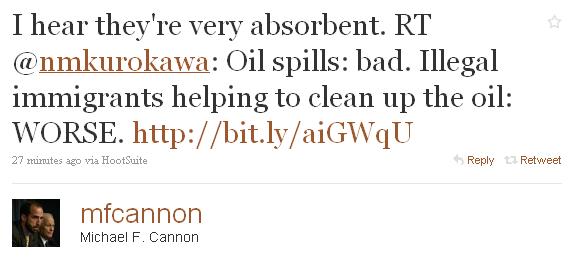 Somehow this is actually happening…
Japanese AV star with a doctorate, Anri Suzuki, 24, is having sex with Chinese students for free in Japan to apologize for her country's invasion of China.

Suzuki won her doctors degree in history at one of the prestigious universities in her home country. Unlike other graduates, she focused on the Japanese invasion of China; writing the paper "The History of the Japanese Invasion into China."

"We have to respect history and cannot obliterate it. I want to cure the wounds of Chinese with my body, and I am practicing this by having sex with Chinese students in Japan," she said. "I think it is psychological compensation to them. Actually, Chinese students treat me more friendly and comfortably than Japanese."
Cartoon of the Day:


Categories: #drainclogs Tags: #freedomworks, American Grand Jury, Anri Suzuki, Cato, Darren Westly Huff, fornication, Georgia, IOwnTheWorld, Jake Knotts, Michael Cannon, Militias, Teabaggers, Walter Fitzpatrick