Posts tagged "Texas"
Yes, Right Wing Nuts are actually saying this! Oklahoma City-based pastor John Benefiel, the head of the Heartland Apostlic Prayer Network and friend of Texas governor Rick Perry (who is also going to Perry's big Day of Prayer event)
Libertas is also called the Freedom Goddess, Lady Freedom, the Goddess of Liberty. You know there's a statue in New York harbor called the Statue of Liberty. You know where we got it from? French Free Masons. Listen folks that is an idol, a demonic idol, right there in New York harbor. People say, 'well no it's patriotic.' What makes it patriotic? Why is it? It's a statue of a false goddess, the Queen of Heaven. We don't get liberty from a false goddess folks, we get our liberty from Jesus Christ.
Source: RightWingWatch via MotherJones
A Texas GOP candidate (Stephen Broden) is calling for a violent revolution if the midterm elections don't go the GOP's way.
"We have a constitutional remedy here and the Framers says if that don't work, revolution."

"If the government is not producing the results or has become destructive to the ends of our liberties, we have a right to get rid of that government and to get rid of it by any means necessary,"
It's funny because he thinks the Constitution calls for a violent revolution. Stephen Broden knows as much of the Constitution as Christine O'Donnell, which is absolutely nothing. As the midterm elections near, it is becoming more and more obvious that the Teabagger Constitution fetish is a giant fraud (something we've known for a long time) and they don't give a flying frak about the Constitution, except the 2nd Amendment. And even then, I've seen teabaggers get that amendment number wrong before.
Teabagger Senate candidate Joe Miller (who claims not to be the Teabagger choice) has a goon squad as a personal guard who detain journalists and are linked to militia movements. More militia info.
Cartoon of the Day: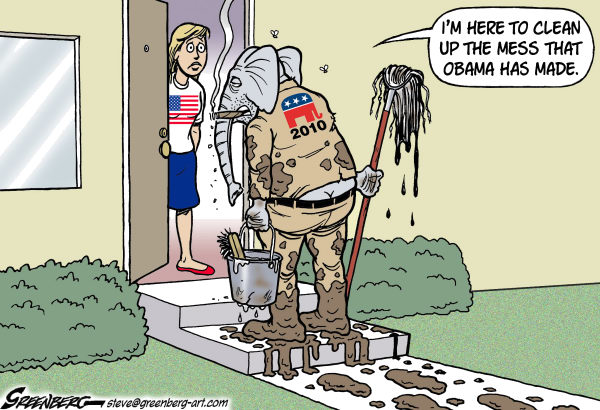 Categories: #astroturf, #culturewar, #drainclogs Tags: Afghanistan, American Crossroads, Birthers, Colorado, Elena Kagan, FreeRepublic.com, Immigration, Karl Rove, Ken Buck, Kenneth Feinberg, Lamar Smith, Michele Bachmann, Mike Lester, Nevada, not racist, Operation Rescue, Randall Terry, Sharron Angle, Shirley Sherrod, Tea Party Caucus, Tennessee, Texas, Tom Tancredo, Wikileaks, Zach Wamp
GOP chair Michael Steele says more freaky things, this time he's rewriting history!
"This was a war of Obama's choosing," Michael Steele said at the event. "This is not something the United States has actively prosecuted or wanted to engage in."
The right is outraged, as usual, and will do nothing.
"Terrorist babies are real! I'm not crazy! Why do you think I'm crazy?" – Rep. Louie Gohmert (R-TX)

Rand Paul called for an "underground electric fence" along the US/Mexico boarder, then struggles to explain his statement.
Lindsey Graham spoke ill of the teabaggers, expect them to be enraged:
In a previous conversation, Graham told me: "The problem with the Tea Party, I think it's just unsustainable because they can never come up with a coherent vision for governing the country. It will die out."
Barack Obama is the Karate Kid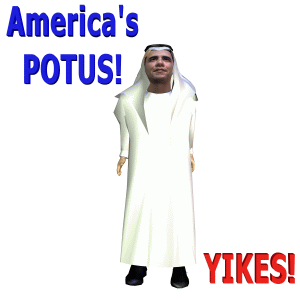 Cartoon of the Day: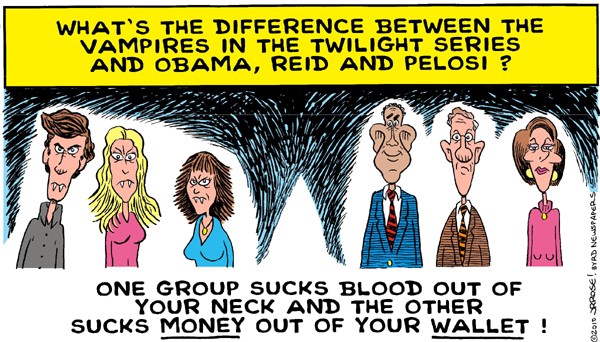 The Great Terrorist Babies Plot! – Rep. Louie Gohmert (R-TX) is dumb.
"I talked to a retired FBI agent who said that one of the things they were looking at were terrorist cells overseas who had figured out how to game our system. And it appeared they would have young women, who became pregnant, would get them into the United States to have a baby," said Gohmert. "They wouldn't even have to pay anything for the baby. And then they would turn back where they could be raised and coddled as future terrorists. And then one day, twenty, thirty years down the road, they can be sent in to help destroy our way of life. 'Cause they figured out how stupid we are being in this country to allow our enemies to game our system, hurt our economy, get set up in a position to destroy our way of life."
Cops taze grannies like it's nobody's business
Glenn Greenwald (the non-crazy Glenn) has an article about how many US Citizens the US has targeted for assassination (it's more than zero)
Dave Weigel resigned from the Washington Post over some private stuff he said via email, meanwhile Dana Milbank makes videos calling Hillary Clinton a "bitch" and is still employed. Your liberal media at work.
United Farm Workers have announced the Take Our Jobs campaign. As someone who used to live where migrant workers worked the field I can tell you there were awfully few non-immigrants working the field.
Cartoon of the Day: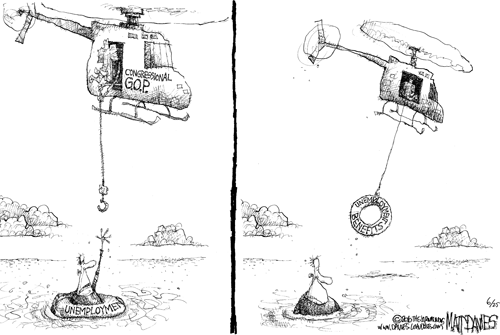 The Texas Republican Party has released their new 25-page manifesto where they have gone more crazy than usual. It's time to mess with Texas.
We recommend a national sales tax (which does not include a Value Added Tax) to replace all other Federal taxes once the I.R.S. is abolished and the Sixteenth Amendment to the U.S. Constitution is repealed. However, until such time that the income tax is abolished, we support deductions for private and home schooling, home mortgages, and sales taxes.
We believe the Minimum Wage Law should be repealed.
We urge the Texas legislature in its next biennial session to enact legislation requiring a sonogram be performed and offered as part of the consent process to each mother seeking an elective abortion.
We oppose the legalization of sodomy.
We oppose the implementation of one world currency.
See a Census Worker not getting threatened? It is unusual.
Mosque fun in Tennessee… – Tracey Steven, who also attended, said, "Our country was founded through the founding fathers — through the true God, the Father and Jesus Christ."
Some lady from Northern Exposure is crazy.
Teabaggers are declaring Florida Tea Party candidates as plants, further proving they are nothing but the knuckle-dragging wing of the GOP
Cartoon of the Day – 1930 Edition!: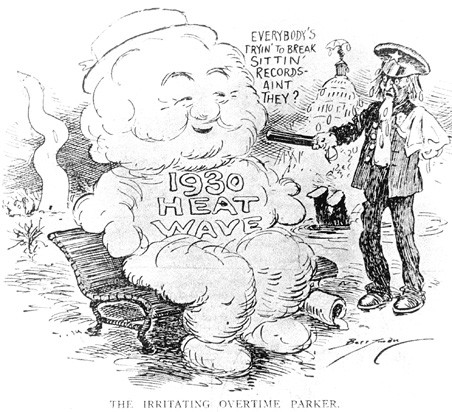 Those heat waves are part of the reason for the dust bowl. We need more cloud people in comics.
Categories: #drainclogs Tags: Bill Randall, BP, CEOs own you, CNN, college, Department of Education, Joe Barton, Mainstream Media Awfulness, North Carolina, Obama, Texas