Posts tagged "John Boehner"
DailyKos is having words with their pollster Research 2000, who they are accusing of fabricating data. Research 2000 is pushing back by declaring DailyKos founder Markos Moulitsas will face "criminal sanctions". I guess that's better than releasing your raw data to prove you didn't just make stuff up…oh, wait, no it's not. Way to look guilty, Research 2000! At least this drama has given me a reason to read FiveThirtyEight again after getting sick of Nate Silver's sperglording.
Got raped by dad? God's plan! – Sharron Angle.
Joe Scarborough called John Boehner a barhopper
Dem Rep. Pete Stark vs Minutemen
"The Minutemen want to have something to say," Stark says, as one of the border security advocates begins to ask a question. "Who are you going to kill today?"

After brushing off the congressman's remark, the activist said, "I want to know why the federal government is not doing anything more to seal the borders of this country."

"Well, we can't get enough Minutemen armed," Stark answered. "We'd like to. Get all the Minutemen armed so they can stop shooting people here."

"We'll try to get you some more arms and get you down there," the congressman added.

Stark then tried to move on to the next question, but the man cut in to ask why his hadn't been answered.

"The question is, why is the federal government leaving our borders porous for anybody to come in?" the man said.

"Our borders are quite secure, thank you," Stark responded. "How would you secure it? … Tell me, I'm not the government."

The man then interrupted Stark, telling the congressman, "This a very serious matter, and you're sitting there making fun of it."

"I don't have to make fun of you, sir," Stark responded. "You make a fine job [of it] all by yourself."
Republicans hate the troops, especially homeless troops.

Please welcome new writer Frank Delicious to Politisink.com!
Categories: #drainclogs Tags: abortion, DailyKos, Joe Scarborough, John Boehner, Minutemen, Nevada, Pete Stark, polls, Republican hypocrites, Research 2000, Sharron Angle, Support the Troops!
Idaho GOP joins Texas and Montana in being crazy:
The convention's platform calls for a radical overhaul of the federal government. One proposal is a Tea Party favorite, calling for the repeal the 17th Amendment, which provides for the direct election of Senators instead of the original system of them being selected by state legislatures. The platform also calls for the state legislature and governor to "nullify any and all existing and future unconstitutional Federal mandates and laws, funded or unfunded, that infringe on Idaho's Tenth Amendment sovereignty." In addition, the GOP calls for the state of Idaho to take back federally controlled lands.

Then there is the hard-money plank, which might have come right out of a Goldline ad on talk radio: "We believe Idahoans need to protect their savings from the ravages of inflation, which is hidden taxation, and encourage citizens to participate in a systematic acquisition of precious metals which represent real value as opposed to paper currencies."

One resolution went even further: "Let free Idahoans pay taxes, and other fees due to the State, County and City in silver and or gold in any form. Payments to City, County, or State employees requested to be paid in silver and or gold, Will be complied with."
Which will be the next state GOP to try to out-crazy the rest? Utah, I'm looking at you!
Republicans hate Thurgood Marshall, don't know why (gee, I wonder why…)
Instead of raising taxes on the rich, Republican Senate Minority Leader John Boehner has called for raising the retirement age to 70. Suck it, old people, rich people gotta be richer!
Ensuring there's enough money to pay for the war will require reforming the country's entitlement system, Boehner said. He said he'd favor increasing the Social Security retirement age to 70 for people who have at least 20 years until retirement, tying cost-of-living increases to the consumer price index rather than wage inflation and limiting payments to those who need them.
Cartoon of the Day: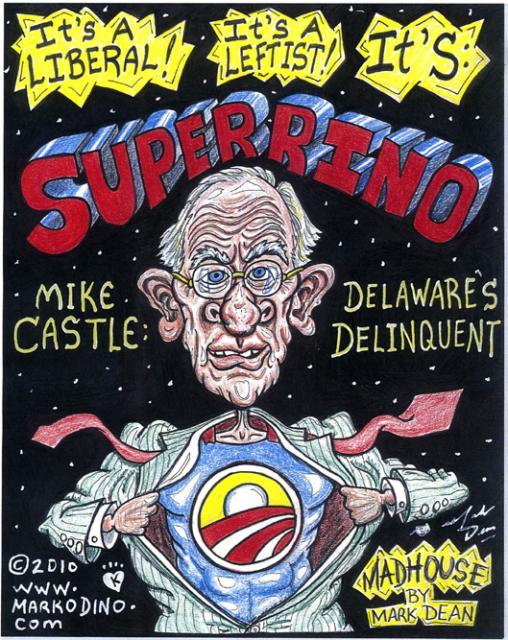 You can now rent Obama's New York City apartment, the one he lived at when he went to Columbia University, even though we all know he didn't go there because he was a CIA agent.
HM Rev. Dr. Orly Taitz TE's election loss was because of voter fraud, so she's suing!
I NEED ALL THE PATRIOTS OF THIS COUNTRY TO HELP ME FIGHT THIS ENORMOUS VOTER FRAUD, ASSOCIATED WITH VOTE COUNTING MACHINES RUN ON TRADE SECRET PROTECTED SOFTWARE, WHICH DOES NOT ALLOW PUBLIC OVERSIGHT. OUR ECONOMY AND OUR CONSTITUTIONAL RIGHTS WERE BOUGHT FOR $16 MLN DOLLARS COMING FROM THE COMMUNIST TYRANNY OF VENEZUELA. IF YOU ARE A VOTER AND WANT TO BE PART OF A CLASS ACTION LEGAL ACTION, PLEASE E-MAIL ME AT [email protected]
that is just the title of her post.
The Israeli government's Ministry of Foreign Affairs is promoting Glenn Beck on its "selected articles" page, specifically the Gaza Freedom Flotilla episode.
The "We Con The World" video from a few days ago on the Right Wing blogs/boards has an interesting story.
I don't know what is up with Alvin Greene, surprise Democratic South Carolina Senate Primary winner, but it is hilarious and awesome whatever is going on. He now has a website where:
Alvin Greene is the Democratic candidate for candidate in the 2010 Senate contest.
Campaign platform
Issues:

Unemployment – getting South Carolina back to work
Lower gas prices for working people
Foreign policy – A united, democratic Korea
Justice system – There are too many prisons and not enough schools
Labor – supporting the Charleston Five and the abolition of Taft-Hartley
He's still 10000% better than Jim DeMint.
House Minority Leader John Boehner made statements that he thought taxpayers should help bail out BP's cleanup effort, then quickly backpeddaled when he found out that was a damn stupid thing to say.
A video has surfaced of the shooting of 15-year-old Sergio Adrian Hernandez Guereca that seems to contradict the story of the Border Patrol Agent who shot him. Eagerly awaiting the Agent to not be charged, but the guy who made the cell phone video to be thrown in jail.
Cartoon of the Day: