Posts tagged "Marco Rubio"
The Texas Republican Party has released their new 25-page manifesto where they have gone more crazy than usual. It's time to mess with Texas.
We recommend a national sales tax (which does not include a Value Added Tax) to replace all other Federal taxes once the I.R.S. is abolished and the Sixteenth Amendment to the U.S. Constitution is repealed. However, until such time that the income tax is abolished, we support deductions for private and home schooling, home mortgages, and sales taxes.
We believe the Minimum Wage Law should be repealed.
We urge the Texas legislature in its next biennial session to enact legislation requiring a sonogram be performed and offered as part of the consent process to each mother seeking an elective abortion.
We oppose the legalization of sodomy.
We oppose the implementation of one world currency.
See a Census Worker not getting threatened? It is unusual.
Mosque fun in Tennessee… – Tracey Steven, who also attended, said, "Our country was founded through the founding fathers — through the true God, the Father and Jesus Christ."
Some lady from Northern Exposure is crazy.
Teabaggers are declaring Florida Tea Party candidates as plants, further proving they are nothing but the knuckle-dragging wing of the GOP
Cartoon of the Day – 1930 Edition!: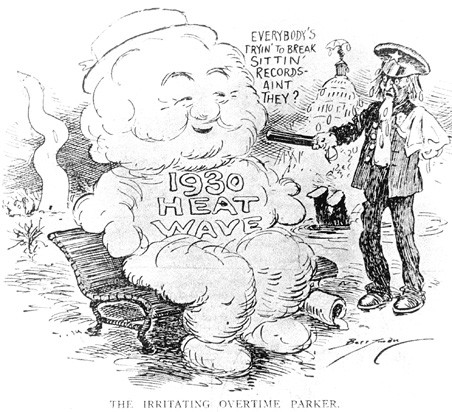 Those heat waves are part of the reason for the dust bowl. We need more cloud people in comics.