Posts tagged "Death Threats"
Uh-oh! It looks like the latest Birther lawsuit has been thrown out like every other Birther lawsuit. You know what that means – FreeRepublic posters gone wild! And here is our Death Threat of the Day!


Obama surrendered to the right once again and released his long-form birth certificate to try to quiet the insane birthers. Because Obama underestimates the insane racism of his opponents, this release matters 0.0000%, as no one ever will be convinced if they think he's a foreign born Muslim commie Kenyan alien robot. Dissenters fall into two camps, one that is convinced this one is fake and is going to insane lengths to prove it, and the one that doesn't care because they're following an incorrect definition of "Natural born citizen." Though this does make the Republicans look even more loony, so maybe this was a shrewd move.
A sample response: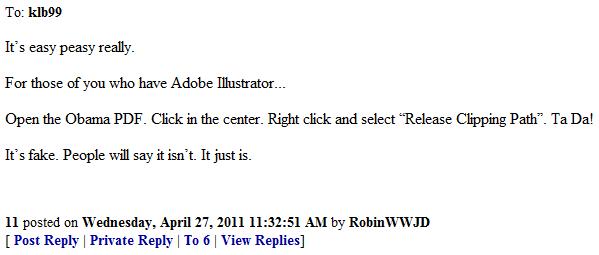 Also, this has prompted death threats from at least one poster on PatriotActionNetwork.com (formerly Resistnet.com):



Despite their name change, we can always expect quality death threats against the president from Resistnet— I mean, PatriotActionNetwork!
more reactions below the fold.
Read more…
Categories: #conspiracytheories, #culturewar, #freerepublic, #resistnet, #snakeoil, #wingnutweb Tags: #resistnet, Birthers, Death Threats, freepers, FreeRepublic.com, PatriotActionNetwork