Posts tagged "SOFA"
For fake exit #1, see this and this.
As for the second attempt:
The last US combat troops have left Iraq, seven-and-a-half years after the US-led invasion, and two weeks ahead of President Obama's 31 August deadline for withdrawal from the country.

The final troops to leave, 4th Stryker Brigade, 2nd Infantry Division, rolled in convoy across the border and into Kuwait this morning, officially ending combat operations which began in March 2003.

The Obama administration had pledged to withdraw troops to 50,000 by 31 August. CNN reported that according to the US military there are now 56,000 US troops in Iraq, meaning another 6,000 must leave if the US president is to meet his own deadline.

….

"By the end of this month, 50,000 troops will be serving in Iraq. As Iraqi security forces take responsibility for securing their country, our troops will move to an advise-and-assist role.

"And, consistent with our agreement with the Iraqi government, all of our troops will be out of Iraq by the end of next year.
Ah, notice that it says combat troops.  The agreement being referenced is the 2008 U.S.-Iraq Status of Forces Agreement, which states:
All the United States Forces shall withdraw from all Iraqi territory no later than December 31, 2011.
KHABARI CROSSING, Kuwait — A line of heavily armored American military vehicles, their headlights twinkling in the pre-dawn desert, lumbered past the barbed wire and metal gates marking the border between Iraq and Kuwait early Thursday and rolled into history.

For the troops of the 4th Stryker Brigade, 2nd Infantry Division, it was a moment of relief fraught with symbolism but lightened by the whoops and cheers of soldiers one step closer to going home. Seven years and five months after the U.S.-led invasion, the last American combat brigade was leaving Iraq, well ahead of President Barack Obama's Aug. 31 deadline for ending U.S. combat operations there.
Makes for a nice photo-op.
The U.S.-Iraq military pact that came into force in 2009 provides the legal basis for U.S. troops to be in Iraq. Under the agreement, all U.S. troops must be out by 2012. But U.S. negotiators say that even as the pact was being negotiated, it was considered likely it would be quietly revised later to allow a longer-term, although much smaller, force to remain.

There are currently 56,000 U.S. troops in Iraq, down from about 140,000 when Obama took office in January 2009.

With opinion polls showing Americans tired of nearly a decade of war in Afghanistan and Iraq, any decision to extend U.S. military involvement in Iraq would be enormously risky for Obama, who is up for re-election in 2012.

….

Iraq's military commander, Lieutenant-General Babakir Zebari, caused consternation last week when he said his troops would not be ready to protect the country until 2020, and that the United States should keep its forces there until then.
And then there's the contractors:
….the State Department is planning to more than double its private security guards, up to as many as 7,000, according to administration officials who disclosed new details of the plan. Defending five fortified compounds across the country, the security contractors would operate radars to warn of enemy rocket attacks, search for roadside bombs, fly reconnaissance drones and even staff quick reaction forces to aid civilians in distress, the officials said.
This isn't exactly going to fool the Iraqis, so it's clear who the intended audience is.
NYT: "U.S. Lifts Ban on Indonesian Special Forces Unit"
JAKARTA, Indonesia — The United States is lifting a ban of more than a decade on military contact with an elite Indonesian special forces unit implicated in past killings of civilians and other abuses, Defense Secretary Robert M. Gates announced Thursday, after meeting here with President Susilo Bambang Yudhoyono of Indonesia.

The decision to lift the ban and to take steps toward training the unit, called Kopassus, was reached after intensive internal debate among the Pentagon, the White House and the State Department over whether it had truly left its brutal history behind.
"Training" usually means contractors and this case is no exception as it has already been happening in Indonesia:
Detachment 88 was established after the 2002 Bali bombings carried out by militant network Jemaah Islamiah, which firmly placed Indonesia as a frontline state in the U.S.-led "war on terror."

But the Western funding of an anti-terrorism unit in the world's most populous Muslim nation can be sensitive. There have been reports of U.S. intelligence officers in Jakarta helping tap cell phones and reading SMS text messages of Indonesian civilians.

A U.S. embassy spokesman in Jakarta declined to comment, but a U.S. government document showed the unit had received technical support, training and equipment under the State Department's Anti-Terrorism Assistance (ATA) program since 2003.
Jeremy Scahill has a post on the situation with Iraq
The State Department is asking Congress to approve funds to more than double the number of private security contractors in Iraq with a State Department official testifying in June at a hearing of the Wartime Contracting Commission that the Department wants "between 6,000 and 7,000 security contractors." The Department also has asked the Pentagon for twenty-four Blackhawk helicopters, fifty Mine-Resistant Ambush-Protected (MRAP) vehicles and other military equipment. "After the departure of U.S. Forces [from Iraq], we will continue to have a critical need for logistical and life support of a magnitude and scale of complexity that is unprecedented in the history of the Department of State," wrote Patrick Kennedy, under secretary of state for management, in an April letter to the Pentagon. "And to keep our people secure, Diplomatic Security requires certain items of equipment that are only available from the military."

What is unfolding is the face of President Obama's scaled-down, rebranded mini-occupation of Iraq. Under the terms of the Status of Forces agreement, all US forces are supposed to be out of Iraq by the end of 2011. Using private forces is a backdoor way of continuing a substantial US presence under the cover of "diplomatic security." The kind of paramilitary force that Obama and Clinton are trying to build in Iraq is, in large part, a byproduct of the monstrous colonial fortress the United States calls its embassy in Baghdad and other facilities the US will maintain throughout Iraq after the "withdrawal." The State Department plans to operate five "Enduring Presence Posts" at current US military bases in Basrah, Diyala, Erbil, Kirkuk and Ninewa. The State Department has indicated that more sites may be created in the future, which would increase the demand for private forces. The US embassy in Baghdad is the size of Vatican City, comprised of twenty-one buildings on a 104-acres of land on the Tigris River.
Status of Forces Agreements (SOFAs) are treaties that have been used to keep military bases in countries for decades.  When the one with Iraq was signed, a brawl broke out in Parliament:
A session of Iraq's Parliament collapsed in chaos on Wednesday, as a discussion among lawmakers about a three-year security agreement with the Americans boiled over into shouting and physical confrontation.

The session was dedicated to a second public reading of the agreement, which governs the presence of American troops in Iraq through 2011 and which the Parliament is scheduled to vote on Monday. Even before the session began, legislators were apprehensive.
No wonder.
The Right has been throwing a fit about a mosque to be built at "Ground Zero" in New York.   As the NYT notes,
Since long before the Islamist terrorist attack of Sept. 11, 2001, a storefront mosque has been sitting on West Broadway in TriBeCa, a dozen blocks from the World Trade Center. No one seems to have ever minded its being there.
And
No one is known to have protested the fact that three blocks from ground zero, on Murray Street off West Broadway, there is a strip joint. It prefers to call itself a gentlemen's club. A man stood on the street corner the other day handing out free passes to willing gentlemen.

On Church Street, around the corner from where Cordoba House would rise, there is a store that sells pornographic videos and an assortment of sex toys. A few doors east of the planned Islamic center, there is an Off-Track Betting office.
So what is all the fuss about? Starting with the mainstream on this, Bret Stephens at the WSJ enlightens us:
Opponents also argue that building the center so close to Ground Zero is an insult to the memory of the victims of 9/11. Germany has spent six decades in conspicuous and mainly sincere atonement for Nazi crimes. But it surely has no plans to showcase the tolerant society it has become by building a cultural center down the road from Auschwitz. Japan is no doubt equally disinclined to finance a Shinto shrine in the vicinity of the Pearl Harbor memorial.
Actually, Auschwitz is in Poland and the Poles turned it into a memorial site in 1947. As for the second example, the US has caused all sorts of problems with military bases on Okinawa since the end of World War II.  For what it's worth, Okinawa is something like a Japanese colony where one of the most horrifying battles in human history took place between the US and Japan, with Okinawans caught in the middle.  The Japanese military forced many of them to commit mass suicide with grenades so they wouldn't be captured.
Okinawa today:
Recently, Okinawans had been fighting to get a single one of these moved away until the Japanese military recently caved to US pressure.  Freepers rejoice:

WSJ readers hold similar opinions: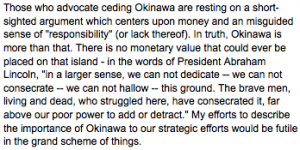 Which I guess puts one of the columns Bret Stephens cited into perspective:
One only need look at the current situations in Muslim-majority countries today, where non-Muslim minorities suffer human rights violations sanctioned under Shariah law, which dominates the constitutions of those nations. The reality of a supremacist system within Islamic culture should be enough to preclude any dialogue with those who live by the U.S. Constitution and subscribe to the modern culture of New York City.
The bases are maintained under a treaty called a Status of Forces Agreement (SOFA) which effectively put US personnel in Okinawa (and elsewhere) above the law:
In Asia, the SOFA is a modern legacy of the nineteenth-century imperialist practice in China of "extraterritoriality"-the "right" of a foreigner charged with a crime to be turned over for trial to his own diplomatic representatives in accordance with his national law, not to a Chinese court in accordance with Chinese law. Extracted from the Chinese at gun point, the practice arose because foreigners claimed that Chinese law was barbaric and "white men" engaged in commerce in China should not be forced to submit to it. Chinese law was indeed concerned more with the social consequences of crime than with establishing the individual guilt or innocence of criminals, particularly those who were uninvited guests in China.

Following the Anglo-Chinese "Opium War" of 1839-42, the United States was the first nation to demand "extrality" for its citizens. All the other European nations then acquired the same rights as the Americans. Except for the Germans, who lost their Chinese colonies in World War I, Americans and Europeans lived an "extraterritorial" life in China until the Japanese ended it in 1941 and Chiang Kai-shek's Kuomintang stopped it in 1943. But men and women serving overseas in the American armed forces still demand that their government obtain as extensive extraterritorial status for them as possible. In this modern version, extrality takes the form of heavy American pressure on countries like Japan to alter their systems of criminal justice to conform with procedures that exist in the United States, regardless of historical and cultural differences.

Rachel Cornwell and Andrew Wells, two authorities on status of forces agreements, conclude, "Most SOFAs are written so that national courts cannot exercise legal jurisdiction over U.S. military personnel who commit crimes against local people, except in special cases where the U.S. military authorities agree to transfer jurisdiction." Since service members are also exempt from normal passport and immigration controls, the military has the option of simply flying an accused rapist or murderer out of the country before local authorities can bring him to trial, a contrivance to which commanding officers of Pacific bases have often resorted. At the time of the terrorist attacks on New York and Washington in September 2001, the United States had publicly acknowledged SOFAs with ninety-three countries, although some SOFAs are so embarrassing to the host nation that they are kept secret, particularly in the Islamic world. Thus, the true number is not publicly known.