Posts tagged "tax havens"
I'll start by following up on a post Tars made about the debt ceiling because the fun isn't over!  The ceiling is going to be hit again on the 16th (according to a letter Timmy Geithner sent to congress).  If you weren't sure that this was all completely cynical, even Chamber of Commerce is getting nervous now.  Still, the whole dysfunctional government that responds only to cash thing leaves us with a political problem.  It looks like Boehner doesn't have control of the GOP caucus and all of the freshmen that came in on a wave of campaign contributions from the financial sector believe they'll lose in next year's primaries if they don't vote against raising it.
With all of this going on in the background, the "Freedom to Invest Act of 2011" has been introduced in the House.  If you're wondering how corporate America could possibly get more investment freedoms, it's because they want to bring the money they have in tax havens back to the U.S.  They claim that if they're allowed to do so, they'll invest.  This is a blatant lie.
Doug Henwood quotes the Financial Times, saying that they're spending it on buy-backs:
The rise in buy-backs and deals marks a turning point in the credit cycle, as companies become more willing to invest their cash and borrow more money. Since the 2008 financial crisis, many companies have been hoarding cash and building up ever greater treasure chests and rainy-day funds.
This is exactly what they did the last time they were given a tax break to "repatriate" earnings held offshore.  For the repeat, they've created a hilarious little website (I found it on the Adobe blog) to promote the idea, complete with a picture of blue-collar workers at the top.  The slogan, "Let's invest the money here at home–not spend it overseas," is beautiful because it was earned overseas in the first place, which is why it's in a tax haven.
"I think there is an element of truth in the view that the superstition that the budget must be balanced at all times [is necessary]. Once it is debunked [that] takes away one of the bulwarks that every society must have against expenditure out of control. There must be discipline in the allocation of resources or you will have anarchistic chaos and inefficiency. And one of the functions of old fashioned religion was to scare people by sometimes what might be regarded as myths into behaving in a way that the long-run civilized life requires. We have taken away a belief in the intrinsic necessity of balancing the budget if not in every year, [then] in every short period of time. If Prime Minister Gladstone came back to life he would say 'uh, oh what you have done' and James Buchanan argues in those terms. I have to say that I see merit in that view." -Paul Samuelson in Blaug, 1995 (Quoted here)
Another report has been released that's also terrible and completely not worth reading.  Before I go over the first page of it though, recall that the "draft version" of the first report was released after the elections, but before the date it was due (Dec. 1st).
The second report is wrapped in the flag in the very first sentence:
America is the strongest, most prosperous, and most resilient nation in history.
Followed up with invoking the Yellow Peril:
With current policies in place, even when we recover from the recession, the debt will grow far larger than the economy itself, forcing the nation to borrow enormous and unprecedented sums of money, increasing our dependence on China and other foreign lenders, diminishing our living standards, raising risks of an economic crisis, and reducing America to a second-rate power.
Despite these kinds of claims, the report doesn't include useful charts like these: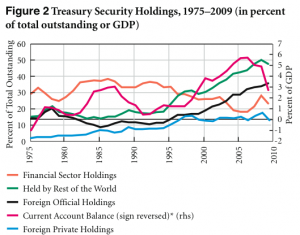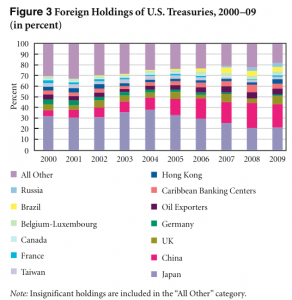 The Caribbean Banking Centers, Belgium-Luxembourg, and probably probably a lot of "other" are tax havens (for more on tax havens, see this, this, this and this).  Rather than addressing this, the latest deficit hysteria report recommends reducing corporate taxes so they can be more "competitive" by evading smaller amounts I guess.  Even if the deficit was reduced for some reason, it seems more likely that blatant criminals like these would only be further encouraged.
The bright side to this is that despite all of the scare mongering, people just aren't buying it.  Failure tends to be disappointing, so I guess it's not surprising that people who put so much work into this appear to be very upset:
We have published three books, the first in 2004 before most Americans could spell "deficit," and many essays and editorials….So widely reported has this [Bowles-Simpson] plan been that it would be difficult to live anywhere in America and fail to hear, see, or read about the plan and the disastrous budget situation it is intended to address. Perhaps Americans are just beginning to get a deeper understanding of a very deep hole.
Here's the big question now: After a host of unelected experts and former government officials have been sounding the alarm and issuing specific proposals for many years to close the deficit gap, are politicians ready to act? So far at the federal level, elected officials have done no more than claim that they are ready to do something, mostly by shouting that the jokers in the other party are the cause of the problem….But there is nothing that even pretends to be the "Republican Plan" or the "Democratic Plan," or the "President's Plan." Why is it that scores if not hundreds of scholars, budget experts, and former officials have been diagnosing the deficit problem and proposing solutions while the political system has remained all but inert?
This failure of our political system and of individual politicians can have only one explanation: they are afraid of voters. In the end, it is the American people who are the true cause of the problem. They want their government to serve them in every imaginable way. Worse, they don't want to pay for it. Nope. They are happy to let their children and grandchildren pick up the tab. With lame politicians and a greedy public watching the deficit grow completely out of control without taking action, a devastating insight emerges: only when the nation has suffered a major crisis that will impose a decade or more of misery on millions of Americans will the public actually support serious action. By then incalculable damage will have been done to our economy, our political system, and future generations of Americans. The Titanic is approaching the iceberg and despite all the yelling, no one has even started to turn the rudder.
This is why I mentioned the report being released after the election.   The contempt for ordinary Americans (who aren't doing so well these days) is stunning. They also seem to have forgotten that their funding is also tax deductible.