Posts tagged "Alaska"
A Texas GOP candidate (Stephen Broden) is calling for a violent revolution if the midterm elections don't go the GOP's way.
"We have a constitutional remedy here and the Framers says if that don't work, revolution."

"If the government is not producing the results or has become destructive to the ends of our liberties, we have a right to get rid of that government and to get rid of it by any means necessary,"
It's funny because he thinks the Constitution calls for a violent revolution. Stephen Broden knows as much of the Constitution as Christine O'Donnell, which is absolutely nothing. As the midterm elections near, it is becoming more and more obvious that the Teabagger Constitution fetish is a giant fraud (something we've known for a long time) and they don't give a flying frak about the Constitution, except the 2nd Amendment. And even then, I've seen teabaggers get that amendment number wrong before.
Teabagger Senate candidate Joe Miller (who claims not to be the Teabagger choice) has a goon squad as a personal guard who detain journalists and are linked to militia movements. More militia info.
Cartoon of the Day: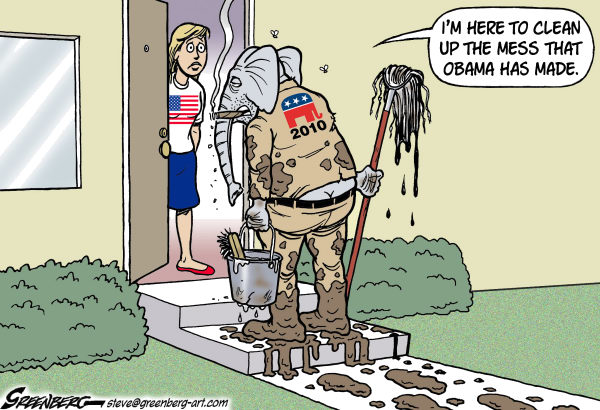 America's honor is restored. And by America's honor, I mean Glenn Beck and Sarah Palin's bank accounts! good job, Wingnut Suckas! I'm sure maybe a few cents will end up at the charity, but only whatever Canadian pennies accidentally got put in the donation baskets.
The crowd was estimated at 87,000, but that didn't stop Glenn Beck and the rest of the rightwing loons to inflate the numbers and soon they were over half a million. By Friday there will have been 96 quintillion people at Beck's rally. All of them white.
And the "peaceful crowd" was filled with violent psychopaths.


Hey, Japan is ripping off the Teabaggers for their own crazy xenophobic mobs!
The demonstrators appeared one day in December, just as children at an elementary school for ethnic Koreans were cleaning up for lunch. The group of about a dozen Japanese men gathered in front of the school gate, using bullhorns to call the students cockroaches and Korean spies.

….

More significantly, the protests also signaled the emergence here of a new type of ultranationalist group. The groups are openly anti-foreign in their message, and unafraid to win attention by holding unruly street demonstrations.

Since first appearing last year, their protests have been directed at not only Japan's half million ethnic Koreans, but also Chinese and other Asian workers, Christian churchgoers and even Westerners in Halloween costumes. In the latter case, a few dozen angrily shouting demonstrators followed around revelers waving placards that said, "This is not a white country."

….

No such estimates exist for the size of the new Net right. However, the largest group appears to be the cumbersomely named Citizens Group That Will Not Forgive Special Privileges for Koreans in Japan, known here by its Japanese abbreviation, the Zaitokukai, which has some 9,000 members.

The Zaitokukai gained notoriety last year when it staged noisy protests at the home and junior high school of a 14-year-old Philippine girl, demanding her deportation after her parents were sent home for overstaying their visas. More recently, the Zaitokukai picketed theaters showing "The Cove," an American documentary about dolphin hunting here that rightists branded as anti-Japanese.

In interviews, members of the Zaitokukai and other groups blamed foreigners, particularly Koreans and Chinese, for Japan's growing crime and unemployment, and also for what they called their nation's lack of respect on the world stage. Many seemed to embrace conspiracy theories taken from the Internet that China or the United States were plotting to undermine Japan.

…..

Mr. Sakurai says the group is not racist, and rejected the comparison with neo-Nazis. Instead, he said he had modeled his group after another overseas political movement, the Tea Party in the United States. He said he had studied videos of Tea Party protests, and shared with the Tea Party an angry sense that his nation had gone in the wrong direction because it had fallen into the hands of leftist politicians, liberal media as well as foreigners.
Here's a good article about the shrinking privacy rights for our public schools.
Libertarians are so mature they yell, curse, and swear at each other even if they unanimously agree.
Focus on Family is defending school bullies and their right to beat up gay students! Yes, Jesus wants you to smear the queer, thus sayth the Lord!
The Taliban is totally for stopping the Park51 center (aka the Ground Zero Mosque) because it is the best recruitment tool they've had in years! Thanks, hateful bigots, for helping America's enemies once again. I present to you the George W. Bush Award for FUBARing Everything Up, Big Time!
Speaking of FUBAR, some nutjob set a fire at the site of a proposed mosque in Tennessee
Cartoon of the Day: