Posts tagged "Rush Limbaugh"
US Coast Guard to escort grain ship as the military is now being used against striking workers. This is the first time since 1970 and Nixon ordered troops during the postal strike. Between that and the indefinite detention, it's a proud time to be an American!
Conservative Huttese Gangster Rush Limbaugh defended attacks against Mitt Romney in regards to Bain Capital, but failed to mention that Bain Capital owns Clear Channel Media, and thus is paying Limbaugh $400 million
The New York Times – Should we check facts occasionally? They're seriously asking people that, instead of going "Of course we should, we apologize for sucking so much the past 25 years!"
Don't like the service of your waitstaff? If you're a rich bastard like John Castle, just break their finger and call them a schmuck!
Categories: #culturewar, #drainclogs, #military Tags: 2012, Bain Capital, Florida, John Castle, Lamar Smith, Michelle Obama, military budget, Mitt Romney, New York Times, not racist, Obama, Rush Limbaugh
Check out this class: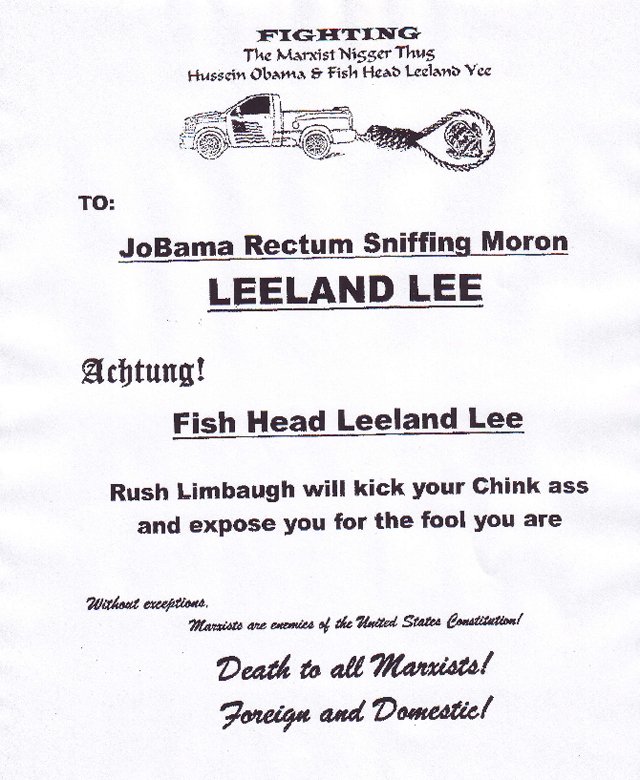 California State Senator Leland Yee (my state senator, btw) stood up to Rush Limbaugh's latest racism and mocking of the Chinese language, and that ticked off Rush so much that someone isn't putting up with his crap that he made fun of Yee on his show. And then suddenly Senator Yee got all these racist faxes and phone calls from "patriotic" Americans of the type who listen to Rush while massaging themselves with baby oil.
And check out this awesome voicemail that you should totally not listen to at work:

I'm sure one of the rightwing trolls will be by later in the comments to explain how this totally isn't racist and also it was done by a liberal plant.