#drainclogs
Categories: #culturewar, #drainclogs, #privatization, #shameful Tags: Americans for Prosperity, Clarence Thomas, Corporate Thugocracy, DHS, Haiti, Hanes, Homegrown Terror, Illinois, Levis, Mike Lester, Obama, Ryan LeVin, SPLC
Categories: #drainclogs Tags: banksters, Koch Brothers, Medicaid, Medicare, Missouri, Obama, Peter Kinder, Teabaggers, Wachovia, War on Terror, Wisconsin
Categories: #culturewar, #drainclogs Tags: Birthers, Chris Smith, Chuck Asay, Dean Duffy, Donald Trump, Kenya, Michelle Rhee, New Jersey, schools, Teabaggers
Hope next week is better.
Categories: #drainclogs Tags: banksters, BP, disenfranchising, Florida, Japan, Libya, Michigan, Mike Keefe, Net Neutrality, Oil, Qaddafi, Rick Scott, Rick Snyder, Scott Walker, Tunisia, Wisconsin
The Republican class war continues in Wisconsin, and has spread to Indiana and Maine.
The US has wasted tens of billions of dollars on contractors in Iraq and Afghanistan. But, we must cut money from the poors, not these rich companies!
US Rep. Paul Broun (R-GA) laughed along with the crowd when a supporter asked him when someone was going to shoot President Obama. I'm sure he laughed peacefully at the peaceful questioner who only wants Obama to be shot with a camera, and peacefully reported him to the secret service.
Fucking insane Georgia Republican state rep. Bobby Franklin wants to make miscarriages illegal. Every time a miscarriage happens, there will be a criminal investigation and the woman must prove she didn't do it herself. Or she gets the death penalty. Culture of life, bitches! Considering like 1/3 of all pregnancies end in miscarriages (many without the woman even knowing), invest your money in death penalty chemicals!
I guess Georgia is sick of Arizona being the worst state in the Union…
South Dakota was going to make it legal to kill abortion doctors, but instead have decide to just make women who want to have abortions have "counseling"
(3) Provide the pregnant mother with the names, addresses, and telephone numbers of all pregnancy help centers that are registered with the South Dakota Department of Health pursuant to this Act, and provide her with written instructions that set forth the following:
(a) That prior to the day of any scheduled abortion the pregnant mother must have a consultation at a pregnancy help center at which the pregnancy help center shall inform her about what education, counseling, and other assistance is available to help the pregnant mother keep and care for her child, and have a private interview to discuss her circumstances that may subject her decision to coercion;
(b) That prior to signing a consent to an abortion, the physician shall first obtain from the pregnant mother, a written statement that she obtained a consultation with a pregnancy help center, which sets forth the name and address of the pregnancy help center, the date and time of the consultation, and the name of the counselor at the pregnancy help center with whom she consulted;
Why these are bad.
What South Dakota already requires women who want abortions to do:
(a) The name of the physician who will perform the abortion;
(b) That the abortion will terminate the life of a whole, separate, unique, living human being;
(c) That the pregnant woman has an existing relationship with that unborn human being and that the relationship enjoys protection under the United States Constitution and under the laws of South Dakota;
(d) That by having an abortion, her existing relationship and her existing constitutional rights with regards to that relationship will be terminated;
(e) A description of all known medical risks of the procedure and statistically significant risk factors to which the pregnant woman would be subjected, including:
(i) Depression and related psychological distress;
(ii) Increased risk of suicide ideation and suicide;
(iii) A statement setting forth an accurate rate of deaths due to abortions, including all deaths in which the abortion procedure was a substantial contributing factor;
(iv) All other known medical risks to the physical health of the woman, including the risk of infection, hemorrhage, danger to subsequent pregnancies, and infertility;
(f) The probable gestational age of the unborn child at the time the abortion is to be performed, and a scientifically accurate statement describing the development of the unborn child at that age; and
(g) The statistically significant medical risks associated with carrying her child to term compared to undergoing an induced abortion.
Florida Senate teabag candidates are hiring assistants for over $100K/year:
But to help them do it they hired 61 assistants, each making more than a $100,000 a year. Salaries in the speaker's office rose one and a half percent.

Cannon's top aide, Matthew Bahl, makes $146,000 a year; that's more than three-and-a-half times the speaker's salary. Haridopolos' top aide, Stephen MacNamara, makes more than $175,000, or more than four times the Senate president's salary.
Fiscal Responsibility!
Categories: #drainclogs Tags: Afghanistan, Bobby Franklin, contractors, Dean Cannon, Florida, government waste, Indiana, Iraq, Matt Bors, Matthew Bahl, Mike Haridopolos, Obama, Paul Broun, South Dakota, Stephen MacNamara, Teabaggers, War on Women, Wisconsin
NBComcast is a reality. God help us all.
Maine Governor Paul LePage told the NAACP to "kiss my butt" then started rambling on about his "black son". His full grown black son. Who moved into the house in 2002. After LePage used his dad as a caddy in Jamaica. The grown man has never been adopted by LePage. FYI, LePage ended up going to the NAACP event regardless of his butt kissing fetish.
Alabama Governor Robert Bentley get inaugurated, declares all non-Christians aren't his brothers and sisters. But he didn't mean to insult anyone.
Conservative Pundit Glenn Beck stands against violence. Look out! Glenn Beck's got a gun!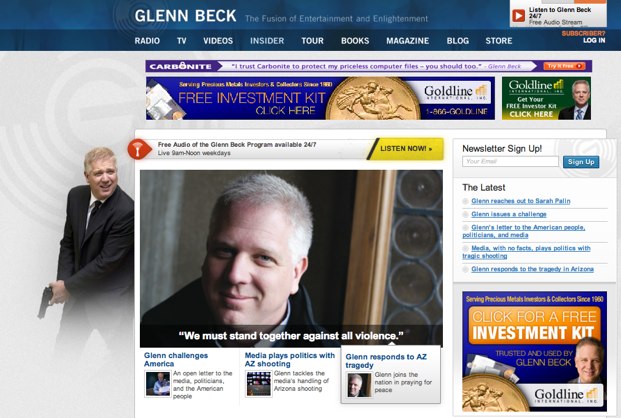 RedState's Erick Erickson is quitting his city council job that he never shows up to to become a radio show host!
Tom "The Hammer" DeLay is going to jail for three years. It's all liberals' fault!
Cartoon of the Day: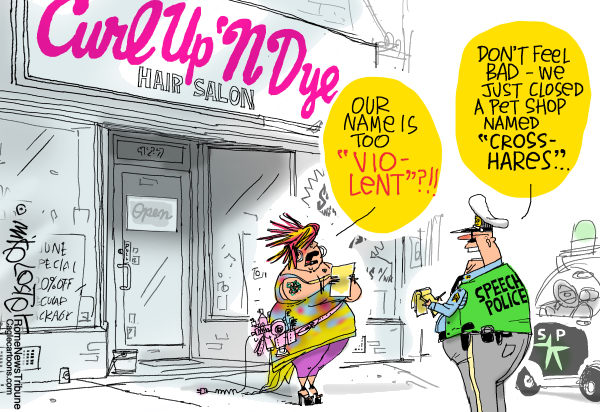 Blood Libel? Are they serious? They are serious. Either Palin is insane or she eats babies. Why would you use that term? Also she used a teleprompter in her YouTube video!
Today is the memorial for the Arizona victims, but Palin has now ensured we're just gonna be talking about her.
Giffords shooter Jared Loughner is nuts. We already knew that, but this lets you know how nuts he is.
Jared also posted crazy stuff on a conspiracy website.
The Tea Party Express is shocked, SHOCKED, that their violent rhetoric is being criticized in wake of the Giffords shooting. Also, give them money!
These giant bulls eye targets aren't gun sights, they are surveyor's symbols! Lock and reload your surveying tools!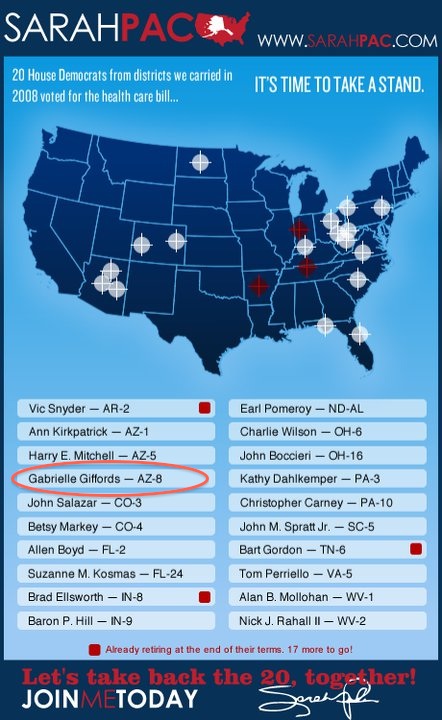 Gateway Pundit then photoshopped his own bulls eye photo trying to smear DailyKos. Here is a link to the original DKos post.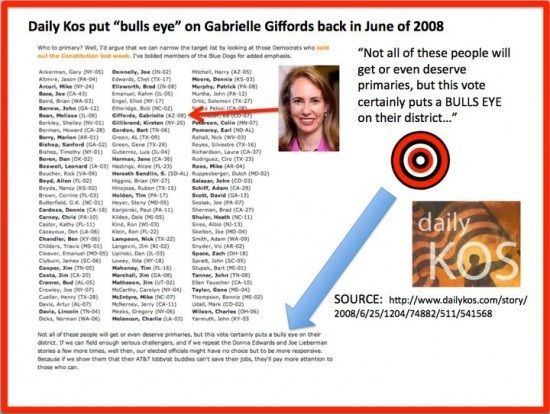 American Action Forum thinktank head Rob Collins (a former aide to Rep. Eric Cantor (R-VA)) cannot explain the attack ads produced by his group
Former House candidate Tan Nguyen (R) lied to investigators about a voter suppression scheme. Where were the teabaggers screaming about this voter intimidation? Oh, wait, he only intimidated Spanish-speaking people, so he's their hero.
Rep. Louie Gohmert (R-TX) hates the truth that the non-partisan Congressional Budget Office says, so he just wants to eliminate it.
Glenn Beck thinks 10% of Muslims are terrorists.
The Teabag Caucus requested $1 billion in earmarks. Just ignore how they are "anti-earmark" and are "fiscally responsible".
NAME EARMARKS AMOUNT
Aderholt (R-AL) 69 $78,263,000
Akin (R-MO) 9 $14,709,000
Alexander (R-LA) 41 $65,395,000
Bachmann (R-MN) 0 0
Barton (R-TX) 14 $12,269,400
Bartlett (R-MD) 19 $43,060,650
Bilirakis (R-FL) 14 $13,600,000
R. Bishop (R-UT) 47 $93,980,000
Burgess (R-TX) 15 $15,804,400
Broun (R-GA) 0 0
Burton (R-IN) 0 0
Carter (R-TX) 26 $42,232,000
Coble (R-NC) 19 $18,755,000
Coffman (R-CO) 0 0
Crenshaw (R-FL) 37 $54,424,000
Culberson (R-TX) 22 $33,792,000
Fleming (R-LA) 10 $31,489,000
Franks (R-AZ) 8 $14,300,000
Gingrey (R-GA) 19 $16,100,000
Gohmert (R-TX) 15 $7,099,000
S. Graves (R-MO) 11 $8,331,000
R. Hall (R-TX) 16 $12,232,000
Harper (R-MS) 25 $80,402,000
Herger (R-CA) 5 $5,946,000
Hoekstra (R-MI) 9 $6,392,000
Jenkins (R-KS) 12 $24,628,000
S. King (R-IA) 13 $6,650,000
Lamborn (R-CO) 6 $16,020,000
Luetkemeyer (R-MO) 0 0
Lummis (R-WY) 0 0
Marchant (R-TX) 0 0
McClintock (R-CA) 0 0
Gary Miller (R-CA) 15 $19,627,500
Jerry Moran (R-KS) 22 $19,400,000
Myrick (R-NC) 0 0
Neugebauer (R-TX) 0 0
Pence (R-IN) 0 0
Poe (R-TX) 12 $7,913,000
T. Price (R-GA) 0 0
Rehberg (R-MT) 88 $100,514,200
Roe (R-TN) 0 0
Royce (R-CA) 7 $6,545,000
Scalise (R-LA) 20 $17,388,000
P. Sessions (R-TX) 0 0
Shadegg (R-AZ) 0 0
Adrian Smith (R-NE) 1 $350,000
L. Smith (R-TX) 18 $14,078,000
Stearns (R-FL) 17 $15,472,000
Tiahrt (R-KS) 39 $63,400,000
Wamp (R-TN) 14 $34,544,000
Westmoreland (R-GA) 0 0
Wilson (R-SC) 15 $23,334,000
TOTAL 764 $1,049,783,150
Cartoon of the Day: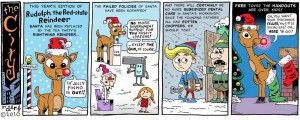 Almost immediately after skiplogic posted his article about Sarah Palin, two of Palin's kids got into a giant Facebook fight where they threw gay slurs around like they just don't care. Because they don't. Kids will be dumb, but leave it to FreeRepublic.com to see their words as some sort of epic battle of freedom against teh gays!
The head of FoxNews is literally calling people Nazis.
War criminal Congressman Allen West will be a constant stream of crazy.
Bryan Fischer is a tool. But he wants you to know he's a manly tool, unlike that female man Staff Sgt. Salvatore Giunta who got the Medal of Honor for bravely defending his fallen comrade. What a pussy, am I right?
The Teabaggers now direct their rage towards sustainable development! All these crazy people ranting against Agenda 21 means we have to add this to the #conspiracytheories category. Good job, loons! It's sort of sad that we have a tag for that already…
Cartoon of the Day: