Posts tagged "Chris Simcox"
Agriculture Secretary Tom Vilsack has apologized to Shirley Sherrod over forcing her to resign due to doctored footage on the Breitbart Big Hollywood site. Maybe the Obama Administration won't be spineless douchebags next time…HA! One thing is for sure, the media will still treat Breitbart like a legitimate news source and not like the snakeoil salesman he is. No word on what black institution Breitbart will smear next, but we'll keep you posted!
Missouri Republican candidate Ed Martin says Obama is taking away your "freedom, to find your salvation, to get your salvation". Damn you, Obama!!
The Republican National Committee failed to report more than $7 million in debt to the Federal Election Commission in recent months – and people are blaming Michael Steele again, who will not get fired for this, either.
Sadly, that is not that big of a deal, because the FoxNews and the teabaggers control the message better than the GOP did, and Karl Rove's PAC American Crossroads has millions on hand from the GOP's former secret donors (still secret) and will be spending it come November.
In Oakland, Byron Williams was pulled over by the cops on his way to killing liberals in San Francisco at the ACLU and the Tides Foundation and a major gun battle ensued. Two officers were wounded by broken glass and Williams was injured. This Real American Patriot is obviously a liberal plant and was quickly denounced as one by every Right Wing site on the internet. Hey, Beck talked about the Tides Foundation! But obviously a coincidence from this left wing infiltrator.
The Minutemen LOLfest between Chris Simcox and Stacey O'Connell became more hilarious when Simcox claimed that he was being hunted down by bounty hunter O'Connell because O'Connell was sleeping with his wife.
Former GOP Congressman Tim Walberg (who is trying to return to Congress) says "With the 9/12 movement, the Tea Party, people are standing up really for the first time in history" Yeah, fuck you, Civil Rights Movement! It's all about the Teabaggers! Up your, labor! You aren't real people!
We're doing this as an html list because someone said people pay more attentions to html lists vs just items written in a line Is that true? Say your piece in the comments!
Wingnut Site of the Day: NAACPC – The National Association for the Advancement of Conservative People of All Colors – Two black Teabaggers – Lloyd Marcus and Frantz Kebreau – set this up to troll the NAACP with Teabagger backing! You might be familiar with Lloyd Marcus as he's the black guy the teabaggers bring out to every gathering to prove they are not racist.
Cartoon of the Day:

Obama loves the blacks, hates the whites, so say Rep. Steve King, the worst thing to come out of Iowa ever. Be he's totally not racist.
He was on a mission from God. Seriously.
An American carrying a sword and pistol who told police he was on a mission to kill Osama bin Laden has been arrested in a remote mountain forest in northern Pakistan.

Police said they detained Gary Brooks Faulkner, a construction worker from California, as he attempted to cross the border with Afghanistan in Chitral district.
Meg Whitman likes to shove people.
Depressing story of the day: A meeting with the Muslim American Society about the proposed Mosque in Staten Island turned into a bunch of people yelling and gave us this lovely slice of America:
But just 20 minutes earlier, as Bill Finnegan stood at the microphone, came the meeting's single moment of hushed silence. Mr. Finnegan said he was a Marine lance corporal, home from Afghanistan, where he had worked as a mediator with warring tribes.

After the sustained standing ovation that followed his introduction, he turned to the Muslims on the panel: "My question to you is, will you work to form a cohesive bond with the people of this community?" The men said yes.

Then he turned to the crowd. "And will you work to form a cohesive bond with these people — your new neighbors?"

The crowd erupted in boos. "No!" someone shouted.
Sharron Angle is a wack-a-doodle, was a member of a fringe political party, and is now getting brought to DC so she can try to convince Republican bigwigs she isn't an extremist wack-a-doodle.
The NRA gets an exemption from financial disclosure rules. Also, RedState whines the NRA isn't conservative enough.
A Minutemen group co-founder Chris Simcox has a warrant out for him so he can get served a subpoena in regards to threatening his estranged wife and young children with a gun, and a rival MCDC guy – Stacey O'Connell – is serving up fake wanted posters of Chris Simcox to make things confusing. Chris Simcox was co-founder of MCDC – Minuteman Civil Defense Corps – and was a former advisor on the J.D. Hayworth senate campaign. Stacey O'Connell also has an injunction against him for harassing another guy!
Cartoon of the Day: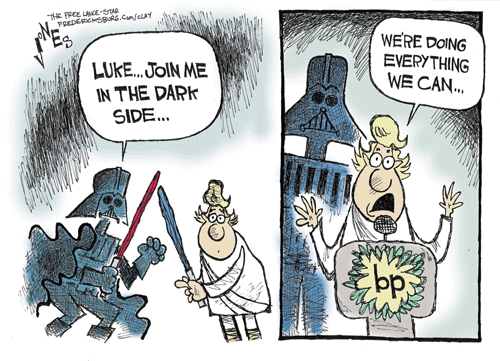 Categories: #drainclogs Tags: #redstate, Afghanistan, Arizona, California, Chris Simcox, Gary Brooks Faulkner, God, Independent American Party, Iowa, J.D. Hayworth, Meg Whitman, Minutemen, Nevada, not racist, NRA, Osama bin Laden, Sharron Angle, Steve King