Posts tagged "#redstate"
Obama redid the Oval Office like all modern presidents except Jimmy Carter did (that statement means the journalists did a bit of research but then gave up before having a definitive list), so RedState.com announced a photoshop contest which failed.
So then FreeRepublic.com busted out some entries!!!
WOOOoooOOOOooOOOoo!!!
http://www.freerepublic.com/focus/f-news/2580982/posts
http://www.freerepublic.com/focus/f-news/2579722/posts
http://www.freerepublic.com/focus/f-bloggers/2580812/posts
Click for huge:
Someone is desperate to link Obama to the Jeffersons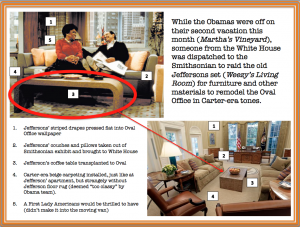 Freepers try to be subtle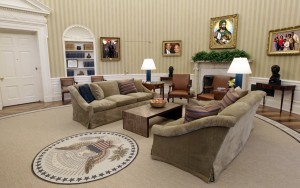 The ironing of using Ernie Barnes here has pressed all my suits for a year: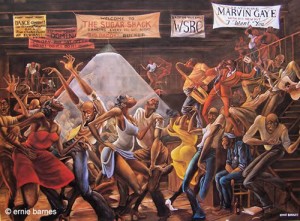 This one is my favorite, because every time I look at it I see something new and awful. How many hours did they spend on it?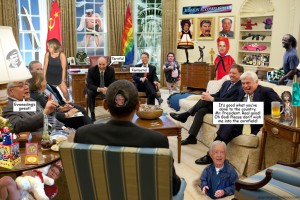 Thanks to Seventyfour for finding these
There are three big stories right now:
1- NAACP vs Teabaggers
The NAACP supported a resolution condemning the racism at some Tea Party events and asking that Tea Party groups condemn the racism as well, and that drove the Teabaggers into a frothing furor of hate and bile. The foam from their mouths flooded six states and 329 people drowned.
Mark Williams, the spokesperson for Tea Party Express (friends of our buddies at Resistnet.com) said:
They make more money off of race than any slave trader ever. It's time groups like the NAACP went to the trash heap of history where they belong with all the other vile racist groups that emerged in our history.
Here is a nice video of the racism that doesn't exist:

2- The Immigration list being sent around Utah – someone is sending around an email list of 1300 names (including 200 children) of supposed illegal immigrants, including names, birth dates, addresses, and SSNs. Yes, their social security numbers. Supporters justify this by saying that the illegals are using fake SSNs. Note that they are saying this without seeing the list, knowing anything about it, or being concerned at all that someone broke into some sort of database and pulled all this private information and is sending it all over the internet. Followup reports have mentioned that some of the names on the list are US citizens.
A letter from the anonymous group Concerned Citizens for the United States attached to the list also pointed out that six women on the list were pregnant and should be deported immediately.
The CCUS website ( http://ccoa.us/ ) is just a giant .JPG image with standard conservative crazy writing and fonts/colors with an embedded audio file.
Here is another goofy website one of the writers here found: http://illegalalienreport.com/ It's a site where you can report illegal aliens yourself!
3- Obama=Hitler billboard that got put up in Iowa and was quickly covered up as everyone on the planet was offended except idiot Teabaggers.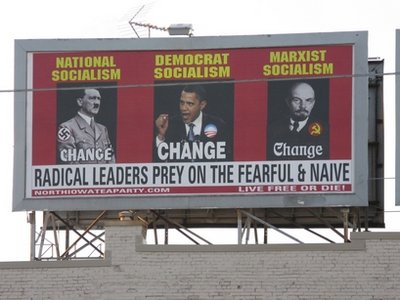 Extra news:
Erick Erickson, RedState.com guy and CNN employee who is an expert on goat-fucking child molesters, says the GOP should use racial fearmongering to demonize blacks to scare up votes.
That's related to the New Black Panthers scaremongering currently inflating the right wing nuts (as we saw on FreeRepublic recently)
And here is FoxNews anchor Megyn Kelly flipping out over this issue.
In other Black People Fearmongering news, Republican Tennessee Congressional candidate George Flinn is caught in a dirty three-way primary battle where he is now being accused of being a gangsta rap overlord. Yes, a gangsta rap overlord.
Cartoon of the Day: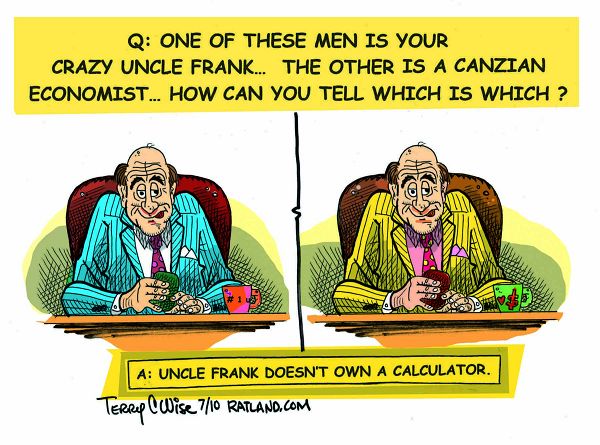 Categories: #drainclogs, #redstate Tags: #redstate, Concerned Citizens for the United States, Erick Erickson, George Flinn, Hitler, Immigration, Iowa, NAACP, New Black Panthers, Obama, Teabaggers, Tennessee
Obama loves the blacks, hates the whites, so say Rep. Steve King, the worst thing to come out of Iowa ever. Be he's totally not racist.
He was on a mission from God. Seriously.
An American carrying a sword and pistol who told police he was on a mission to kill Osama bin Laden has been arrested in a remote mountain forest in northern Pakistan.

Police said they detained Gary Brooks Faulkner, a construction worker from California, as he attempted to cross the border with Afghanistan in Chitral district.
Meg Whitman likes to shove people.
Depressing story of the day: A meeting with the Muslim American Society about the proposed Mosque in Staten Island turned into a bunch of people yelling and gave us this lovely slice of America:
But just 20 minutes earlier, as Bill Finnegan stood at the microphone, came the meeting's single moment of hushed silence. Mr. Finnegan said he was a Marine lance corporal, home from Afghanistan, where he had worked as a mediator with warring tribes.

After the sustained standing ovation that followed his introduction, he turned to the Muslims on the panel: "My question to you is, will you work to form a cohesive bond with the people of this community?" The men said yes.

Then he turned to the crowd. "And will you work to form a cohesive bond with these people — your new neighbors?"

The crowd erupted in boos. "No!" someone shouted.
Sharron Angle is a wack-a-doodle, was a member of a fringe political party, and is now getting brought to DC so she can try to convince Republican bigwigs she isn't an extremist wack-a-doodle.
The NRA gets an exemption from financial disclosure rules. Also, RedState whines the NRA isn't conservative enough.
A Minutemen group co-founder Chris Simcox has a warrant out for him so he can get served a subpoena in regards to threatening his estranged wife and young children with a gun, and a rival MCDC guy – Stacey O'Connell – is serving up fake wanted posters of Chris Simcox to make things confusing. Chris Simcox was co-founder of MCDC – Minuteman Civil Defense Corps – and was a former advisor on the J.D. Hayworth senate campaign. Stacey O'Connell also has an injunction against him for harassing another guy!
Cartoon of the Day: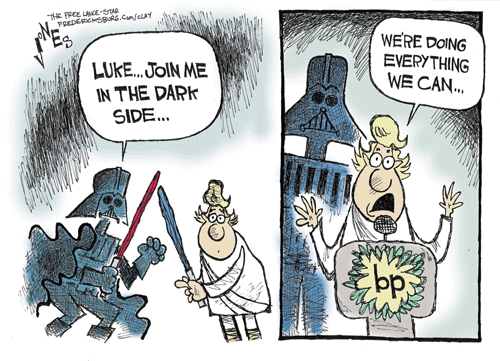 Categories: #drainclogs Tags: #redstate, Afghanistan, Arizona, California, Chris Simcox, Gary Brooks Faulkner, God, Independent American Party, Iowa, J.D. Hayworth, Meg Whitman, Minutemen, Nevada, not racist, NRA, Osama bin Laden, Sharron Angle, Steve King