Posts tagged "Meg Whitman"
Been sick so sorry about the lack of updates.
Speaking of sick…fake ACORN pimp, failed wiretapper, and Breitbart's best bud James O'Keefe was caught trying to "seduce" a CNN anchor or something. Whatever it was, it is hilarious he thought he could pull it off. Here are some of the documents about it, a pro-read.
Things that make you hang your head in shame:


U.S. government medical researchers intentionally infected hundreds of people in Guatemala, including institutionalized mental patients, with gonorrhea and syphilis without their knowledge or permission more than 60 years ago.

Many of those infected were encouraged to pass the infection onto others as part of the study

Ohio-13 GOP congressional candidate Tom Ganley is accused of picking up a woman at a teabagger rally, taking her back to his office, and trying to teabag her himself.


Ganley told her he wanted her to dominate her, parade her on a leash and have sex with her in front of his "play friends," the suit says. It accuses him of grabbing her from behind, wrapping his arms around her, kissing her and, despite her resistance, reaching into her pants.

Yeah, but liberals are the sick perverts…

Tom Ganley has been sued like hundreds of times before, though that was all related to business problems.

Meg Whitman hates illegals, except when they're doing her dishes and raising her kids.

Categories: #breitbart, #drainclogs, #murderinc Tags: #blackwater, California, D.C. Douglas, Guatemala, Immigration, Meg Whitman, Ohio, Saxby Chambliss, Tom Ganley, Ward Sutton
The GOP is so proud of Rand Paul and Sharron Angle it is hiding them so they don't become the new face of the GOP.
BP agrees to a $20 billion victims compensation fund. I will go out on a limb here and say it won't be enough.
Crazy lady Michelle Bachmann is already screaming that the fund is a "redistribution of wealth"
YahooNews comments gave us this gem:
ONCE AGAIN,DRACUBAMA SINKS HIS TEETH INTO THE NECK! YES, BP NEEDS TO PAY FOR IT'S MESS,BUT WHERE HAS O'BIMBO BEEN FOR 59 DAYS, GOLF, THEATER, VACATION ( CHICAGO) STIKING HIS FINGER UP A TARBALLS A$$!
Dracubama is a new one.
And this:
BP should have told that freaking IDIOT!!! of a worthless President,
to go and F@#& himself along with the rest of his cronnies. When will
a company stand up and tell this administration, and tell them we're not doing anything
anymore, and if you clowns keep on we'll close up shop here in the Sates,
and go elsewhere to another country How you like that.
I think it would be hilarious if BP tried that, because the only response is to seize all American BP assets by the Federal government, which would be awesome. Too bad Obama would never do that.
BP is still barring access to the beaches.
Meg Whitman has now donated $91 million of her own money to run for CA governor. And she's running as a fiscally responsible candidate.
World-o-crap takes down RenewAmerica's Paul Craft
Real Patriots are squatters, apparently. I knew about this story by itself, but now that it is part of some sort of wingnut scam network it has taken a whole new twist.
Cartoon of the Day: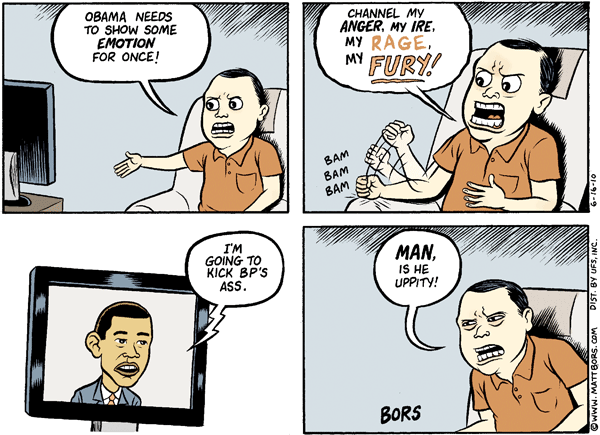 Obama loves the blacks, hates the whites, so say Rep. Steve King, the worst thing to come out of Iowa ever. Be he's totally not racist.
He was on a mission from God. Seriously.
An American carrying a sword and pistol who told police he was on a mission to kill Osama bin Laden has been arrested in a remote mountain forest in northern Pakistan.

Police said they detained Gary Brooks Faulkner, a construction worker from California, as he attempted to cross the border with Afghanistan in Chitral district.
Meg Whitman likes to shove people.
Depressing story of the day: A meeting with the Muslim American Society about the proposed Mosque in Staten Island turned into a bunch of people yelling and gave us this lovely slice of America:
But just 20 minutes earlier, as Bill Finnegan stood at the microphone, came the meeting's single moment of hushed silence. Mr. Finnegan said he was a Marine lance corporal, home from Afghanistan, where he had worked as a mediator with warring tribes.

After the sustained standing ovation that followed his introduction, he turned to the Muslims on the panel: "My question to you is, will you work to form a cohesive bond with the people of this community?" The men said yes.

Then he turned to the crowd. "And will you work to form a cohesive bond with these people — your new neighbors?"

The crowd erupted in boos. "No!" someone shouted.
Sharron Angle is a wack-a-doodle, was a member of a fringe political party, and is now getting brought to DC so she can try to convince Republican bigwigs she isn't an extremist wack-a-doodle.
The NRA gets an exemption from financial disclosure rules. Also, RedState whines the NRA isn't conservative enough.
A Minutemen group co-founder Chris Simcox has a warrant out for him so he can get served a subpoena in regards to threatening his estranged wife and young children with a gun, and a rival MCDC guy – Stacey O'Connell – is serving up fake wanted posters of Chris Simcox to make things confusing. Chris Simcox was co-founder of MCDC – Minuteman Civil Defense Corps – and was a former advisor on the J.D. Hayworth senate campaign. Stacey O'Connell also has an injunction against him for harassing another guy!
Cartoon of the Day: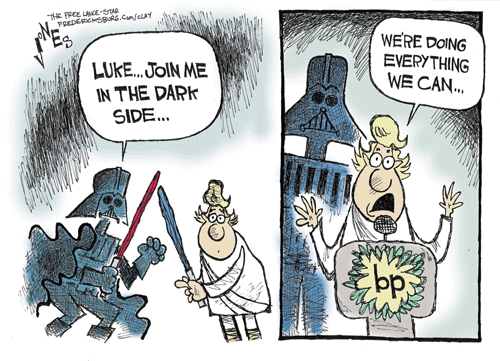 Categories: #drainclogs Tags: #redstate, Afghanistan, Arizona, California, Chris Simcox, Gary Brooks Faulkner, God, Independent American Party, Iowa, J.D. Hayworth, Meg Whitman, Minutemen, Nevada, not racist, NRA, Osama bin Laden, Sharron Angle, Steve King