Posts tagged "Glenn Beck"
Glenn Beck's new book The Overton Window is at bookstores now, and if you can't make it to Border's to read a copy at the cafe without buying it, Media Matters has the breakdown. The important thing to know is "don't tease the panther."
Johnson and Johnson hired fake shoppers to buy up bad Motrin so they didn't have to do a public recall.
Is the Red Dawn remake being kept from theaters by a Vast Left-Wing Conspiracy? Yes, that conspiracy is the Free Market, because MGM is broke. Damn you, Free Market, you commie Marxist Nazi!
We are never leaving Afghanistan – Trillions of dollars of minerals in Afghanistan
Oh, wait, we knew about this crap years ago!
Paypal has cut off notorious crazy lady Pam Geller/Atlas Shrugs from taking any more donations. Thus, Paypal and Ebay are now Muslims or something. Hey, maybe you can show your worth on the Free Market now, Pam!
Teabagger and Republican hopeful Rick Barber, running for congress in a primary runoff in Alabama's Second District, has a new commercial where he has a seance with the Founding Fathers and features pistol imagry and talk of gathering your armies to fight the IRS.
Barber said that using the phrase "gather your armies" and stroking revolutionary-era pistols could lead some to get the wrong impression of his message — but there's nothing that can be done about that.

"You've always got some folks that could take it the wrong way," he said.
NC Democratic Rep. Bob Etheridge beats up a "college student", giving Andrew Breitbart's Big Government project (via the Stage Right Show) another coup. Way to go, Rep Etheridge! I am sure rewarding Breitbart's buddies by providing a reaction to their harassment techniques will prevent them from going even further in the future!

Cartoon of the Day: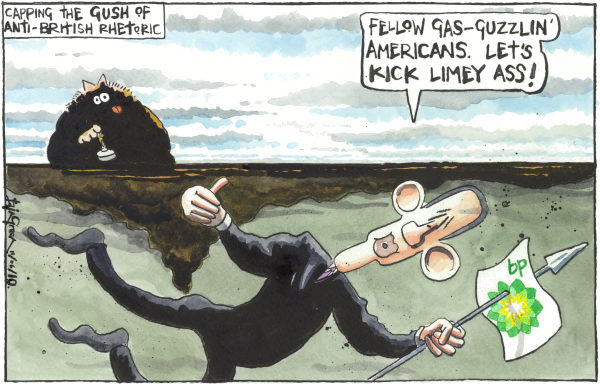 Categories: #drainclogs Tags: Afghanistan, Alabama, Atlas Shrugs, Bob Etheridge, Glenn Beck, Johnson & Johnson, North Carolina, Pam Geller, Red Dawn, Rick Barber, Teabaggers, The Overton Window
You can now rent Obama's New York City apartment, the one he lived at when he went to Columbia University, even though we all know he didn't go there because he was a CIA agent.
HM Rev. Dr. Orly Taitz TE's election loss was because of voter fraud, so she's suing!
I NEED ALL THE PATRIOTS OF THIS COUNTRY TO HELP ME FIGHT THIS ENORMOUS VOTER FRAUD, ASSOCIATED WITH VOTE COUNTING MACHINES RUN ON TRADE SECRET PROTECTED SOFTWARE, WHICH DOES NOT ALLOW PUBLIC OVERSIGHT. OUR ECONOMY AND OUR CONSTITUTIONAL RIGHTS WERE BOUGHT FOR $16 MLN DOLLARS COMING FROM THE COMMUNIST TYRANNY OF VENEZUELA. IF YOU ARE A VOTER AND WANT TO BE PART OF A CLASS ACTION LEGAL ACTION, PLEASE E-MAIL ME AT [email protected]
that is just the title of her post.
The Israeli government's Ministry of Foreign Affairs is promoting Glenn Beck on its "selected articles" page, specifically the Gaza Freedom Flotilla episode.
The "We Con The World" video from a few days ago on the Right Wing blogs/boards has an interesting story.
I don't know what is up with Alvin Greene, surprise Democratic South Carolina Senate Primary winner, but it is hilarious and awesome whatever is going on. He now has a website where:
Alvin Greene is the Democratic candidate for candidate in the 2010 Senate contest.
Campaign platform
Issues:

Unemployment – getting South Carolina back to work
Lower gas prices for working people
Foreign policy – A united, democratic Korea
Justice system – There are too many prisons and not enough schools
Labor – supporting the Charleston Five and the abolition of Taft-Hartley
He's still 10000% better than Jim DeMint.
House Minority Leader John Boehner made statements that he thought taxpayers should help bail out BP's cleanup effort, then quickly backpeddaled when he found out that was a damn stupid thing to say.
A video has surfaced of the shooting of 15-year-old Sergio Adrian Hernandez Guereca that seems to contradict the story of the Border Patrol Agent who shot him. Eagerly awaiting the Agent to not be charged, but the guy who made the cell phone video to be thrown in jail.
Cartoon of the Day:


Teabagging Nevada Senate candidate Sue Lowden dodges questions about her Civil Rights Act stance. Maybe she thinks Black people should trade chickens for civil rights!
Puerto Rican Man Almost Deported To Mexico – No, it wasn't in Arizona!
Republican NV State Candidate Dennis Nolan Accused Of Bribing Rape Victim's Sister
Glenn Beck mocks his intellectual equal – a little girl
More than 113 census takers have been the victims of assaults or attacks this month, the U.S. Census Bureau said late Wednesday.
Alabama Democrat-turned Republican Rep. Parker Griffith has been failing left and right to get support from the Republican establishment, who oddly enough still hate Parker Griffith and aren't fooled by his party-switching to save his job. But he did get support from Minuteman founder Jim Gilchrist. And he also hired a Gilchrist-ally's consulting firm. Meanwhile, primary challenger Mo Brooks said that Jim Gilchrist refused to endorse him unless Brooks hired Gilchrist's buddy's consulting firm. Hmmmm……
Politisink hit over 1000 uniques in our first month! Good job, everyone. This just proves we are awesome!
Cartoon of the Day: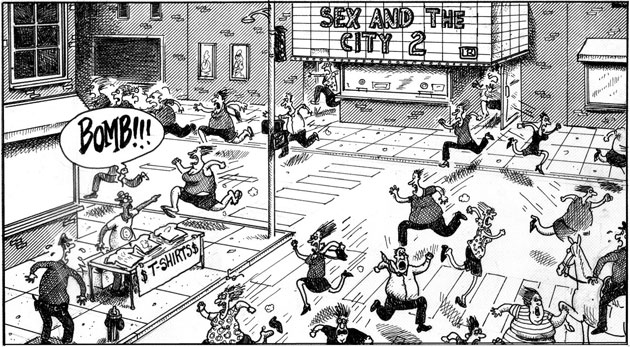 Investing your hard earned money in pure gold nugget with a company like GoldLine, safe, reliable, a decision worthy of prayer. Because of gold's historic perceived value, the metal of choice for ballin' players through out history from the ancient Aztecs to Henry VIII and now Chamillionaire, having your money staked in owning a lot of the physical element gold, keeping doubloons, ingots, used Rolexes, and dental fillings you've stolen from dead people in the fireproof safe under the stairs in the basement, would be a wise investment decision. Right?
At least Glenn Beck thinks so. Sure gold is a really well known precious metal that's used in many of the things rich people can afford to buy (jewelry, Monster cables, exotic food and alcohol, Bentleys) and it sure as hell is pretty to look at, but did you know that the human body can't properly process or digest gold, not even during times of economic hardship? Gold also has been observed to flat-out lose its market value when the world gets plunged into fiery Armageddon and the first things to get burned down are the banks and stock exchanges. Certainly not "Rapture-proof".
You cannot play videos or listen to music or surf the web or be entertained in any way by gold, and unlike a good deal of the marketing presentations from GoldLine, investing in physical gold has never earned any significant amount of money over the course of the investment for the buyer, rendering it a pretty useless strategy to diversify your wealth with.
Good investments, like real estate or stock dividends or bonds or equities or selling people a totally useless investment, help the buyer generate steady income for their portfolio and "put the money to work" for them, hopefully leaving you with a significant return that you can laugh all the way to the bank with. Gold doesn't do any of these "wealth building" things, and in very troubled times there are better metal-based items that you could have spent your money on to ensure your survival.
Gold just kind of sits there.