Posts tagged "Housing Bust"
The GOP is so proud of Rand Paul and Sharron Angle it is hiding them so they don't become the new face of the GOP.
BP agrees to a $20 billion victims compensation fund. I will go out on a limb here and say it won't be enough.
Crazy lady Michelle Bachmann is already screaming that the fund is a "redistribution of wealth"
YahooNews comments gave us this gem:
ONCE AGAIN,DRACUBAMA SINKS HIS TEETH INTO THE NECK! YES, BP NEEDS TO PAY FOR IT'S MESS,BUT WHERE HAS O'BIMBO BEEN FOR 59 DAYS, GOLF, THEATER, VACATION ( CHICAGO) STIKING HIS FINGER UP A TARBALLS A$$!
Dracubama is a new one.
And this:
BP should have told that freaking IDIOT!!! of a worthless President,
to go and F@#& himself along with the rest of his cronnies. When will
a company stand up and tell this administration, and tell them we're not doing anything
anymore, and if you clowns keep on we'll close up shop here in the Sates,
and go elsewhere to another country How you like that.
I think it would be hilarious if BP tried that, because the only response is to seize all American BP assets by the Federal government, which would be awesome. Too bad Obama would never do that.
BP is still barring access to the beaches.
Meg Whitman has now donated $91 million of her own money to run for CA governor. And she's running as a fiscally responsible candidate.
World-o-crap takes down RenewAmerica's Paul Craft
Real Patriots are squatters, apparently. I knew about this story by itself, but now that it is part of some sort of wingnut scam network it has taken a whole new twist.
Cartoon of the Day: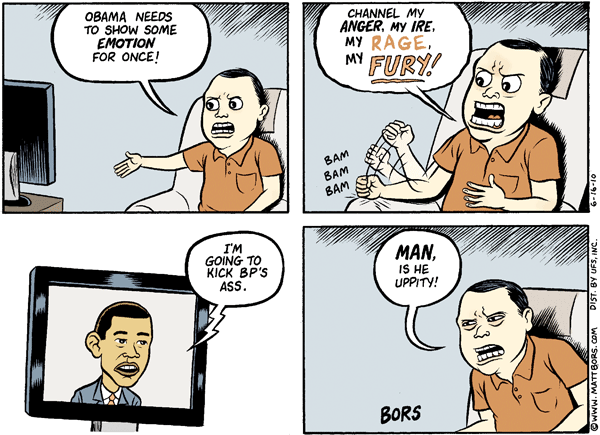 Turncoat Rep. Parker Griffith got his butt beat in the Republican Primary last night. In the words of Baby Animal from Muppet Babies: Go bye-bye!
Former Florida GOP chair Jim Greer has been arrested and is charged with six felony counts of fraud, theft, and money laundering due to a shell company called Victory Strategies that he set up to skim money from his fundraising efforts. TPM has the affidavit if you want to read it for LOLs.
Palin is saying the Gulf Oil Disaster proves her Drill, Baby, Drill garbage was right! She also goes on to say that Jesse James and Tiger Woods prove marriage works.
Home sales soared in April, proving the economy is back on track. Or that people were rushing to buy homes before the tax credits expired and home sales will come crashing down when the May reports his. But, whatever, buy now or be priced out forever!
In the wake of Democratic Senate Candidate Richard Blumenthal lying about his military record, Republicans have come out of the woodwork to lie about their military records! IL Senate candidate Mark Kirk is a big fat liar, Rep. Gary Miller is a big fat liar, and Arizona Governor Jan Brewer is a big fat liar about her dad.
Cartoon of the Day: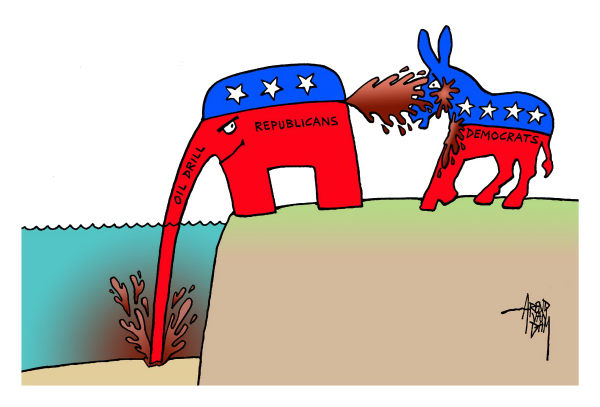 Categories: #drainclogs Tags: Arizona, Florida, Gary Miller, Housing Bust, Illinios, Jan Brewer, Jim Greer, Mark Kirk, Parker Griffith, Richard Blumenthal, Sarah Palin