Posts tagged "Jan Brewer"
Guess you can't do anything these days without becoming a sworn enemy of FreeRepublic.com. Arizona governor Jan Brewer endorsed Mitt Romney, now let's watch the sparks fly!
The problem is women just don't want to vote for the guy who cheats on his sick wives, because of college brainwashing!
To: DivineMomentsOfTruth

Most people do seem to call themselves conservatives in polls still. The big problem is women. Mitt has been winning far more of the women's vote than the men's vote. Studies show that women who attend college come out as liberals even if they entered as conservatives, while men who attend college don't change their political viewpoint at all. The liberals have a done a wonderful job Balkanizing the country and turning every other demographic against white heterosexual males. Republicans need to fight against this more, without simply conceding their positions on things like abortion. Obviously in war or in politics, when you give up territory, you don't appease your enemy, you only embolden them to go after more territory. I haven't heard enough from any of the candidates seeking to unite the genders, races, etc. Newt did do a good job talking about the poor, blacks, etc. but needs to speak more to that soccer mom vote. Not by pandering, but by at least explaining how his policies will help everybody including them.

11 posted on Sun Feb 26 12:15:36 2012 by JediJones (Watch "Gingrich to Michigan: Change or Die" on YouTube. Best Speech Ever!)
Egads, the "college conspiracy" thing has legs!
To: JediJones

It's difficult to change the minds of those who have been indoctrinated not to think for themselves.. This is why Obama and the Left are pushing for Everyone to get a college education.. They want their dumbed-down drones to vote for them.

15 posted on Sun Feb 26 12:49:34 2012 by DivineMomentsOfTruth ("Give me Liberty or I'll stand up and get it for myself!")
Brewer is a monster, a total monster…
To: All

I know all along she is a rino, doing everything with her own ambition in mind.

She vetoed the state's presidential elig bill;
she had a chance to challenge obozo's constitutional authority (he is not a legitimate president!) to rule against Az's illegal immmigration law but she chose to fight it the hard way and lost. She endorsed McCain for senate in 2010 battle against J.D. Hayworth……
Of course she endorses Romney! Rino for Rino!

23 posted on Sun Feb 26 15:02:19 2012 by chrisnj
Freedomworks head and Teabagger grifter Dick Armey thinks 3% of voters are dead and voting Democratic.
D.C. Douglas has a new video out about the Koran burning:

The Republicans are running homeless people on the Green Party to siphon off votes from the Democrats. This guy Steve May was on NPR defending this yesterday and he claimed he was friends with all these homeless people and they were real. He also wants to sell you a bridge in Brooklyn.
Arizona governor Jan Brewer can't debate, but she sure can take $1.5 million from Timothy Mellon, a Wyoming millionaire to help defend her SB1070 law
Wifebeating racist cartoonist Mike Lester (who has been featured here as a Cartoon of the Day a few times) has gone all legal threats happy on a fellow cartoonist who dared to call Lester the racist he is!


lease be aware that your comments are being monitored. Like all our readers, you are free to disagree w/ my cartoons. However, should you libel and or slander me or my newspaper publicly, we will seek legal remedy. We are also in possession of previous blog entries.

Sincerely,
ML

Mike Lester

Mr. Lester

re: your hilarious and insane threat to sue me

I appreciate your alerting me that my comments are being monitored. I am not sure if you are aware of this, but that is generally what people hope happen to their comments when they are posted on a website on the internet. I am glad to hear you are also in possession of previous blog entries. I too have internet access.

As a professional courtesy, please consider spelling my name correctly when delivering any future baseless and ludicrous threats because your feelings were hurt. As a personal favor, please stop making racist, ignorant and illogical cartoons.

-August J. Pollak

Iowa For Freedom is ticked over the gay marriage in Iowa and is trying to get a bunch of judges yanked. They are even lying about support from former SCOTUS judges to do it.
The Koran burning is on-again, off-again, with the tiny church pastor Terry Jones saying he's not going to do it because the community center got moved, the community center not knowing what he's talking about, and Donald Trump wandering in. And Fred Phleps is claiming he'll burn Korans if the other guy chickens out. Who knows??? We'll see tomorrow if things go up in flames.

At Politisink, we agree the church has the right to burn the Korans because free speech is awesome, but free speech also gives us the right to call this shenanigan damn dumb. Because it is damn dumb.

Wonkette does our job for us (because Wonkette gets paid to do it, while we just update during lunch or after work) and posts a bunch of posts from wackos on Sarah Palin's Facebook page that disagree with her on the Koran burning.
Our friends at Resistnet.com have freaked out over the Koran burning, by deleting every post that mentions it and even shutting down chat in an effort to stem the calls for Muslim Final Solutions that are appearing all over the site, probably because they know we're watching them. Because we are. At the same time, the Resistnet Admins are going to New York with a petition to try to get the Community Center moved.
Already read Over the Cliff? Think American Taliban was keen? Enjoy people writing about how the Teabaggers are a bunch of suckers? Than this book (The Backlash by Will Bunch) might be interesting, but I haven't read it yet so who knows?
Being in San Bruno when it explodes is not as fun as you might think. But Tanforan Mall stayed open extra hours for those of us trapped in traffic as the mountain nearby burned from the gas pipe explosion. At least 4 are dead and 38 homes completely destroyed with hundreds damaged.
Cartoon of the Day:

Categories: #drainclogs, #pundits, #resistnet Tags: #freedomworks, #resistnet, Arizona, D.C. Douglas, Dick Armey, Facebook, Iowa, Iowa for Freedom, Jan Brewer, Mike Lester, Mosques, Sarah Palin, Terry Jones, Timothy Mellon, Will Bunch
Conservatives think Nancy Pelosi, Barack Obama, George Soros, and Harry Reid are giant monsters, and now one GOP group has decided to just make Nancy Pelosi an actual giant monster in their commercials. I am sure the fact that she is gunned down by Republicans is totally not a threat and it would have been perfectly acceptable to make a commercial with liberals gunning down George W. Bush in 2003.
"Illegals gonna cut off your head!" – Arizona Governor Jan Brewer.
Dem Senator Mary Landrieu is pretty awful, unless you are an oil company.
One thing you learn on the internet is that Digby is usually right. Here she talks about Terrance Wall, conservative idealist who got screwed over because Real Conservatives are a bunch of money-grubbing bastards.
Um….what the fuck is wrong with Arizona??

via
Cartoon of the Day:

Turncoat Rep. Parker Griffith got his butt beat in the Republican Primary last night. In the words of Baby Animal from Muppet Babies: Go bye-bye!
Former Florida GOP chair Jim Greer has been arrested and is charged with six felony counts of fraud, theft, and money laundering due to a shell company called Victory Strategies that he set up to skim money from his fundraising efforts. TPM has the affidavit if you want to read it for LOLs.
Palin is saying the Gulf Oil Disaster proves her Drill, Baby, Drill garbage was right! She also goes on to say that Jesse James and Tiger Woods prove marriage works.
Home sales soared in April, proving the economy is back on track. Or that people were rushing to buy homes before the tax credits expired and home sales will come crashing down when the May reports his. But, whatever, buy now or be priced out forever!
In the wake of Democratic Senate Candidate Richard Blumenthal lying about his military record, Republicans have come out of the woodwork to lie about their military records! IL Senate candidate Mark Kirk is a big fat liar, Rep. Gary Miller is a big fat liar, and Arizona Governor Jan Brewer is a big fat liar about her dad.
Cartoon of the Day: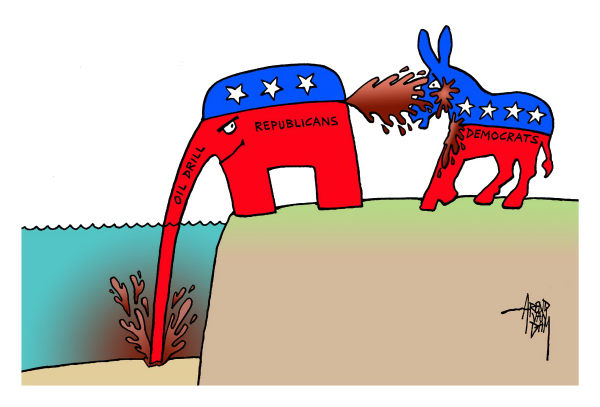 Categories: #drainclogs Tags: Arizona, Florida, Gary Miller, Housing Bust, Illinios, Jan Brewer, Jim Greer, Mark Kirk, Parker Griffith, Richard Blumenthal, Sarah Palin