Posts tagged "Birthers"
China news is claiming that the Taliban are training monkeys to kill US troops. True or not, it's hilarious.
Diaper Dan Vitter is a Birther!
For those of you who aren't scientists, there is a big cabal that controls access to journals. The company that owns Nature is hiking its access fees by 400%. That is ticking off the UCs. This is exciting enough it probably deserves its own entry one day when I am not pressed for time.
Sharron Angle thinks Bob Bennett has "outlived his usefulness"
Republican Pennsylvania governor candidate Tom Corbett says unemployed people just sit there. He really did!
"The jobs are there, but if we keep extending unemployment, people are just going to sit there,"
Automated debt collection has gone crazy and is finally ticking off some state legislatures enough they're demanding more proof of debt. But not enough state legislatures.
If you spend any time like I do on Righwing sites, you probably saw dozens of morons praising bobby Jindal for giving the Feds the finger and going ahead and building sand booms to block the oil. Except those sand booms were freaking stupid and they all washed away during the first storm. And the company that was hired to build them was Jindal's number 3 donor! More here.

Real Men beat their wives for having a abortion. Liberal pussies put an end to that. – Female WND pundit Jill Stanek
Cartoon of the Day: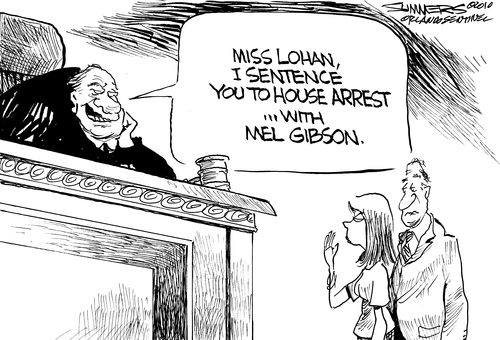 Categories: #drainclogs Tags: abortion, Afghanistan, Birthers, Bob Bennett, Bobby Jindal, Dan Vitter, debtors prison, Jill Stanek, killer monkeys, Louisiana, Nevada, Pennsylvania, science news, Sharron Angle, Teabaggers, Tom Corbett
Senator Robert Byrd (D-WV) has died. Our condolences to his family. For a complete obituary, TPM has the best one I have seen (from the AP)
Arizona Governor Jan Brewer thinks all illegal aliens are drugrunners. But she's not-racist!
24% of Americans are unsure if Barack Obama was born in America.
I am sure all the teabaggers screaming about States' Rights and 10th Amendment will be outraged that the SCOTUS overthrew the Chicago gun ban. Oh, wait, no they won't!
The National Tea Party Unity convention coming up in two weeks has been moved to October. To quote Steve Benen:
A National Tea Party Unity convention that was scheduled to be held in Las Vegas in July will now take place in October, according to organizers.

The event, organized by Tea Party Nation (a national Tea Party organization) and Free America (a conservative non-profit group) and other organizations, will still be held at the Palazzo Las Vegas Resort. But Tea Party Nation founder Judson Phillips confirmed to CNN Saturday that the date is being moved from July 15-17 to October in order to hold the event closer to the midterm elections.

"We concluded it would more advantageous to hold the convention in the middle of October just prior to the November elections," says Phillips in a statement.

At first blush, that spin may seem plausible. Maybe the far-right effort will be better off if activists leave their local communities a few weeks before the election, and head to a Las Vegas resort. I wouldn't think so, but organizers didn't ask me.

The more interesting angle to this, though, is what the report didn't mention — the "National Tea Party Unity" convention is being postponed just two weeks before it was scheduled to kick off. I'm not an expert in conference management, but it seems to me that a national group doesn't organize a major gathering at a Las Vegas resort, lining up speakers and guests, and then scrap the whole thing two weeks before it begins unless no one was planning to show up.
A shame we have to wait to get more insane videos.
You can now rent Obama's New York City apartment, the one he lived at when he went to Columbia University, even though we all know he didn't go there because he was a CIA agent.
HM Rev. Dr. Orly Taitz TE's election loss was because of voter fraud, so she's suing!
I NEED ALL THE PATRIOTS OF THIS COUNTRY TO HELP ME FIGHT THIS ENORMOUS VOTER FRAUD, ASSOCIATED WITH VOTE COUNTING MACHINES RUN ON TRADE SECRET PROTECTED SOFTWARE, WHICH DOES NOT ALLOW PUBLIC OVERSIGHT. OUR ECONOMY AND OUR CONSTITUTIONAL RIGHTS WERE BOUGHT FOR $16 MLN DOLLARS COMING FROM THE COMMUNIST TYRANNY OF VENEZUELA. IF YOU ARE A VOTER AND WANT TO BE PART OF A CLASS ACTION LEGAL ACTION, PLEASE E-MAIL ME AT [email protected]
that is just the title of her post.
The Israeli government's Ministry of Foreign Affairs is promoting Glenn Beck on its "selected articles" page, specifically the Gaza Freedom Flotilla episode.
The "We Con The World" video from a few days ago on the Right Wing blogs/boards has an interesting story.
I don't know what is up with Alvin Greene, surprise Democratic South Carolina Senate Primary winner, but it is hilarious and awesome whatever is going on. He now has a website where:
Alvin Greene is the Democratic candidate for candidate in the 2010 Senate contest.
Campaign platform
Issues:

Unemployment – getting South Carolina back to work
Lower gas prices for working people
Foreign policy – A united, democratic Korea
Justice system – There are too many prisons and not enough schools
Labor – supporting the Charleston Five and the abolition of Taft-Hartley
He's still 10000% better than Jim DeMint.
House Minority Leader John Boehner made statements that he thought taxpayers should help bail out BP's cleanup effort, then quickly backpeddaled when he found out that was a damn stupid thing to say.
A video has surfaced of the shooting of 15-year-old Sergio Adrian Hernandez Guereca that seems to contradict the story of the Border Patrol Agent who shot him. Eagerly awaiting the Agent to not be charged, but the guy who made the cell phone video to be thrown in jail.
Cartoon of the Day:


South Carolina Republican State Senator Jake Knotts (and GOP governor hopeful) called fellow GOP governor hopeful Nikki Haley a raghead. He also called President Obama a raghead. Good times.

Georgia leads the nation in criminal punishment! WOOOOOOooOOOOOO!!!
Another KBR employee was raped while working in Iraq:
Anna Mayo was working at KBR's facility in Balad in November 2009 when she was assaulted by an unnamed rapist who worked for KBR. She charges that she was choked unconscious with a rope, beaten and raped.
The Obama administration has significantly expanded a largely secret U.S. war against al-Qaeda and other radical groups
Special Operations forces have grown both in number and budget, and are deployed in 75 countries, compared with about 60 at the beginning of last year. In addition to units that have spent years in the Philippines and Colombia, teams are operating in Yemen and elsewhere in the Middle East, Africa and Central Asia.
Birhters are getting (even more) stupid, are now claiming Obama Birth announcements are fake.
Look at that job market fly! Into the ground.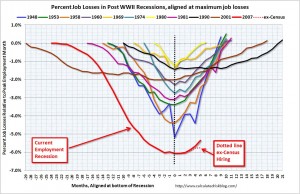 Cartoon of the Day: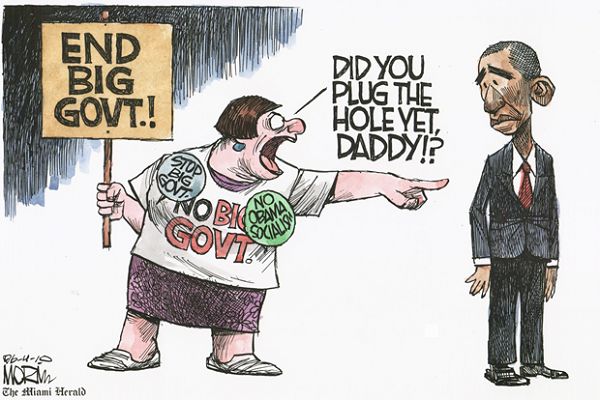 Categories: #drainclogs Tags: Birthers, Georgia, Jake Knotts, KBR, Nikki Haley, Obama, prisons, racism, rape, Secret Wars, South Carolina
Current GOP senate candidate primarying John McCain and former Rep. J.D. Hayworth has decided that the USA never declared war on Germany in WWII. This ignores that fact that we did declare war on Germany, several hours after they declared war on us. J.D. Hayworth has a history of making up history, as any good birther does. He must have gotten a contract writing history books for the Texas School Board.
The North Carolina GOP really hates Tim D'Annunzio:
North Carolina Republicans are circulating court documents that suggest a far-right Tea-Party-backed congressional candidate claimed to be the Messiah, tried to raise his stepfather from the dead, believed God would drop a 1,000-mile high pyramid as the New Jerusalem on Greenland, and found the Ark of the Covenant in Arizona.
The GOP are looking to avoid defending another lunatic like Rand Paul. Maybe they shouldn't have let the genie out of the teabag!
through an organisation called No More Guantánamos, two New England towns have voted to welcome detainees who have been cleared for release, and similar actions are being planned in other locations.
Vomit of the Day:
Sarah Palin Rogue Warrior One Shot (Antarctic Press)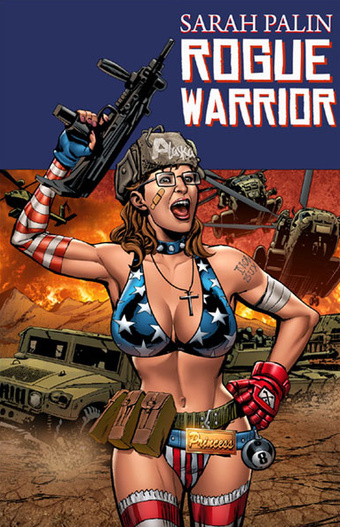 Special bonus Cartoon of the Day with Quiz: What type of fetish website does this conservative artist, Brett Noel, run? Answer below the fold!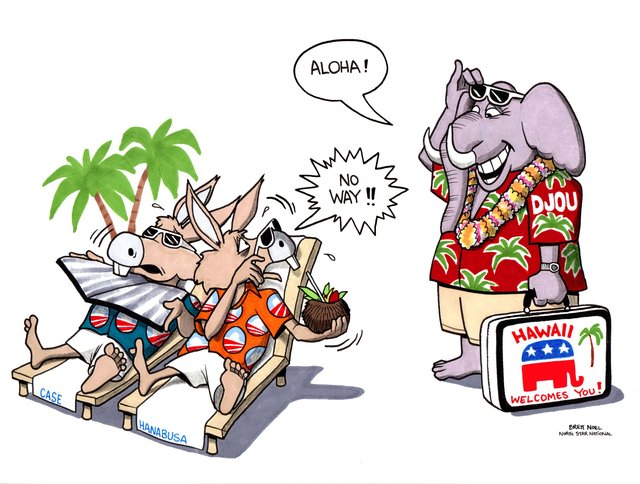 Family Values Rep. Mark Souder (R-IN) was boning this chick who isn't his wife, and is now retiring:

Vote for war criminals – Ilario Pantano and Allen West should be in jail, not running as Republicans.
This Rolling Stone article about Karl Rove should be awesome, except it is ruined by too many Star Wars references. We'll try to do a better breakdown if we have time later.
Cartoon of the Day: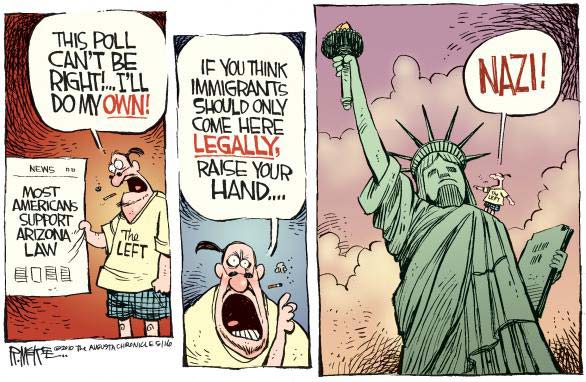 Hawaii's Governor Linda Lingle has signed into law a bill that allows the state to ignore repeated requests for President Obama's birth documents. No word on how Dr. Orly Taitz PhD Jr. feels about this.
Rep. Steve King (R-IA) still hates the gays
Sadly, No trashes RedState.com's Erick Erickson savagely for being wrong about everything, again.
Cartoon of the day: