Posts tagged "not racist"
Grassfire.org's "cash in on the conservatives" site Resistnet changed their name to Patriot Action Network aka PANetwork to avoid the bad publicity from all the racist members out spreading their poison, and then began attempting a fund drive among their members. But it doesn't take a whole lot of looking to find the same old crap at PANetwork/Resistnet. In fact, almost all of these posts are from the same article, a blog entry by Lloyd Marcus, Tea Party favorite because he's someone they can wave around to prove they aren't racist. But they can't help themselves and the responses are filled with racism and calls for violent government overthrow. Oh, Grassfire.org…will you ever be sane? (No.)
Most Rev. Archbishop Military Dictatorship

Let's fantasize about killing cops!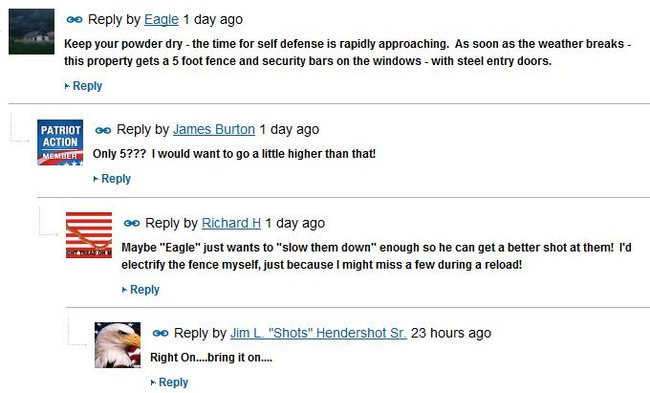 Obama: Earthquake Jihadist!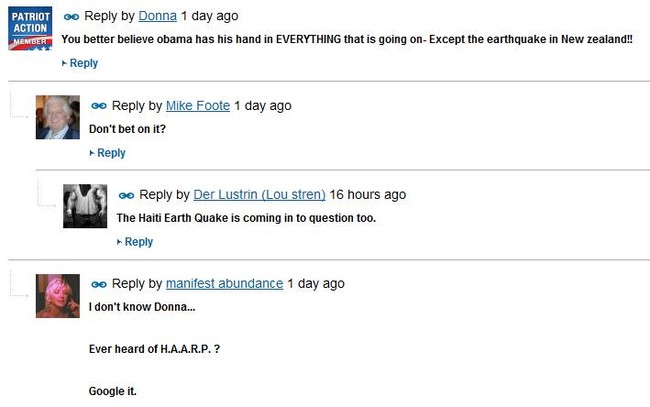 Read more…
Check out this class: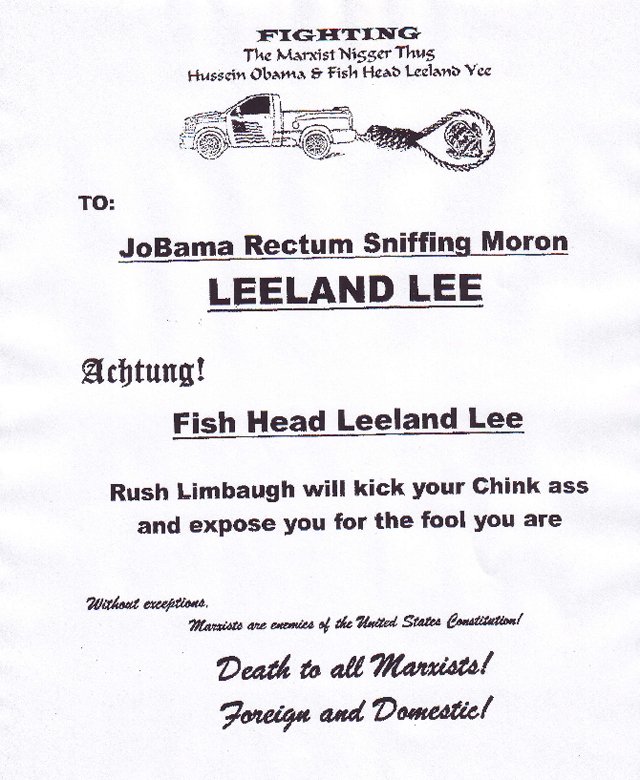 California State Senator Leland Yee (my state senator, btw) stood up to Rush Limbaugh's latest racism and mocking of the Chinese language, and that ticked off Rush so much that someone isn't putting up with his crap that he made fun of Yee on his show. And then suddenly Senator Yee got all these racist faxes and phone calls from "patriotic" Americans of the type who listen to Rush while massaging themselves with baby oil.
And check out this awesome voicemail that you should totally not listen to at work:

I'm sure one of the rightwing trolls will be by later in the comments to explain how this totally isn't racist and also it was done by a liberal plant.
We'll get into some FR's revelations in a little bit, but here is some fun racism from FreeRepublic.com!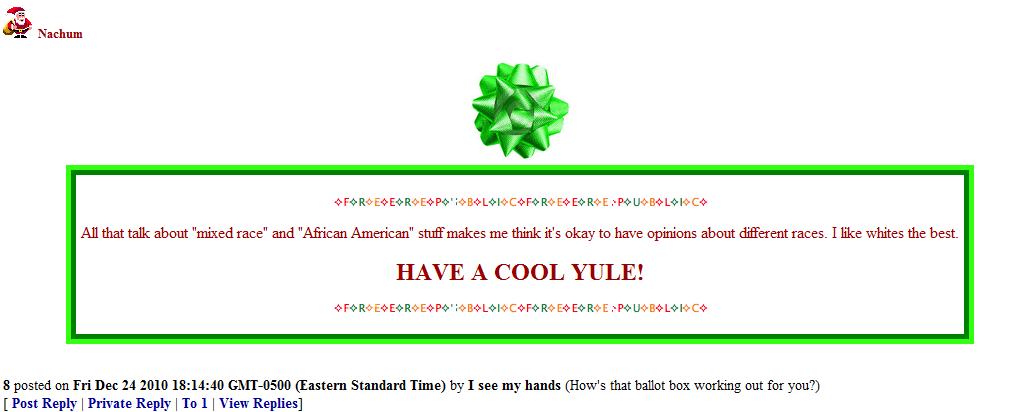 Poster I see my hands – still not banned!
So just when I thought it was safe to do a Wingnut Web, I got an email alert from Resistnet about a new thread claiming that Breitbart was telling the NAACP to "go to Hell" or something. Knowing the pack of racist crapeaters at Resistnet can't resist (pun!) a chance to rant about how "Blacks are the Real Racists!" or "All Blacks are welfare queens!" (almost immediately followed by "Why won't more blacks join us???") I clicked. And lo and behold, we got some racism going on! First we'll have a few random posts that were lying around stinking up my hard drive, and then it's on to Resistnet's Cross Burning Party Election '10!
Kill Whitey and/or Asiany! Also Obama has no white in him, I heard it on the internet!

It's the sad story of a self-hating Latino. And he's a Militia dude!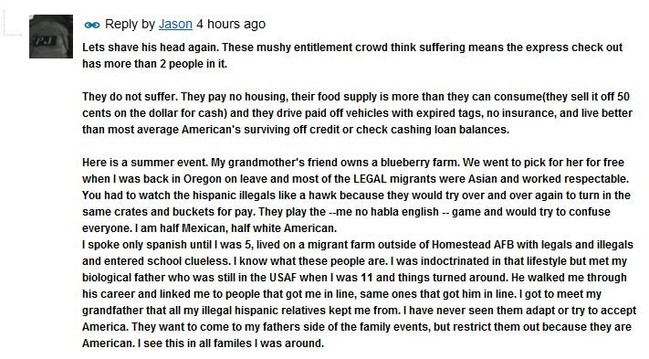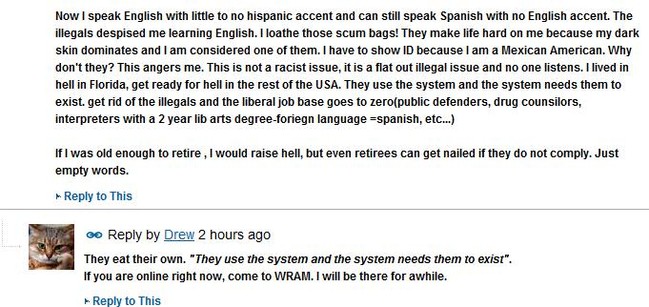 Wake up Amer.What are we SHEEPLE ?



Read more…
Alternet has a list of 10 young Right Wingers who are the future of the conservative movement. Read up because they'll be saying horrible crap on a tv near you soon enough!
A scam company is using a Bill O'Reilly interview to pretend he endorses them to scam more people! Ever wonder why scams are so popular with Right Wing news advertisers? It's almost if they think the audience is stupid…why could that be? For his part, BillO is pissed. But NewsMax is the group promoting this junk along with scam organizer Bill Spetrino, who turns his 60-day "trial" account for his system into a $99/year payday.
Teabagger Republican Nevada Senate Candidate Sharron Angle – "Black is Evil!"
Professor HM Orly Taitz TE got smacked down by the Supreme Court (again) and is trying to appeal. Expect that to go nowhere fast. Taitz is also claiming she has new evidence Obama is not a citizen because she's seeing things in videos posted on the WhiteHouse.gov site. Yeah.
So Dr. Laura will be ending her show after her now-legendary N-word rant. Luckily, Sarah Palin supports her and tells her to reload! I guess, yell the n-word even more? And she was against the n-word a few months ago. I'm totally confused, but who would have though Sarah Palin would back racist rants?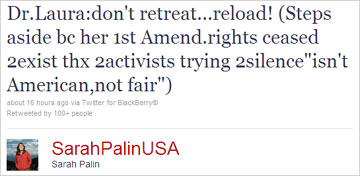 Wingnuts go insane on a juror in the Blago trial, blaming her for being the loan holdout that got Illinois governor Rod Blagojevich convicted on only one count. Their evidence? She's black, worked for the state, and listens to NPR! Shirley Sherrod 2.0
Juror # 106, a black female believed to be in her 60s, is a retired state public health director who has ties to the Chicago Urban League. She has handed out campaign literature for a relative who ran for public office. She listens to National Public Radio and liberal talk radio shows.
Who would have though the Wingnuts would destroy the life of a black woman?
The anti-Mosque hysteria might cost the GOP a big name donor! Who would have though the Wingnuts would be racist against Muslims?
This is a good read about the Tea Party Exchange: One man came up with a scheme for a Tea Party discount card, and the businesses that signed up suddenly had a lot of angry customers that didn't want to do business with supporters of crazy Teabaggery. Now the whole thing has collapsed and the guy is going to lose all the sweet sweet money he made of the back of hard working local businesses.
Cartoon of the Day: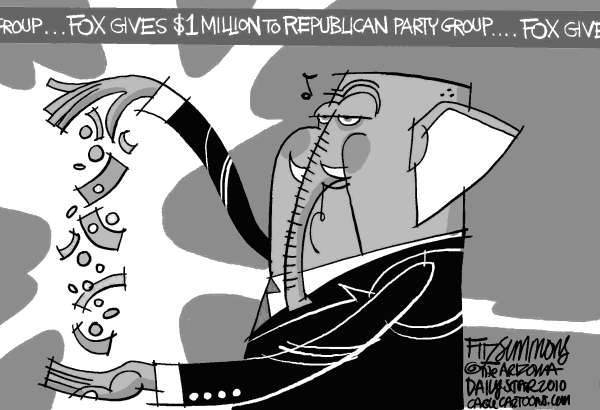 Categories: #drainclogs Tags: Alternet, Bill O'Reilly, Illinois, Nevada, NewsMax, not racist, Orly Taitz, Rod Blagojevich, Sarah Palin, Sharron Angle, Tea Party Exchange
Categories: #astroturf, #culturewar, #drainclogs Tags: Afghanistan, American Crossroads, Birthers, Colorado, Elena Kagan, FreeRepublic.com, Immigration, Karl Rove, Ken Buck, Kenneth Feinberg, Lamar Smith, Michele Bachmann, Mike Lester, Nevada, not racist, Operation Rescue, Randall Terry, Sharron Angle, Shirley Sherrod, Tea Party Caucus, Tennessee, Texas, Tom Tancredo, Wikileaks, Zach Wamp
Hey so I was looking though USA Carry the other day after Tars Tarkas brought it to my attention and realized it was mostly full of conservative crazies who hate everything that doesn't represent an idealized version of the 1950's that the users collective envision. At one point, one of the posters just writes "I want the America I grew up in back" which seems to be what this whole post could be summed up as. Anyway, onto the crazy people:
This is in response to that fake story where some 11 year old girl who is also a skeet shooting champion kills two illegal immigrant home invaders before they can rape and kill her.

Time for some witty word play about what the ACLU could stand for. Also a nice little call for a new Crusade is tucked into the first post.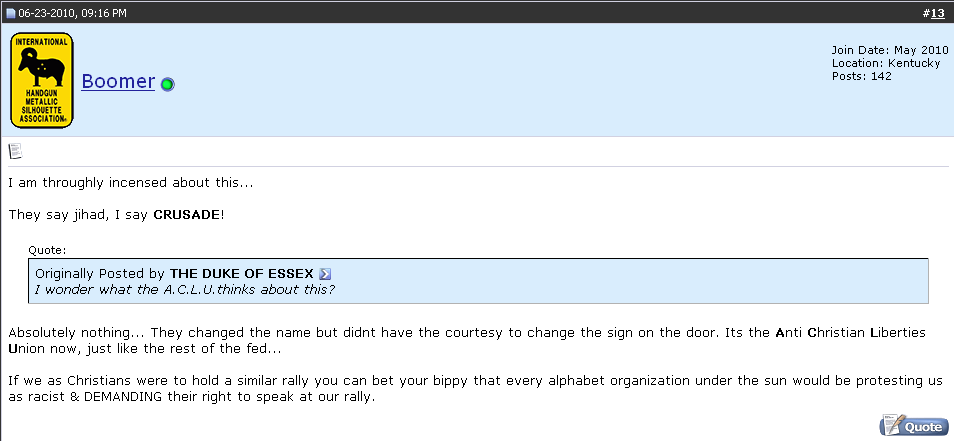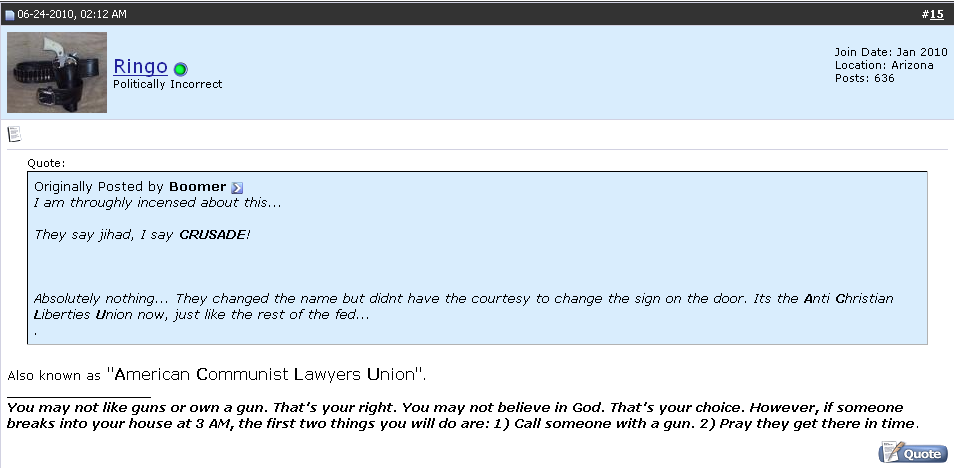 And from the same thread. You know your tactics are working if everyone is calling you a racist. The logic there is just astounding.

Here is a post to round out your right wing talking point bingo card. It contains about five.

The "cowboys and Muslims" thing is pretty prevalent around the site. It's their little joke way of saying "kill all brown people".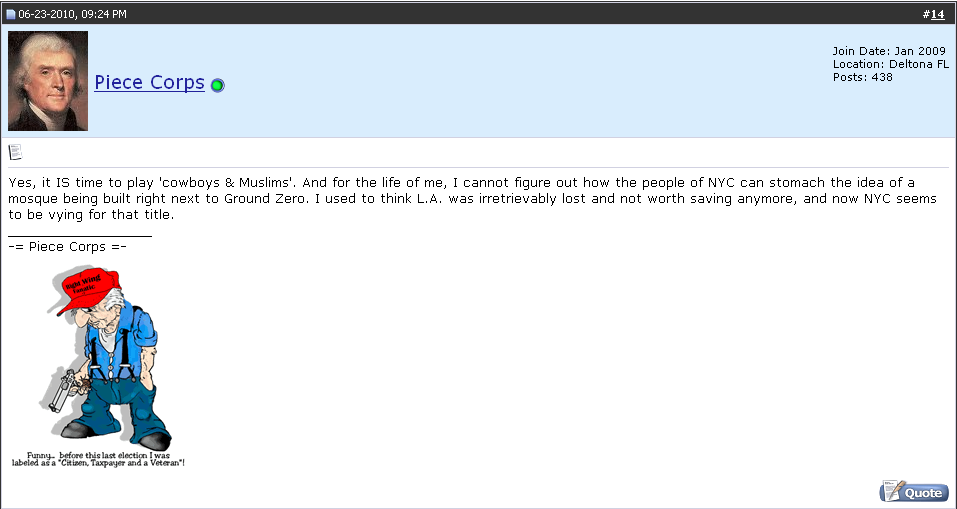 In case you were wondering what the Bill of Rights was really about, it is about spreading the word of God.

Why is gay sex so horrible? Because God said it was worst than every other sin combined. Having sex with a dude (if you're a dude) or a chick (if you're a chick) is like a super ultimate sin that trumps all other sins even if you combine other sins. This post also answers the question "could God make a sin so terrible it makes him sick".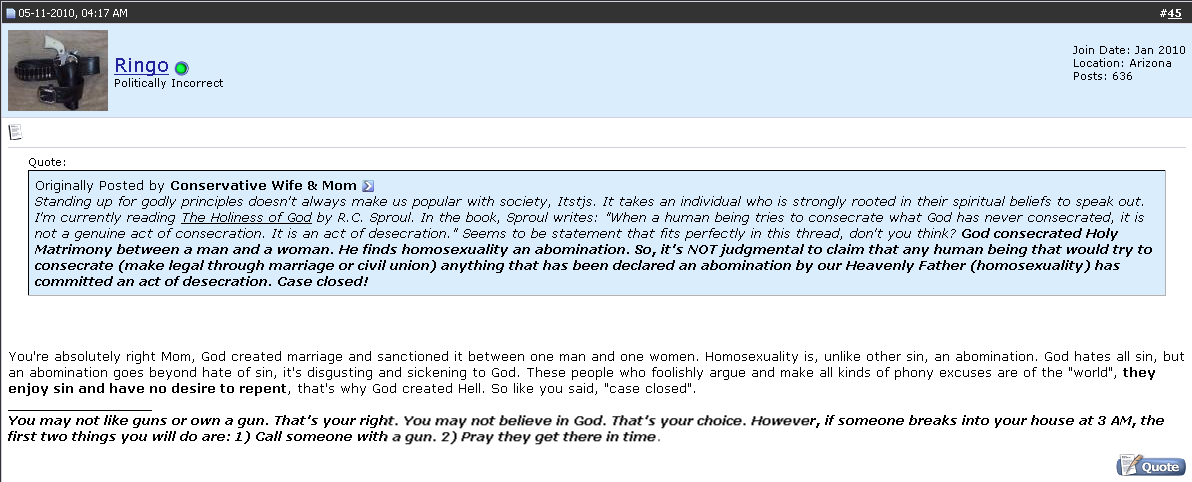 "Hello, My name is Sheldon and I am officially offended by the latest ad you sent me"
"I'm sorry sir, why are you offended by our ad" – comcast employee
"English was not the most prominent language on the ad. In America I want all my marketing in English."
"I'm sorry sir, I really have no control over the marketing…"
"Well you tell whoever is in charge that if I get another piece of Spanish in my ad I will cancel my subscription"
"uh…ok"
*sheldon promptly runs and post about this on the internet*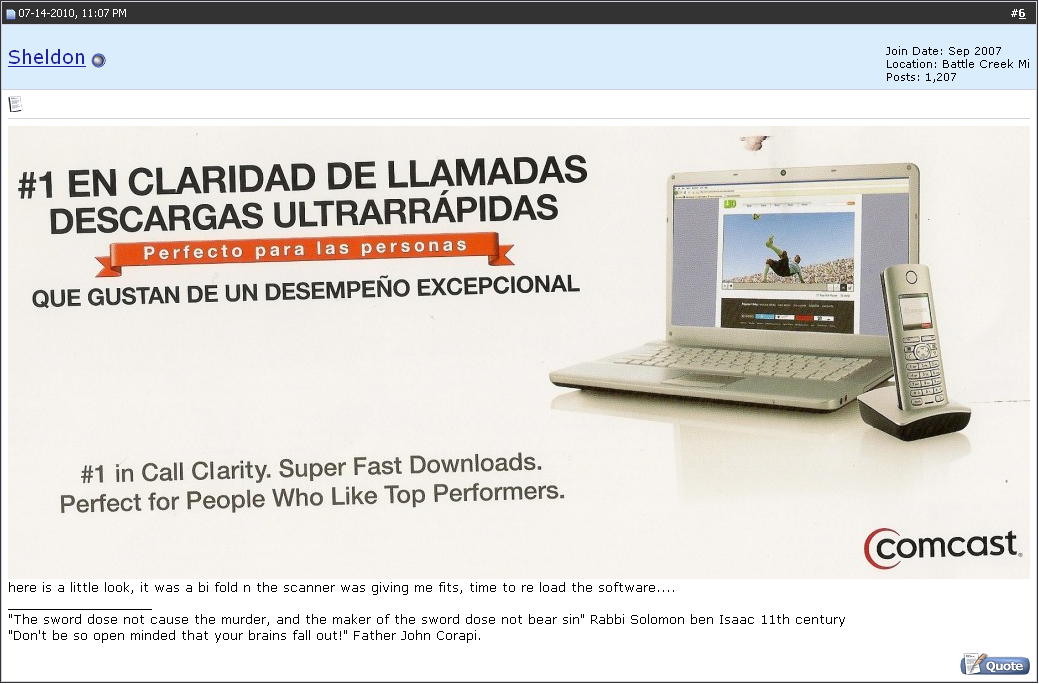 Argggggg! Spanish is everywhere now! Why can't I just buy jell-o with English only instructions?
These are a little old but this dude really hated the idea of a day of protest where people who are gay or support gay marriage don't come into work.



We should probably classify homosexuality as a mental illness and try to treat it as such. Why hasn't anyone thought of this before?


All aboard the horrible logic train. Choo-Choo!

A) I read this dude's name as fetus for the longest time.
B) This guy just used the "I'm gonna tell my dad" argument when talking about God.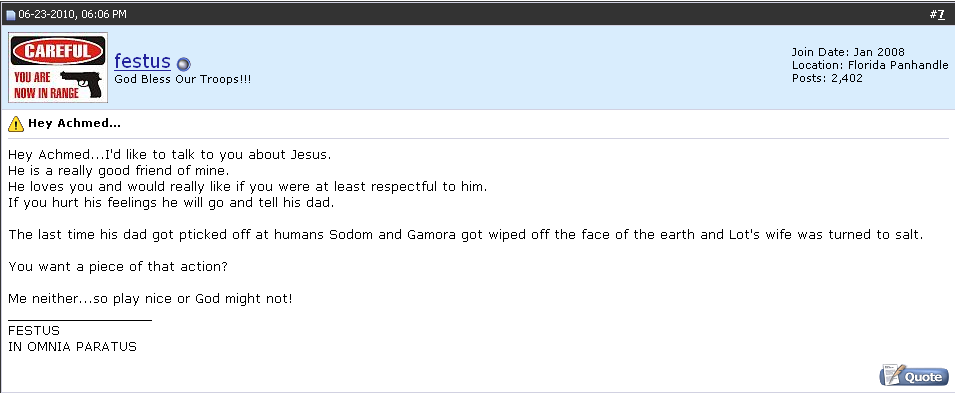 I am a legal American citizen and don't understand much about anything.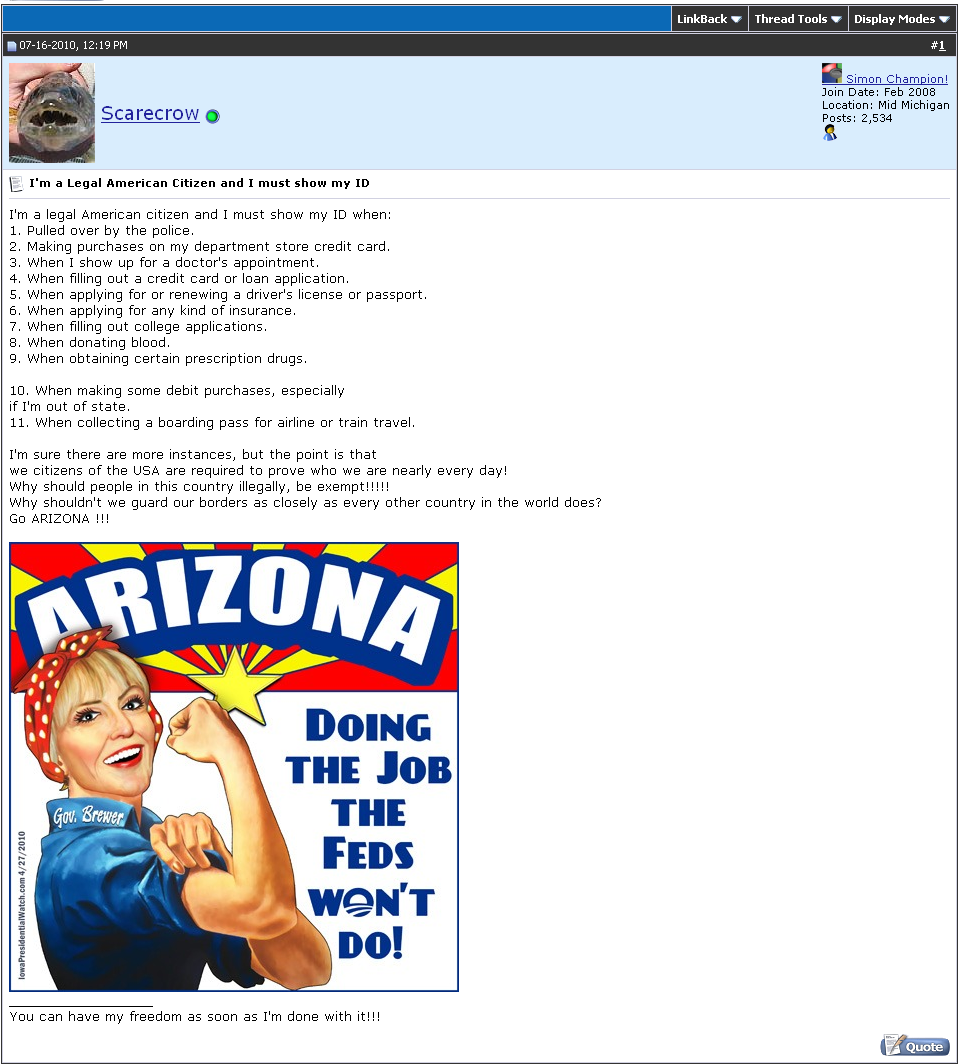 uh…I tried to come up with something funny to say about this post but really the crazy in it stands on its own.

Anothony_I_Am is asking the hard hitting questions about negros.

Marriage, since long before the time of Christ, has been sanctified by the Church

Maybe you're just a racist man.

Why am I not uniting under Obama? Because I am big crazy loon.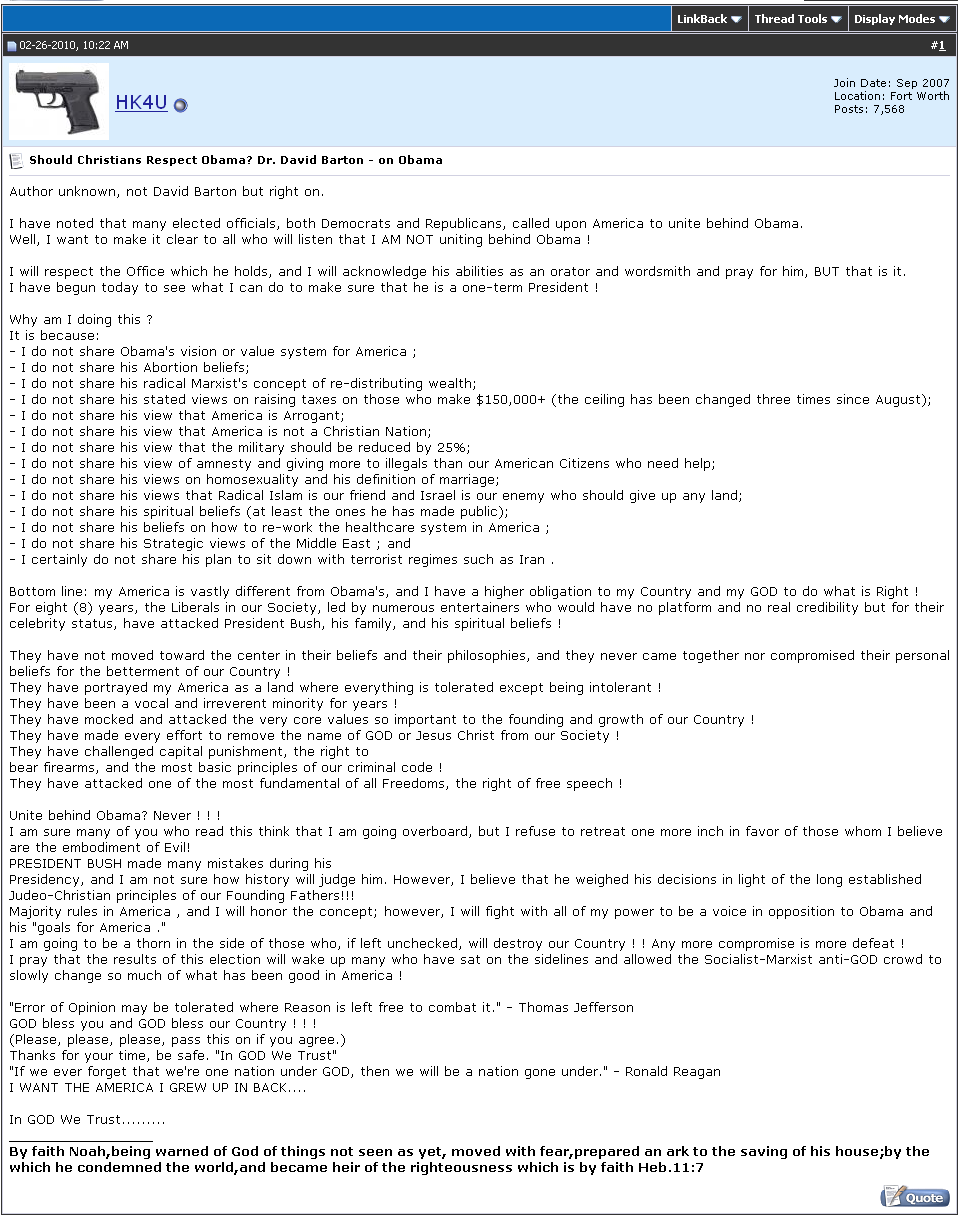 This is Sheldon. He actually used "stop acting like a democrat as an insult". You'll see more of him in a second.
*walks into a McDonalds*
*punches a guy and takes his food and french kisses the guys wife*
*gets arrested*
"But your honor. This is America where I can do what I want, when I want wherever I want".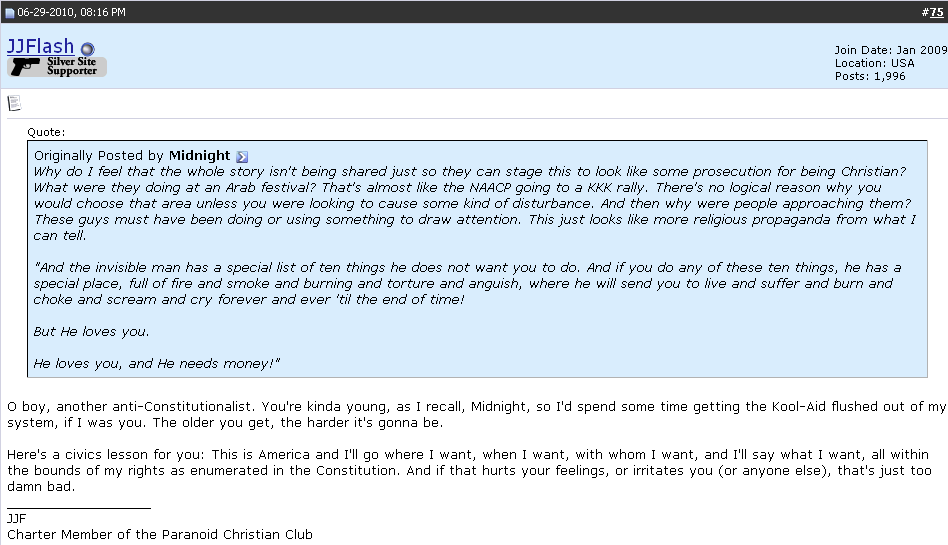 And now for the post that inspired me to make this update.

Now here is a small sampling of the crazy that is Sheldon. First up are some posts from the thread about the Christians being arrested at the Arab American festival.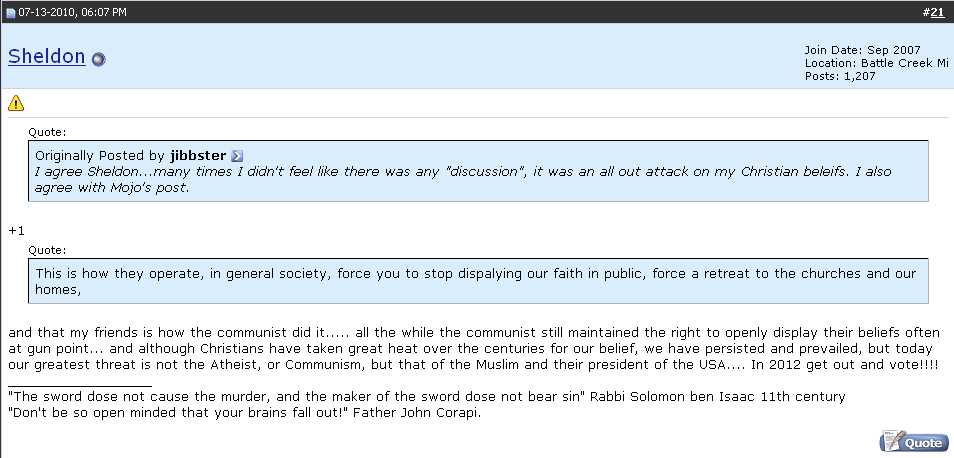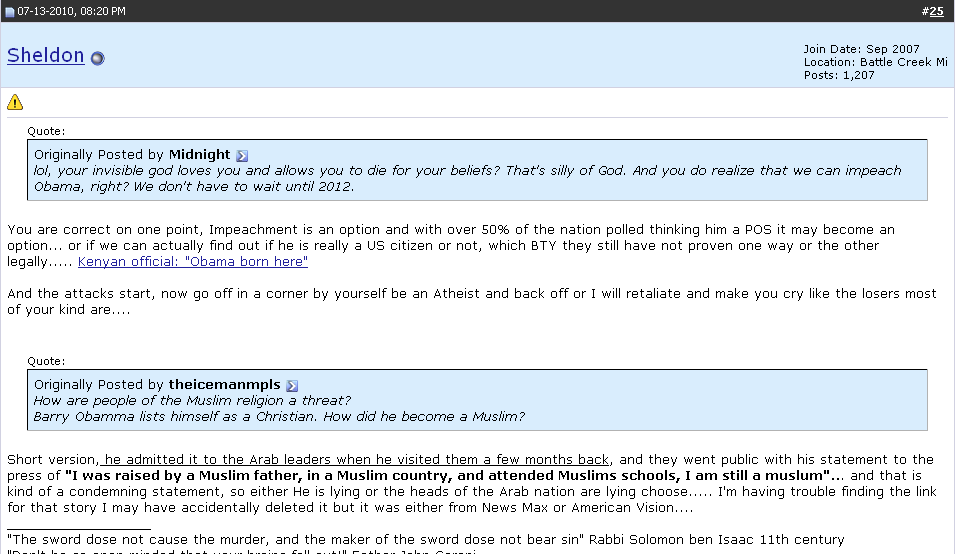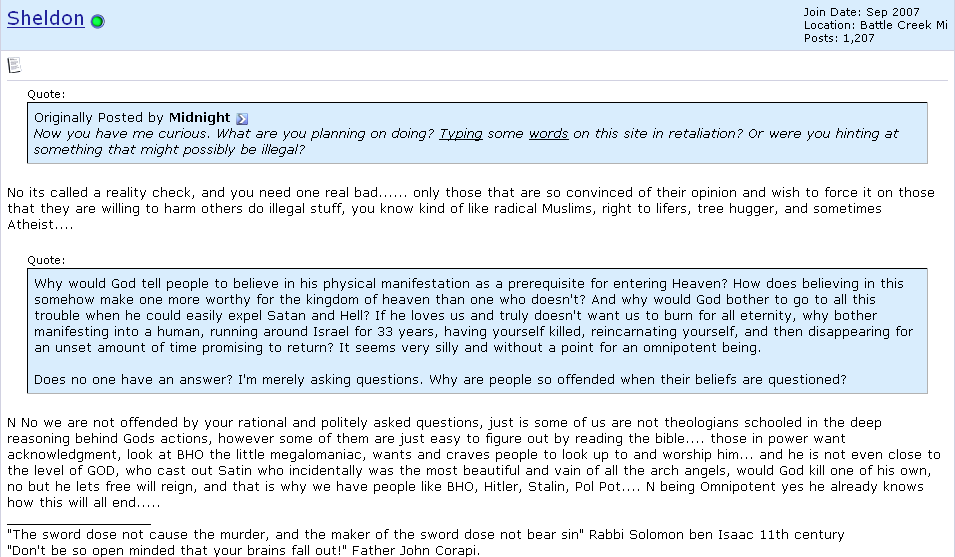 And now he lets us know what is and isn't a militant (hint: Christian no, Muslim yes)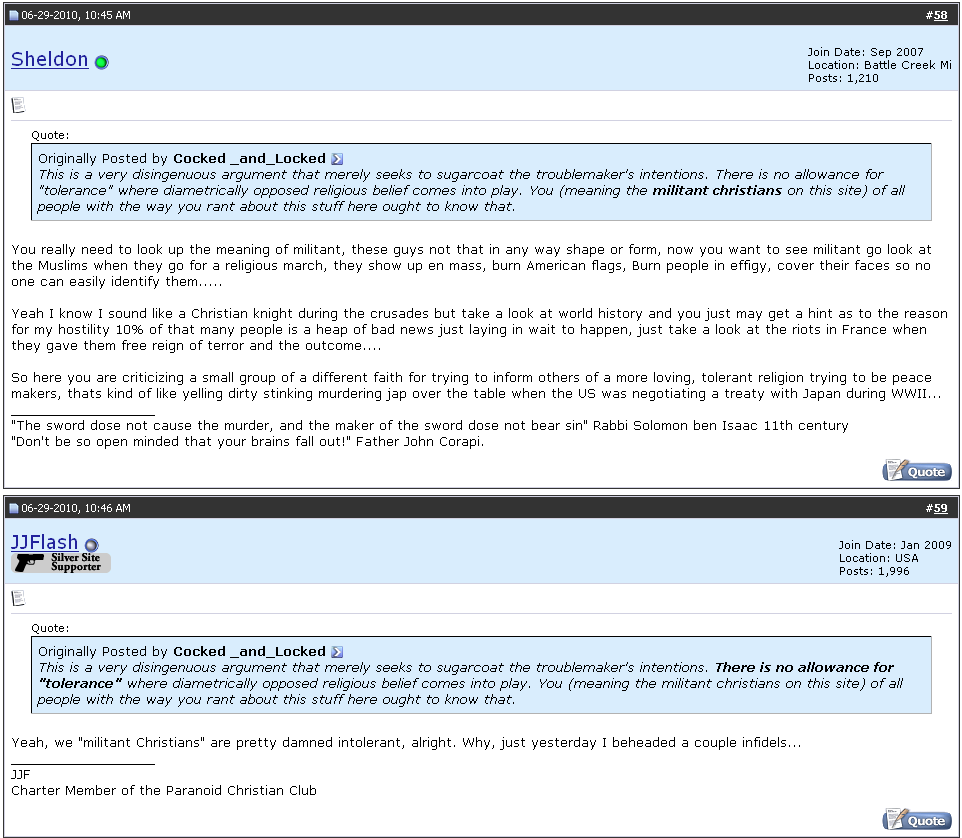 And Sheldon weighs in on the timeline of the world and a fanboy weighs in also to reinforce Sheldon's crazy.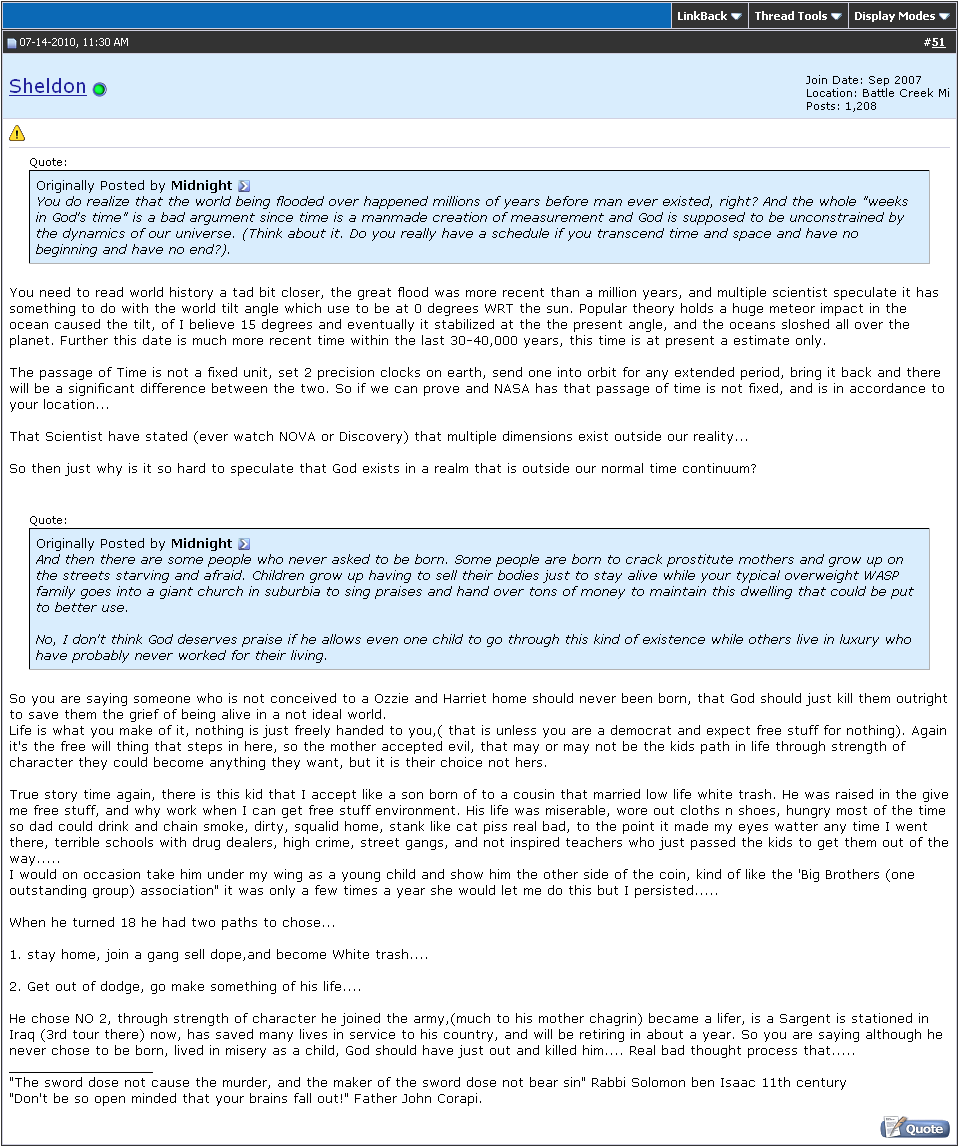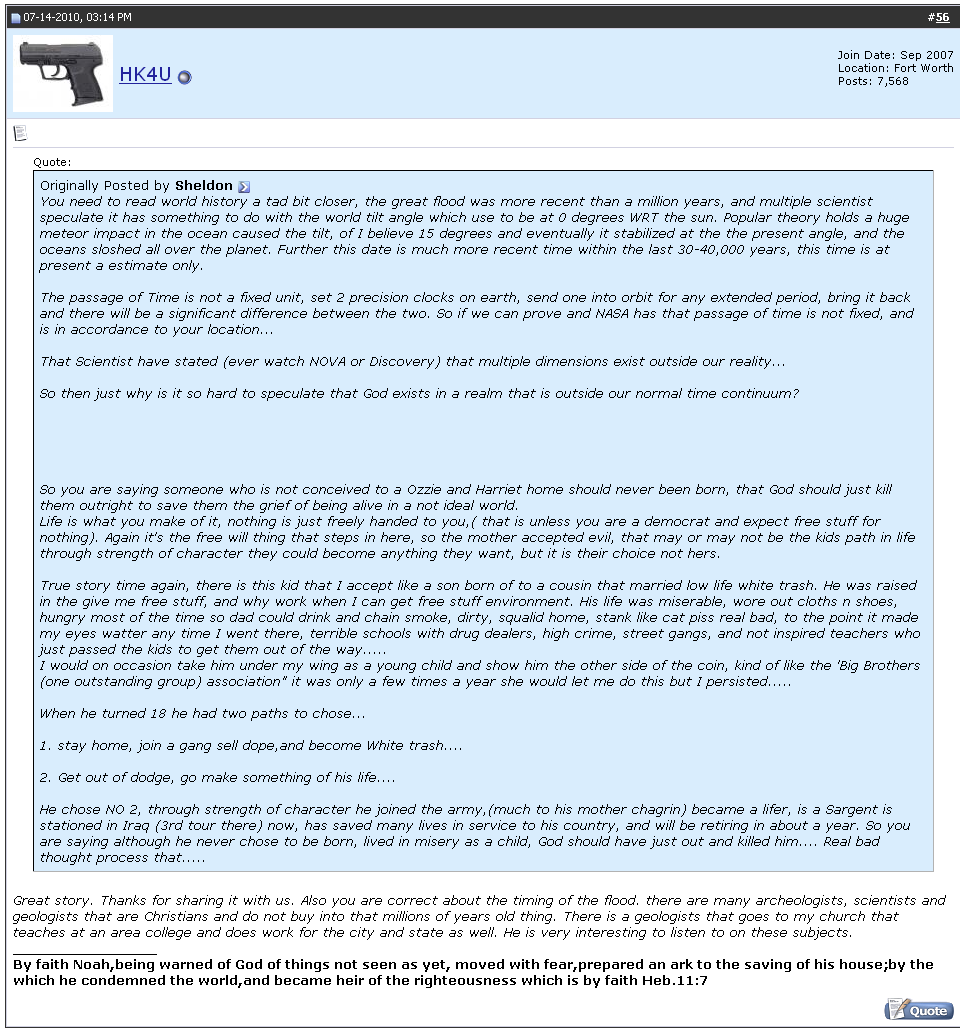 And finally I leave you with a response one of the liberal posters posted on there that I think sums up conservatives motives on the internet. And don't forget, all of the above people own guns and want to use them.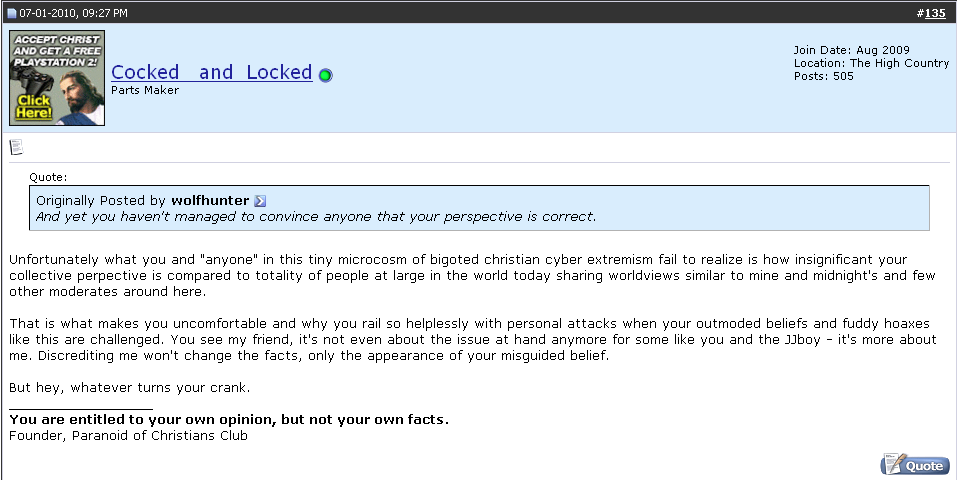 So the National Tea Party Federation, the self-appointed bigwigs of the Tea Party group (aka the biggest front groups pretending to be grassroots) kicked out Mark Williams and the Tea Party Express over his famous letter to Lincoln.
This came to a shock to many in the Tea Party movement because they didn't know there was a National Tea Party Federation! Yes, sorry suckers, you are just tools of the big money men! Oddly enough, the National Tea Party Federation was pretty low-key when it formed, the announcements were barely mentioned on the member groups we monitor and the whole thing sank into obscurity. The only reason Politisink hasn't mentioned it was they announced the group around the time we were making plans to transfer over to Politisink from the TarsTarkas.NET Blog and I figured we'd mention them in September when their big march in DC was supposed to happen. But the news has a way of changing things!
The National Tea Party Federation is a real thing, they even have a website! Under the AFFILIATE RELATIONSHIPS banner we see a list of many big moneyed organizations including FreedomWorks, the National Taxpayers Union, the Family Research Council, and Americans for Prosperity. The complete list:
60 Plus
Americans for Prosperity
Americans for Tax Reform
Bannon Strategic Advisors
Citizens Against Government Waste
Citizens United
Constitutional Sovereignty Alliance
Contract From America
Doctor Patient Medical Association
Family Research Council
FreedomWorks
Heartland Institute
Institute for Liberty
Let Freedom Ring
Moms for America
National Taxpayers Union
Ronald Reagan Institute for
Conservative Leadership
Richard Viguerie
Tea Party Patriots Live!
Victory Media Group
We're going to work on a spotter's guide to help identify some of the Tea Party groups in the future.
But first, the Tea Party Express responded via TPE member Joe Wierzbicki (coordinator for the Tea Party Express) and insulted the size of the Federation (saying that the TPE's 400,000 members is larger than the Federation – which claims over 1 million members, btw, so never trust any teabagger's numbers – and then makes a bunch of Star Trek references and calls the NAACP the Real Racists:
The Tea Party Express with over 400,000 members is by far larger than the Tea Party Federation's entire membership. Most rank-and-file tea party activists think we're talking about Star Trek when we try to explain who the "Federation" is. Given the absurdity of the actions by the "Federation," this is quite fitting, since their conduct is alien to our membership.
"Groups trying to say who can or can't be 'expelled' from the tea party movement is arrogant and preposterous. Perhaps this explains why so many tea party groups have left the "Federation" during the past few months. Whatever the reason, most tea party activists are focused on taking back their country and the upcoming 2010 elections and not silly power games being played by individuals such as those in the "Federation."

To add to the absurdity of the "Federation" they have also informed us that our members can't participate in something called their "basecamp" communication network, which makes us think that the individuals involved in the "Federation" spend a bit too much time watching science fiction movies and cartoons. We here at the Tea Party Express prefer a focus that is more grounded in the Constitution and electing tea party conservatives to offices of import in these 2010 elections.

The "Federation" has enabled and empowered the NAACP's racist attacks on the tea party movement, and they should be ashamed of themselves.

Circular firing squads of groups within the tea party movement attacking one another accomplish nothing, and on this issue the Tea Party Federation is wrong, and has both enabled and empowered the NAACP's racist attacks on the tea party movement. Which is something they'll realize when they beam themselves back from basecamp.
As an additional note, whoever typed that up for CNN added like eight extra quotation marks for no reason randomly throughout the speech, which I had to edit out because we have standards here at Politisink (believe it or not!)
So reactions on Resistnet.com were non-existant to the Williams letter, in fact, the site never even mentioned it until someone posted a thread late Sunday night asking what the frak was going on. No official Resistnet person has replied or commented about the latest development.
FreeRepublic has had a different approach. Besides most of the threads about Mark Williams's letter getting pulled almost immediately, FreeRepublic.com founder Jim Robinson (and Tea Party Express rider) has been fuming at the mouth about how they are NOT expelling Mark Williams:
I've caravaned across country several times with Mark Williams and the Tea Party Express and have attended hundreds of their rallies in nearly every state of the lower 57. I know that he is not a racist. Never heard of the Tea Party Federation. They are NOT my leader. In fact, they can kiss my ass!!

Jim Robinson leaderless Tea Party movement member.

11 posted on Mon Jul 19 2010 12:01:01 GMT-0400 (Eastern Daylight Time) by Jim Robinson (JUST VOTE THEM OUT! teapartyexpress.org)
Well, I'm not going to expel him or the Tea Party Express from Free Republic, that's for sure. As I said, the Marxist/racist NAACP can KMA!! So can CNN and the leftist main stream media. And so can His Majesty, the racist/Marxist pig and wannabe DICKtator Obamassiah!!

This is FREE America AND THIS IS WHERE I MAKE MY STAND!!

44 posted on Mon Jul 19 2010 12:46:40 GMT-0400 (Eastern Daylight Time) by Jim Robinson (JUST VOTE THEM OUT! teapartyexpress.org)
Well, as I said earlier, there is really no reason to attempt to satirize the National Association for the Advancement of Colored People. They're a joke. A cruel joke. They are satire. They're nothing but a mob of America-hating, freedom-hating, redistributionist Marxist racist thugs. Eff 'em if they can't take a joke – Mark Twain.

50 posted on Mon Jul 19 2010 12:53:40 GMT-0400 (Eastern Daylight Time) by Jim Robinson (JUST VOTE THEM OUT! teapartyexpress.org)
The NAAACP is UnAmerican!! They're a far left Marxist wealth redistributionist society. And they are racist to the core!! Their entire identity and purpose for being is to foment racism and Marxism!! And you can tell them I said so.

Jim Robinson, leaderless TEA Party member.

59 posted on Mon Jul 19 2010 12:28:46 GMT-0400 (Eastern Daylight Time) by Jim Robinson (JUST VOTE THEM OUT! teapartyexpress.org)
The spat between the NAACP and the Tea Party groups exploded into a bigger mess than I thought it would. You see, despite the fact that we spend hours each week pouring over right wing sites and reading all sorts of awful things, we at Politisink are still decent people, and thus, don't automatically think about how awful a backlash of racism will be against groups that have been demonized for months on Glenn Beck. Our mistakes. But, besides Mark Williams's awesome letter that totally proved the NAACP's point better than they could themselves, Resistnet's commentors have also been weighing in on this issue. And, being Resistnet, they've been weighing in as a bunch of racists.
Miles is our douchebag of the day, because his story is frakking insane. Besides the obvious lies about how much money a family gets and the pre-1994 welfare reform arguments about families spending generations on welfare, there are more spelling errors than if you threw 1000 Scrabble pieces at random on the ground.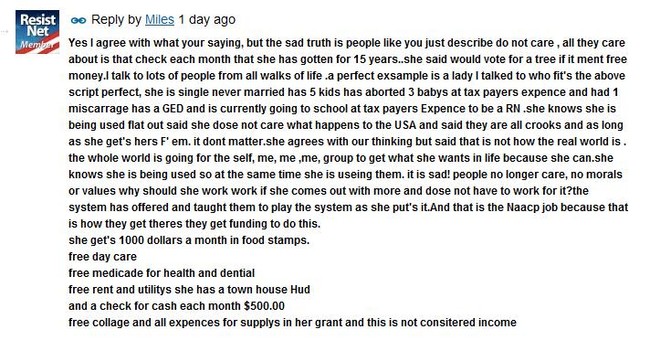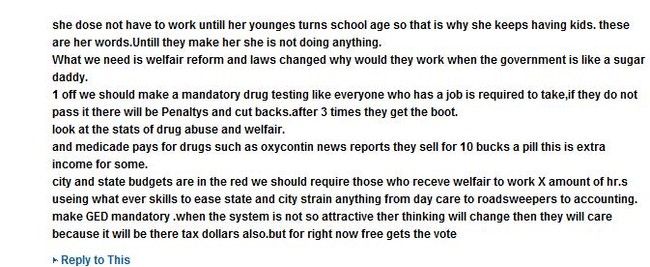 Wow, Lynn Bryant DeSpain is a moron. The NAACP fought against Wilson and his racist segregation policies, and the "entitlements" crap he is talking about is probably a reference to things FDR started, not Wilson. This is what happens when you get history lessons from Glenn Beck and Jonah Goldberg. But "seven babies, seven fathers" is totally not racist! Why do the blacks not like us?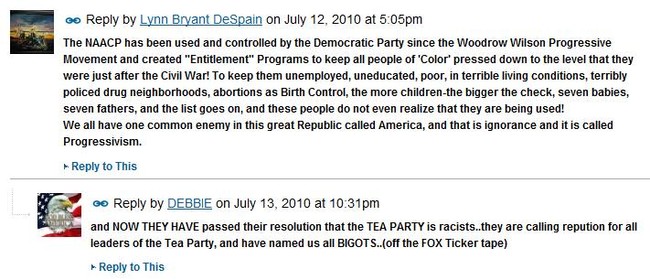 Tea Party Express bigwig Mark Williams took the Teabagger/NAACP spat a bit further…to the INSANO ZONE! He upped this "letter" on his webpage! It is a fake letter from a black guy to President Lincoln.
Dear Mr. Lincoln
We Colored People have taken a vote and decided that we don't cotton to that whole emancipation thing. Freedom means having to work for real, think for ourselves, and take consequences along with the rewards. That is just far too much to ask of us Colored People and we demand that it stop!
In fact we held a big meeting and took a vote in Kansas City this week. We voted to condemn a political revival of that old abolitionist spirit called the 'tea party movement'.

The tea party position to "end the bailouts" for example is just silly. Bailouts are just big money welfare and isn't that what we want all Colored People to strive for? What kind of racist would want to end big money welfare? What they need to do is start handing the bail outs directly to us Colored People! Of course, the National Association for the Advancement of Colored People is the only responsible party that should be granted the right to disperse the funds.

And the ridiculous idea of "reduce[ing] the size and intrusiveness of government." What kind of massa would ever not want to control my life? As Colored People we must have somebody care for us otherwise we would be on our own, have to think for ourselves and make decisions and if you do not agree than there is not enough Colored in your People, as we labeled Ken Gladney [source]
The racist tea parties also demand that the government "stop the out of control spending." Again, they directly target Colored People. That means we Colored People would have to compete for jobs like everybody else and that is just not right.

Perhaps the most racist point of all in the tea parties is their demand that government "stop raising our taxes." That is outrageous! How will we Colored People ever get a wide screen TV in every room if non-coloreds get to keep what they earn? Totally racist! The tea party expects coloreds to be productive members of society?

Mr. Lincoln, you were the greatest racist ever. We had a great gig. Three squares, room and board, all our decisions made by the massa in the house. Please repeal the 13th and 14th Amendments and let us get back to where we belong.

Sincerely
Precious Ben Jealous, Tom's Nephew National Association for the Advancement of Colored People Head Colored Person
I would just like to point out that Resistnet is best buddies with the Tea Party Express. The rest of this letter…I'll just let it speak for itself.
Lots of good commentary about this here.
Also this ad on his site is hilarious: